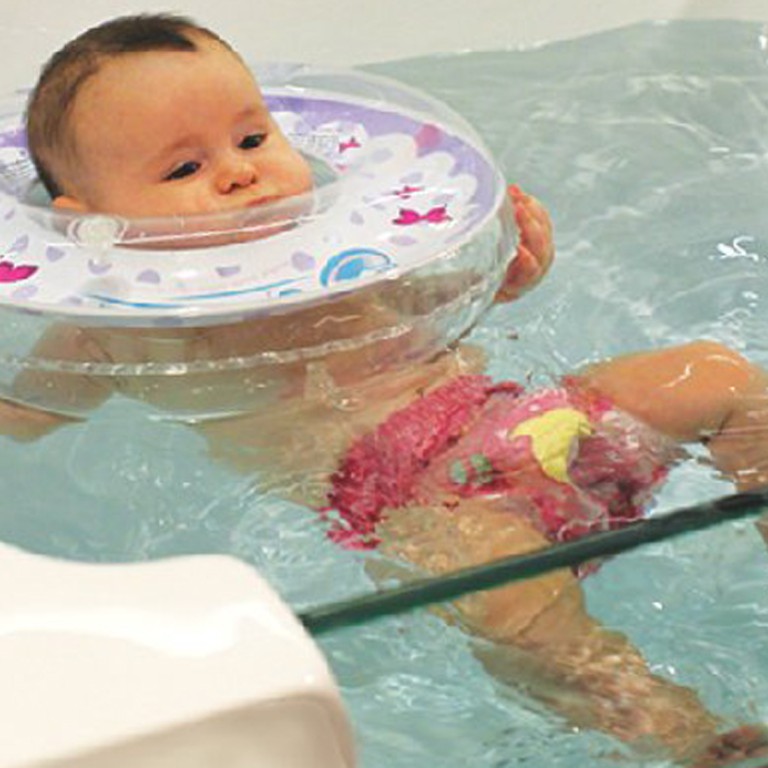 Tot spots: how to plan a baby-friendly day out in Hong Kong
Planning a day out in Hong Kong can be a daunting prospect when you're still getting used to your new family member. The heat, the crowds and a distinct lack of pram-friendly pavements make it all too tempting just to stay at home. But it's time to break out of the cocoon. We drilled Hong Kong's baby experts for tips on their favourite hang-outs and activities, and then put their advice to the test. On the judges panel are new parents Sarah Graham and Alex Millson, both SCMP staff, and Elena - who at 3½ months has to be ' youngest reviewer to date. Follow in their footsteps, as they select one of three options for each part of the day, in the quest for the perfect baby-friendly itinerary for both parents and tyke.
The morning can be the best time to go out with babies, while they're awake and in good spirits.
A favourite weekend destination of parents because of its fresh sea air, outdoor pram-friendly breakfast spots and a nice level area for a post-meal stroll. The beach here is also family friendly so parents can put their toes in the water.
"One of our fun activities is a day out in Stanley or at South Bay Beach," says Ifat Kafry Hindes, owner of family-friendly cafe Choice Cooperative. "Grab yourself a shaded spot under a tree and enjoy the day."
Come brunch, Oolaa in Sheung Wan and Zuma in Central draw mums like a Serengeti watering hole draws wildebeests. "Zuma's great for brunch because there is a playground and a little play area on Sundays," says Alicia Wieser, co-founder of Baby Hero.
You're sure not to be the only parents here and tears won't draw stares. A good choice for sneaking a fortifying mimosa before a long day out.
If you're keen to spend a morning in Kowloon, head to the Serenade Chinese Restaurant at the Cultural Centre for dim sum, then take a walk along the Avenue of Stars and a trip on the Star Ferry; the rocking boat and fresh air might offer a few minutes of precious nap time.
"Bad start at the restaurant as the lift wasn't working, so we had to carry the pram up a long flight of steps," Millson says. "Eating dim sum does not go hand-in-hand with trying to hold a wriggling baby. She was lucky not to end up wearing a shrimp dumpling.
"My biggest gripe was that I had nowhere to change her nappy - as the baby-changing facilities were in the ladies' toilet. Mum had to take her to be changed.
"The Avenue of Stars stroll was very pram-friendly and a cinch to reach from the Star Ferry. However, it's a no no on a scorching day because of the lack of shade."
Graham adds: "Elena liked being on the ferry and there was plenty of room for the pram. The staff are willing to help carry the pram up the ramp."
Depending on your baby's nap schedule, you'll want to plan something less demanding at some point in your day out.
It's never too early to give your baby a taste of the good life. Start spoiling them now with high tea and a spa day. Sounds decadent? It is. But nothing beats the smile on your baby's face after a massage and float in the relaxation tank. "Babies love it," says Shea Stanley, founder of
LittleStepsAsia.com
"And you can grab a snack across the street at the child- and baby-friendly Rosie Jeans."
Wieser, of Baby Hero, says: "One of my favourite things to do with the babies is to walk through Hong Kong Park and then have high tea at Café Gray Deluxe. It's very family friendly, and it has a really nice and clean changing area."
Parks are a great choice for spending time with the very young. Pack a picnic and spread out a blanket: your baby will love the room to roll around outdoors, while you can enjoy the relative quiet and wide open spaces.
Parents know spending all day with a newborn can turn your brain to mush. So get out and learn something at the Lions Nature Education Centre, or simply relax in its 16 hectares of beautiful, sprawling tree-filled grounds, while enjoying the pram-accessible paths. Older siblings will love the insectarium, too.
Café Gray Deluxe in Pacific Place impressed the judges with its superb 49th-floor views, and space to park the pram next to the table. "The waiter made a point of saying 'hi' to the baby - a nice touch that stops you feeling like a social pariah," Millson says. "The one time in the meal baby decided to make her presence known, with a sudden screaming fit, we did get some looks from other diners. Still, a great meal, and proof that you can do grown-up things with a baby in tow."
Baby Spa by Aqua Play, in Mid-Levels, was the highlight of the day. "The woman who runs it knows her stuff and you can tell she's a mother," Graham says. "She uses all organic baby-safe products and has thought of everything. It was a strange thing to do, but she really put us at ease and the baby really enjoyed it."
Millson says: "It was actually quite an emotional experience - seeing her being brave in there - and mum had a little tear. As soon as we stepped outside mum said she wanted to go again."
Packing too much into a day can lead to a grumpy baby. Still want to give it a go? These evening activities should be manageable.
Sipping on a coconut and eating Thai or Vietnamese dishes at Spices is not a bad way to wrap up a fun day. The Repulse Bay Arcade also has a pond of fish and turtles that can keep older siblings entertained, and the restaurant can accommodate special requests from fussy eaters. "They have baby chairs and you can bring a scooter around the area," Wieser says.
SoHo East has a relaxing waterfront promenade. Stroll around the area, or take a break at Teavers for a cup of tea, before having dinner at SoHo East restaurants such as Tapeo or Wildfire. Take a longer walk along the Aldrich Bay Promenade towards Quarry Bay Park, before having dinner at the beer lovers' haven, Frites.
It's a tourist cliché, but every expert we spoke to recommended The Peak. They insisted family-friendly restaurants, a quiet pram-friendly trail and stunning views for parents make it a firm favourite. "It's cooler up there in summer," Wieser says.
"We love walking around the Peak trail before going to The Peak Lookout for an early dinner, when they turn on all the lights at around 6pm: gorgeous. And there's a playground close by."
Graham says: "It's a lovely walk up there: quiet and cool with waterfalls and lots of benches where I could stop to feed her."
Millson says: "Forget the Peak Tram, especially at the weekend when it's every man, woman and baby for themselves. And skip the shopping centre." Instead they chose to tackle the 2.8km circuit around The Peak, starting at Lugard Road.
"It's a virtually flat circuit and in just a few minutes the hordes were far behind," Millson says "Unfortunately, after a packed day baby was severely overtired. Halfway round, with no way of escape, she decided she'd had enough and went ballistic."
Too tired for dinner, they went to The Peak Lookout for drinks, and a calming feed for Elena instead. "Despite the fact the restaurant was almost empty, staff tried to seat us at a table with no room for the pram," Millson says.
So how was baby's first big day out in Hong Kong? "We had a great day — it was exhausting though," the still-recovering parents told us. "We were very proud of our girl. Right, next feature baby-friendly bars …"
Tips from the experts
"Just do it," says Shea Stanley, founder of LittleStepsAsia.com. "Babies are super adaptable and enjoy getting out and about. Just avoid stressful areas like Causeway Bay on a Saturday afternoon. Also, selecting the right equipment — a city-friendly stroller for example — is also important."
"Book a staycation at one of the city's top hotels," says Richard Walker, director of Bumps to Babes. "Relax and enjoy bonding with baby in the hotel pool then you can have an early dinner all together."
"Face your fears," says Alicia Wieser, of Baby Hero. "It's a very new experience when you have your first child but you can do it. If you need help with the strollers on stairs, people are very helpful."
Bring your own baby
Baby Spa by Aqua Play
124 Caine Road, Mid-Levels, tel: 5119 2674, 
hkbabyspa.weebly.com
Café Gray Deluxe
Level 49, The Upper House, Pacific Place, 88 Queensway, tel: 3968 1106, 
cafegrayhk.com
Frites
G/F Oxford House, Taikoo Place, tel: 2250 5188, 
conceptcreations.hk
Lions Nature Education Centre
Tsiu Hang Special Area, Sai Kung, tel: 2792 2234,
afcd.gov.hk
Oolaa
Centre Stage, Bridges Street, SoHo, Sheung Wan, tel: 2803 2083, 
casteloconcepts.com
Serenade Chinese Restaurant
1-2/F Cultural Centre, TST, tel: 2722 0932, 
maximschinese.com.hk
Spices
The Repulse Bay, 109 Repulse Bay Road, Repulse Bay, tel: 2292 2821, 
therepulsebay.com
Tapeo
GA01-03, G/F, Lei King Wan, Sai Wan Ho, tel: 2513 0199
Teavers
Shop GB22, Site B, SoHo East, Lei King Wan, Sai Wan Ho, tel: 2350 3828,
teavers.com
The Peak Lookout
121, Peak Road, The Peak, tel: 2849 1000, 
peaklookout.com.hk
Wildfire
Shop 2B-07, 45 Tai Hong Street, Lei King Wan, Sai Wan Ho, tel: 2261 2999,
wildfire.com.hk
Zuma
5/F Landmark, 15 Queen's Road Central, tel: 3657 6388,
zumarestaurant.com
This article appeared in the South China Morning Post print edition as: Tot spots