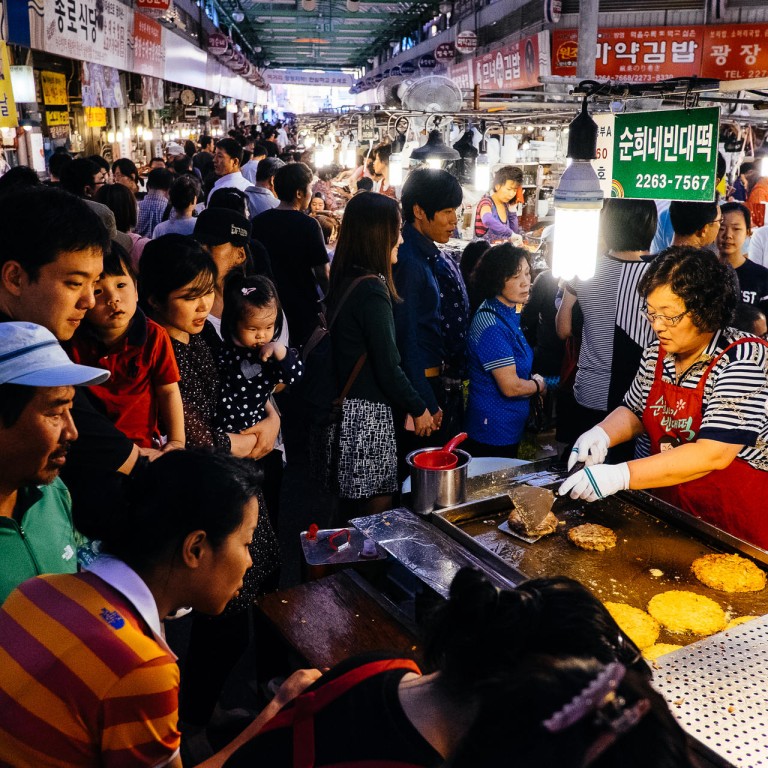 After living for years in New Zealand, Jin-ho Lee is back in his native South Korea, where he's a TV chef and author. And he knows exactly what's hot — whether the topic is food or culture
When he's not revolutionising the menu at the Seoul branch of the world-renowned Assouline Lounge, you'll find Jin-ho Lee (left) on South Korea's Arirang TV teaching cooking on . Seoul-born Lee spent a good deal of his early life as a student and chef in New Zealand, where he learned to cook all of the international cuisines that the country had to offer. Returning to Seoul, he soon began writing and photographing his own books, which are now internationally published in Korean, English and Chinese. Today he is close friends with many of Seoul's top chefs and hoteliers, and knows just how to put his finger on the pulse of the city's food and cultural scene.
To really connect with a place, says Lee, you need to go where the young people are. He recommends the Hongdae area on a Friday night. Its lively party atmosphere is Seoul's most diverse and it is home to street musicians, the indie music scene and hundreds of cafes and clubs for any genre of music you can think of. "Start with a craft pilsner and a bowl of fries at Castle Praha. The beer isn't the best in town, but you can get a feel for the crowd from here."
From there he suggests stopping in at Korea's busiest tteokbokki (spicy rice cake) restaurant, Jopok Tteokbokki (Gangster Tteokbokki — named because of the way the amiable owner looks), before strolling down Hongdae's "Parking Street". "This is where you can see Korea's youth culture all at once," says Lee. Hongdae's streets are dotted with street art and artists, which means every corner has something interesting to see and do. On Picasso Street you may even catch Ground Jam, a local tap group, busking on their boards. The area's clubs all have a friendly atmosphere and are welcoming to everyone, as long as you don't mind waiting in line at some of the bigger venues. On Fridays and Saturdays, Hongdae's parties go on through the night; you can always find a place to have fun.
There's no better way to work off a night of clubbing than with Korea's local hangover cure, haejangguk (recovery soup). This fiery mix of bean sprouts, coagulated ox blood, and chilli powder will set the wheels in motion and get your day back on track. Lee's favourite spot is Yangpyeong Noori Haejangguk in Yongsan, where a section of the menu is dedicated to variations of this antioxidant-packed remedy.
Few places in Seoul open early on the weekend, but you're sure to find the boutiques and coffee shops of Samcheong-dong ready for business. "Some of the giwajib [Korean traditional houses] in the area have opened as coffee and tea shops," says Lee, and they are in stark contrast to the large coffee chains in the streets below. Spend some time getting lost in the alleyways, catch a drama being filmed, and take it all in from the Bukchon Observatory before winding your way slowly back down to Lee's next recommendation, Keungiwajib.
Located directly across from the Modern Museum of Art and at the base of some of Seoul's oldest streets, Keungiwajib does Korean food the old way. Lightly spiced, Keungiwajib's specialities kanjang gejang (soy marinated crab, HK$293-HK$367 depending on size) and insam galbijjim (ginseng marinated braised pork ribs, HK$205) are complemented by delicious side dishes of tofu, bean sprouts, and white kimchi, to name just a few. While not as heady as modern Korean food, these will surely satisfy, as regular customer and former president Lee Myung-bak will attest. This mother-and-son restaurant offers a fine taste of traditional court food in a city that is in tune with the latest crazes.
A visit to Seoul wouldn't be complete without a retail fix, and Lee suggests a couple of different places. He recommends spending your Saturday afternoon the way the locals do, by shopping 'til you drop. By day, the Hongdae area is awash with young people picking up bargain clothing, handmade trinkets, arts and crafts. It is also a hub for make-up stores. When you need a break, stop in for a coffee at I Do, which Lee insists is Seoul's finest. For high-end shopping, you need head no further afield than Central City, the complex beneath the JW Marriott Hotel. Here you will not only find the world's top brands, but an underground mall stretching hundreds of metres to the Express Bus Terminal station.
To get a feel for the way the locals eat, the best thing is to visit Seoul's traditional markets. Lee offers two great options for dinner, Gongdeok Market or Kwangjang Market. Both are noisy, bustling street markets that will put you in touch with the local culture. Gongdeok Market's Jokbal (pig trotter) Alley was founded by the owner of Ohyang Jokbal, who claims she hasn't changed the broth since opening the store and simply adds to it every day. Bindaetteok (mung bean pancakes) and janchi guksu (wheat noodles in beef broth) at Kwangjang Market are equally delicious. Here Lee recommends the store Suninae.
After the hustle and bustle of the street market, winding down is all too easy at the JW Marriott's The Exchange Bar. Bartender Andy's speciality, Green Paradise, is Lee's recommendation. The 2012 World Class Bartender winner mixes Tanqueray No 10 with apple mint, rosemary and a few secrets of his own. The quiet atmosphere makes for a relaxing end to the day, which can be hard to find in Seoul.
Sunday morning is quiet time in Seoul, with the city rising late. A fantastic breakfast, however, can be found at the Hotel Shilla's buffet (below). At HK$430 per person, it's not cheap, but the quality cannot be beat, says Lee. Seoul's best duty-free stores are right next door in the hotel for last-minute shopping. From the Shilla, it is only a 10-minute bus ride up to N Seoul Tower to take in the city before lunch, which will be at Apgujeong's 30-year-old Samwon Garden Korean Barbecue.
To the sound of the water wheel turning softly in the garden, expect to be served the finest beef spare ribs in Seoul and maybe even catch a TV star or two, as many frequent this place in the heart of Seoul's Hollywood. This is a place to enjoy lunch slowly and try a lot of different things on the menu. Start with yukhoe (beef tartare), advises Lee, and continue with fresh short rib Korean beef, and finishing with naengmyeon (cold noodles).
Capital ideas
(from HK$440): 334 Teogyero, Jung Gu, tel: +822 2079 8888
(from HK$3,000): 249 Dongho-ro, Jung-gu, tel: +822 2233 3131
B1, 631-36 Sinsa-dong, Gangnam-gu, tel: +822 517 0316
60 Eoulmadang-ro, Mapo-gu, tel: +822 337 9933
387 Cheongpa-ro, Yongsan-gu, tel: +822 706 8259
249 Dongho-ro, Jung-gu, tel: +822 2233 3131
62 Bukchon-ro-5-gil, Jongro-gu, tel: +822 722 9024
835 Eonju-ro, Gangnam-gu, tel: +822 548 3030
Gongdeok Station Exit 5
JW Marriott Hotel, Sinbanpo-ro, Seocho-gu, tel: +822 6282 6262
Express Bus Terminal Station Exit 8
Hongik University Station Exit 9
Modern Museum of Art Seoul Branch: 30 Samcheong-ro, Jongno-gu, tel: +822 3701 9500
This article appeared in the South China Morning Post print edition as: My 48 hours in Seoul