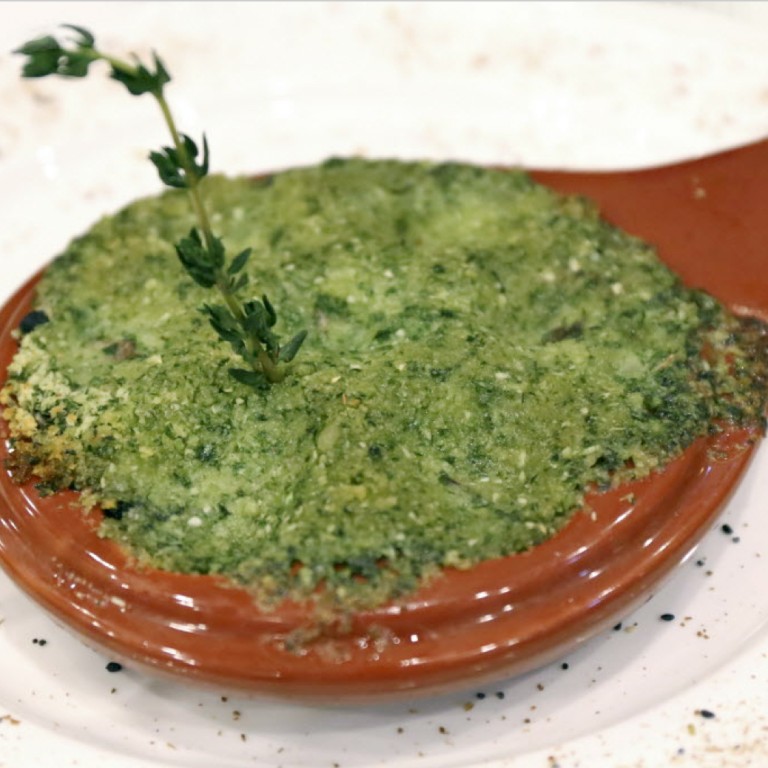 (tel: 3580 2839) is the latest venture from chef Didier Rochat, who returned to Provence after closing Didier in Central two years ago. Tucked away in an alley near North Point MTR station, the menu features Provençal specialities and classic bistro fare. Snails baked in garlic butter (above, HK$98) were buried under a tasty layer of parsley and garlic mash. Tapenade, anchoïade and marinated bell peppers (HK$98) were served with melba toast and showcased classic Provençal flavours, but the amount of salt used was perhaps more suited to French palates,
The texture of the flank steak (served with sautéed potato and marrow, HK$238) was slightly chewy as expected, but tasted rather bland without the accompanying anchovy butter. The salt cod brandade with confit garlic and vegetables (HK$198) is another Provençal classic that was well-executed, but again, the high salt content had me reaching for my water after every other mouthful. The garlic confit toast left a wonderful fragrance in the mouth, and I was thankful that I wasn't kissing anyone after dinner.
The lavender pollen crème brûlée (HK$78) was served tepid, and the flavours from the lavender didn't seem to work well with the custard. In contrast, the chestnut mousse with fruit compote (HK$78) was rich, creamy and delicious, with just the right amount of sweetness.
This week's column is by guest blogger Peter Chang ( diarygrowingboy.com).