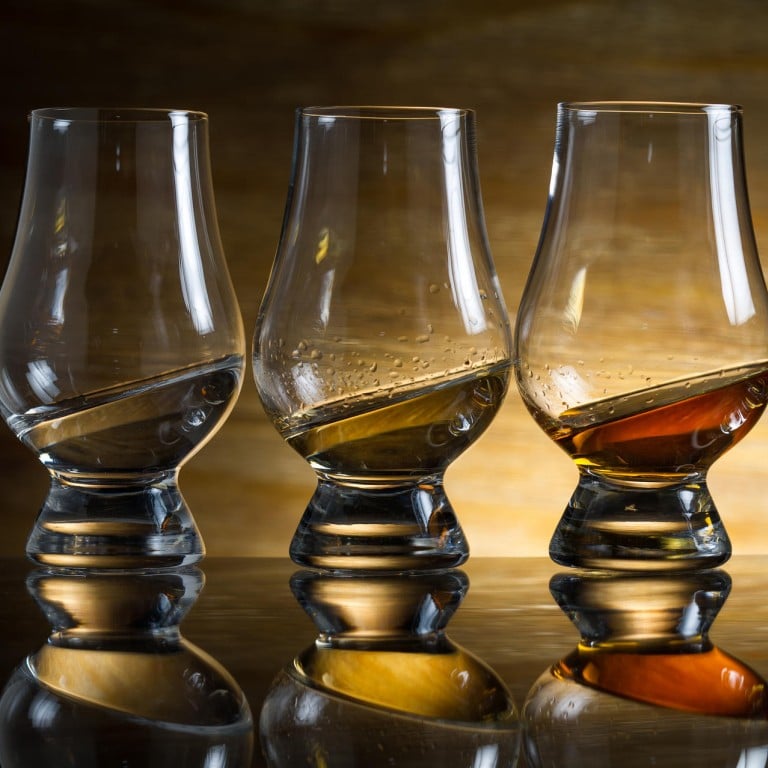 Top tipples: Hong Kong's finest spirits and where to find them
As spirits become ever more sophisticated, it is a good idea to visit the specialists. Not only will these high-end bars stock the top of the line and the obscure, the staff will educate you about what you're drinking
Gin
Gin is having something of a moment. The quintessentially British tipple fell out of favour for a few decades, but now it is back with a vengeance thanks to an unlikely source: Spain. If you've never had a true Spanish gin and tonic, run, don't walk, to Sai Ying Pun where Ping Pong 129 is Hong Kong's first gintoneria, or Spanish gin and tonic bar. Juan Martínez Gregorio the co-owner and manager of Ping Pong, recommends the house pour of Master's London Dry from Barcelona with Fever Tree tonic, orange zest and juniper berries. Though, with more than 80 gins and a full selection of artisan tonics, it is hard to go wrong. To enjoy a G&T the way the Spanish like it, take Gregorio's advice and try one "as an aperitif, after a meal as a great digestif or to drink during nights out."
Nam Cheong Lau, 129 Second Street, Sai Ying Pun, tel: 9158 1584
Honourable mention: if you consider yourself an aficionado, treat yourself to the best G&T money can buy, at Il Milione Bar & Ristorante Italiano in Central where the finest gins and tonics come in a "perfect G&T ratio": 50ml gin to 100ml tonic.

Hutchison House, 10 Harcourt Road, Central, tel: 2481 1120
Schnapps
Schnapps might be a German word, says Finds chef, Jaakko Sorsa, but in Nordic countries it's a term used for any shooter. In his native Finland that means vodka, but in Denmark, Sweden and Norway it means aquavit, which in the first two countries is a barley-based spirit and in the last a potato-based alcohol. Traditionalists enjoy frozen shots, but younger Danes and Swedes sometimes drink theirs warm.
Finland has Kostenkorva vodka from Denmark look for the festive and distinctly caraway flavoured Aalborg Jubilaeums aquavit. Then there is Nordguld Amber, which also has honey and tar flavours.
Sweden has aquavits flavoured with such things as Arctic raspberries. Try the dill-flavoured Lacko Slotts or malt whisky-infused Herrgards aquavit.
Norwegian aquavit Linie is aged in barrels - on a ship that passes the equator twice. It has been thought a good digestif for more than 500 years and is drunk warm.
The drinks go well with the oily, smoky flavours of much Nordic food. Sorsa says a well-mannered host may offer the first drink as an aperitif while for others the first shot is taken after the first mouthful of food. The second goes with the seafood course. It's possible to offer a third shot with the next course. "After that it becomes a drinking party," he says. In Denmark the host may say "Shall we drink freely now?" and everyone drinks as they please. In Sweden the drinking is likely to be accompanied by one of millions of drinking songs, he adds. "But in Finland we are too shy to sing."
How do you drink schnapps? Never alone, for one thing. Look your neighbour in the eye, raise your glass and say a toast, drain your glass and look your neighbour in the eye again.

1/F The Luxe Manor, 39 Kimberley Road, Tsim Sha Tsui, tel: 2522 9318
Honourable mention: try the Pine-ing for the Fjords cocktail at the "secret" back bar at Ham and Sherry. It contains Linie, Absolut vodka, pine liqueur, smashed cucumber, lemon, apple and salted dill syrup.

1-7 Ship Street, Wan Chai, tel: 2555 0628
Vodka
If you think this mostly tasteless spirit is perfect fodder for cranberry juice or a Cosmopolitan, you're doing it wrong. To drink like a Russian you must shoot it straight and ice cold, and you must enjoy it with food. Toasts are common - just be sure to make eye contact.
One of the best places to enjoy an authentic Russian vodka experience is Ivan The Kozak in Central. Ivan's, stocks vodkas from Russia and Ukraine you can't find elsewhere in Hong Kong, including an excellent Ukrainian honey pepper vodka from Nemiroff that goes well with a platter of fatty cured pork, pickles, smoked salmon, and herring. The owner, Ivan Wang, has seen more vodka imbibed than probably anybody else in Hong Kong - he claims to have sunk 40 shots in one night alone - but swears he's never seen any bad behaviour or even drunkenness. Like many who like the Slavic drinking culture, Wang claims if you stick to straight vodka and keep eating you will never get drunk.

46-48 Cochrane Street, Central, tel: 2851 1193
Honourable mention: the second best way to enjoy vodka is in a big frosty martini. Purists will argue a proper martini is made with gin, but there is something decidedly modern about a vodka version. The best in the city are probably at Morton's Steak House in Tsim Sha Tsui where you can enjoy the plush old-school surroundings and a stunning view. Go for happy hour any weekday from 5pm-7pm, when martinis are only HK$60 and the all-you-can-eat steak sandwiches are free.

4/F Sheraton Hong Kong Hotel, 20 Nathan Road, Tsim Sha Tsui, tel: 2732 2343
Baijiu
Sales of baijiu in the mainland are down because Xi Jinping's government has cracked down on conspicuous consumption, but it remains the jworld's biggest selling spirit, with sales valued at US$23 billion in 2013.
While much of the spirit is sold cheaply, the good stuff is very expensive - a result of the conspicuous consumption that prompted the crackdown.
The two quality hallmarks of baijiu are age and alcohol content says Paul Angwin, group beverage director for Maximal Concepts. He's responsible for the wine and spirits list at trendy Chinese restaurant Mott 32 and says the oldest he can get his hands on is from 1988. "Anything over 35 years old is hard to find. It's all been snapped up for gifts," he says.
While clubs in Macau list bottles that are 50 years old, these are truly for special occasions. They can cost as much as a million patacas.
Although baijiu is associated with celebration and being drunk as a shot, Angwin says, "People who love it, sip it."
If you've only ever drunk baijiu as a shot and noticed the fierce alcohol and pungent flavours, sipping the drink is something of a revelation.
"It's resinous, not unpleasant. There are hints of chamomile and honeysuckle with a woody base, which is intriguing because there is no wood ageing," says Angwin of a Kweichow maotai. The restaurant has two versions, one at 43 per cent and the higher quality 53 per cent.
Mott 32 also stocks Wenjun, owned by luxury conglomerate LVMH, which is 52 per cent alcohol and "surprisingly tropical" says Angwin, adding that Chinese spirits often have a sweet and sour quality.

Standard Chartered Bank Building, 4 Des Voeux Road, Central, tel: 2885 8688
Honourable mention: The Ritz-Carlton's Tin Lung Heen has a marginally longer list of baijiu at similar prices. They have a 500ml bottle of 50-year-old maotai - if you have HK$70,800 to spare.

The Ritz-Carlton, 102/F International Commerce Centre, 1 Austin Road West, Kowloon, tel: 2263 2270
Whisky
When we say Whisky@Stables offers an education in the drink, we mean it quite literally - Ladies Who Whisky is a series of classes looking at topics such as matching the spirit with oysters or chocolate. The bar also offers a pack of trivia cards for playing whisky knowledge games.
But it's the extensive list that allows for educational opportunities. Five certified "whisky ambassadors" are there to talk you through the bar's selection, which comes from 11 countries, including England, Wales and Sweden. They have a cask of Swedish whisky that they are ageing themselves. There's an Indian whisky, Amrut, which is spicy, with notes of cloves and orange (and it's 61 per cent alcohol). They also have one bottle of Tasmanian Sullivan's Cove whisky, bottle 44 from a run of 1,475. The iodine, "coastal" flavour is said to be a great match with oysters.

Hullett House, 1881 Heritage, 2A Canton Road, Tsim Sha Tsui, tel: 3988 0000
Honourable mention: Charlene Dawes' Angel's Share brought the Hong Kong whisky bar into the 21st century, with its extensive global list and knowledgeable staff.

2/F Amber Lodge, 23 Hollywood Road, Central, tel: 2805 8388
Rum
Until three years ago rum was a dying drink here, which was why it was a surprise that when John Girard, the general manager of the Marco Polo Hong Kong hotel in 2008, decided to focus on the sugar-based spirit, he didn't just stock the bar with a few. He went totally OTT and secured a place in the Guinness Book of Records for stocking the most commercially available rums.
The 107 rums currently available are mainly from South America and the Caribbean, including countries such as Venezuela and Cuba but also Australia and Chile. The bar even has rare bottles of rum produced for the Royal Navy before the Brits abandoned the daily ration of grog to the tars in 1970. The drink is the holy grail for some rum fans.
Try either the Beginner's Flight or Connoisseur's Flight of four rums. They come on place mats with tasting notes that are generally clear and helpful. They don't give much background but aren't too florid either - except the description of Venezuelan Diplomatico Reserva eight-year-old as having, "Sweet cocoa caress with spices".
The bar sells classic cocktails - mojito, mai tai and pina colada - but makes them all well. The mai tai is a standout.
If you're feeling flush try the Rum Nation Demerera from Guyana at HK$1,088 a shot. The cinnamon and clove aromas and flavours make this a liquid Christmas cake.

Marco Polo Hong Kong Hotel, 3 Canton Road, Harbour City, Tsim Sha Tsui, tel: 2113 3919
Honourable mention: Honi Honi Tiki Lounge is probably the best known rum bar in town and with its exotic cocktails and wandering sax player goes way beyond the Marco Polo for atmosphere.
52 Wellington Street, Central, tel: 2353 0885
This article appeared in the South China Morning Post print edition as: Rich pours