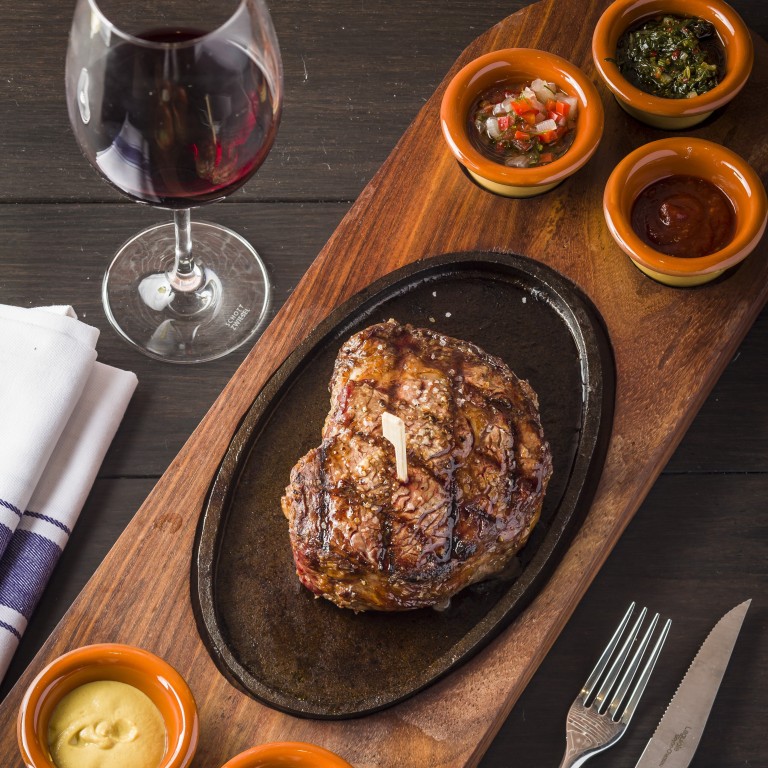 Tango Argentinian Steak House is a carnivore's paradise, from the sausage platters to the rib-eye
This loft-inspired restaurant in Civic Square at Elements in Kowloon has a relaxed vibe and an impressive menu stuffed with meat
FARE Argentinian steakhouse
AMBIENCE Cosy and relaxed, with a loft-inspired design concept – exposed brick walls, pendant lamps with metal shades, rough white walls and warm wood.
COST From HK$68 to HK$258 for starters, sides and pasta; from HK$198 to HK$1,098 for meat.
WHO TO BRING Friends and family; leave the vegetarians at home.
TURN-ONS Go for the meat and bring a hearty appetite. We tried the sausage platter, and while the rich, earthy (but not overpowering) blood sausage was easily the best, the chorizo was also delicious and the salchicha parrillera had a nice kick to it. The bone-in rib-eye was beautifully cooked with a seared crust, the meat was flavourful with the perfect fat-to-lean ratio, and the chimichurri sauce was delightful as always. It might seem sacrilegious to put sauce on this steak, but we highly recommend it. The staff were pleasant, warm and helpful.
TURN-OFFS The restaurant is in Civic Square at Elements, which means you'll get rained on when entering and exiting the restaurant during inclement weather. There's also no in-house toilet so go easy on those drinks.
We tried the ceviche tasting platter – shrimp, scallop, salmon and tuna – all of which were forgettable. The scallops seemed undersized and rubbery, which made us think they were frozen rather than fresh. The presentation of the spiced creamed corn also left much to be desired, and it tasted much like a hastily thrown together dish made with pantry leftovers.
DRINKS There's a decent international selection of affordable reds and whites to go with your dinner, but we suggest starting with an Argentinian cocktail to get into the spirit of things.
Tango Argentinian Steak House, R008, 3/F Civic Square, Elements, 1 Austin Road West, Kowloon, 2780 1181