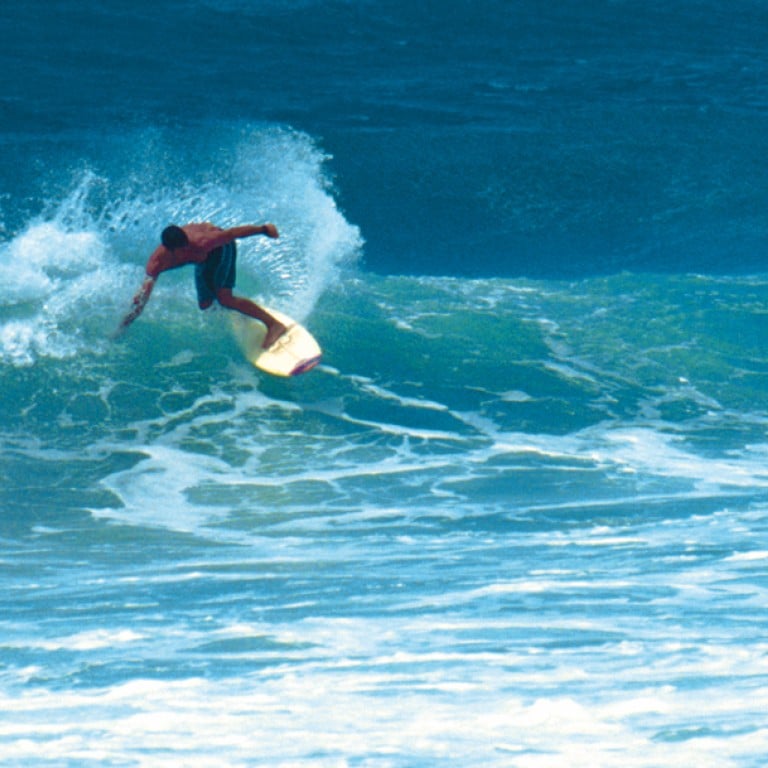 Sure, it's not Fiji, Hawaii or Indonesia, but Hong Kong has got a surf culture all of it's own. The main difference is here you have to work for your rides. But that's part of the fun – you'll find plenty of optimistic surfers lugging their boards on minibuses and MTRs, or camping out on the beach, searching for some big waves in these top surf spots.
Shek O & Tai Long Wan (Big Wave Bay), Hong Kong Island
These are by far the most popular spots in Hong Kong, mainly because they're right outside the city. They're ideal locations for beginners, so it can get super-crowded on weekends when there are good waves to be had. A strong enough typhoon will really stir up the water, giving it a washing machine effect. Waves will frequently "close out" here, meaning the ride won't last that long, but it's a small area making it easy to paddle right back into the next one. The ocean floor is sandy so wipeouts are forgiving. The most dangerous factor is the possibility of colliding into another surfer when there are a lot of heads in the water, so be conscientious. Also, in the summer when the shark net is cast out for the sake of swimmers, stay away from the anchoring ropes that creep onto the beach - I've gotten washed along one before and it's the most painful rope burn ever. On the short trail leading to the beach at Big Wave Bay, a small surf shop rents out boards and sells clothing, wax, and equipment.
Get There: MTR to Shau Kei Wan; Exit A for bus depot; Bus 9 to Shek O (the minibus will stop in BWB parking lot first); a taxi takes about 40 minutes from Central.
Cheung Sha Wan & Pui O, Lantau
These southern Lantau beaches stretch a combined 3.2km down the coast. As a result, you can expect to find much smaller and spread-out crowds. Although Cheung Sha Upper and Pui O are fairly inconsistent beach breaks, they can offer promising surfing during a looming typhoon, an ideal time to go watch the best surfers in Hong Kong. But generally, the waves lack power so it's a safe spot, more suitable for body boarding. There are no shark nets so while you're bobbing up and down in the water with bright orange trunks on, try not to think about the marine life circling below. Toilets, changing facilities, and food and drink can be found along the beach. Long Coast Seasports has recently opened on Cheung Sha Wan to promote watersport activities. Surf and body boards are available to rent by the hour. 29 Lower Cheung Sha Village, Lantau Island, 8104-6222,
www.longcoast.hk
.
Get There: MTR to Tung Chung; then take Bus 3, 3M, or A35; Taxi is a $120 round trip. Call Lantau Taxi Services if you get stuck, 2984-1328. OR Outlying Ferry Pier No. 6 to Mui Wo (30 min), then bus 1, 2, 3, 3M, A35, or 4 and get off at Lower Cheung Sha Village (20 min); Taxi from Mui Wo is $80 roundtrip.
Tai Long Wan, Sai Kung
Located on the easternmost coast of the Sai Kung Country Park, Tai Long Wan is definitely a trek from any part of Hong Kong, but it's also the best surf around. You'll find four adjacent beaches separated by headlands that are connected by hiking trails meandering up and over the ridges. The main beach, Tai Wan, gets the biggest waves and has the most consistent action; check out the other bays when it's too messy. The ideal plan for surfing Sai Kung is to arrive and camp on the beach for a night or two. The Hoi Fung Store (Ham Tin Village, Tai Long Wan, 2328-2315) is located slightly inland off the beach and provides food, cold showers, and toilets. This is a fun mini surf trip and well worth the effort if Tai Wan conditions come together. There are no lifeguards and plenty of rip tides, so don't paddle out by yourself or you might end up a floater. The third Rip Curl Cup 2006, Hong Kong's big surfing contest, was held here in early December and attracted some 250 competitors and spectators proclaiming Tai Long Wan as THE place to rip it in Hong Kong.
Get There: MTR to Choi Hung; Minibus 1A to Sai Kung; Bus 94 to Wong Shek Pier; Ask a fisherman for a sampan ride straight to the beach (depending on rough seas), usually about $100 (15 min).
Before You Go
Sixrounds is an online group devoted to surf culture in Hong Kong. Check out the site for information, message boards, pictures, and boards for sale, including information from the Hong Kong Observatory on the conditions of coastal waters:
http://groups.msn.com/sixrounds
.
Always bring a friend. Also, be aware of riptides and sharks and the lack of lifeguards on Sai Kung beaches. Do not swim in dangerous weather conditions.
Gear Up
Billabong
East Point Centre, Causeway Bay, 2831-0190.
Actsport Activwear
G/F, 1-9 On Hing Terrace, Central, 2530-0630.
Rip Curl
1/F, 16 Pak Sha Rd., Causeway Bay, 2808-4554.
Xgame Wind n' Surf
1/F, 11 Pak Sha Rd., Causeway Bay, 2881-8960.
G/F, Wilson House, 19 Wyndham St., Central, 2366-9293.
79 Chatham Road South, Tsim Sha Tsui, 2375-0225.