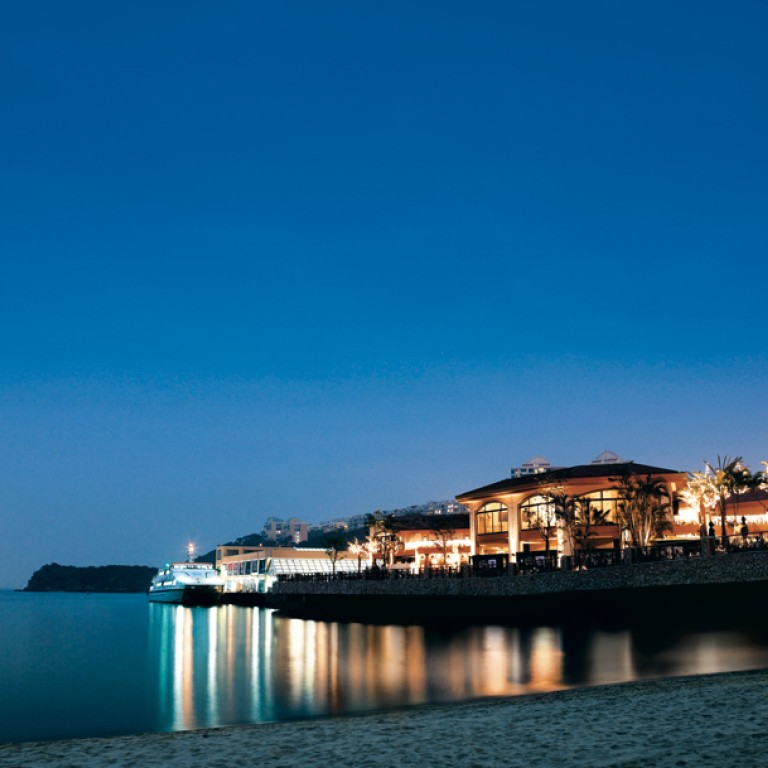 If we told you a few months ago we were excited about the dining scene over D-Bay way you might think we've finally lost our minds. But now? It's nothing less than a revolution, with over 20 new restaurants, bars, coffee houses and even a bookstore complete with an in-house cappuccino and tea bar. Discovery Bay Plaza's new makeover has transformed this once bland and uneventful Lantau port into Hong Kong's most exciting oceanfront culinary hub. Complete with world-class food and a smart alfresco atmosphere, diners can expect a full catalogue of eastern and western cultural influences mixed together with a cool vibe and resort-like theme. "Water Margin," as it's called, greets visitors fresh off the ferry with the smell of steaks, ribs, chicken and seafood. A host of outdoor terraces along the bay should sweeten up some of that Hong Kong air and attract hungry flocks from all over the territories. "It is to be the ultimate food and leisure experience," says Chan Chi-ming, the marketing manager of HKR International, the company spearheading this ambitious development. Authenticity and freshness seem to be Water Margin's bread and butter, as you'll find out soon enough. Take a peek at the line-up.
Not long after visitors step off the ferry do the blues and greens of ocean and island scenery quickly turn to the welcoming maroon façade of Café de Paris (Shop G01B, G/F, Block A, Water Margin, Discovery Bay, 2987-8203). It's like a Parisian street café transported to the beach and given an inventive menu. Step inside and enjoy old-school traditional French specialties such as frog legs navarin and pan-fried foie gras with dark cherry, balsamic and thyme savarin, or relax outside with a helping of apricot bourdalou tart, almond crumble, and white chocolate.
A few strides away you'll find Antiguan-style BBQ, Jamaican jerk chicken, flaming ribs, and key lime pie. Hemingway's By The Bay (Shop G09, G/F, Block A, Water Margin, Discovery Bay, 2987-8855) is bringing the culinary delights of the Caribbean to Discovery Bay. The concept is simple: "tropical getaway." The restaurant's namesake, Ernest Hemingway, spent years exploring the nooks and crannies of distant shores, grasping for the ultimate paradise. Keeping to the spirit, the restaurant's location right next to the beach lends it a resort-like atmosphere complete with a spacious outdoor terrace, reggae/island music, and a tropical drink list that packs 50 different exotic cocktails, including a mean Antiguan rum punch ($58). The Rastafarian menu offers creative vegetarian dishes and fresh pasta. Tuesdays, Thursdays, and weekends host a cookout-style BBQ buffet for all you insatiable carnivores.
A fresh sea breeze and even fresher seafood is on the menu at Manta Ray (Shop G08B, G/F, Water Margin, Discovery Bay, 2987-2298). Seafood from Australia, New Zealand and Tasmania is flown in every 48 hours to guarantee the freshest market catches available. Check the fishmonger's blackboard for updates on fish, lobster, tuna, and oysters from all over the world or choose from signature dishes such as gourmet fish and chips (promised to be Hong Kong's best) and seafood platters. Manta Ray's philosophy when it comes to the fruits of the sea is refreshingly simple: there's no need to over complicate something that's naturally beautiful in texture, taste and appearance. Handling and seasoning is kept to a minimum to keep fish true to that salty seafood taste.
Fagara (Shop 105/A, 1/F, Block A, Water Margin, Discovery Bay, 2987-6222), is an educational experience. Sichuan cuisine has long been inextricably linked to spicy, fiery onslaughts. Head Chef Robert Wong reminds us that this generalization doesn't capture the full diversity of the cooking style. He offers some deeper culinary insight into the three taste sensations known as "Ma," "La," and "Tang." Your journey at Fagara should begin with soothing, tastebud-opening Tang dishes, followed by numbing Ma dishes, and finished with hot, climatic La dishes. These are wonderful contrasts, accentuated even further by spices imported directly from Sichuan. The live dungeonous crab and the chili wontons are unbelievable.
Classic Irish hospitality is next on the list. McSorley's Ale House (Shop G11A-1, G/F, Block B, Water Margin, Discovery Bay, 2987-8280) is in a superb location for people watching. Located on the edge of Water Margin's outdoor plaza, the pub entertains folks with over-sized beer buckets and a beef pie cooked with a special ingredient – more beer. Surprise! Highlights include "The Curry House," an additional counter where pub-goers can order Indian curries and tandoori dishes, and "The Chippy," a tasty chip shop that serves battered jumbo sausages, mushy peas and scampi. A huge outdoor seating area, imported McSorley's Ale and sports on the large screen make for a winning combination. Stay tuned for acoustic folk music on Tuesdays nights and weekend afternoons.
Water Margin is introducing ZAKS (Shop G04, G/F &103, 1/F, Block A, Water Margin, Discovery Bay, 2987-6232) to Hong Kong for the very first time, its opening scheduled for the coming weeks. Its close location to the pier and resort-style layout will add a colorful look to the plaza's presentation and a diverse menu to its international repertoire. The restaurant's concept emphasizes a collection of Asian, western, and fusion flavors with a focus on fresh ingredients. Specialty dishes will include handmade pizzas, fresh pasta, seafood and various vegetarian treats. The outdoor dining area is so close to the water it may as well by floating on it.
Now, for a taste of the east. The First Korean Restaurant (Shop 102B, 1/F, Block A, Water Margin, Discovery Bay) and Chef Jin are getting busy in the kitchen, whipping up kimchee and handmade noodles. Her special soy sauce recipe sounds promising as well: soy sauce, water, garlic, onion, clear soup, mashed pear and sesame. This unique preparation was conjured up to specifically compliment a large array of Korean BBQ specialties. Check out the beef tartare with vegetables and green onion, the seafood pancakes, or the stone pot with crispy rice in agaricus blazei mushroom broth.
Jet-fresh seafood from Japan is here to whet your appetite. Ippu Japanese Restaurant (Shop G05, G/F, Block A, Water Margin, Discovery Bay, 2987-2886) is bringing the "Four Seasons of Japan" to Water Margin. Head chef Nakai Soichiro has been well-trained in the art of Kaiseki cuisine, specializing in sashimi and sushi. Commitment to freshness is the key philosophy of Ippu. Grade-A seafood is flown in daily from the Kyushu, Hokkaido and Tsukiji fish markets and is prepared according to the season. Order up sushi, sashimi, teppanyaki and teriyaki in a pleasurable and elegant atmosphere.
You've probably already dined at one of Wildfire's Hong Kong Island locations. Wildfire Fresh (Shop G01B, G/F, Block A, Water Margin, Discovery Bay, 2987-2802) is focusing on a quick grab and go scheme. Creative pizzas, ciabatta and paninis, pastas, and wraps make for easy anytime food, perhaps a bite to take for the ferry. Some features include tandoori chicken with mint chutney, lettuce and pickled cippolini, and tuna and apple with smoked mozzarella, lettuce and lime mayo. An added treat is the gelato counter, which will be refreshing for hot and humid summer afternoons.