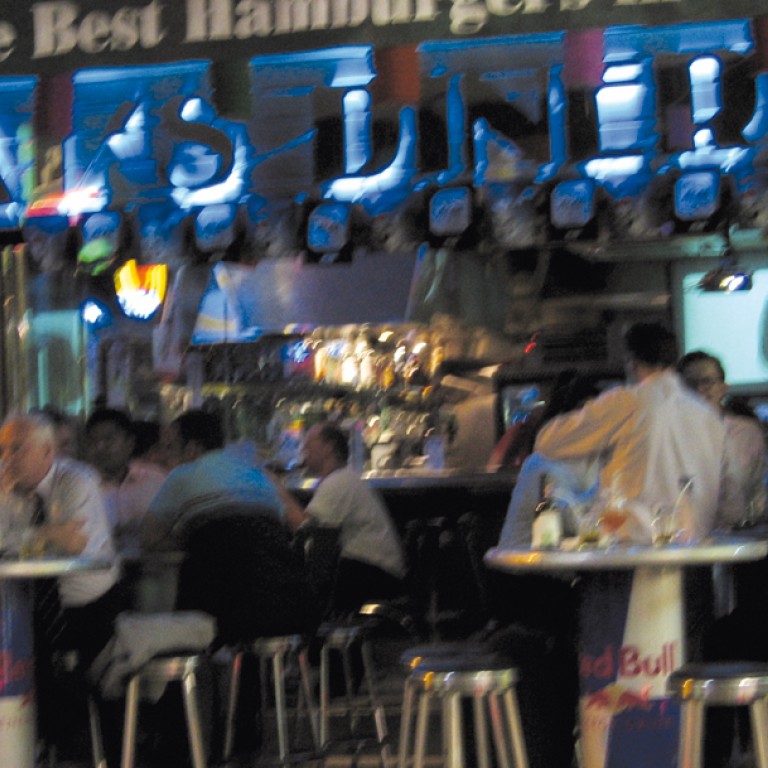 Best Places to be a Rock Star
AL'S DINER
Hark back to more innocent times, when people jived by the jukebox, and square dads griped about Elvis. You're a rebel without a cause, so hike your guitar up to your armpits, apply some extra pomade to your perfectly coiffed hair and try to pick up a gal in a poodle skirt by seeing if they want to drive up to lookout point and hold hands (or Wyndham Street, if you don't happen to live in a kitsch 1950s sitcom). Tread carefully, however, because as a rock star from the 50s, you should be able to make chicks spontaneously swoon with a deft gyration of your hips, and you wouldn't want to cause an accident.
39 D'Aguilar St., Central, 2521-8714.
THE CAVERN
Yes, it's the obvious choice for a mop-haired pop cherub to hang out, although we have it on good authority that the original Cavern Club in Liverpool looked a little like this when the Beatles used to play there. Never mind, the velvet curtain at the front entrance confers a certain degree of exclusivity, and the swirling color scheme is sure to take you back to a time when people said things like "groovy." The big question is: is it a club for mods or rockers? Pick your side carefully, because things could get ugly.
Shop 1, LG/F, Lan Kwai Fong Tower, 33 Wyndham St., Central, 2121-8969.
SWINDLER'S
The 70s was a time of decadence, so fittingly, the décor in this venue befits a 70s rock star quite nicely. David Bowie, Iggy Pop, Lou Reed... their hedonism was offset only by their genius. Yeah, whatever. Our point is, can't you just imagine the snake-hipped dandies downing red wine in the soft light of the decadent candelabras? Plus, the mirrors allow you to ensure that your headscarf remains rakishly askew. If you want to be a real rock star, you could always try to commandeer the microphone from the in-house band. Just don't try to copy Keith Moon and blow up the drum kit. They won't like that.
Shop B, 33 Lockhart Rd., Wan Chai, 2520-5101

LUX
Whether you wish to recreate the sexual ambiguity of Boy George, the suave minimalism of The Human League or the stonewashed vigor of Bon Jovi, Lux is the place to revel in your synth-heavy pop posturings. Gloriously vulgar in the way that only the 80s knew how to be, and replete with lashings of red, black and chrome, is there anywhere better to don a mullet, inexpertly apply blusher to your cheekbones and hum "99 Red Balloons" to yourself? Didn't think so. Somewhat worrying is that the 80s has now safely established itself as "retro." When did that happen?
UG/F, California Tower, 30-32 D'Aguilar St., Central. 2868-9538.