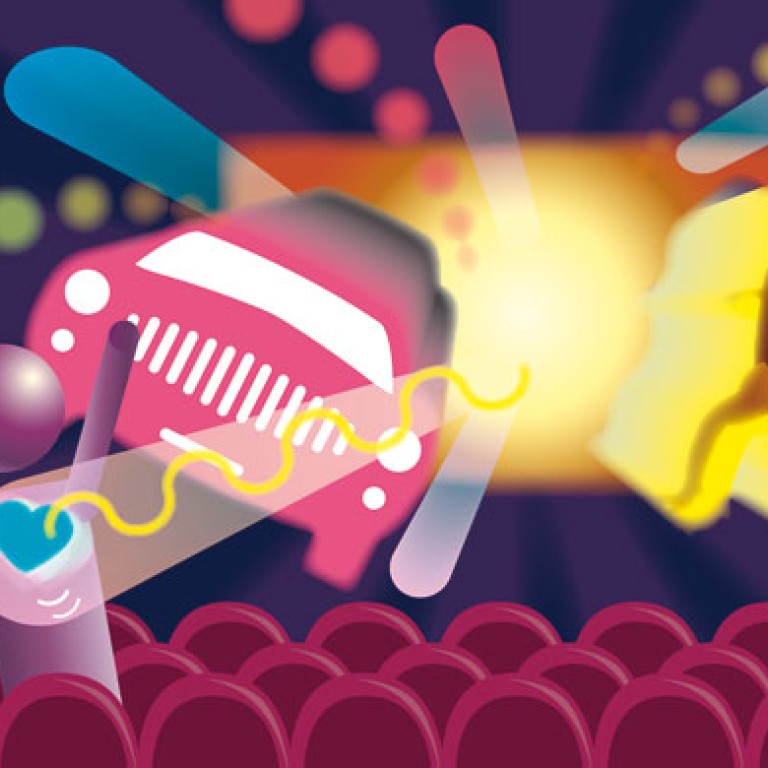 Will new state-of-the-art cinema technology be the medicine to save the dying film industry, asks John Robertson
When Hong Kong bids farewell to 46-year-old Queen's Theatre on September 30, it will also sort of be saying goodbye to an era – the traditional movie-viewing experience, that is.
The upcoming Grand Cinema, scheduled to open with shopping mall Elements after the curtains come down on Queen's Theatre, is a prime example of the "new cinemas" to come. Not only is it the biggest cinema in Hong Kong, this new theater will also boast being the first in the world to make use of infrasound technology. Earlier this year we also saw the opening of IMAX in Kowloon Bay and a 4D theater at the airport. Purists may balk at these gimmick, but there are reasons to be hopeful about these new cinemas opening around town.
The fact is many of Hong Kong's cinemas are in less than perfect condition right now, and the creation of new, higher-grade venues may well be crucial to help rejuvenate an equally moribund local film industry. "If the film industry isn't doing as well as before, that's really because of our cinemas, their bad sound and their bad setting," says veteran film critic Lam Kee-to.
Infrasound?
For the uninitiated, infrasound consists of sound waves below audible frequency. Consequently, its effects are "felt" rather than heard. Emitted by natural disasters such as earthquakes and volcanoes, it provides the warning signal that triggers awareness in many non-human animals of looming disaster. At the same time, infrasound also permeates even our most basic everyday experiences.
"Infrasound is all over the place, especially in a city like Hong Kong" says Eric Stark, the Grand Cinema's technical designer. "When a truck or a train goes by," he says, "the infrasound induces a sensation in your body so that you feel it." When manipulated and applied in different ways and to different degrees, it can also evoke a whole array of different emotions, from anxiety to sorrow to desire.
Research has previously been conducted into employing infrasound as a weapon, most famously by French scientist Vladimir Gavreau, who accidentally stumbled on it in his lab when he and his assistants began to experience symptoms of pain and nausea. Since then, it's allegedly been popular among police forces for dispersing riots.
A small number of instances exist in which infrasound has been deliberately used to enhance film. 1974 saw the release of "Earthquake" in cinemas equipped with massive subwoofers, geared to emit infrasound and produce violent shocks for audience members. The system proved a flop, largely due to leakage into nearby cinemas – according to Stark, the Grand Cinema's current system will not only be contained but far less crude than the methods used in the 70s. More recently, French director Gaspar Noe used it in the early segments of his notorious film "Irreversible," prompting numerous audiences at Cannes and San Sebastiano to make an early exit – apparently the desired response.
The Verdict?
It's impossible to forecast the success and potential impact of Grand Cinema alone, and many in the local film world seem split down the middle. "It sounds like a good thing for both film makers and the audience," says director Dante Lam. "Eventually, it may even affect the way films are made, with directors deliberately thinking more about their films from the sound angle." Regular supervising sound editor for local films, Martin Chappell, agrees that attempts to improve the sound quality in cinemas can only be good for the film industry. At the same time, he's cautious about embracing the infrasound aspect just yet, particularly in light of past "novelty" features in cinemas. "I can't tell right now exactly what it is they're offering," he says; "on a technical level, I'm still a bit dubious, it may just be a gimmick."
Vincent Kok worries that the system might potentially distract from traditional drama or romance in certain films, while MSF believes that it won't change traditional attitudes towards film and that people will continue to go see "traditional movies" with "character-driven stories."
Yet Lam provides an interesting counterpoint to both. "Ever since the beginning of movie-making a century ago, when one pays to go into the movie house to see a film, he's expected to be surprised. They want to see something they have never seen before – so you have to bring in new technology and surprise them," he says.
"Film is a unique medium for story telling because besides actually telling the story, you have all this little extra tools to help you tell it differently – like music, special effect. So that's why new technology is needed all the time to bring in refreshing new elements to audience."
Cinemas 2.0
4D Extreme Screen
UA IMAX
The Grand Cinema