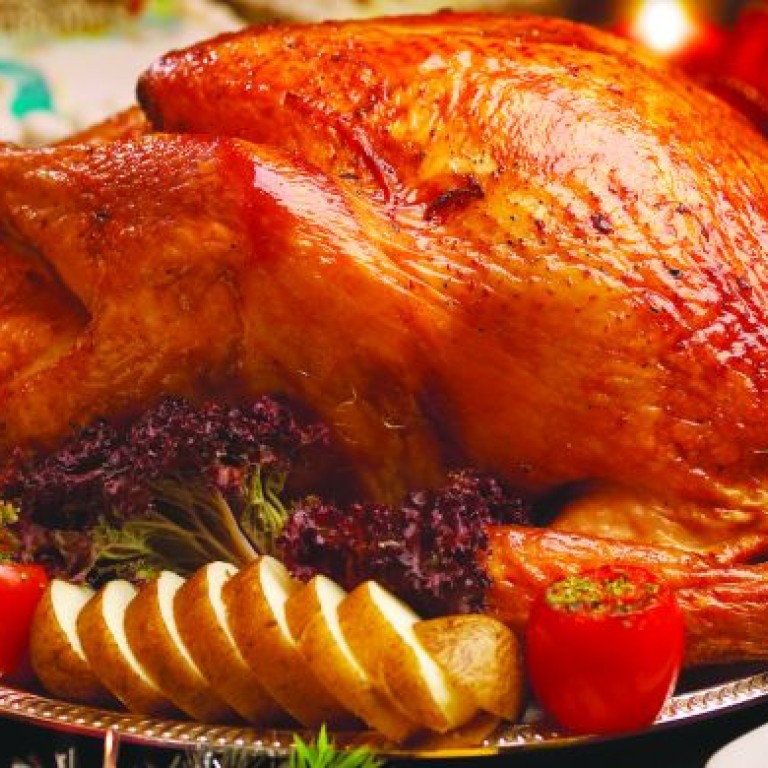 The Complete 2011 Hong Kong Christmas Guide
Don't know what you're doing for the Christmas holidays? Let our comprehensive festivities guide light the way.
We love a jolly old Hong Kong Christmas. There's just something about the 60-foot Santas adorning the outside of buildings, ludicrous shopping mall displays and tons of amazing holiday food that puts us in a merry state of mind.
Check out our picks of the best hotels and restaurants to book for your festive feasts. Elsewhere, we've also picked the best turkeys to-go, so you can have your Christmas meal at home without having to cook. And last but not least, our listings of where you can get a real Christmas tree for your home. Merry Christmas!
Festive Dining
If laboring over a five-kilogram turkey and trying to feed an army of noisy relatives and friends at your cozy 400 square foot apartment isn't exactly going to pan out, why not book yourself in for a hassle-free traditional holiday meal at one of the restaurants below:
Bella Vita
Go European and experience a traditional, homely Italian festive dinner at Bella Vita. True to his roots, Chef Francesco of Bella Vita has created a menu that includes a cornucopia of authentic Italian dishes such as homemade tagliatelle with venison ragout, risotto with Sicilian red shrimp, pistachios and Tuscan saffron filament served with fresh shrimps. Also try the slow-cooked Iberico pork belly, sautéed mussels and truffle caviar.
Dec 24-25, 31. $680 and up. 11/F, Cubus, 1 Hoi Ping Rd., Causeway Bay, 2577-0699.
Bubba Gump
Enjoy the holidays from on high this year. Bubba Gump on the Peak is serving up a lighthearted atmosphere for a traditional meal of roast turkey with all the trimmings. Alternative main courses include their signature seafood in various styles, including tempura shrimp with fries and dips. The three-course celebration kicks off with a glass of sparkling wine. Closing the feast is a special Christmas dessert created by chef Frank in honor of the festive season—a colorfully decorated Christmas cupcake with vanilla frosting and strawberry sauce.
December 1-26. Christmas menu from $488. Shop 304-305, 3/F, The Peak Tower, 128 Peak Rd., The Peak, 2849-2867.
Sushi Ta-ke
Sushi Ta-ke will provide a touch of Japanese elegance with a festive menu full of sumptuous dishes to match. Highlights of the menu include the refreshing Anglerfish liver and abalone steamed with sweet soya sauce. Team it up with the mouthwatering grilled Hokkaido taraba crab. There will also be a delicious sushi selection including wild toro (tuna) and botan ebi (spot prawn).
Dec 24–25, 31. $680 and up. 12/F, Cubus, 1 Hoi Ping Rd., Causeway Bay, 2577-0611.
Top Deck
Instead of a traditional belt-busting dinner, why not celebrate Christmas over brunch? At Top Deck, located atop the iconic Jumbo seafood restaurant permanently moored in Aberdeen's harbor, treat yourself to a buffet with goodies from pizza to sashimi to freshly made crepes. The set includes all-you-can-drink Veuve du Vernay sparkling wine; rose, red and white wines—as well as sodas, juices, coffee and tea. Take in the vistas of the South China Sea and the hills of Hong Kong Island while you dine.
December 25-26. Brunch from $598. Shum Wan Pier Drive, Wong Chuk Hang, Aberdeen, 2552-3331.
Isola Bar + Grill
Newly renovated waterfront restaurant Isola is ready to take their diners on a deliciously chic and cosmopolitan holiday experience. Enjoy a selection of their scrumptious Italian dishes while taking in the breathtaking view of the Hong Kong harbor. For their special Christmas Eve dinner menu, you can select from a variety of Italian seafood. Opt for the Castelluccio lentil soup with quenelles of salty codfish and mortadella ham, served with aged pecorino cheese and Bronte pistachios; or perhaps the toasted cuttle fish ink bread served with lobster salad, assorted vegetables and camomile mayonnaise. For the mains, you may prefer the homemade ravioli filled with pumpkin, amaretto, butter and sage, served with 24 months-aged Parmigiano and 25 year old balsamic vinegar. Finish off with a hot white chocolate pudding with wild preserved cherries and panettone almonds sauce.
Dec 24. Dinner starts at $888. Shop 3071-75 & 4011, IFC Mall, 8 Finance St., Central, 2383-8765.
Xiao Nan Guo at One Peking
Forget turkey and chocolate cake. It's much more special to celebrate Christmas at Xiao Nan Guo, where you can enjoy delicious Shanghainese food while admiring the spectacular view of the skyline (all decorated for Christmas) through floor-to-ceiling glass windows. The highlights of the set dinners include classic straw-bundled pork belly and stewed spicy jumbo prawns with drunken chicken in Shaoxing wine.
December 24-25. Dinner from $468. 10/F, One Peking, 1 Peking Rd., Tsim Sha Tsui, 2527-8899.
208 Duecento Otto
There's no need to lay down a lot of cash for an endless series of courses when you can order exactly what you want a la carte from 208. Begin your feast with fried artichokes and zucchini flowers stuffed with homemade ricotta and some homemade pork and veal sausage ravioli with sage, butter and Castelmagno cheese. For the main event, there's sea bass, veal or a roasted honey and garlic glazed turkey breast with caramelized greens and rosemary garlic potatoes with cranberry sauce and gravy. Complement the panettone pudding for dessert with 208's signature Alexander cocktail, made with crème de cacao, brandy, white Sambuca and nutmeg. Plus, if you dine at 208 between December 19 and 26, you'll get a complimentary glass of mulled wine as soon as you walk in. Mangia!
December 12-26. Antipasti and mains from $198. 208 Hollywood Rd., Sheung Wan, 2549-0208.
Armani/Aqua
This restaurant, like its older sister Aqua in Tsim Sha Tsui, serves both contemporary Italian and Japanese cuisines. Take the holiday menu, which allows diners to experience delicacies from both cuisines over the many courses of a single meal. The Christmas Eve lineup includes sushi, tenderloin with eggplant and rum baba with honey ice cream. Meanwhile, the tasting menu on offer throughout the entire month showcases risotto served with prawn and spring onion as well as baked sea bass and sea urchin.
December 24-25. Dinner from $1,088 (including a tasting menu available throughout the month). 2/F, Chater House, 8 Connaught Rd. Central, 3583-2828.
Cépage
Cooking up an innovative combination of French and Mediterranean flavors at Cépage is star chef Sebastien Lepinoy, a protégé of Joel Robuchon. For Christmas, Cépage is emphasizing caviar, using the pricey roe in a variety of dishes. The five-course Christmas dinner includes French orange blossom bread with caviar, a foie gras terrine accompanied by wine and ravioli with black cod, Vallegrain pork and, last but not least, a dark chocolate Christmas cake.
December 24. Dinner from $1,780. Reservations recommended. 23 Wing Fung St., Wan Chai, 2861-3130.
Jimmy's Kitchen
The highly renowned Jimmy's Kitchen is famous for providing its customers with good, old-fashioned international cuisine since time immemorial, and this holiday season the restaurant will provide you and your family a feast to remember through lavish dishes like oysters, caviar, roasted US rib eye, traditional roasted turkey and Boston lobster thermidor. After your mains, you can wrap up the meal with delicious homemade Christmas pudding, pies and semifreddos.
Dec 24-25. $648 per person. G/F South China Building, 1-3 Wyndham St., Central, 2526-5293.
Turkeys to order and where to find real Christmas trees...
Turkeys To Order
If you want to stay at home but dread setting foot in the kitchen, just order a delicious, professional turkey from any of these outlets. Just remember to remove all the labels before trying to pass it off as your own.
Main Street Deli
If you don't have time to cook a bang-up dinner at home, not to worry. Langham Hotel's Main Street Deli offers a festive Christmas meal complete with a turkey, crab and butternut squash bisque, sweet potatoes, and mashed potatoes with gravy and cranberry sauce. Since no Christmas feast is complete without dessert, you'll be able to choose between maple pecan pie, pumpkin cheesecake and Christmas vanilla bean pudding. Delivery is also available with a small fee.
Lower Lobby Level, Langham Hotel, 8 Peking Rd., Tsim Sha Tsui, 2375-1133.
M.A.X. Concepts
If your guests' tastes are all over the map, M.A.X. Concepts's "Party-To-Go Menu" might be worth a look-see. Besides the traditional Christmas turkey (priced at $448) a wide variety of snacks and side dishes are available. Orders for party trays and pickups can be made at any of M.A.X Concept's restaurants, including Maxim's Palace City Hall, Cafe Landmark and Deli-O in Jardine House.
For more information (including a party menu), visit www.maxconcepts.com.hk.
City'Super
City'Super has all the fixings for foodies who want to eat big this season. Choose between a six-kilo US turkey with chestnut stuffing, roast vegetables, gravy and cranberry sauce; a baked, honey-glazed Virginia ham; and a classic lasagna—or just order all three. Prices start at around $790.
3/F, Harbour City, Tsim Sha Tsui, 2375-8222.
Great Food Hall
For those who are picky about the bird they serve at Christmas, Food Hall is offering all types of turkeys—from free-range organic to petite French raised. Order up the the usual sides like stuffing, cranberry sauce, roasted potatoes and parsnips, or eschew them altogether for a simpler meal. Prices vary, but start at $9.50 per 100 grams.
B/F, 2 Pacific Place, 88 Queensway, Admiralty, 2918-9986.
Oliver's Delicatessen
Oliver's has a wide selection of food from around the world. Various types of turkey, ham and lamb dishes are available to order. Turkeys start at $540 for 6 kilos.
2/F, Prince's Building, Chater Rd., Central, 2810-7710.
Fat Angelo's
The Italian, family-style resto are offering four- to five-kilo turkeys at $500 a pop. Add on Christmas favorites such as candied yams and mashed potatoes. Make sure to place your order a week in advance.
Shop B, B/F, The Pinnacle, 8 Minden Avenue, Tsim Sha Tsui, 2730-4788.
The Peninsula Boutique
The Peninsula is doing rustic comfort fare with turkeys ranging from 5 to 7 kilos, with optional stuffing. Place your order over the phone three to four days in advance.
Basement BE7-9, The Peninsula Hotel, Salisbury Rd., Tsim Sha Tsui, 2315-3262.
The Harbour Grand
Why not spend your Christmas Day looking over Hong Kong's lovely cityscape? The Harbour Grand is offering a turkey combo that feeds 6 to 10 people at $165 per kilo. This turkey comes with chestnut and herb stuffing, gravy, cranberry-orange sauce, vegetables, mince pies and roasted pumpkin soup.
23 Oil St., North Point, 2121-2649.
 
Finally, where to find a real Christmas tree...
Oh, Christmas Tree
Can't find a real Christmas tree and loath to get a crappy plastic model? We're here to help.
King Fung Nurseries
With a selection of firs imported from the US, such as the ever-popular Douglas fir, King Fung Nurseries offers trees in a wide array of sizes, starting from four foot specimens, with a base included for free. King Fung will deliver and also collect the tree when you're done with it—for an additional fee.
Lau Shui Heung Village, Lau Shui Heung Rd., Fanling, 2643-6628, www.kingfung.net.
P & F Garden
P & F Garden is a family-run business that has had experience in providing Christmas trees for households in Hong Kong for many years. It offers large, good quality Douglas and Noble Christmas firs at prices starting from $700 for a 150-centimeter tree. For larger trees, they'll throw in delivery for free.
50 Shui Choi Tin Village, Victoria Rd., (Near Cyberport), 2812-0948, www.pnfgarden.iyp.hk.
Lily Flowers
One of the most well-known stores in Hong Kong for Christmas trees, Lily Flowers is still going strong, offering its US-imported fir trees to the public. Prices start from $950 upwards, although delivery and stands are not included in the price.
Wah Fu Estate Entrance, Pok Fu Lam Rd., Pok Fu Lam, 2551-3307, www.lilyflowers.com.
Anglo Chinese Florist
Both Douglas and Noble firs are imported from the US and available in heights starting from 130 cm. Prices start at $700, including delivery.
G/F, 1 Lyndhurst Terrace, Central, 2921-2986, www.anglochinese.com.
Chun Hing Garden
Chun Hing Garden is an open-air store near the Happy Valley Racecourse that offers a wide array of trees, both large and small. Chun Hing also sells wreaths and other types of Christmas-themed plants. Delivery is available.
Wong Nai Chung Rd., Happy Valley, 2572-6430, www.chunhinggarden.com.
IKEA
The famous Swedish furniture and homewares store also stocks Christmas trees at affordable prices, starting from $399 for a small 90-centimeter tree. Delivery available.
B/F, Park Lane Hotel, 310 Gloucester Rd., Causeway Bay, 3125-0888, www.ikea.com.hk.
Sophie's Christmas Trees
This small store located in the New Territories supplies what its name suggests: Christmas trees. You'll also find a nice selection of poinsettias and other festive plants.
13 Yuen Cha Kok Rd., Sha Tin, 2649-6280.
Rent-A-Plant
This store offers fresh Noble firs at reasonable prices, including delivery and a stand for the tree.
Room 906, New Trade Plaza B, 6 On Ping St., Sha Tin, 2657-3910, www.plants.hk.