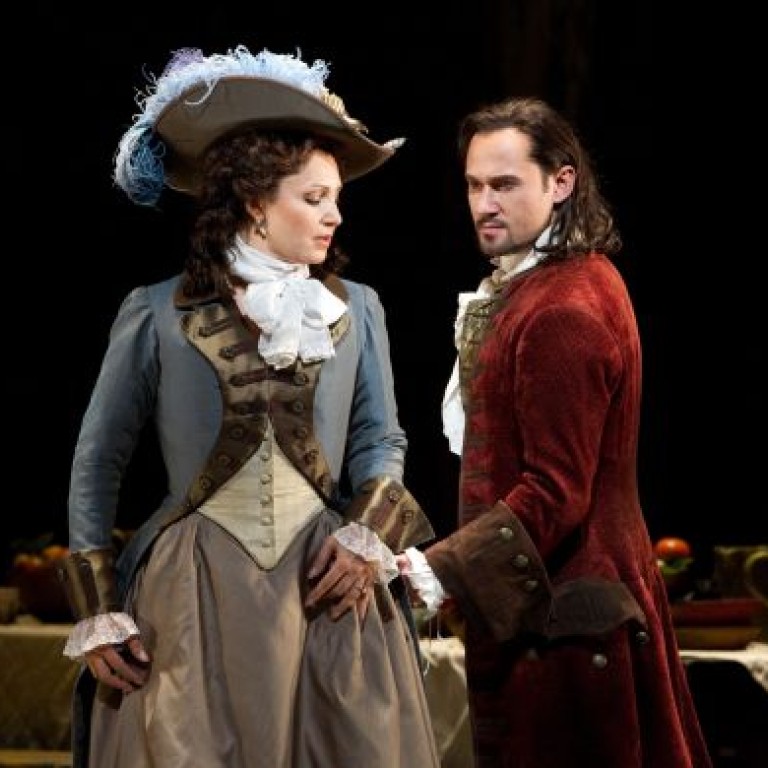 Opera at the Movies: The Met in Hong Kong
It's a shame that unlike other great cities in the world, Hong Kong is a place where world-class opera productions are rarely found. But the upcoming showing of "The Met: Live in HD" might be the second best thing for opera lovers. The series, featuring high-definition screenings of the world's greatest operas brought by the legendary Metropolitan Opera of New York, has returned for a new season.
From now to July next year, you can watch ten operas by the likes of Verdi, Mozart and Glass in UA Cityplaza, Palace IFC or AMC Pacific Place. $180 for screenings at UA and IFC, or $220 at AMC. For more information, visit
www.themetinhongkong.info
.
Don Giovanni
One of the most-performed operas of all time, Mozart's classic gets a brand new production this year with Polish baritone, Mariusz Kwiecień playing the titular anti-hero under the direction of Tony Award winner, Michael Grandage.
Jan 7, 7:40pm, UA; Jan 8, 3:30pm, UA.
Siegfried
Conducted by the Met's newly appointed principal conductor Fabio Luisi, part three of Wagner's Ring Cycle tells the adventures of Norse mythological hero Sigurd. This is a six-hour saga so make sure you've had a good rest and fed yourself before the show.
Feb 19, 5:50pm, AMC.
Satyagraha
Contemporary classical music titan Philip Glass' minimalistic opera, loosely based on the life of Gandhi, is accompanied by a visually extravagant staging, resulting in a modern masterpiece and an unforgettable experience.
Mar 3, 7:40pm, UA; Mar 3, 8pm, IFC; Mar 4, 1:30pm, UA.
Rodelinda

The Met's production of Handel's three-act historical opera first premiered in 2004. In its 2011 revival, veteran soprano Renée Fleming reprises her role as the Queen of Lombardy.
Mar 31, 7:30pm, UA; Mar 31, 8pm, IFC; Apr 1, 1:20pm, UA.
Faust
Based on the first part of Goethe's awe-inspiring work, Gounod's five-act grand opera is a timeless classic in its own right. It also holds special significance for the Met as the opera company opened with "Faust" in its inaugural 1883-1884 season.
Apr 21, 7:30pm, UA; Apr 22, 1:20pm, UA.
The Enchanted Island

Set to be premiered by the Met on New Year's Eve this year, this new baroque opera, inspired by the musical pastiches of the 18th Century, is a retelling of Shakespeare's "A Midsummer Night's Dream" and "The Tempest" with music by Handel, Vivaldi and Rameau, and a new libretto by Jeremy Sams.
May 5, 7:50pm, UA; May 6, 1:30pm, UA; May 6, 8pm, IFC.
Götterdämmerung
Also known as "Twilight of the Gods," the fourth and final part of the epic Ring Cycle is half an hour longer than "Siegfried." Now that's a wrap!
May 20, 5:50pm, AMC.
Ernani
This romantic melodrama is one of Verdi's earliest works, and despite being a smash hit back in 1844, it's a stage rarity nowadays. So don't miss the chance to check out the Met's hot new 2012 production.
Jun 2, 7:50pm, UA; Jun 3, 3:30pm, UA.
Manon
Time travel to the dreamy Belle Époque in Jules Massenet's sensational opéra comique, "Manon." The Met stages a production by London's Royal Opera House, directed by Laurent Pelly and starring Russian diva Anna Netrebko as the titular heroine.
Jun 16, 7:40pm, UA; Jun 17, 1:30pm, UA.
La Traviata
The season ends on a high note (pun intended) with Verdi's magnum opus adapted from the romantic novel "The Lady of the Camellias" by Alexandre Dumas, fils. French soprano Natalie Dessay will belt out some show-stopping numbers in her outstanding coloratura.
Jul 7, 7:50pm, UA; Jul 8, 3:50pm, UA.