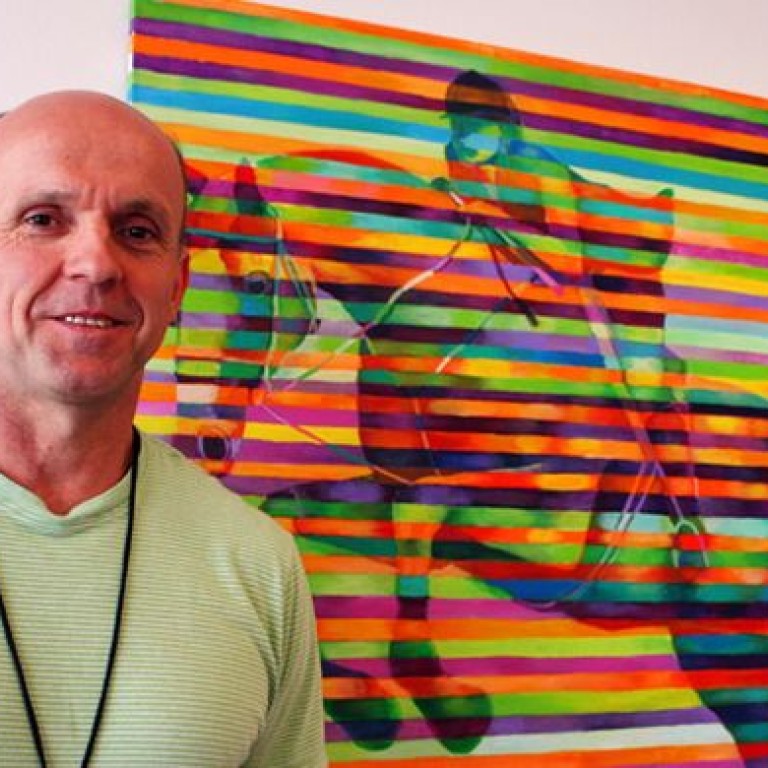 Diagnosed with spina bifida (a developmental disorder in the spine) and told by doctors that he would have trouble walking, Roald Bradstock persevered and became an Olympic athlete in men's javelin. Since 2000, the British Olympic silver medalist has also received awards for his sports paintings and gained the title "Olympic Picasso." The former Olympian tells Brian Yap about his trials and jubilations as an artist and an athlete. 
HK Magazine: Can you share some of the major hurdles and achievements you've had throughout your sports career?
Roald Bradstock: As far as hurdles go, back in 1968 I was diagnosed with spina bifida and they didn't know how I could even walk, let alone play sports. I am the kind of person that embraces hurdles, so I decided then I wanted to throw the javelin. I started training in the 1970s when I was about 10 years old. They would always tell me I was too small, too slow, or too short—that I couldn't succeed. I think it is pretty hard to overcome [difficulties] when everyone is telling you that you can't do something—that's one of the reasons why I moved to America in 1981 when I was 19. I got a full [university] scholarship, so I could train full time and get my degree in arts, whereas if I stayed in England I had to do either training or my art. 

HK: You have set a number of world records for throwing a number of objects, including a dead fish.
RB: I have always done it as part of my training—I will throw golf balls, vinyl records and iPods. I thought, well, I have a lot of official world records, why not just start making up records that have never been done before? So I started, just for fun, to throw objects. I thought it would be funny to have a video of me throwing old iPods and showing that there is an art to throwing things. A lot of people don't know what a javelin is or have never held one, even though they may have seen one, so it's hard to relate.
HK: Could you tell us when you got into art and about your concept of "athletic abstraction"?
RB: I have always been an athlete and an artist. Back in 1967 when I was five or six years old, I played with plasticine. I used to make little plasticine men and would make thousands of them in different colors. I didn't see the connection between the two until the last five to ten years. That was my first time combining sports and art. What do athletes do? Whether it's throwing the javelin or lifting weights, they repeat movements to get stronger and more flexible. So I've used the idea of repetition within the artwork, applying dots of color, lines and shapes to create an image that is abstracted, but at the same time it's abstracted symbolically because of the way athletes are trained. 
HK: You've worked with a group of Olympic artists called "Art of The Olympians" before.
RB: "Art of The Olympians" was started by Olympic icon Al Oerter, a four-time Olympic gold medalist [in the discus throw] and artist. He approached me a couple years before he died—he died in 2007—and asked if wanted to be involved in this group. Basically, the concept was to bring back the visual concept of the Olympics, about promoting not just the sport but the art—the cultural side. There are about 25, maybe 30, other Olympian [artists] of different generations and from different countries.

HK: How do you balance art and sports?
RB: The amount of time it takes is the hardest thing. I am training and competing and I also use my creativity to come up with new exercises and to modify existing ones to work around my aging body. It's been a challenge; right now I feel that when I am doing my art, I am doing my sport. I don't feel like I am doing one or the other now.  
HK: Are there any messages you are trying to convey through your latest art pieces, especially with the London Olympics in full swing?
RB: The artwork is about celebrating sport, whether it's something that you actually do in person or [get your children] engaged and active by encouraging them to find the sport that they like to watch or take part in.