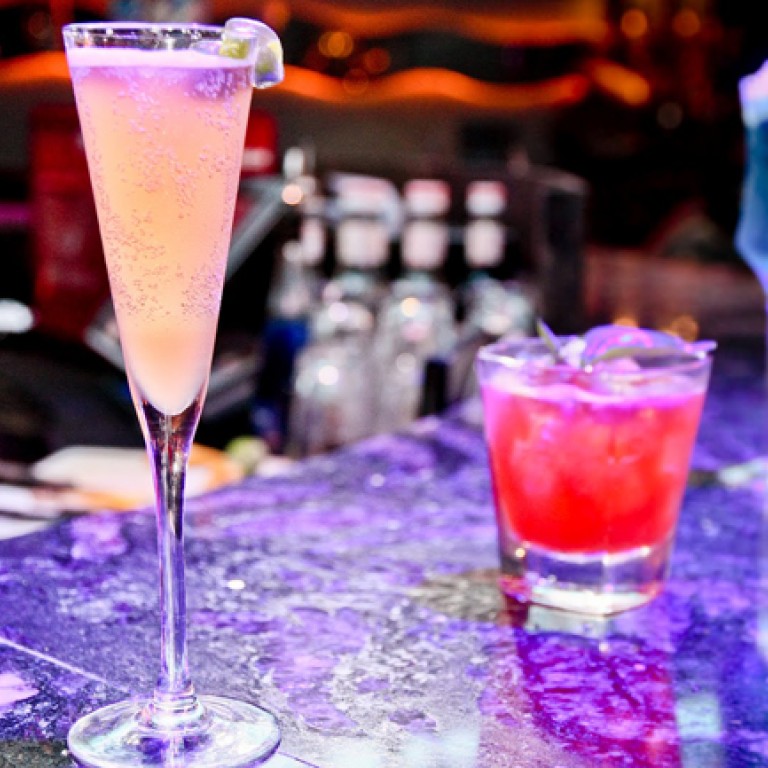 Best New Cocktails in Hong Kong
Stuck with your choice of cocktails for the evening, or find yourself going back to the same ones over and over again? Fear not because these bars and clubs have shaken, stirred and muddled some delicious fall treats.
Magnum
Magnum has teamed up with famed French mixologist Bob Louison to bring patrons a range of delectable creations. Inspired by desserts from his native country as well as traditional Chinese culture, Louison's concoctions are a potent blend of the East and West. These include the HK Dragon, made with Belvedere and Grand Marnier as well as basil leaves, fresh strawberries, lemon juice and Earl Grey syrup; the signature Magnum Club cocktail, consisting of Belvedere, champagne, apple juice and Blue Curacao syrup, served with cream on top; the Socialize, made with a mix of passion fruit and orange liqueurs, as well as champagne and Grand Marnier; and the iconic Lychee martini, which takes on a new spin through the addition of egg whites.
Magnum, 3-4/F, Silver Fortune Plaza, 1 Wellington St., Central, 2116-1602.
Felix
Belvedere ambassador Allison Dedianko and sommelier Leo Au are the people behind the luxury Polish tipple's multisensory vodka cocktails, available at Felix from now until September 30. For vodka and cocktail enthusiasts alike, the Black Raspberry Royal, a mixed cocktail comprising pineapple juice, raspberry liqueur and sparkling wine—infused with decadently red gel pearls—is a must-have. If you're hankering for something zesty with less alcohol, the Chamo-tini—made with Belvedere citrus, chamomile tea, lemon juice and honey served in a martini cup topped with foam—could just be your cup of 'tini. All the vodka drinks are $158 each.
Felix, 28/F, The Peninsula Hong Kong, Salisbury Rd., Tsim Sha Tsui, 2629-6778.
Taboo
With a sleek, all-white décor upstairs and a sexy lounge area in its basement—which also features a shower on the dance floor—Taboo is sure not to disappoint avid clubbers. The newly-opened Arbuthnot Road club also offers concoctions like the Stairway to Heaven, which consists of champagne, almond and raspberry caviar, as well as the Down the Rabbit Hole shooter—a spin on the late-night favorite Jaeger Bomb, topped with a caviar bubble. Stay tuned for an upcoming review.
Taboo, 16 Arbuthnot Rd., Central, 2537-6163.
Sky Lounge
The glitzy top-floor Sky Lounge is introducing a selection of new cocktails, available from September 16. The offerings—all Grand Marnier-infused—include the Green Hawaiian, consisting of crème de peppermint, fresh orange juice, pineapple juice and Sprite; Mocha Smash, made with Kahlua and White Cacao Liqueurs with egg white; Bubbly Kiwi, mixing kiwi syrup and ginger ale; and finally the "Egg-citing" Sunrise, a blend of Malibu Rum, coconut milk and fresh milk. Sky Lounge is offering a buy-one-get-one-free deal on all standard drinks from 5pm-9pm daily, and live performances will also take place every Tuesday and Thursday.
Sky Lounge, 15/F, Hotel Nikko Hong Kong, 72 Mody Rd., Tsim Sha Tsui, 2313-4245.
Opening Soon: Boujis
The favorite playground of London's rich and famous is coming to Hong Kong. Coinciding with its 10th anniversary, the South Kensington watering hole—which regularly saw a mix of young Royals and Hollywood starlets grace its dance floors—will be opening its first Far East branch on Pottinger Street. A mere stone's throw away from Lan Kwai Fong, the spot is sure to become one of the trendiest places to see and be seen. Be sure to check out its signature Crack Baby cocktail once it opens its doors in October—but only if you can get past Boujis' notoriously exclusive entrance.
37 Pottinger St., Central. Opening on October 18.