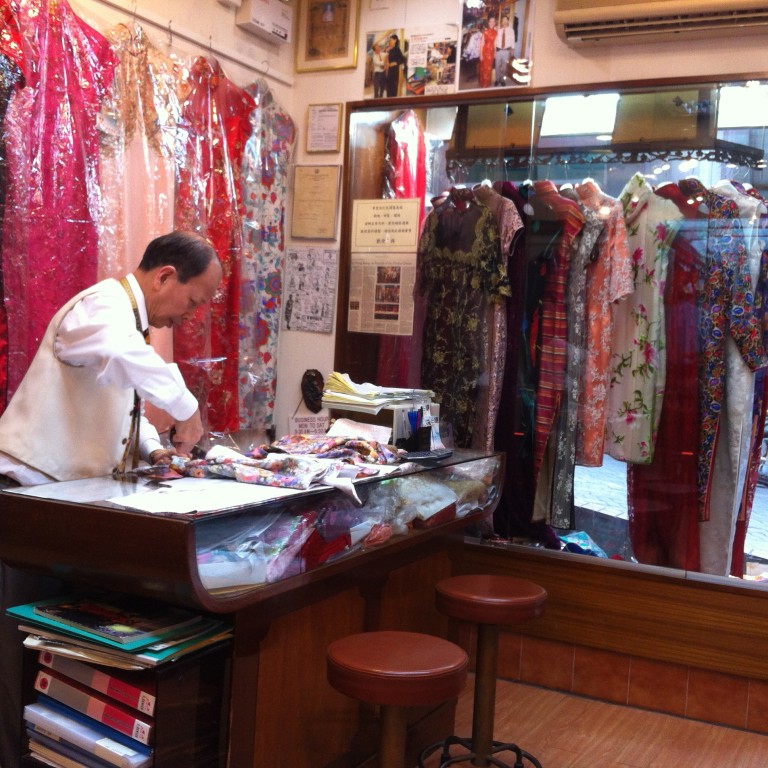 Mr and Mrs Leung of Linva Tailor
If you need a tailor-made qipao for your next big event, pay a visit to Mr. and Mrs. Leung of Linva Tailor. The couple has been making traditional dresses with love and care for the past 40 years. The two sifu chat with Victoria Wong about the decadent years of the tailoring business—and how some traditions are still very much alive.
HK Magazine: So, how old is Linva Tailor?
Mrs. Leung: We've been around for 40 years now. This is our only store, and we have never moved. Our furniture is just as old as this store, and we still use paper receipts for our client records. I started out in fashion, and Mr. Leung specialized in qipao. Together, we started Linva Tailor.
HK: Where did the name Linva come from?
Mrs L: When we started the business, we were quite young. In Cantonese, "linva" ["leen wah"] refers to youth—the prime time of life. It also represents beauty. It is something that is part of us.
HK: When did you learn to make qipao?
Mr Leung: I've been doing this since I was 14.
Mrs L: It is illegal to work underage nowadays, but back then, it was a way of life. He was not in school and he had to feed himself somehow. His father had to beg a sifu to teach him.
HK: How many sifu did you start out with when you opened?
Mrs L: In this industry, every decade seemed to mark a big change in fashion styles. Qipao were everyday wear in the 50s and 60s. After the 1970s, the western influence kicked in, and they became increasingly unpopular. We started out with about 10 sifu. Back when qipao were still trendy—in the 60s—more than 30 sifu were working in this store. Now, there are only a few of us. The masters are all very old; the youngest sifu we have here is 60 years old.
HK: Do you custom-make qipao?
Mrs L: About 10 years ago, we had only been doing custom tailoring for our clients. As there are more tourists these days, we now have more than 100 qipao that we sell in-store. Tourists usually only stay for a week or so, and it never gave us enough time to finish the products. It takes about two months to mail over a custom-made, tailored dress.
HK: What's the difference between qipao and cheongsam?
Mrs L: The proper term is "qipao," but over the years people started using the term "cheongsam" to describe the length of the dress. Cheongsam literally means "long dress;" you can say "duen sam" for short dresses.
HK: Are the qipaos at Linva all handmade?
Mrs L: There's a huge difference between real qipao and modern qibao. Real qipao are made by sifu who have been in the business for years. They are usually made of real silk, and should have a hard collar with a closure on the left side. The embroidery used to be hand-woven, but nowadays, things are done by machine.
Mr L: Back then, people wore qipao as work uniforms and for daily use.
Mrs L: They even wore them at Lane Crawford!
HK: Will you ever consider branching out?
Mrs L: No. We have been in this business for so long that making qipao is natural to us. We can feed the thread through a needle with our eyes closed. It is important for us to keep this Chinese tradition alive. Qipao represent Chinese history and culture, just as the kimono represents the Japanese. Wearing a qipao doesn't only tell people you are Chinese. It makes a person look graceful and classy. It eloquently complements the figure, no matter the size. Rather than trying to hide the body, we tailor the dresses to complement each person's figure.
Mr L: Even the ex-Chief Secretary Anson Chan wore a qipao to a UN meeting!
Visit Linva Tailor at 38 Cochrane St., Central, 2544-2456.