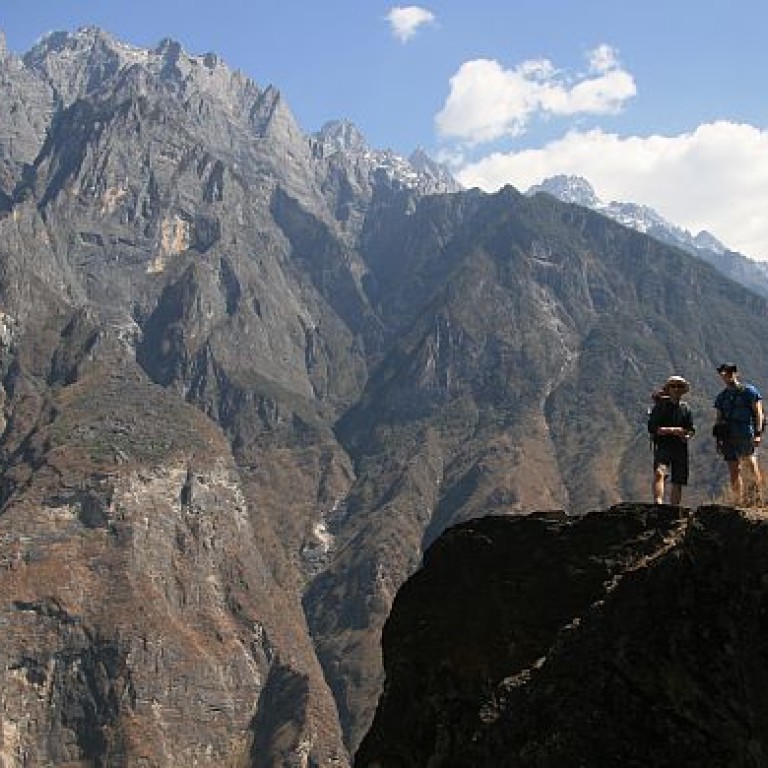 Five Days at Yunnan's Tiger Leaping Gorge
Yunnan's Tiger Leaping Gorge may have a reputation as a wild, remote corner of China—but Sarah Fung discovers that actually, it can be tackled in a long weekend. Photos by Steve Fung.
Tiger Leaping Gorge? "I've always wanted to go there!" Any mention of this famous, multi-day hike through one of the world's deepest ravines elicits wistful sighs from would-be travelers, who consider Yunnan's northern climes too remote for anything less than a full-on trekking expedition. In truth, Tiger Leaping Gorge isn't at all hard to get to from Hong Kong, thanks to Sichuan Airlines' thrice-weekly flights straight into Lijiang—the closest airport to the national park where you'll begin your trek. As long as you're fit, it's also surprisingly doable for rookie trekkers. Fly out of Hong Kong on a Thursday evening and fly home on Tuesday afternoon, and you only really need to take three days off work to complete one of China's most spectacular walks—with a little bit of sightseeing thrown in at the end.
Getting There
Most trips to Tiger Leaping Gorge begin in Lijiang. A three-hour plane ride from Hong Kong, Lijiang is located in Yunnan's Northeast and is home to the Naxi ethnic group, users of the world's last surviving hieroglyphic language. The Tiger Leaping Gorge national park is located roughly two hours from Lijiang by taxi or private car, although buses are available from Lijiang bus station for the adventurous traveler. Sitting on the border of Lijiang and Shangri-La counties, this protected area is home to rural villages, rice terraces and an imposing mountain range that looms higher and closer the farther down the trail you go. Roughly 16 kilometers in length, the trek itself is an access path that the villagers still use today. Known as the High Road, it hugs the mountainside and takes you up steep inclines, past waterfalls, through farmlands and shaded woods, before finally joining the Low Road, a modern, thoroughly tarmacked thoroughfare (for the most part) where buses pick up hikers and villagers alike, bringing them back to Lijiang—or taking them farther north to Shangri-La.
Shuhe Old Town
Day 1
The outbound Sichuan Airlines flight leaves at 7:40pm, so there won't be much to do on your first night other than to get to your hotel and bed down for the night. This is the only hotel you'll need to book in advance, particularly if you're a) less than conversant in Putonghua; and b) you prefer to have your transfers organized in advance. We chose The Bruce Chalet (
www.brucechalet.com
), a friendly, family-run bed and breakfast near Shuhe Old Town with rooms for around RMB260 per night. Bruce speaks good English, is reliable over email and can help to arrange a taxi to pick you up from the airport, and to take you to beginning of the trail in the morning.
Halfway Guest House
Day 2
Wake up bright and early and have a cup of tea in Bruce's garden courtyard before strolling ten minutes into Shuhe Old Town to poke around, have breakfast and buy some water for the long day ahead. Arrange your taxi to take you from Bruce's at about noon, arriving at the start of the trail just after 2pm. You will need to pay an entrance fee of RMB50 to enter the park, and from there the driver will point you towards the start of the hike. The first day is an easy stroll along a well-paved road, although construction work on farmhouses along the trail means that it's also the least picturesque part of the walk. You'll know that you're on the right path thanks to the small blue signs pointing the way, as well as arrows in yellow, green and red, spray-painted onto rocks and trees all along the path: these are courtesy of the park's guesthouses, making sure you find your way to their doors (seemingly Hong Kong's zeal when it comes to signage has not yet made it to this corner of China). After about three hours (or less, if you're a fast walker) you'll hit the Naxi Family Guesthouse, a pretty spot where you'll find a cozy bed, a shower, a slap-up meal and plenty of Dali beer to help you toast your first successful day on the trail.
Day 3
Today, the hike begins in earnest. Set off from the Naxi Family Guesthouse mid-morning to hit the infamous "28 Bends" before noon. This series of extremely steep switchbacks is known among Tiger Leaping Gorge veterans for being tough to conquer and hard on the knees. We reckon that it's not as bad as they say, provided that you pace yourself and remember to stop for water. After that, the hike is truly lovely, with some lovely scenic spots for photo-taking. Think flowers in bloom, shady trees and even the occasional herd of goats and villagers with their mules. Six hours of hiking will take you to the Halfway Guest House (which, frankly, is quite a bit more than halfway), a lovely little spot with an enclosed courtyard, porch swings and a roof deck called the "Inspiration Terrace" where you can hang out, munch on peanuts and admire the view of the mountains.
A really scary bridge
/
The Jinsha River
Day 4
You'll want to get back to Lijiang today, but fortunately the end of the trail is only a few hours away. This last section isn't particularly difficult, but if you don't have a head for heights you might not enjoy the sheer precipices and narrow, crumbling paths. Still, the views are well worth the occasional stomach-churning moment. Once you hit the Low Road, you have the option to carry on straight down to the river and the fabled "Tiger Leaping Stone," bearing in mind that you will have to pay the villagers a small fee to use their "totally safe" ladders, bridges and pathways to get there and back. Budget at least two hours if you want to head all the way down to the river. However, many are just as happy to end the trip at Tina's Guesthouse, kicking back with a beer or two until the bus back to Lijiang arrives at 3:30pm. The bus will drop you off outside the 800-year-old Lijiang Old Town, a labyrinth of traditional wooden houses that was the former capital of the Naxi ethnic group. Its cobbled streets and willows on every corner (not to mention its cacophonic bar street) makes it China's most-visited domestic tourism destination. Despite the crowds, however, there's still much to admire at this UNESCO World Heritage Site, which was painstakingly restored by the provincial government after it was badly damaged by an earthquake in 1996. There is basically no point in booking any accommodation here as you'll never find it in the maze of alleyways that make up the area. Our recommendation is to simply find somewhere you like, remember your landmarks, and then spend the evening getting pleasantly lost while munching on a cumin-dusted yak skewer.
Marker for the Tiger Leaping Stone
Day 5
It's time to head home, but before you find a cab to take you back to the airport (around RMB100), make sure to drop into backpacker favorite, N's Kitchen (2F, 17 Jishan Alley, Xinyi St., Lijiang, (+86) 0888-5120060), for the best English fry-up in town. This cozy upstairs café is located on one of Lijiang Old Town's quieter squares, and offers truly excellent homemade bread, bacon, eggs, pancakes, waffles and coffee. Now you can head back to Hong Kong: stuffed, smug, and maybe a little bit sore.
The Old Town at night
Need to Know
Safety. While the hike can be managed without a tour guide by a fit, confident traveler, it's always best to go in a group in case of injuries or accidents. If safety is a concern then be sure to not look out of the window when you're in the bus going back to Lijiang—the sheer drop is enough to make you break out in a cold sweat. If this really could be a problem, you're better off hiring a private car to take you back to Lijiang.
When to Go. Because of the high altitude, be sure to pack warm clothes for the evenings, even during the summer. May and June are considered good months to visit because the flowers are in bloom. July and August carries a higher risk of rain, although the climate is still much drier than in Hong Kong. However, you will probably see more people on the trail at this time. September and October are also good times to go, although by then the temperature has started to drop.
Flights. Sichuan Airlines flies between Hong Kong and Lijiang on Tuesdays, Thursdays and Saturdays. Prices start at roughly $3,000 return. If you'd rather go via Kunming, there are flights every day on various carriers, including Hong Kong Airlines. From there, you can take an internal flight or a bus. Book with your travel agent or on english.ctrip.com.