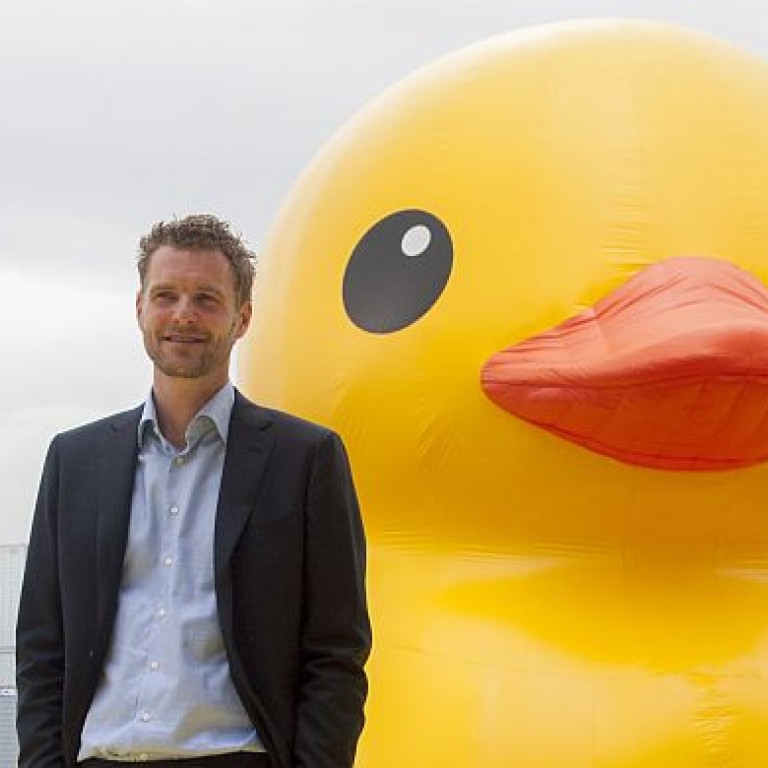 After 14 cities and four continents, you get the sense that Dutch artist Florentijn Hofman is forever Dr. Frankenstein living in the shadow of his massive, adorable creation. Hounded by media and booked solid with appearances during his Hong Kong tour, there's hardly a thing that hasn't been asked and answered about that darned duck. So Charlotte Rea pored through his FAQ and turned to the Twitterverse to try and dig a bit deeper.
HK Magazine: You made a huge rubber duck. Can you explain the concept behind it?
Florentijn Hofman: Our waters around the world are a global bathtub; we're all connected in a way, you know? Especially in these times of the internet and social media, we can forget that we've always been a family. We need to take care of each other and the planet.
HK: We have asked some of our readers via Twitter if they have any questions for you, so here's one (via @carolinefward): does the duck squeak when you squeeze it?
FH: Well, what do you think?
HK: Well, I'd assume... no?
FH: Right.
HK: Let's move on. Ever thought about extending the duck family, or creating a child to play with the duck (via @NickOliver23)?
FH: You know, it's kind of an icon and it's really something that's more for adults. As adults, we think it's artwork for children, but children don't REALLY care about rubber ducks. We think they do, but if you really think about it, it's more of an adult thing that is projected on the children. It's a work that provides a memory of your childhood; to a time where there was no pressure or economic reason to make your living or pay your rent or have work or personal problems. You could play! That's actually what I'm doing. I'm playing around the world, not only with my rubber ducks but also with my other works. They encourage you to play and stay open and be inspired by things; to exist. I hope this big yellow duck of joy will inspire that, and be a catalyst.
HK: Has anyone ever reacted negatively to the duck?
FH: Not that I know of, but I don't read everything.
HK: Right, but I mean like REALLY negatively.
FH: Oh yeah, but that only happens in Europe. People in Europe are quite rude nowadays, and they don't have a clue what they are doing sometimes. In Belgium, they stabbed one.
HK: Wow. They stabbed your duck. Would you say, then, that you've found a friendlier culture here to bring your art to?
FH: I guess you could say that, but I don't want to make it so simple. The story in Belgium was not about the negative side of that particular action, but the reaction, actually. In the city where it happened, they repaired it and then guarded it with their lives. Who on earth has a police patrol for a rubber duck? That's what I really loved about that energy; you have a negative force, and then you bend it towards a positive thing. So now we know what the rubber duck is capable of. Even if there is sadness and people cry about an injury or an accident, these forces emerge and take care of it.
HK: Why did you decide to come to Hong Kong, and are there any additional challenges here?
FH: I got commissioned to come here. It's a very challenging project; there is a team monitoring the weather forecast around the clock because otherwise we have to deflate it. We don't want to have it ripped up—people would be really sad. Sometimes in this unpredictable weather. it has to sleep for a while, but then the joy returns in 30 minutes when it's inflated again.
HK: You are headed to the States next. Do you plan on coming back to Hong Kong in the future for more artistic endeavors?
FH: Sure! I hope I've put myself on the map here a bit in Hong Kong, because I strongly believe this city needs more public art. There's a little right now, but they could use a bit more. It's not a critical thing, but here it's all about shopping and working and I think there's more to life than that. So I hope that art outside museums—where you don't have to pay—can change people bit by bit, step by step.