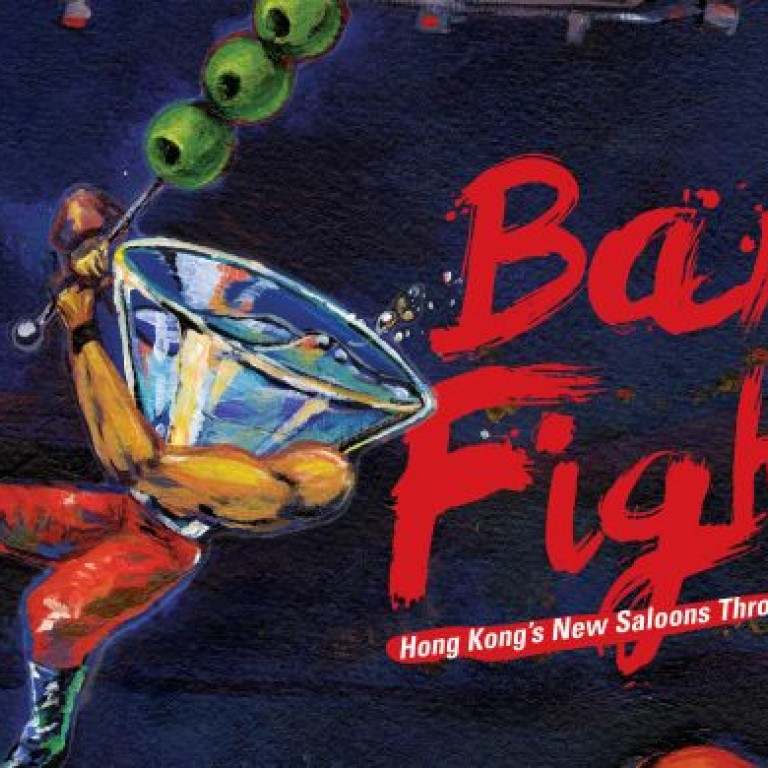 Hong Kong's best new drinking holes face off—but only one can be crowned king of the boozers.
New bars pop up every week in Hong Kong, like a clan of beer-swilling meerkats. And every one of them is spoiling for a fight. Every one of them wants to be the best new bar in Hong Kong—that's no easy get. We pit these newcomers to the drinking scene against each other—and may the best bar win…
The Latin Invasion
The Peruvian trend is all the rage these days: these Latin American watering holes have popped up around town, and the gloves are off. Taking place center stage is pisco, the grape brandy that's the national tipple of Peru and Chile.
Mayta
At Peruvian bar and restaurant
Mayta
, it's all about the pisco, what with signature cocktails as well as a variety of different homemade pisco infusions. Check out the super-classic Pisco Sour, made from lime, syrup, bitters and foamy egg white—a drink that goes down far too well for it to be safe. Other pisco-infused creations include the Blackberry-thyme Machacado, and the Mojito Chilcano: a spin on the traditional mojito with pisco, ginger ale and passion fruit on top of the mint.
3/F, Grand Progress Building, 15 Lan Kwai Fong, Central
, 2790-0928.
The Roger Room
The boozy extension of sister restaurant Chicha,
Roger Room
has also put their eggs in the pisco basket. While the Pisco Sour here is still the star of the show, check out the menu's "Classic and Rogered" section and try out the other pisco varieties on offer. The Pisco Punch mixes the namesake base with fresh ingredients like pineapple, orange and lime along with pineapple syrup. Thirsty for more? The Girl From Lima, a smoothie-like drink made with avocado pulp and fresh lime, is finished off with a chili-ful dusting of Tajín spice along the rim. There's also the Jolly Roger: it's pisco (notice a theme?), berries, fresh lime, fresh chili and Cava. Pisco.
G/F, 39 Peel St., Central
, 2561-3336.
Havana Bar
Admittedly,
Havana Bar
isn't exactly Peruvian. It's more Cuban, obviously—and they've even managed to keep the Che Guevara posters to a minimum. The vibe is chill, tropical and laid-back—like a lazy, boozy afternoon with Ernest Hemingway. While rum-based concoctions are high on the agenda, it wouldn't be right to leave without a Piña Colada or two. And there are also plenty of spins on the classic mojito. The Very Berry Mojito—fresh blueberries and strawberries with Chambord raspberry liqueur—is stronger than you'd expect (not a bad thing, until you've ordered your third), while the Luxury Mojito—made with rum and topped with champagne—is bubbly and minty-fresh. Like us, after we've ordered our third.
4/F, The Plaza, 21 D'Aguilar St., Central
, 2851-4880.
The winner: Peruvian may be flavor of the month, but the tag-team can't resist Havana Bar's laid-back charm. ¡Arriba Havana!
The Gin Bunch
Gin is becoming the drink du jour, with no fewer than three bars opening in the past four months all dedicated to the spirit. But this band of gin-soaked desperados aren't just churning out your regular G&Ts. These watering holes have come up with creative, innovative twists on this once-lowly spirit: everything from gin with oolong tea, to a gin-seng brew… Gin's back, boys.
G&T Cocktail Bar
With a name like
G&T
, you would expect this joint to take its highballs seriously. With 80 brands of gin from seven countries, this is the place to be for seasoned gin lovers and aspiring connoisseurs alike. An extensive menu boasts a number of juniper creations, including the "G and Tea"—gin with oolong tea. If you're feeling like something more traditional try Monkey 47, a flavor-packed German gin, combined with a tongue-tingling Fever Tree tonic.
UG/F, Shama Place, 30 Hollywood Rd., Central
, 2481-3588.
Origin
Mixologist Antonio Lai stands proudly at the helm (and bar) at
Origin
, delivering some of the most innovative takes on gin in town. Using its own in-house rotary evaporator, Lai produces gin infused with an assortment of flavors, ranging from Earl Grey or cucumber to lemongrass—and even ginseng. Of course, if you're simply after good old fashioned gin with a splash of tonic, then you'll also find 40 other gins in stock, from vintage bottles of Gordon's to London hipster upstart Sipsmith's. In short: only hardcore gin drinkers need apply.
G/F, 48 Wyndham St., Central
, 2668-5583.
Il Milione
A classy joint decked out with plenty of gold,
Il Milione
is an Italian bar and restaurant where gin and tonics are the stand-out drinks. All G&Ts are presented in exquisite, individual arrangements, each one served with garnishes and an unexpected finishing touch to pick up on each gin's own botanicals. Take the No. 209 gin, for example, which is served with kaffir lime leaves, while the Mediterranean Gin Mare comes with olives and rosemary. At $190 per drink, a G&T does't come cheap—but if you want to throw off the gin-is-for-old-maids stereotype, then give this joint a try.
G/F, G16-21, Hutchison House, 10 Harcourt Rd., Admiralty
, 2481-1120.
The winner: It's a drawn-out gin-soaked fight, but Origin comes sneakily from out of nowhere and smashes the other bars with its small-batch redistilled gins. We have a gin king!
The Hotel Heroes
These mighty hotel bars aren't scrappy pugilists: they're heavyweights and they come in swinging. If you're looking to impress your boss, your date, or your mother-in-law—these new bars will knock them dead. Not literally.
Caprice Bar
Three-Michelin-star restaurant
Caprice
recently revamped its adjoining bar, complete with a mouthwatering selection of wines and cheeses. The restaurant's award-winning wine list certainly doesn't disappoint—it is the Four Seasons, after all. You can go for wine pairings with cheese, champagne by the glass, or a bottle or two to share. Wines include the chardonnay Meursault Les Tessons Dom M. Bouzereau (try pronouncing that after a glass or two), which will set you back $230 per glass; if you want to really go all out, go for a bottle of Krug Grande Cuvée champagne—at a paltry $3,080, it's the priciest drink on the menu.
6/F, Four Seasons Hotel Hong Kong, 8 Finance St., Central
, 3196-8860
Room One
Th
e lounge bar at the swanky Mira is a contender for the best selection of cocktails in Tsim Sha Tsui. It's situated in the hotel lobby, but a lobby lounge bar doesn't have to be boring. There are special deals and themed nights every evening of the week, such as Champagne Tuesdays and "Back to the 80s Wednesdays," where iconic creations including Sex on the Beach are offered—all while Cyndi Lauper tunes play in the background to remind you of your wasted youth. On Thursdays,
Room One
also offers a three-hour free-flow wine session, plus cheese and cold cuts. What's not to love? A new cocktail menu will be launched at the end of the month, so watch this space.
G/F, The Mira Hong Kong, 118-103 Nathan Rd., Tsim Sha Tsui
, 2315-5888.
The Bar
The Bar
at the Pen is another posh hotel bar that's recently undergone a makeover and emerged classier than ever. If classic cocktails against a fancy backdrop—plus top-notch service—are your jam, you'll love The Bar. Prefer dubstep? Maybe move along. It's not all stuffy granddad drinks, though. Take the Tropical Bunny—half-Piña-Colada and half-fruit-punch, it's made with rum, Midori melon liqueur, banana liqueur, coconut milk and pineapple juice. The whole thing comes with a piece of melon cut somewhat unnecessarily into the shape of a rabbit. Do you like stuffy granddad drinks after all? The Bar's whisky collection is sure to impress—you can even pair your drink with a selection of artisanal chocolates from the hotel's in-house chocolatier. Fancy. All it needs is a bit of dubstep.
1/F, The Peninsula Hong Kong, Salisbury Rd.
, 2920-2888.
The winner: It may be one of the old-school joints in the city, but The Bar's new,current drinks give it the fighting edge. It beats its hotel rivals fair and square. Pure class.
The Wild Cards
Not every watering hole in town wants a stake in the latest trends. These bars stand alone, and they're ready to throw down.
Common Room
A brand new gastropub on Wo On Lane,
Common Room
boasts molecular mixologists behind the bar serving up glitzy cocktails. The menu is full of romantically named tipples. Picks include the Young and Beautiful—fresh mango and lemon juice, ginger root and homemade vanilla syrup, all topped off with vodka; and the Basil Breeze, a summery drink of gin and Malibu plus pineapple, lime and basil. Most cocktails fall at the $100-130 mark. The décor is best described as rustic chic, with plenty of wood and dim lighting. A great spot for some early evening schmoozing.
1/F, Wo On Building, 8-13 Wo On Lane, Central
, 2525-3599.
La Cabane
This
wine bar and bistro was founded by the owners of wine shop
La Cabane
a Vin. All the wines served here are organic, so vino lovers and healthy types (as well as a combination of the two) will find plenty to their liking. Sourced from France (natch), Greece, Spain and Italy, a bottle will set you back from $200. Allez les vins, as you might presumably say once you were drunk enough to be certain that you spoke fluent French. Which you don't.
62 Hollywood Rd., Sheung Wan
, 2776-6070.  
Salon No. 10
Salon No. 10
is a gem at the quieter end of Central. With an old-school gentleman's club feel—but a more egalitarian door policy—this bar is a perfect spot to kick back and take it easy. It boasts cocktails that you would be hard-pressed to find elsewhere. Try the "Hemingway," aka the "Death in the Afternoon." Invented by the man himself, it's a shot of Absinthe, topped up with ice cold champagne. Regularly attracting a mix of artsy and fashion-y crowds, the dance floor is often packed—we hear the place gets really heated on Thursday nights.
G/F, 10 Arbuthnot Rd., Central
, 2801-6768.
Zanzo
Sick o
f Central? Visit trendy Tai Hang in search of Japanese bar
Zanzo
, and their sake-packed cocktails. The Zanzito is a play on the classic mojito: it uses sake instead of the traditional rum, as well as the Japanese marble-bottle lemonade, Ramune. Minty-fresh from the moment it hits the table, it's ideal for those who aren't big into sake (although at that point, you might consider another bar, or a beer). The Yuzu Gonna Love Me— a blend of yuzu, midori, lemon juice and soda water—is refreshing and perfect for those in search of a citrus hit. They may be strong, but these cocktails go down just a little too easily—lightweights, be warned.
15-16 School St., Tai Hang
, 2750-6490.
The winner: Newest kid on the block Common Room knocks the others to the ground with its novel, potent drinks.
HK's Best New Bar
Havana Bar, Origin, The Bar and Common Room all climb into a ring. Much alcohol is spilled, but ultimately Havana Bar emergest triumphant! With its casual tropical charm, potent drinks, and laid-back vvibe, we'll be going time and time again. Congratulations, Havana Bar. You win the belt... for now.