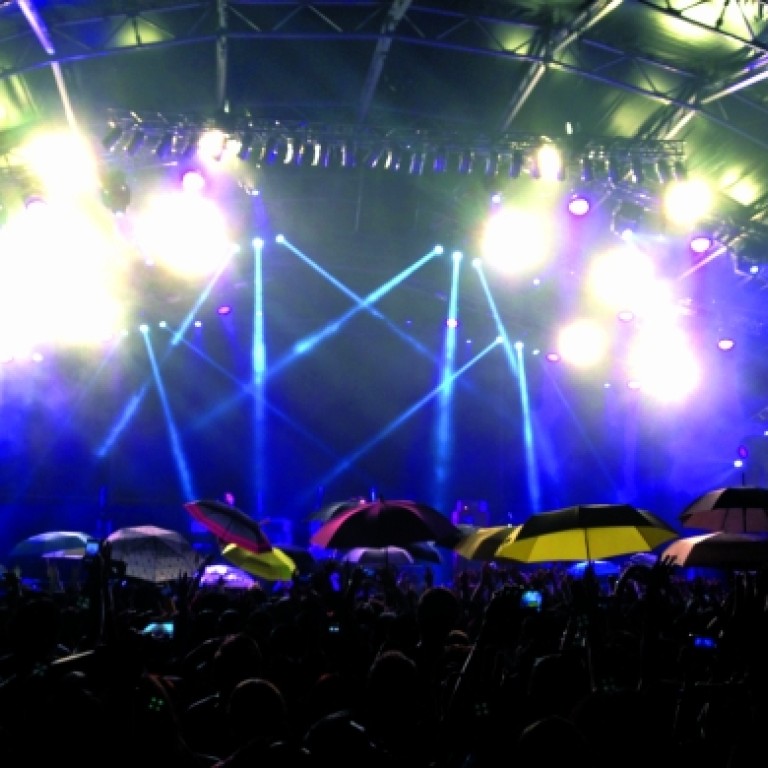 Clockenflap Protests and CY Leung urges people to shop in Mong Kok
We read the news, so you don't have to. 
Clockenflap Protests
Hong Kong indie band My Little Airport spoke out against CY Leung during music festival Clockenflap. The band members modified the lyrics of their song "Please Don't Sell Flags in Sham Shui Po" to end with the repeated phrase "CY Leung, Fuck You!" The audience sang along enthusiastically. Others showed support by opening yellow umbrellas during various performances, including those of Taiwanese band Chthonic, Taiwanese singer-songwriter Deserts Xuan and British rock band Travis, during the song "Why Does it Always Rain on Me?"
Our take: Woo! Clockenprotest!
CityU Students Quit Student Association Race Over Alleged Beijing Infiltration
A group of City University students running for the Student Union has quit the race after revealing that they had been approached by pro-Beijing forces. Former candidate Timson Kwok claims to have been approached by pro-Beijing group Y. Elites Association Limited, who requested that he collaborate with them once he was elected to the Federation of Students. He claims they hinted that there would be financial incentives for cooperating. Uncertain whether other members of the proposed cabinet had accepted the deal, the whole team has withdrawn from the race. Another candidate, Wong Wai-kin, says he has received menacing calls after publicly supporting the Umbrella Movement. The Federation of Students consists of elected members of each university's student unions. The current cabinet, including protest leaders Alex Chow and Lester Shum, will finish their term in March.
Our take: What is this? Game of Thrones: Student Union edition?
CY Leung urges people to shop in Mong Kok
While the police worked to clear the Mong Kok streets of the Occupy encampment last week, CY Leung called upon Hongkongers to go shop and support businesses in the area. It produced the opposite effect, with hundreds "following" CY's pleas by organizing late-night "shopping groups" in Mong Kok in an attempt to temporarily retake the streets. It has also popularized the Cantonese phrase gau wu—which means "shopping" in a mainland accent, as well as "speaking nonsense"—as a slang term for "occupying." The phrase originated from an earlier anti-Occupy protest, in which a mainlander told iCable News that she was in Mong Kok to gau wu.
Our take: Cantonese puns—baffling to all!