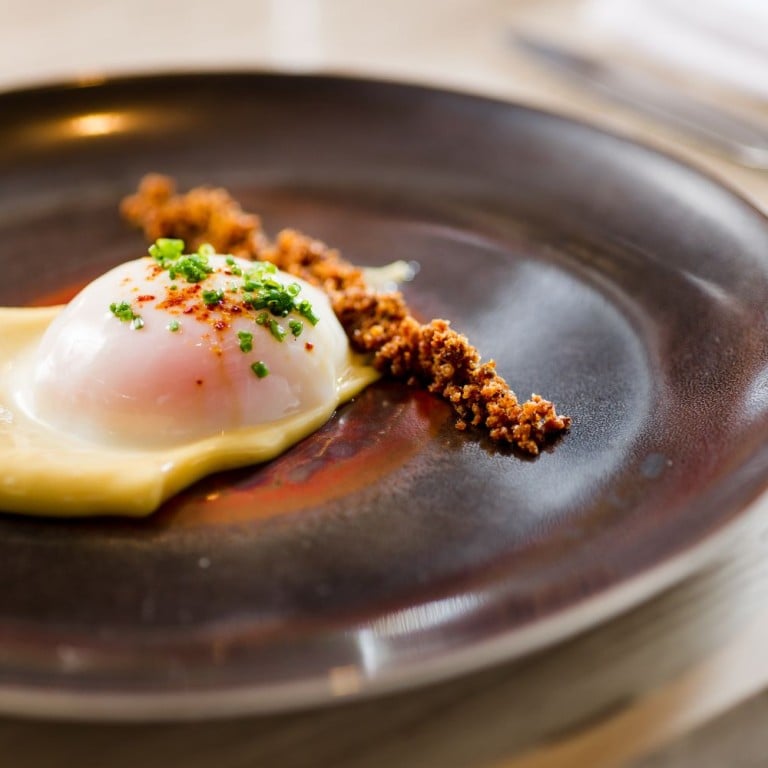 The Perfect Magic of a 63-degree Egg
The journey to modernist cooking starts with that most basic of proteins: a precisely poached sous-vide egg.
What is a 63-degree egg, anyhow? A 63-degree egg is placed in a water bath at 63°C for around 40-45 minutes, to the point at which the egg white is just cooked, but the yolk is still deliciously creamy and runny. It's also known as an onsen egg, as the eggs were traditionally gently poached in Japanese onsen hot springs.
Bibo
Presentation and plating come first at Bibo, the restaurant dedicated as much to the art of food as to the flavor itself. It's especially the case in the color trifecta of the signature L'Oeuf Mayo dish (part of the $900 five-course tasting), comprised of a 64-degree egg, homemade mayo and sourdough bread crumbs. This tasty orchestration uses a Japanese Taiyouran organic egg, known for its rich, bright orange yolk, which adds a pop of color as it swirls like a painter's palette with the lighter-hued mayo. With sourdough crumbs scattered in a line across one side, it's like a deconstructed egg sandwich—albeit far more elegant and tasty.
On Dining Kitchen & Lounge
Chef Philippe Orrico has been heralded for his use of the 63-degree egg, which features prominently in signature dishes at both of Orrico's restaurants, On Dining Kitchen & Lounge and Upper Modern Bistro. At On Dining, the meticulously cooked egg is the focal point of a beautiful starter, a shimmering, silky orb surrounded by pearl barley risotto made with 4-year aged Comté cheese, wild mushrooms and foie gras cubes. The addition of frogs legs, plump and meaty, amps up the protein factor in this elegant and classically French dish ($268).
22 Ships
22 Ships' 62-degree egg mash with morcilla bacon dashi ($108) proves that a few degrees of separation can be the trick to masterminding the perfect dish. The near-translucent whites and runnier yolk make this dish a delicate force of nature, a volcano waiting to erupt and engulf the bits of Spanish blood sausage and potato mash, before pooling into the bacon dashi below.
Aberdeen Street Social
Sit down to a meal at modern British restaurant Aberdeen Street Social and you'll be struck by a distinct earthy element to chef Jason Atherton's creations, with ingredients such as wild mushrooms, black garlic, sea vegetables and burnt onion ash making for a meal that's as sensual as it is sumptuous. The 63-degree egg with black truffle, trompette mushroom crumb and burnt butter potato ($198) is a dish that'll take you foraging through the woods, as you pick your way through the crumbly soil of shaved mushrooms and potato that's slowly bound together by the sticky, smooth egg yolk. It's a rich interplay of textures and ingredients that will leave you hunting around the menu for more.
First Floor by Lifestyle Federation
It was only a matter of time before someone decided to use a 63-degree egg in spaghetti carbonara. Creaminess is the goal in First Floor by Lifestyle Federation's 63-degree onsen egg carbonara ($210), and while the pasta sauce is already fortified with gallons of the good stuff, the real magic happens when the egg yolk breaks and oozes dreamily over the pasta and bacon, making for a cream- and yolk-drenched double indulgence. Add a bit of acidity from the cherry tomatoes, saltiness from caviar quenelles and peppery arugula to round out one of the guiltiest pastas in town.