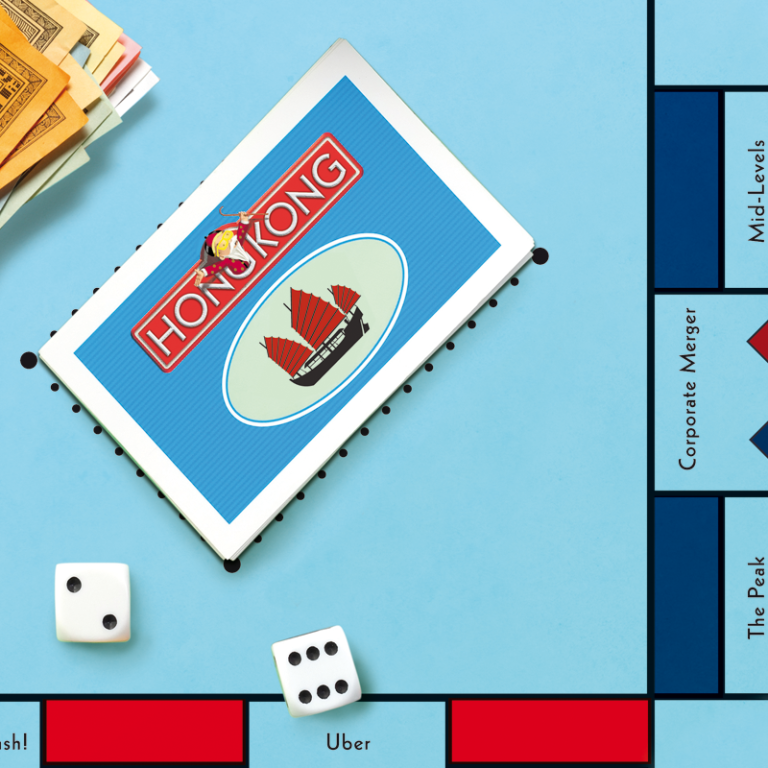 Monopoly City: The Companies That Own Everything in Hong Kong
Seems like everything we beg, borrow or buy is owned by just a few companies, big or small... Graphics by Kay Leung
In May, Hong Kong reclaimed its title as the most competitive economy in the world. But how much competition is there, actually? Seems like everything we beg, borrow or buy is owned by just a few companies, big or small...
Electricity
Hong Kong has two electricity suppliers: Hongkong Electric, which covers Hong Kong island, Ap Lei Chau and Lamma and is owned by Li Ka-shing; and China Light and Power, which supplies Kowloon, the New Territories and the other outlying islands, and is run by the Kadoorie family. So in other words, no matter  where you live in Hong Kong you have a choice of exactly one electricity supplier, allowing them to charge pretty much whatever they please.
Gas
Towngas is the city's only gas supplier, making it one of the largest utilities providers in Hong Kong. It is itself owned by Henderson Land, which also owns the Miramar Hotel Group, Hong Kong Ferry, part of IFC and more.
Read More: What's the History of Hong Kong's Opium Monopoly?
Stocks
Hong Kong has exactly one stock market, owned by Hong Kong Exchanges and Clearing Limited (HKEx), and it's actually been made exempt from the recently introduced Competition Ordinance. Singapore, meanwhile, has two, and even in China the Shanghai and Shenzhen stock exchanges are in rivalry. HKEx says that it has been "sufficiently robust and effective" in self-regulating against anti-competitive practices.
Bread
Loving that buttered brioche enveloping your $200 lobster, or the flaky croissant and scone with your morning coffee? It probably came from Garden Bakery, which supplies virtually all of the city's restaurants, caterers and fast food outlets with their bread.
Big Companies Aren't ALL bad…
Following on from the Denise Ho–Lancôme face-off, in which the cosmetics brand dropped Ho from a promotional concert after boycott threats from Mainland Chinese netizens, Hong Kong music app Moov said that it would "employ Denise Ho permanently." Moov is owned by PCCW, which is run by Li Ka-shing's son Richard Li. Mainland netizens have called for a counter-boycott of all products associated with the Li family—which could be difficult. Here's why: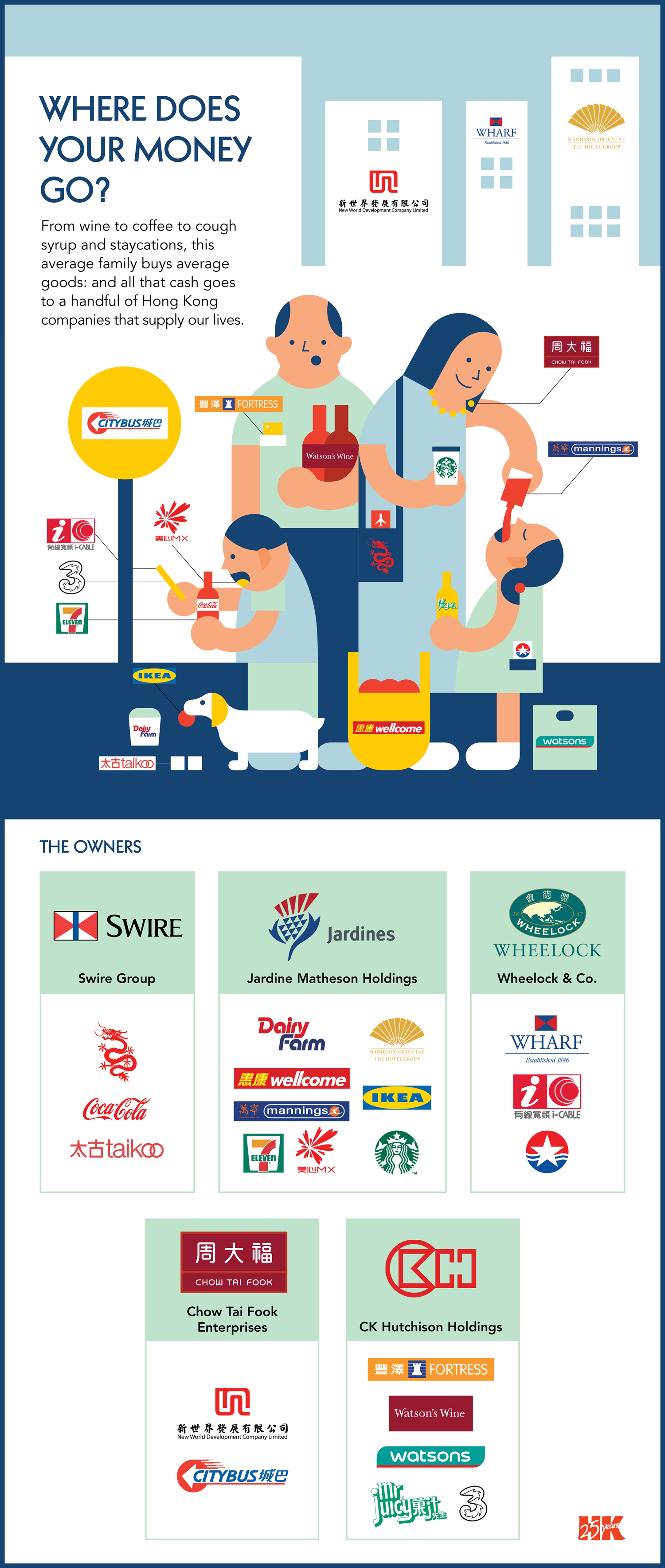 Noodles
So you've got your favorite little cha chaan teng, the most darling little local place? Probably not. Take Sun Chiu Kee (新釗記). There are actually seven outlets of this chain restaurant across the island. Or Ngan Lung Restaurant (銀龍), with 19 restaurants in the city: Making it less bijou little secret and more cha chaan teng of the Man. Meanwhile, everybody's favorite late-night eatery Tsui Wah? 35 branches in the city. And roast meat chain Tai Hing? A mighty 55 branches.
Cabs
There hasn't been a taxi license issued in the history of the Hong Kong SAR. We've had a constant of 18,138 taxis in the city since 1997, when the Transport Department issued 10 new Lantau licenses. Before then, the last set of licenses was issued in 1994. Keeping the numbers of taxis artificially low has led license prices—which can be freely traded—to skyrocket to about $6-7 million. That's at least $108 billion tied up in cab licenses. No wonder people get antsy about Uber...
Buses
There's a duopoly on buses: KMB (owned by Sun Hung Kai) covers all of Kowloon and the New Territories, whereas New World First Bus and Citybus run on Hong Kong island—but both are owned by the New World Group.
Beef
Ng Fung Hong, a company owned by the Chinese state-controlled China Resources, is the only agent in Hong Kong permitted to import live cattle into Hong Kong. Bought any fresh beef recently? It came from these guys.
Land
The government leases the city's land to developers in 50-year chunks, making a significant chunk of money from the land premiums charged—almost all of the cash has to be paid up-front, which is a significant barrier to entry for smaller firms, thereby limiting land sales to only a select few developers. 
Read more: Hong Kong's Sex, Lies and Statistics: What Numbers Tell You About Our City
Read more: Hong Kong's White Elephants are Draining Your Money
1) When choosing a restaurant, you go by...
a) Which has the best ingredients, flown in from all over the world.
b) How close it is to convenient amenities.
c) Average journey time from your place.
d) If you already own it.
2) Your house is...
a) By the water, all the better to accept cargo at all times.
b) Being demolished for the 30-story mall you're putting in its place. 
c) Above an MTR station for ease of access. 
d) Don't you mean "houses?"
3) On weekends, you...
a) Visit China to scope out great deals on incoming goods.  
b) Scour the territory for slices of protected land no one will complain about you developing. 
c) Go around slashing tires so more people have to get the bus. 
d) Roll around in that giant pool of money.
4) Your ideal partner...
a) Is an exotic beauty from overseas. 
b) Owns a village in Yuen Long just crying out to be modernized. 
c) Can drive the late night red minibus route from Mong Kok to Tai Po in a pinch. 
d) Brings $20 billion in equity to the table.
How did you do?
Mostly a) You need an import/export monopoly!
You're happiest when bringing goods into the city, and who cares about the little guy? Profits are razor-thin, so there's no shame in being out for what you can get. 
Mostly b) You need a property development monopoly!
Sometimes, the old ways are the best. Squash the little guy, build high and the money keeps rollin' in. 
Mostly c) You need a transport monopoly!
People need to get around... So you can make a profit. Soak up the city's transport options and they can either walk everywhere, or pay you cash. 
Mostly d) You need a monopoly monopoly!
It's all much easier if you just decide to have a monopoly on all monopolies. Go for it, baller.