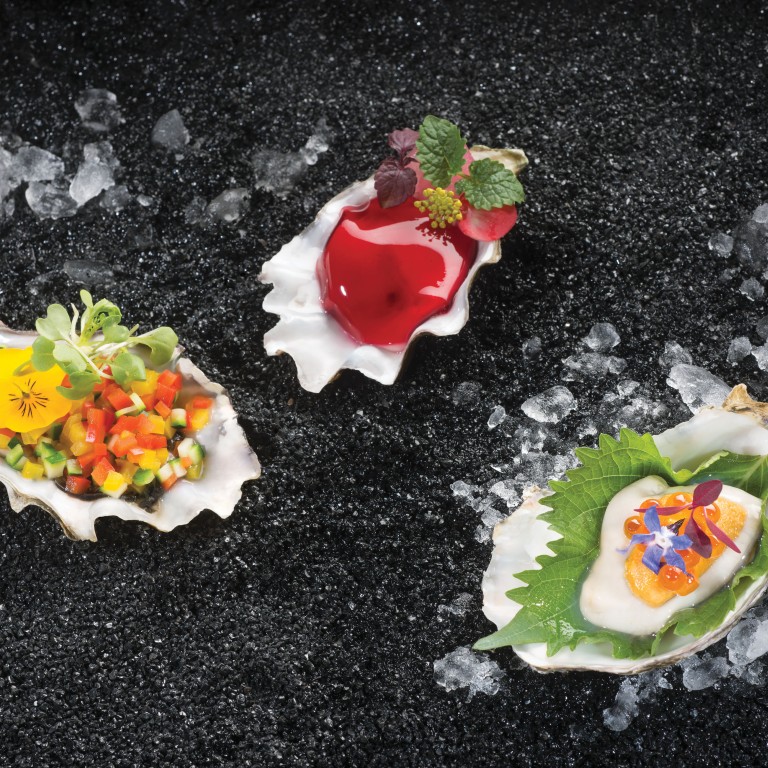 A New Wine Lounge at The Mira, The Bostonian Relaunches and Sai Ying Pun Gets a Classy Butcher
This week's new and noted restaurants. 
Bostonian Lobster's Back
It's been a mainstay of Tsim Sha Tsui dining for well over a decade, but The Langham Hong Kong's Bostonian Seafood and Grill has just come out of a two-month makeover to update it for the modern age. The underground space is all about the industrial chic, banishing the American steakhouse look of old for a cleaner, more modern look, complete with exposed concrete walls adorned with contemporary Chinese art. There's also a brand new craft beer bar, serving up brews including made-in-Hong-Kong Young Master Ales. But the food is still as good as ever, with a revamped menu that retains its focus on sustainable, delicious seafood. Check out the signature "You and I" oysters ($278 for six), freshly shucked and topped with Hokkaido sea urchin, seaweed, sesame and salmon roe. Or the two-day aged beetroot-cured salmon ($258), served with pomegranate molasses, crème fraîche, orange and fennel. But if you're a traditionalist, there's no need to panic: old Bostonian favorites such as the lobster bisque and crab cakes still occupy pride of place on the menu.
The Langham Hong Kong, 8 Peking Rd., Tsim Sha Tsui, 2132-7898.
All Bottled Up 
Tsim Sha Tsui continues its streak of churning out notable F&B destinations with The Mira Hong Kong's new wine lounge, Decanter at Whisk. We popped by the newly outfitted space last week during the soft opening period, and instantly felt as if we'd been transported to a friend's living room, with the plush carpet, funky yellow armchairs and a secluded yet convivial atmosphere. Perfect for a tête-à-tête after work or a comfortable night out without the pushing, shoving and general discomfort of a good many island-side bars, Decanter offers a relaxed space to discover new wines while enjoying savory bar snacks from the Whisk kitchen. They're one of the first in Hong Kong to use the Coravin Wine System technology, which allows you to pour wine without pulling the cork (using a super thin needle that punctures a tiny hole)—so you can try up to 18 premium labels by the glass, including Super-Tuscans and Premier Cru and Grand Cru Classé Bordeaux and Burgundy wines.
5/F, The Mira Hong Kong, 118 Nathan Rd., Tsim Sha Tsui, 2315-5999.
Safe Butchery 
Avoid dodgy looking supermarket meat or excessively priced cuts from international chains by heading to Bones & Blades, Hong Kong's latest butcher and delicatessen for conscious carnivores. If you want to know exactly what you're getting and where it comes from, Bones & Blades is a great bet: Dedicated to sustainable farming practices, they stock only free-range cattle, untouched by antibiotics and growth hormones. Premium beef, pork and lamb comes from grass-fed animals, ensuring quality is at the core of each product sold. Take home their sausages and pâté, or grab a seat at the adjoining twenty-seater restaurant Quarter Master (2540-0052) to feast on a delicious in-house menu that consists mostly of burgers—try the BBQ pulled pork ($88)—and heart attack-inducing sides such as the Piggy Fries ($40) cooked in bubbling pork fat.
1 Second St., Sai Ying Pun, 2540-0048.