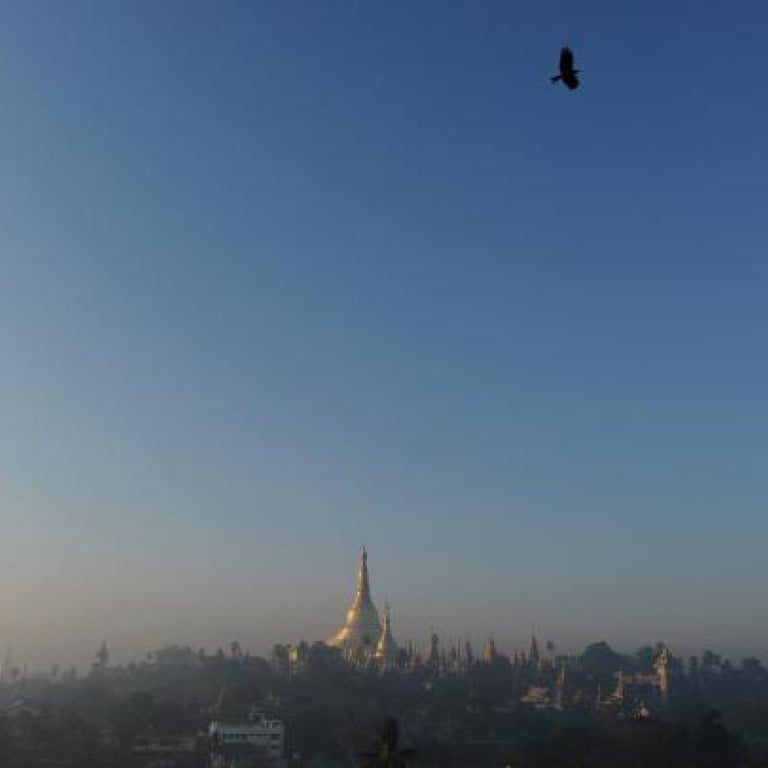 Myanmar is rapidly emerging as the new darling of the investor set. UBS analyst Carl Berrisford considers recent developments and evaluates the country's investment potential. While his findings are upbeat, he urges caution following disappointments in other Asian frontier markets which flattered to deceive like Vietnam and Mongolia
The country is strategically well- positioned in Southeast Asia, sharing land borders with Bangladesh, India, China, Laos, and Thailand. With over 1,600 kilometres of coastline, it also offers a gateway to both the Bay of Bengal and the Andaman Sea. Myanmar is of particular importance to China as it offers a land route to its borders from the Andaman Sea, an alternative to the lengthy sea route via the Strait of Malacca.
Myanmar's opening-up to the world, following political reform led by former general and new civilian President Thein Sein, coincides with an important shift in the economic dynamics of countries in the Association of Southeast Asian Nations (Asean). The establishment of an Asean Economic Community (AEC) free-trade zone in 2015 is driving regional connectivity and trade. This is a natural evolution which responds to rising complementarities between emerging Asean economies to the north (Myanmar, Cambodia, Laos and Vietnam) and their wealthier more mature neighbours to the south (Thailand, Malaysia, Singapore and Brunei).
Indeed, in recognition of Myanmar's new-found significance to the region, it has been offered the chairmanship of Asean in 2014.
Myanmar's coming-of-age has come at a time when China's rising energy-security concerns are dictating strategic investment policies in the region from which Myanmar can benefit.

Myanmar is a potentially attractive location for low-cost manufacturing given its young labour force, low wages, high literacy rate and unique geography - especially given rising labour costs and ageing demographics elsewhere in Asia. China's policy of recalibrating from low-value export manufacturing may benefit Myanmar longer-term too. However, its potential as a low-cost manufacturing base relies on infrastructure investment.
Myanmar is no newcomer to foreign direct investment as the recipient of US$100 billion mostly from China and Thailand between 2006 and 2011. Some has gone into domestic development, although this has been linked to natural-resource extraction.
Most FDI has targeted offshore and onshore oil and gas blocks awarded to foreign oil companies by the Myanmar Energy Ministry. There has also been a thriving gemstone trade along the Myanmar-Chinese border for decades, although it is largely unregulated. Myanmar's infrastructure remains pitifully undeveloped and with a per capita GDP of just US$1,300, it is Asean's poorest economy. Myanmar's capacity to attract low-cost manufacturing will require time and the ability to compete with Vietnam, Thailand, Bangladesh and western China, where infrastructure and human capital is in place.

Telecom, tourism and agriculture offer greenfield investment opportunities. Myanmar has the lowest mobile-telephony and internet penetration in Asean at 1.2 million and 200,000 subscribers, respectively, making it possibly the only greenfield telecommunication market left in Asia.
Myanmar's tourism industry also offers investment opportunities as the country receives less than half-a-million arrivals per year compared to 18 million in Thailand. Current hotel capacity is 25,000 rooms and no new hotels have been built since 1998.
There is also a booming but unregulated casino business along Thai and Chinese borders. Another point of attraction for foreign investors is agriculture. Myanmar has the largest area under cultivation among northern Asean countries, but also the lowest output per hectare. Farmers also have no access to formal agricultural credit.
The suspension of sanctions by the European Union (EU) will be a major catalyst for more diversified FDI flows into Myanmar, as the doors open for firms from Europe, Japan and the US to invest and offer financial support.
On 12 July, the US government published two general licenses permitting US persons to provide financial services and to engage in new investment in Myanmar. This action follows the EU's suspension of sanctions against Myanmar in response to the reported success of the April 1 by-election and other reforms. The US government now permits US persons to provide financial services to Myanmar and to engage in new investment in Myanmar with some exceptions.
Myanmar can now tap both the World Bank and Asian Development Bank (ADB) for funding. Significantly, Japan has recently written off US$3.4 billion in debt and resumed aid.

Myanmar's external trade is small relative to its Asean neighbours and concentrated in the export of energy (gas) and materials (wood, rubber, agricultural produce) and the import of machinery, capital goods and consumer products. However, its trade is poised for fast growth driven by FDI and a new free-trade zone in 2015. Myanmar has been the recipient of over two-thirds of total FDI into northern Asean between 2000 and 2009, a trend which may accelerate with the lifting of sanctions in 2012. According to statistics from the ADB, in 2008, 32 per cent of Myanmar's imports were derived from China, and approximately 45 per cent from Asean countries, of which half was from Thailand.
However, Thai government statistics suggest last year Thailand overtook China as Myanmar's largest trading partner despite Myanmar being Thailand's 22nd largest.
Indeed, with the formation of the AEC free-trade area by 2015, Thailand's share of trade with Myanmar is likely to continue to rise at the expense of non-AEC members.
Because the AEC is targeting zero tariffs on all goods exchanged between Asean nations by 2018, Myanmar will get free export access to neighbouring markets, which is likely to be a key draw for investors looking to manufacture in Myanmar for export to Asean. It is significant that Myanmar currently has the lowest import tariffs.

With the largest land mass among Asean's northern countries and its western coastline, Myanmar's potentially abundant onshore and offshore oil and gas reserves have long been on the radar of international oil companies. According to energy consultants Wood Mackenzie, Myanmar's commercial recoverable reserves of natural gas sit at around 17.65 tons per cubic foot, almost double that of Vietnam with crude oil reserves at a smaller 686 million barrels. At least 21 foreign companies from 12 different countries have invested in onshore and offshore exploration blocks over the past two decades, some of them in open defiance of US and EU sanctions. Thailand and Korean companies are leading Asian players in upstream gas.
In January 2012, 10 new onshore blocks were awarded to eight companies and a further nine offshore oil and gas blocks in the Bay of Bengal will be offered to the market.
Onshore gas production has also led to the establishment of a 3,000-kilometre network of gas pipelines owned by the Myanmar Ministry of Energy. China has a key strategic investment in a deep sea port at Kyauk Phyu, 400km north of Yangon, which will be linked by 1,060km of gas and oil pipelines across the Chinese border and then on to Kunming in Yunnan province in China.
With a capacity of 400,000 barrels per day, China will be able to ship oil from the Middle East and Africa overland to Yunnan, reducing time and risks of the longer sea route via the Malacca Strait. An adjacent gas pipeline, which has an annual capacity of 12 billion cubic metres of natural gas is also being built with both expected to be operational by 2013.

Despite its long coastline, there are few ports on Myanmar's western seaboard, with the exception of Yangon - a minnow by Asian standards. However, this is rapidly changing with three new port developments undertaken by Thailand, China and India on Myanmar's west coast. The Dawei Port project signed between Myanmar and Thailand in 2010 and awarded to a private Thai construction company, seeks to establish a deep-sea port linked by a 307km-four-lane cross-border highway to Bangkok and the adjacent Laem Chabang Port, gateway to the Gulf of Siam. This overland route would connect the Andaman Sea to the Gulf of Thailand reducing the shipping distance around the Malacca Strait by an estimated 1,600km, introducing major cost efficiencies for shipping lines.
If successful, the project would transform the Dawei-Bangkok corridor into a regional logistics hub with additional planned road and rail lines through Cambodia to Vietnam's eastern seaboard, as well as connected to the north and south via the Kunming-Singapore rail link to complete in 2015.
The Dawei project, which seeks to incorporate an industrial estate and free-trade zone with its independent power and utilities, has an investment cost of US$50 billion. Phase I, which earmarks building of the port and energy utilities, requires a start-up investment of US$8.5 billion. The major stumbling block is the ambitious scale of the project and its cost, which has recently driven Thailand and Myanmar to establish a joint ministerial task force to seek funding possibly from Japanese investors.

Besides sharing land borders and a coastline, Thailand and Myanmar enjoy an especially high degree of economic complementarities. Thailand consumes double the energy it produces, and has been dependant on energy-rich Myanmar and Laos for supplying the balance for almost two decades. Ageing demographics in Thailand point to rising dependency ratios and maturing domestic-demand growth across many industries, including materials, retail and consumer.
Myanmar, on the other hand, has a youthful population and falling dependency ratio with considerable potential for sustained organic growth across many greenfield sectors.
In Thailand, wages are on the rise, reflected in the recent hike in the minimum wage to US$240 per month. The wage gap with Myanmar, where the minimum wage is between US$43 and US$64, is widening. This suggests plenty of low-cost manufacturing opportunities for Thai companies, especially as connectivity with Myanmar improves. It is significant that there are already three-to-four million Myanmese immigrants working in low-paid jobs in Thailand.
This article appeared in the South China Morning Post print edition as: Glittering Prize - Why Myanmar might be Asia's investment bright spot