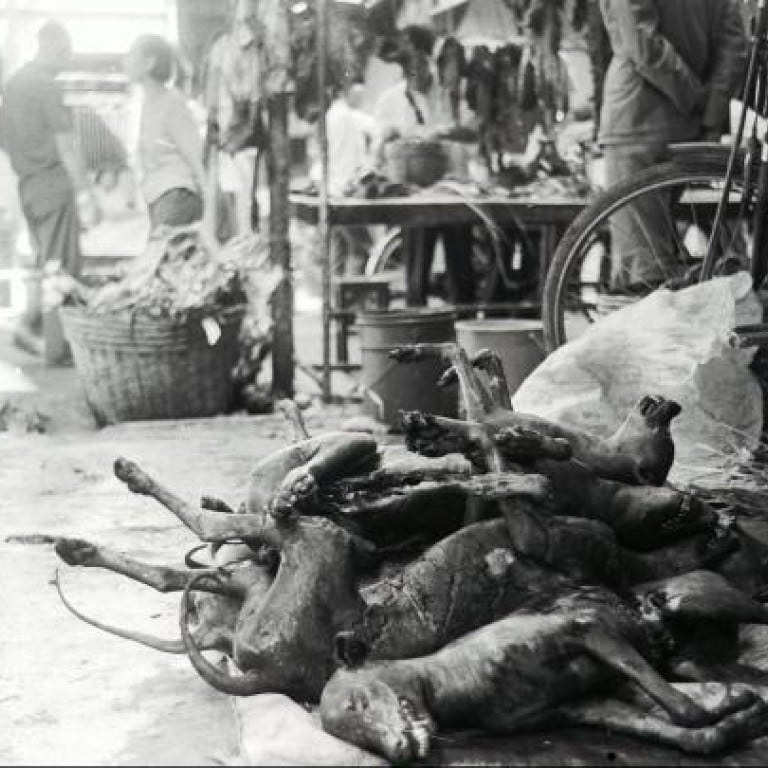 Then & now: imaginary friends
From being forced to live in stifling, cramped spaces to being treated like a child, it's a dog's life for many of Hong Kong's pooches, writes Jason Wordie
One subject guaranteed to ignite fevered, barely rational debate is the way Hongkongers treat - or are perceived to treat - "man's best friend".
Few issues more starkly illustrate the fundamental differences between Chinese and Western modes of thought than attitudes towards animals - particularly canines. One of the most common 19th-century Western clichés about life in China held that "over there, people eat the dog and take the bird for a walk" and this seemingly facetious statement was literally true.
In Hong Kong, while instances of dog-eating have dramatically declined (but by no means vanished), pet birds are still taken out for regular walks. Early-morning walkers in public parks, especially in public housing areas, will see white-eyes and other small birds housed in elaborate wooden cages being taken out for an airing.
But until very recently, for most Chinese people (especially in the south), dogs were either guard animals, occasional seasonal food items along with snakes, civet cats and other exotica, or feral, potentially rabid scavengers. Nothing else. And the broader social context explains why this was so. In a country that regularly experienced widespread famine - frequently to the point of cannibalism - being able to feed a pet remained the sole preserve of the wealthy.
Laws against the slaughtering and sale of dog meat for human consumption in Hong Kong were only introduced in the post-war era, as an anti-rabies measure. The licensing and registration of dogs was brought in at the same time, for the same reasons.
The ridiculous side of Hong Kong dog ownership, as with many local pop-culture traits, has been copied from Japan. Dogs are pack animals, and to live successfully in a human milieu, they must be socialised as such. Wagging their tails, barking at one another, eyeing off strange animals to determine who is where in the pecking order is what they do. Trying to insist on human, or more to the point child-like behaviour is simply cruel. That too few people see irresponsible dog ownership as a problem means it is not an issue that, from a political standpoint, needs to be addressed.
Given the searing summer heat, dense urban crowds and cramped living spaces, some things are just inappropriate in Hong Kong, regardless of whether one can afford them. Most of us have laughed out loud at the pathetic sight of a Maserati or Porsche crawling around a hopelessly clogged Causeway Bay side-street. But far less funny is the plight of a St Bernard or German Shepherd cooped up in a 400 sq ft flat in the height of a South China summer.
Cultural time lags play a role. The ability to purchase and feed such a creature has only become possible on a large scale in Hong Kong during the past two decades.
That the animal might have some consciousness of its own condition, and keeping it might involve some ethical consideration, does not occur to many owners. In many cases, dogs are little more than a mindless display of affluence.
This article appeared in the South China Morning Post print edition as: Imaginary friends