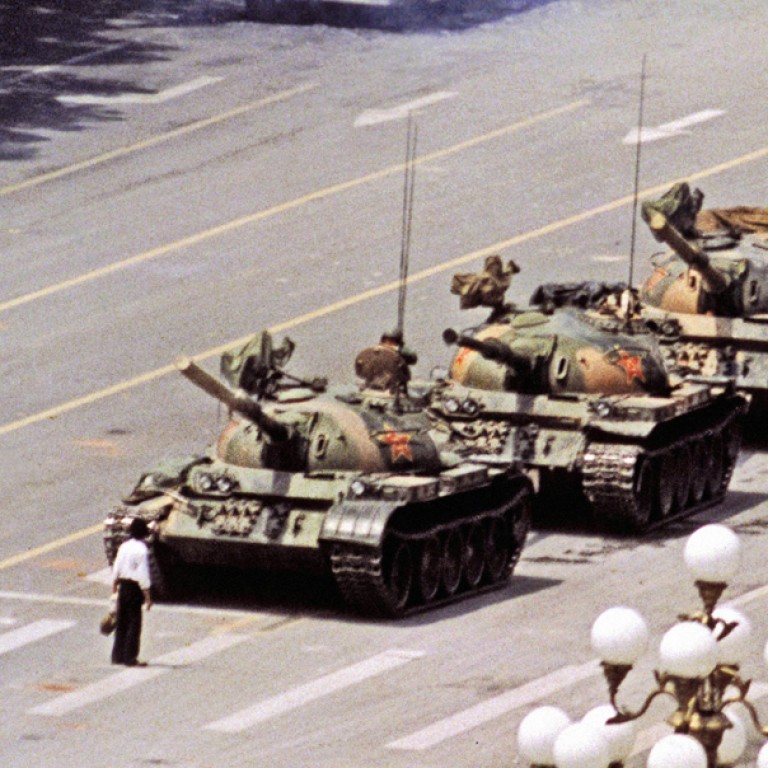 Tank Man photographer Jeff Widener on the making of an iconic image
The world does not know the identity of the young man who defiantly blocked a column of tanks, groceries in hand, but his picture has come to represent the Tiananmen Square crackdown.
Joe Rosenthal's Raising the Flag on Iwo Jima; Edward T. Adams' Saigon Execution; Nick Ut's The Terror of War (the Vietnamese girl running from a napalm attack); Hubert Van Es' evacuation of CIA station personnel from Saigon – many of the most iconic 20th-century news photographs were taken in Asia, in times of conflict. To that list can be added the picture of a lone defiant protester standing in front of a row of tanks in Beijing, in June, 1989, as the military suppressed demonstrations that had been ongoing since April.
This is the story of how the image of that anonymous protester, now known as Tank Man, arrived on the front pages of the world's newspapers, as told by the American photographer who took it, Jeff Widener.
EASTERN PROMISE My posting as Southeast Asia picture editor for Associated Press in Bangkok in 1987 was the envy of most photojournalists. It was nicknamed the 'Eddie Adams posting' after the famed Vietnam photographer, because of all the travelling he did in Asia. I recall sitting up in the first-class section of a Boeing 747, which was an [Associated Press] tradition for first-time overseas postings. My plane had touched down in Hong Kong on a warm damp night for the connecting flight to Bangkok.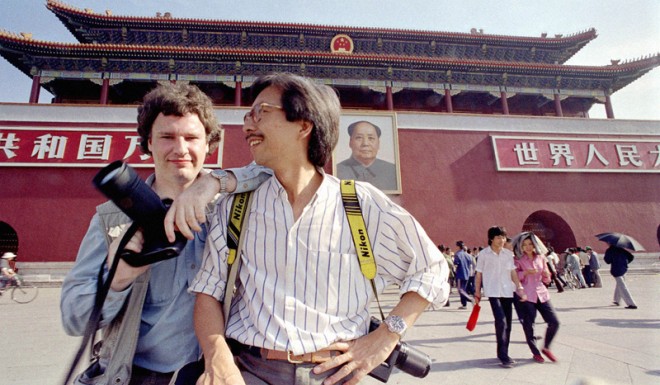 I was both excited and scared because Bangkok was a high-risk posting. As I looked through the window at the rainy runway lights, I began thinking of two things that scared me: bullets and bugs. I hate insects and Asia has them the size of Nike sneakers. Little did I know just how much travel, gunfire and big bugs I would experience.
For eight years I lived the life of luxury, travelling business and first class, staying in five-star hotels and covering some of the biggest and most dangerous stories in Asia. Everything from Michael Jackson to the Queen of England; coups in Afghanistan to Miss Universe in Taiwan; you name the story and I was probably there. I also had a wonderful opportunity to meet some great locally based photographers who I was in charge of in the region. Hong Kong [AP] photographer Vincent Yu is, in my opinion, one of the best photojournalists in the profession.
WHERE THERE'S A WILL … In 1989, I was in Bangkok monitoring the situation in Beijing. When the order came to book a flight, I went to the Chinese embassy in Thailand and requested a journalist visa but, as expected, the vice-counsel said: 'Mr Widener, it would not be convenient for you to go to Beijing right now.' I thought that was such an eloquent way of saying, 'No chance in hell'.
I then booked a flight to Hong Kong and tried my luck entering Beijing as a tourist. I found a small travel agency run by a Malaysian family and they said they could help me. The problem was I had Chinese stamps in my passport from previous trips and was concerned the visa office would deny my entry. I had to go to the American embassy and tell them my passport was lost. They were not happy about it because apparently many other journalists had been doing the same thing. A day or so later I was granted a tourist visa, just as thousands were massing in Tiananmen Square.
AP in New York had requested I take in supplies, which included a picture transmitter and lots of film. I knew that going through customs with that was like screaming, 'Fire!' in a movie theatre. As I waited in the customs line in Beijing, I started to wonder how they would arrest me or whether I would have my kidneys pummelled by security. Just as I reached the customs counter, a loud commotion was happening at the far end of the arrival area. An old lady was arguing with the customs officials over a live chicken she held in her hands. As my inspection agent left to join the ongoing circus, I quickly pushed the loaded down cart through the sliding doors and to a waiting taxi.
WAITING FOR THE CLAMPDOWN I stayed at the Jianguo Hotel, which was about two miles [3.2 kilometres] from Tiananmen Square. I reported daily to the AP office in the diplomatic compound and then would ride a bicycle to the square and make pictures. I will never forget the sun rising in the morning as protesters built the Goddess of Democracy statue right across the street from the Mao Zedong portrait at the Forbidden City. There was an electrified feeling in the air of hope and excitement.
Street cleaners in white would spray disinfectant and there was a security ring controlled by the protesters. Printing presses were running at high speed with the daily news activities. Food lines were formed. Everything was very well organised. That was until the night of June 3, when things started to fall apart.
I rode a bicycle towards the Great Hall of the People with an AP reporter. Demonstrators began placing steel barricades in Changan Boulevard. I should have known the night was not boding well when a bearded toothless old man with a black ski cap approached me. He grinned and started talking to me quite excitedly. He opened a heavy black coat and underneath was a huge hatchet dripping with blood. It looked like he had had a disagreement with a PLA soldier, but this was never verified.
I was off the main street near the Great Hall of the People when suddenly demonstrators started screaming and running. An armoured personnel carrier [APC] was knocking down the barricades and turned in my direction so fast that orange sparks were shooting off the treads. My reporter and I dropped our bicycles. I dived into some ivy. I didn't find my reporter again that night.
In the distance I could see white flashes in the air. Things were starting to happen. I chased the APC to where it was blocked by locked gates to the Great Hall compound. I photographed the protesters who had rocks and bricks. I was almost out of film and my flash was recycling very slowly due to exhausted batteries. I picked up a bicycle and headed back to the AP office.
In the distance was another burning APC, struggling towards me with engine problems. I was scared to death that I would be shot. A mob grabbed my camera. I screamed, 'American … American', and raised my USA passport over my head. One leader looked at it and calmed the crowd down. Then he told me to take an image of a dead soldier lying near the disabled burning APC.
The crowd slowly parted around the curled up dead soldier. One man stood over him with a steel spike and a look of rage. I took one picture but had to wait 60 seconds for the flash to recycle. One man had caught fire and was rolling around on the ground. Just as the flash came on and I raised the camera to my eye to make the image, a terrific blow snapped my neck back. I felt like I had been punched by Mike Tyson. I looked down and the whole top of my camera and flash were on the ground, covered with my blood. A stray rock thrown by a protester created a massive concussion which I still suffer from today.
Seconds later the back door of the APC opened and another soldier exited with raised arms to surrender. The crowd moved in on him beating him with clubs, rocks. I have no idea of his fate.
I was very dizzy and rode my bicycle past Tiananmen Square, which now had red tracers flying over it from large calibre machine-gun fire. Everything was in slow motion: burning buses; people running, screaming; red tracers. It reminded me of a scene from the movie Apocalypse Now. My camera had saved my life by absorbing the blow but I had no idea how bad my injuries were.
After I stumbled back to the AP office, Beijing photo chief Mark Avery told me not to go back outside because the army was killing civilians. In one of the most difficult decisions I ever made as a journalist, fear, pain had overcome me and I decided to stay. Looking back the decision most likely saved my life because I know I would have been at the front lines. Mark had to pry my film out of the camera. The rock had ripped the lens and flash off the Nikon F3 titanium camera, shattered the mirror and bent the metal shutter. Had it been any other camera, I probably would have been killed.
CHECKING IN TO THE BEIJING I slept through most of the day of June 4 because I was exhausted and injured. When I returned to the AP office, a message from New York Photos was waiting for me. They wanted someone to photograph the occupied Tiananmen Square. This was not news I wanted to hear. The highest vantage point was the Beijing Hotel. Reluctantly I rode my bicycle down a Changan Boulevard littered with burned buses and smashed bicycles, with the crackling of distant gunfire. My camera and film were hidden in my clothes.
An American college student named Kirk Martsen was in the darkened hotel lobby when I arrived at the Beijing Hotel. I walked past plain-clothes security men wearing white overcoats. I said, 'Hi Joe, where you been?' I whispered to Kirk that I was with AP. He went along with the act and we headed towards his room just as I saw the approaching security men turn around and leave, thinking I was a guest in the hotel.
After sneaking onto the roof and photographing the occupied Tiananmen Square, I crashed on Kirk's bed, exhausted and sore. I was also suffering from a bad case of the flu. Occasionally I would photograph injured and dying protesters being taken to hospitals or tanks pushing burned vehicles out of the road. Then I ran out of film. I asked Kirk to help me and he managed to find one roll of film from a remaining tourist. Kirk told me that just a few minutes before I had arrived, a truckload of soldiers had shot some tourists in the hotel entrance and the staff dragged their bodies back into the building. Kirk said he hid behind a taxi, escaping with his life.
Later on the morning of June 5, I was awakened by the sound of tanks coming down Changan Boulevard. I lined up my Nikon FE2 camera and 400mm lens from a partially covered part of the sixth-floor balcony. A man walked out on the street waving grocery bags and the line of tanks stopped. I complained to Kirk that the man was going to 'screw up my composition'. Kirk screamed, 'They are going to kill him!' I waited with the camera to my eye for the man to get gunned down but miraculously he was not. I was so spaced out by the concussion that nothing would have surprised me at that moment.
The event was too far away to see clearly so I gambled and ran to the bed, where a teleconverter was. This would double my focal length. When I returned to the balcony, the man had jumped off the tank [he had appeared to have had a brief conversation with a crew member while on the turret] and the photo I made was him making one final stand before onlookers swept him away. Later that afternoon, Kirk smuggled my film back to the AP office in his underwear and then Mark Avery transmitted the Tank Man image around the world.
Because of Kirk's brave heroics, risking his life, he made the image possible for the world to see. I owe him a great deal of gratitude. We lost contact for 20 years but he found me on the 20th anniversary thanks to a New York Times interview.
My assignment lasted three weeks. I returned to Bangkok a week after the crackdown.
WORTH A THOUSAND WORDS The importance of the photo didn't sink in until American photographer David Turnley told me he thought I would win a Pulitzer Prize. As fate would have it, David won the Pulitzer that year for his general China and Eastern Europe coverage. I was a finalist in the spot news photography category. I knew I had a great image but never dreamed of the reaction the world would [have to] it.
What bothers me is that most mainland Chinese I have talked with are not even aware of Tank Man. I met a mainland family in Las Vegas two months ago and I asked if they knew my picture, which is on my business card. She was educated and spoke English. She had no idea about the image. Just like with who assassinated President John F. Kennedy, someone knows what happened to Tank Man and, someday, the truth will be known. [It has been reported that the man's name is/ was Wang Weilin and that he was a 19-year-old student, but there is a great deal of uncertainty about that.]
Both the government and protesters made mistakes; I witnessed them. But one thing is for sure, history will be the final judge.
MANY HAPPY RETURNS I have made a few visits to Beijing since 1989. I have even stayed at the Jianguo Hotel again, which, surprisingly, has not changed much in 20 years. [Widener has never been contacted by mainland authorities or been denied entry to the country], however, while departing through Beijing airport customs following a BBC interview in 2009, my waiting time was 10 times longer than that of the other passengers. I am sure I was monitored but luckily have had no issues with the government.
The amazing thing is that during my visit on the 20th anniversary, I met a young German teacher who was 22 years my junior. We got married a year later and now live together in Hamburg, Germany. If anyone had told me back in 1989 that I would return from that war zone to find my future wife, Corinna, sitting on the Changan Boulevard smoking a little cigar, I would have thought them a bit crazy.
STORIES FROM ELSEWHERE
I have been on assignment to more than 100 countries. There have been too many memorable ones to be able to pick just one that sticks out. Getting shot at in Sri Lanka just days after I started my job at AP was memorable but so was standing on the South Pole in 1995. Flying an F-16 fighter jet for an hour at Nellis Air Force Base, Nevada, was amazing. Watching the sun set from a 300-foot temple in Burma and chasing Princess Diana around Indonesia are tops on the list. One teary-eyed assignment happened when a waving Pope John Paul II arrived in the jungles of Papua New Guinea to a sea of singing natives. That was breathtaking. And, oh yes, I got choked up at the 1988
Summer Olympics
opening ceremonies [in Seoul, South Korea].
Of course I also have nightmare stories, like when I was almost kidnapped by the Khmer Rouge in 1992, or dodging a brick from a crazed fan during an English soccer game in Belgium.
After the Tiananmen Square story, I was so rattled from gunfire that any sudden noise would make me flinch. On one trip to Jaffna, I was with Sri Lanka bureau chief Patrick Cruez. We were so hot from the hotel's lack of air conditioning that we sat on the balcony in our underwear to cool off. A large explosion happened and I reacted, falling out of the chair on my a**. Patrick started laughing and said, 'Jeff, my God, it is only a coconut which has fallen on the ground'. The compound echo sounded like a mortar shell to me.
HOME IN HAMBURG Corinna and I live in a lovely apartment on a shady, tree-lined, cobblestoned street in Hamburg. There is a small roundabout with little bakeries, shops and an outdoor train station. She teaches by day and I work on my photo archives and book projects. I have three photo galleries in the United States and Germany. Recently I have returned to my passion of photographing with Leica rangefinder cameras, with traditional black and white Tri-X film. I am working on a picture book from my Bangkok years, which hopefully will be out before the 25th anniversary of Tiananmen.
Do I ever wonder what happened to Tank Man? All the time. If you think about it, it is quite incredible. Someone knows what happened to this guy yet it is still a secret after 23 years. For me, Tank Man is like the unknown soldier. He represents everyone who fights repression and believes in basic human rights.
Some of Jeff Widener's work can be seen on his website: www.jeffwidener.com