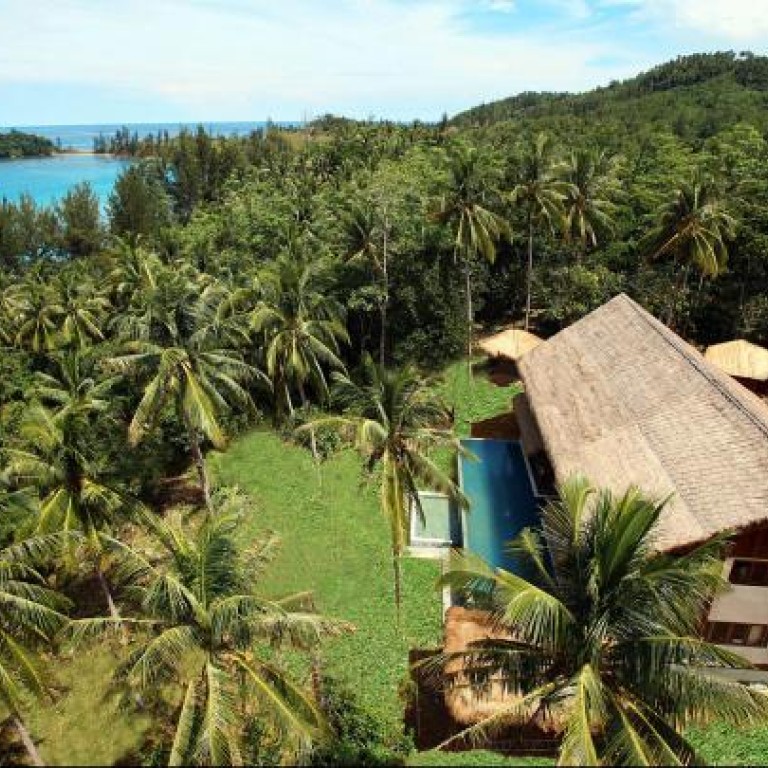 Hot spots: Hibiscus Villa, Kudat
Just five minutes from the Tip of Borneo, this beautifully crafted 6,000 sq ft villa, perched on a hill with glittering views of the South China Sea and set amid a lushly landscaped one-hectare tropical garden, has been described by as "the place where Jay-Z and magazine would throw the mother of all Southeast Asian parties". Maybe I don't get out and par-tay enough because, to me, its privacy, exclusivity and tasteful ambience are the epitome of quiet luxury. British owners Mike and Sue Burns had been travelling to Sabah, Malaysia, for more than two decades when the opportunity to purchase land in Kudat presented itself. Hibiscus Villa, their dream holiday home, was completed in March last year, initially just for family holidays. Fortunately for the rest of us they don't mind sharing their expansive, three-bedroom, four-bath villa, which comes with an open-plan professional-quality kitchen and spacious living zones, with an 18-metre infinity pool at its core.
Distinctly Balinese architecture constructed from quality hardwood, ethnic decor and indigenous sculptures and artworks create an earthy interior that's cool and restorative. Large balconies and wide folding doors let Borneo's tropical paradise into three luxuriously furnished bedrooms, two with king-size beds and one with four single beds. On the first floor, a capacious al-fresco lounge set under a towering roofline offers sweeping ocean and sunset views.
It took 15 men to carry in the teak dining table on which Nawaling and Ruci, sisters from the nearby village, set out a breakfast of tropical fruit, wickedly sweet cinnamon toast and eggs. The villa's in-house chef is Jainnes Apin, a local Rungus man who's worked in five-star hotels across Malaysia. Assisted by his wife, Diana, his passion is to introduce visitors to sumptuously simple Rungus gastronomy. Think chicken in lemongrass and starfruit sauce served with a crispy mango salad with wild ginger flower, chilli, shallot and coriander, and Hinava, local raw fish steeped in mango, lime juice, green chilli and garden-fresh basil. Alternatively, the Tip Top cafe/bar, just five minutes away, serves up Western and Asian cuisines, wines, beers and blended exotic fruit juices. Crucially for some, it also has Wi-fi. DIY guests can take advantage of the barbecue gazebo shop at Kudat's central market, 30 minutes away, for fruit and vegetables and the wet market for fish straight off boats moored by an open doorway.
Kudat's go-to guy, Howard Stanton, greets guests at the villa and outlines activities that include moun-tain biking, Rungus longhouse visits, bird watching and jungle trekking. There's golf at the century-old Kudat Golf Club and countless beaches to stroll along, including Pantai Kalampunian, a coral-fringed coast-line that stretches all the way to Tanjung Simpang Mengayau, the Tip of Borneo. Just beyond Hibiscus Villa's gardens is a secluded talcum-fine sandy beach lapped by warm, crystalline cyan waters. Two Kudat ladies can come by to do deep-tissue, Swedish and Thai massages.
Based on six adults/children, the villa rents for US$800 a night, including breakfast and one evening meal cooked by the in-house chef. Extra guests are charged US$40/US$25 a night and airport transfers from Sabah's capital Kota Kinabalu to Kudat (a three-hour drive) can be arranged for an additional cost.
This article appeared in the South China Morning Post print edition as: Hibiscus Villa, Kudat