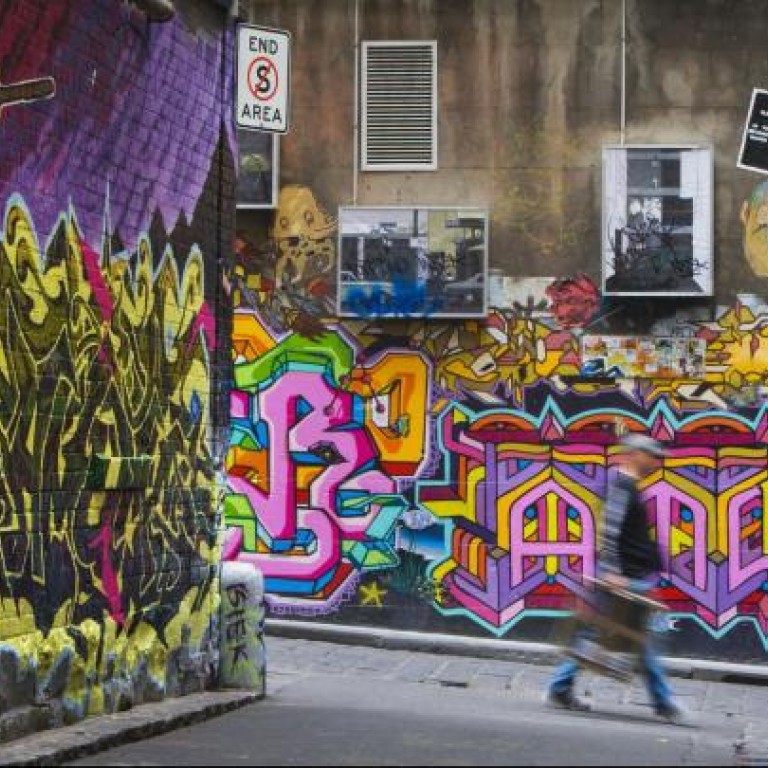 Small groups, led by passionate experts, have given Carol West a whole new perspective on her hometown, Melbourne
"Melbourne rewards you for being nosey." MelTours' (
www.meltours.com.au
)
Jerome Miller tosses these bon mots over his shoulder as we scurry behind him down a laneway, past crowded cafes, through a doorway and up a flight of stairs to where Rebecca Sampson is crafting exquisite bespoke jewellery in her bijoux studio, Tallulah.
Having become accustomed to seeing unsmiling groups in matching caps trudging behind flag-waving tour guides, I usually avoid guided tours like the proverbial plague. However, I've recently discovered that when time is limited, tours curated to particular interests are a great way to take a city's pulse.
Melbourne is a cosmopolitan kaleidoscope of idiosyncratic bars and cafes, experimental art galleries, chic couture and cutting-edge design. I've lived here nearly all my adult life but with more than 240 lanes, arcades and alleyways running off a meticulously designed grid, it's not surprising that many of the city's charms remain closely guarded secrets. A tour of its graffiti-scrawled laneways and romantic art-nouveau arcades is the ideal first step in understanding what makes Melbourne tick. Making it more palatable for me is that tour groups are often a discreet cluster of half-a-dozen people.
Miller puts his passion for Melbourne's hidden delights down to alcohol: "I was working in IT and exploring new bars for that end-of-week drink led me to discover some amazing places."
For the next 2½ hours, he happily shares his passion. Pausing in streets where bullock drays once turned and horse bazaars stood, he spins the threads of Melbourne's history, creating a canvas embroidered with mid-19th-century gold rush tales and a time when foreign capital investment made it one of the world's richest cities.
Plunging into laneways, cafes cluster companionably together, organic pockets of intimacy colonised by Gen Xers who come to shop and eat in places no longer derelict and dangerous. Old warehouses, some with original barrel hoists dangling overhead, house hidden bars that resonate with a speakeasy decadence. Rankins Lane looks empty but a couple of fashionably dressed girls are the only clues needed to guide us to Manchester Press, one of the city's original printing works and now a hot cafe. Melbourne cognoscenti might know where to find Bar Americano, in tiny Presgrave Place, where cocktails are mixed according to your taste profile, or hole-in-the-wall Switchboard Cafe in the Manchester Unity building, Melbourne's finest art-deco interior space.
Through a hidden doorway off Royal Arcade, a fashionable clothier occupies a former Turkish bathhouse. Until its closure, in 1929, it was a popular haunt for gangsters and house rules insisted they check their weapons at the door. Crossing a narrow street, we enter the gracious Block Arcade, where the belles and beaux of the late 19th century promenaded and where, in 1892, Lady Hopetoun established The Hopetoun Tea Rooms. Judging from the queue corralled behind a velvet rope, this elegant tea room hasn't lost its popularity.
Over the past eight years, Fiona Sweetman's Hidden Secrets Tours (
www.hiddensecretstours.com
) have developed programmes that showcase a contemporary, creative city.
"Whether their interests lie in the city's cafe culture, taking an architectural walk or visiting places that made Melbourne Unesco's second City of Literature, I like visitors to know what's happening now," she says.
I love the idea of frocking-up for a chauffeur-driven vintage shopping outing and I'm not alone. A hit with style mavens keen to unearth "preloved" treasures, the tour includes cupcakes at Madame Brussels and a glamorous luncheon.
For a taste of Melbourne's multicultural cuisine, Hidden Secrets' three-hour Sommelier's City Walk takes small groups to three restaurants where wine waiters guide them through a menu of wines paired with signature dishes that reflect Japanese and European influences.
There may be a growing eagerness to share pictures of travel experiences (thank you Facebook, Twitter, et al) but acquiring more whiz-bang technology doesn't always lead to better photo-graphy. Enter Inner Melbourne Tours' (
www.innercitytours.com.au
) Images of Melbourne Tour. Designed by photographer and artist Andrew Makowiecki, its goal is to improve people's images of the city's leading attractions and it begins with a short session on how to get the best out of your camera. Covering gracious bridges and buildings, character-filled laneways and elegant arcades, the tour's high spot is the opportunity to take sweeping panoramic photographs from the top of Eureka Tower, Melbourne's tallest building.
Ghost busters and sceptics alike have been gathering outside The Haunted Bookshop, Australia's leading occult bookshop, every Saturday night since Drew Sinton founded the Haunted Melbourne Ghost Tour (
www.haunted.
com.au
) on Halloween 15 years ago.
"Some think it's a load of rubbish, others are true believers," says Sinton, who sometimes dresses in vintage gear and swirling cape while playing hide and seek down a complex web of alleyways. In the darkness, he reveals morbid titbits about the city's past that send shivers down spines. Keeping it weird and wonderful, his tour programme changes regularly, an attempt to keep both visitors and vampires on edge.
"Melbourne is the chocolate capital of Australia," says Suzie Wharton, while guiding sweet-toothed travellers into the laneway lairs of chocolatiers and patisserie shops on one of her Chocoholic Tours (
www.chocoholictours.com.au
). Decadent tour treats include chocolate ice cream, fine handmade chocolates and afternoon tea. There's even a chocolate and fashion walk, although you're likely to be a dress size bigger by the end of it.
"My Walk to Art tour (
www.walktoart.com.au
) is about accessing spaces that wouldn't ordinarily be available," says Bernadette Alibrando, who eschews the commercially predictable in favour of intimate eclecticism. When it comes to plugging visitors into Melbourne's quirky street art, video installations and painting scene, Alibrando is the art world's go-to girl. "People come to art tours from all angles, so it's important to meet up and connect as a group over a coffee before setting off," she says. Tours start in the city and continue by tram on to artists' spaces and boutique galleries before a lively debrief over a farewell wine and cheese.
It's just before sunset and there's the gentle slap of water against our kayak's hull as we push off from Melbourne's Victoria Harbour. Kent Cuthbert introduced the Moonlight Kayak Tour (
www.
kayakmelbourne.com.au
) on the Yarra River two years ago and kayaking past buskers entertaining post-work crowds, diners bathed in evening's amber glow, surrounded by a diamond-studded city skyline under a velvet sky provides yet another unique perspective of the city.
Having been so beguiled by voyages of discovery of Melbourne, I have to concur that they beat burying your nose in a guidebook or phone app hands down.
This article appeared in the South China Morning Post print edition as: Magical mystery tours