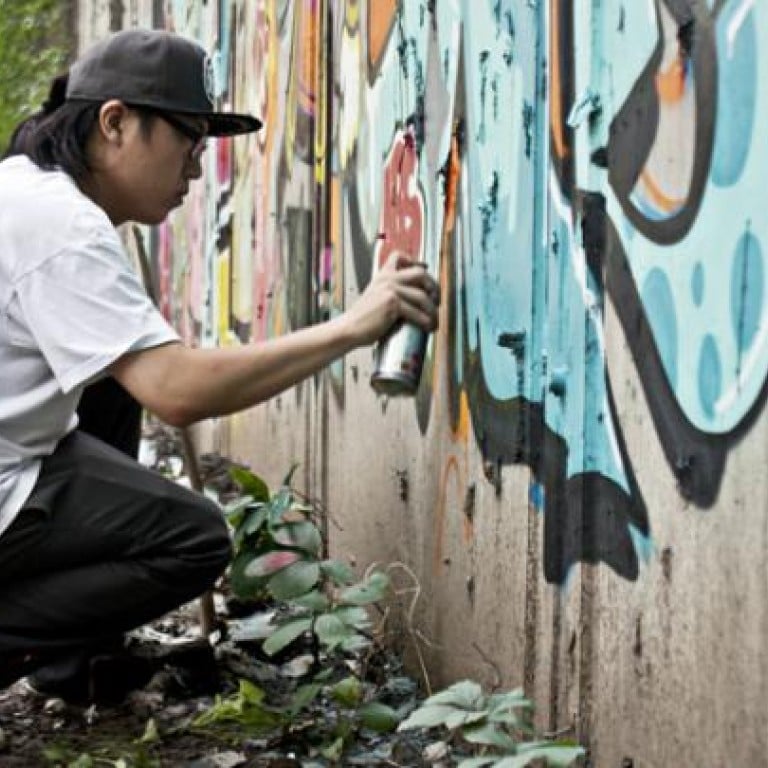 United colours of Beijing
The capital's graffiti artists have come out of the shadows and are finding the city surprisingly welcoming, writes Laura Fitch
On a sultry summer's day, with thunderclouds hanging heavy above them, a team of street artists spray-paint murals across the walls of a gallery in Beijing's Songzhuang Art District. Locals Biskit, Zyko, ANDC and Sack coat concrete slabs set up around the perimeter of G-Dot Art Space, alongside Tkid, one of the first graffiti artists to decorate the streets of New York, in the 1970s, Binho, a renowned Brazilian street artist, and Noe Two, a Frenchman whose works include funked-out portraits of the likes of jazz artist Erykah Badu.
A small crowd of people have been bussed in from the city centre for the exhibition opening and mill around the yard, sipping sake from cans and watching the artists criss-cross, add to and complete one another's works. Bemused pedestrians stop to take it in.
The walls of Beijing are increasingly being subjected to the spray can. Colourful murals have migrated from the officially sanctioned 798 Art District to the sides of highways and walls near Renmin University, in the city's northwest. Tags – spray-painted signatures – decorate the entrances to train stations and glow under the red lanterns of the capital's most famous food street, Gui Jie.
By their own estimates, between 30 and 40 graffiti artists work in Beijing, some more regularly than others, in comparison with the thousands active in cities such as Los Angeles, Paris and New York. Most here have creative-industry day jobs: building websites or laying out one of the growing number of glossy publications that sit on the shelves of the capital's magazine stands.
When graffiti first appeared in Beijing, in the early 1990s, it – along with much of the emerging contemporary art scene – was considered subversive. Today, graffiti is taking root in a culture that is much more tolerant, both socially and politically – one where government restrictions are playing less of a part and the public is becoming more accepting of a wider range of artistic expression.
When Zhang Dali picked up a can of black spray paint in the early 1990s and began outlining outsized profiles of his own bald head on the sides of buildings slated to be destroyed, he became the first recognised graffiti artist in Beijing. This simple outline was so unusual – at the time nobody painted anything on walls except party slogans – that he would regularly get arrested, beaten up, or both, by the police.
"[They] would think that you were opposing them, opposing the government, or making fun of the government," says Zhang, sitting on a plush beige couch in his cavernous studio, in the ramshackle Heiqiao art zone, on the outskirts of the capital.
"At that time, Chinese people didn't understand. If you were an artist, you should be in your studio painting. What were you doing painting outside? What does this art mean?" Zhang is now a contemporary artist and art photographer with works exhibiting in major museums and galleries worldwide, including MoMA in New York. For his latest project, Zhang is sifting through photographs dating from the Great Leap Forward (1958 to 61) and the Cultural Revolution (1966 to 76), comparing the originals with the doctored pictures that were published.
He stopped doing graffiti in 2003, he says. Times had changed; as the country opened up and self-expression blossomed, his profiles – which had forced people to question perceptions of art, public space and authority – lost their meaning.
"It didn't have that spirit of resistance, that underground culture," he says. "It just became something good to look at. Just a painting. So I quit."
Tolerance for graffiti has only grown since Zhang put down the can. Li Qiu Qiu, of the graffiti team Beijing Penzi, or "Beijing spray can", is known as the grandfather of graffiti in Beijing in its modern form, which more closely resembles the American-style artwork found on walls across the globe. Li, who opened his studio to American journalist and filmmaker Lance Crayon for the yet-to-be-released documentary Spray Paint Beijing, began doing graffiti in the early 2000s, and can attest to how quickly the cultural climate has changed.
When Crayon started filming graffiti artists in the capital in 2010, he was worried: "I thought … you're gonna get arrested, your camera's going to get confiscated, you guys are all gonna get in trouble.
"Nothing could have been further from the truth," says Crayon, who followed Beijing street artists for over a year. "I thought China would be the last place where graffiti artists could enjoy that amount of freedom."
In the US, where graffiti is considered a defacement of public property, graffiti artists will wait until the early hours of the morning to avoid detection while they work. Their Beijing counterparts, on the other hand, often head out in the afternoon and early evening.
"It was mind-blowing to me," says Crayon.
Unlike in LA, where authorities take an active role in preserving public space and preventing the public from scrawling on walls, in Beijing it was once the authorities themselves who did the writing, with government slogans painted in red and white characters, particularly during the Cultural Revolution. Today, though technically illegal, savvy advertisers of everything from water-delivery services and internet providers to fake diplomas and sketchy STD treatments paint details of the services offered and contact telephone numbers on all available surfaces, from the walls of apartment building corridors to those in underpasses and alongside pavements.
While Crayon was filming, he rarely saw anyone stop the graffiti artists. Security guards would often watch with curiosity as the artists created murals. If someone did take issue with the graffiti, the artists would be fined at most a few hundred yuan. Occasionally they would be taken to a police station for questioning and then let go, he says.
It's worth noting, though, that although artists in the US may be arrested for defacing public property, they are rarely detained for the content of their work. In Beijing, you may be able to paint almost wherever you want, but you still can't paint whatever you want.
"Anything against the government is definitely off-limits," says Zhang. "I think that's a question you should ask young graffiti artists: if the police came and beat you up, what would you do? If no one is watching you, then what is your art?" Such sentiments don't concern 28-year-old Li Zhu Nan, who sees selfexpression in the spray can. Graffiti is a hobby he loves solely for the pleasure of creation. A baby-faced man with hair that sticks up straight and thick eyebrows, Li, aka Biskit, sips water in a pricey coffee shop in Beijing's business district. A sudden downpour has turned the streets outside into rivers, but not one hair on Biskit's head is out of place. He's been working late, creating advertisements for a company he prefers not to name. Dressed for the office in a neat, blue and white striped shirt, his enthusiasm is infectious, and only grows when he talks about his art.
Biskit's introduction to the world of graffiti came in the early 2000s, via the internet and through the work of street artists in other countries.
The internet was his only source of inspiration, he says, until he met ANDC, a member of the industrious ABS Crew, a four-man team of graffiti artists-turned-designers. ANDC introduced Biskit to a burgeoning Beijing scene. His first tag was on a wall near his house.
"I thought, if anyone comes to catch me, I can just run home and hide," he says, laughing. "It's a bit safer, right?" Biskit has made a lot of friends through graffiti, he says. He has travelled to France, where other artists showed him their work in unused underground subway tunnels. For him, graffiti is a connection to a larger world.
"I was thinking about how to incorporate Chinese elements into the mural," he says, scrolling through razor-sharp pictures of his pieces on a sleek smartphone. He points to the shadow of a roast duck next to an unmistakable outline of a temple roof, incorporated into an imaginative modern graffiti design. "I thought, what's more Beijing than kaoya [roasted duck]?" An enthusiastic supporter of Beijing Guoan, he worked the football team's green logo into another mural.
Some graffiti artists spray for pleasure, others are using their art to turn a profit. Standing for "Active, Brilliant and Significant," ABS Crew is now an international design agency and one of the most active graffiti crews in the capital. ABS has co-operated on events with Audi, BMW, Red Bull and skateboard company Skullcandy. The crew – ANDC, Seven, Noise and Scar – took top honours from last year's annual Asia-wide Wall Lords Competition, and their designs grace T-shirts, hats and skateboards.
A stone's throw from the 798 Art District, ANDC's white shirt is visible through a long thatch of trees that runs alongside Jingmi Lu, near Jiantai Bridge. It's a small sliver of green in a city of greys and blues, and ANDC – aka Andy Guan – in a black cap, black-framed glasses and with a kerchief tucked into his back pocket, has come to complete a mural that Biskit started. As he sprays, an old man passes by and gives a thumbs up. Soon a young woman stops to watch. She says she's an art student.
"In Hangzhou, they would all paint together," she says of graffiti artists in her hometown, motioning towards ANDC spraying solo. As he works, the pile of silver spray cans littering the ground around his feet grows, each with a different coloured cap.
"In 99 you saw a lot of spray coming in, more colours than just black, red and blue," says Zhang. "Now there are over 100. There's gold, silver.
Now you can find ones that are this small," he holds his hands less than a foot apart. "Now it's really convenient."
Convenient, yes, but not especially cheap. Graffiti may have started in New York as a poor man's outdoor gallery but in Beijing, it's a pursuit of those who make a decent living. Cans of spray paint cost upwards of 20 yuan (HK$25) each, and Biskit estimates that it costs about 1,000 yuan to complete a large mural. And there's no guarantee the mural will be around for long.
The transient nature of street art is what inspired a magazine editor, then in his early 50s, to pick up his camera in 2005 and record graffiti art he found on the streets of Beijing. The works he first snapped were soon painted over by sanitation workers, he says.
"I decided I would do my best to photograph all Beijing graffiti works," says Liu Laoshi, as he is known to those in the scene. He started a Sina blog in 2007 on graffiti art under the tag LLYS. His archives include "countless" digital photos, and over 1,000 film prints, he says.
"The quantity of graffiti increased after 2008, and the quality got better," LLYS says. Graffiti art was following the path of Beijing in general, and creative scenes in Beijing, in particular. "There was more communication with world culture," he adds. "In Beijing, the culture and art became more open." Increased access to information, and communication with other artists helped grow the Beijing scene quickly, he says, while young artists are finding self-expression in graffiti. "They want to leave their name on the street, to have a position in a circle."
Though improving, the quality of most graffiti in Beijing still lags international standards, says LLYS, who has snapped graffiti murals in places with well-established scenes such as Rio de Janiero.
In a small cluster of buildings in a rare, quiet corner of the bustling 798 Art District is a large concentration of graffiti works. Noe Two, Tkid and Binho have all created murals here. The difference in complexity between their art and works created by local crews is apparent, even to the untrained eye.
Crayon predicts that the relative freedom to paint in Beijing will draw more artists who are frustrated with restrictive environments in their home countries.
LLYS agrees. "There will be some amazing works created in the future," he says.
For now, though, although the scene is emerging – the annual Red Bull Nanshan Open snowboarding competition, now in its 10th year, featured a huge graffiti mural painted on the slopes, for instance – it remains half-underground, says LLYS. The nature of their art is very public but the artists themselves are guarded about their private life.
"Their behaviour, what they do, they won't let anyone know," says LLYS. "The part that's public is when they go out during the day and do graffiti. They take their time and aren't afraid of anyone watching.
"They are indifferent to what others think of their work," he says.
"They understand that the majority [still] does not accept graffiti."
PENANG - THE REAL DEAL
Shifting from foot to foot and giggling, tourists and locals wait to pose with a mural painted on a dilapidated street wall in Penang, Malaysia. The painting is a striking, thought-provoking contrast of forms - two children, depicted in a carefree moment of joy, poised on an actual bicycle leaning against the wall.
It is art that begs for interaction and has proved incredibly popular in Penang's historic capital, George Town. Smiling children stand next to the bicycle and the painted riders; adults pretend to push the bike; young women line up next to the light-hearted portrayal of childhood happiness.
The mural and seven similar works are the creation of 26-year-old Lithuanian artist Ernest Zacharevic (above; with his bicycle). In one mural (right, bottom), a boy "stands" on a chair placed alongside a wall, his arms stretching towards a hole lying just beyond his reach. Another shows a teen boy resting on the seat of a real motorbike; elsewhere, a small girl walks an imaginary tightrope made of actual power lines (left, bottom).
Zacharevic has been delighted and surprised by the attention his works have drawn; he has earned nearly 28,000 likes on his Facebook page. Commissioned earlier this year, the murals have taken on a life of their own.
"It's my contribution to the George Town Festival," Zacharevic tells . The annual arts festival runs for a month from June, and includes theatre, opera, film and dance works. "They were looking for contributions; the director was aware of my work." Zacharevic had no specific theme in mind, he says.
"The subjects just came up; it wasn't a conscious decision. I work a lot with kids."
The larger murals are up high and their size ensures they are visible at street level.
"I always try to make it more interactive and more site-specific," says the artist.
Having lived in Penang for nearly two years, Zacharevic recently travelled to Belgium, to work on street art there. But Asia will be his home for the foreseeable future, he says.
Occasionally described as "Banksy-esque", Zacharevic says he has yet to tire of comparisons with the British street artist. "People who compare me to Banksy - he's the only street artist they know. But Banksy - he was a big inspiration on my work, I grew up seeing his career grow."
Small photos: Sian Powell