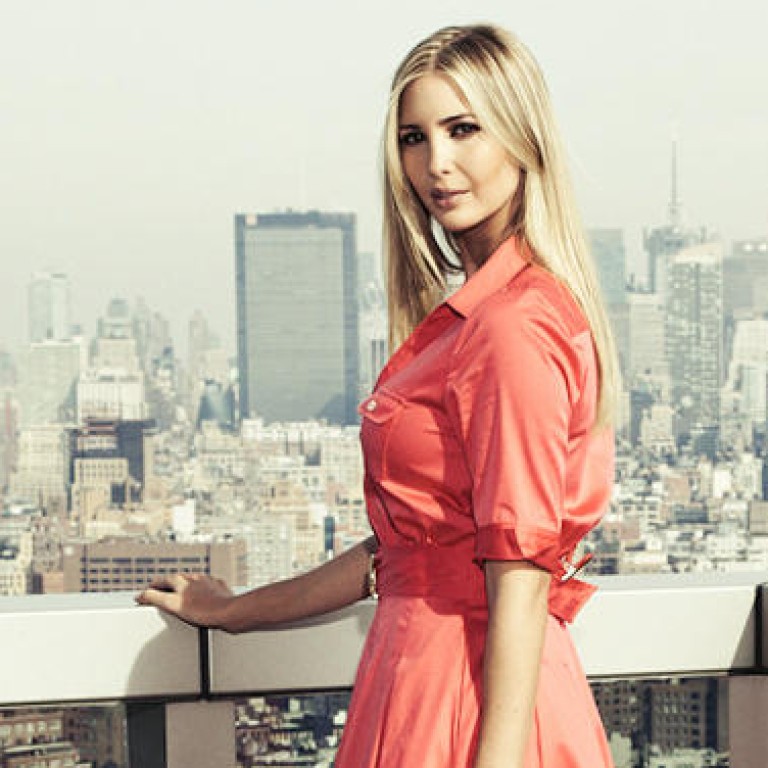 My Life: Ivanka Trump talks family, branding and China
In a 2012 interview, the businesswoman and daughter of America's next president talks about working in real estate, what's good and bad about being a Trump, and her daughter's Chinese lessons
From as early as I can remember, I wanted to go into real estate - so when my friends were fretting in their college years about what they were going to do, I felt lucky. I think a big part of it was my family's energy was just infectious. My parents [her mother is Czech former model Ivana Trump; her father business magnate Donald Trump] would come home from work and they were genuinely excited. They loved what they were doing. So I think that did rub off on us. And I think partially it also runs in our veins. My grandfather [Fred Trump] was a developer. On my mother's side, her father was an engineer. So I think there's a natural inclination.
My job has no routine and that's what makes it so much fun. I work alongside my brothers and my father. I'm involved in every element of the business as it pertains to real estate. Then I have many other ventures I'm involved in, such as our 13th season of [reality television show] , which we start filming this month. I have my own brand that I've developed as well. I have a line of jewellery; a line of apparel; a line of shoes; a line of handbags; a line of coats; and I'm launching fragrance and sunglasses in the spring. I'm actually opening my first store in China, in Beijing - a jewellery boutique, which is very exciting. My primary focus, though, remains our real estate efforts.
One of the things I love about real estate, and all the other things I'm working on, is there's something amazingly satisfying about conceptualising a project and seeing it come to fruition. I feel that especially with our hotels. I oversee the aesthetic decisions for the hotel brand. It's amazing to be able to stand in your hotel on opening day and see all the guests pour in and use the facilities and interact with something that was, until that point, an idea.
We've just won selection by the American government to redevelop a very, very iconic building in [Washington] called the Old Post Office. That was probably the most coveted hotel redevelopment opportunity in the country so we're very excited about that. We bought the Doral Golf Resort and Spa in Miami this year, and hopefully now we'll have a big presence in China as well. We're opening an office here and will have a full-time team looking into develop-ment opportunities.
I think balance is something everyone strives for, but it's not something you can execute flawlessly. A project comes up that requires your attention; your daughter gets a fever and it requires your attention. So you can't plan for these things, but it's important to reflect on your priorities. Make sure you have good priorities and then as things come up, you can prioritise the right way. Obviously, family is first and foremost.
I love collecting art and with my husband [businessman Jared Kushner] we've had a lot of fun building our collection - particularly contemporary and young artists. We started off with photographs and we've gravitated more towards paintings. I love Christopher Wool; I think he's very, very talented. I love Alex Israel; Josh Smith; Dan Colen; Adam McEwen - that next generation of young artists. I'm actually going with one of my best friends, Wendi [Murdoch], to visit some great artist galleries in Beijing.
My daughter is studying Mandarin; I have an incredible Chinese nanny who's teaching her. I don't know much, but I can pretty much name every animal in the zoo, so if I go on a safari, I'll be able to use my Mandarin. It's not so practical, but I'm learning. My daughter doesn't speak much yet, but she seems to know as many words in Mandarin in terms of understanding what they mean as she does in English. This may be as bilingual as she ever gets, but I hope not. Something I love to do with my daughter is cook. I give her little things to do and I try once a week to make a feast for all three of us; like Thanksgiving once a week, effectively. That's probably what I enjoy doing most in my free time.
Being in a family business is binary. It's great when it works; it's a disaster when it doesn't. It's great, in that you can challenge and push each other in a way that an employee couldn't. It's our name, it's our brand; we're committed to its success in a way that somebody who was working for us may not be. But there are a lot of family businesses that have been destroyed by infighting. So you just have to be cognisant of that. You have to make sure that harmony continues to exist.
This article appeared in the South China Morning Post print edition as: Ivanka Trump