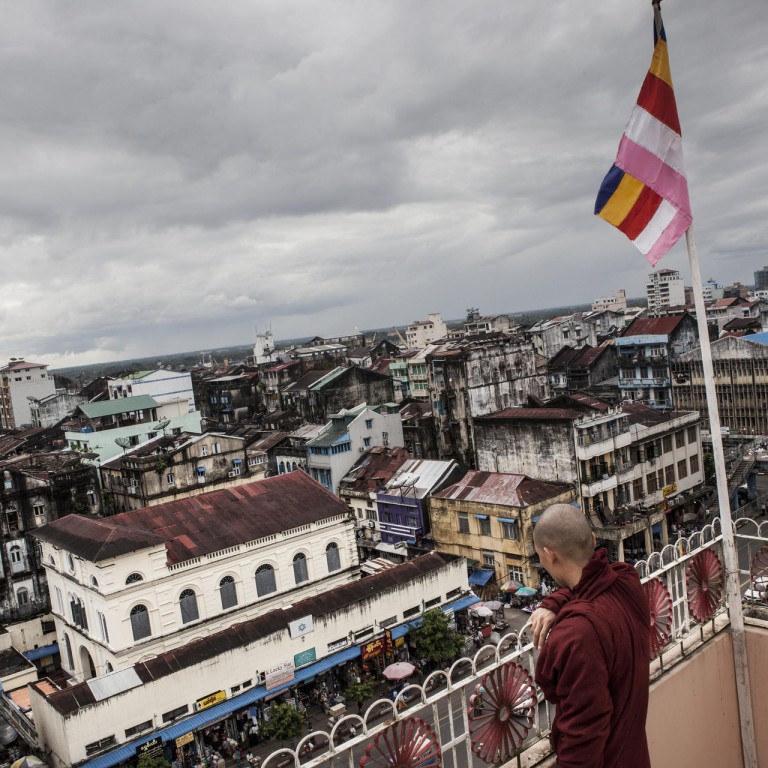 The opening up of Myanmar may bring the once-thriving Jewish community in Yangon back from the brink, writes Mary O'Shea. Pictures by Cedric Arnold.
Every day, shortly before 9am and amid the roar of morning traders, bicycle bells, honk-ing taxis and yelping dogs in Downtown Yangon's busy 26th Street, Moses Samuels unlocks a gate. In doing so, he opens up a historic haven in the heart of the Myanmese city, just a few blocks north of the Yangon River, and maintains a tradition that has come perilously close to disappearing.
Samuels - whose Burmese name is U Than Lwin - is one of the few remaining members of a once-vibrant Jewish community living in Myanmar. Like his father, and his father's father before him, Samuels maintains a stalwart stewardship of the Musmeah Yeshua Synagogue - the last surviving synagogue in the country. Daily, from 9am to midday, he sits in a rattan chair, facing out to the street, patiently waiting for visitors to welcome. His attire - a traditional Burmese (sarong), a crisp white Savile Row-style shirt and a (skullcap) - is testament to the varied geographical and historical factors that have shaped his community.
Samuels has kept this daily routine for the past 35 years, even during the darkest days of military rule, when visitors were few and far between and it was rare that the synagogue could muster a , the minimum of 10 male worshippers required for a service. Of late, however, due to an influx of tourists - and foreign business investors and prospectors - an almost constant trail of curious visitors trundles through the door.
Built between 1893 and 1896, Musmeah Yeshua (which in Hebrew means "to bring forth salvation") is tucked away behind white walls, almost entirely hidden from the street. The entrance is flanked by open-fronted stores, presided over by betel-chewing Chinese gold dealers and Urdu-speaking traders clasping prayer beads. A sits atop the cast-iron gate, the building only partially visible beyond the wall. One could easily stroll past oblivious, fooled by an unassuming exterior that belies the rich heritage within.
Enter, however, and you discover a vaulting, high-ceilinged chamber with a central platform (as per the Sephardic tradition). Magnificent memorial lamps hang overhead and two Torah scrolls remain of the 126 once held here, brought from Baghdad more than a century ago.
As Ruth Fredman Cernea notes, in her meticulously researched history of the Jewish community in this mostly Buddhist country, , "The synagogue stands as testimony to the proud community that constructed it."
Fleeing persecution in Iraq and Iran, Jews first came to the port city of Rangoon - as Yangon was then known - in the late 19th century, recognising the trading opportunities offered under British rule in this bustling colonial outpost. And the community swiftly rose to prominence. For example, it was a Jewish businessman who established the city's first bioscope theatre, in the 1880s.
By the 1930s - often considered the "golden age" of the Jewish com-munity in Myanmar - its number topped 2,400. The city even had a Jewish mayor, David Sofaer, whose family built the impressive colonial-era building that now houses the Lokanat Galleries on Pansodan Street.
In his damning indictment of colonial rule, - published in 1934 - George Orwell, whose reputation was later to be tarnished by his anti-Semitism, caustically commented: "The British Empire is simply a device for giving trade monopolies to the English - or rather to gangs of Jews and Scotchmen."
However, following the devastation wrought by the Japanese invasion in the second world war, and amid the "Burmanisation" initiated by the new government after independence in 1948, Jews had to decide whether to remain British subjects or become Burmese nationals.
This resulted in a rapidly dwindling community. Starting from 1949, Jews in the country sought visas to emigrate to Israel. By the 50s, the community had dropped to 150 people, and the vast majority of those remaining, including the last rabbi, left when General Ne Win nationalised businesses, in 1969.
A vintage poster pinned on the wall in the office at Musmeah Yeshua and emblazoned with the slogan "Israel: we are open all year round" is striking in its poignancy.
to say about the past, it seems a cruel twist of fate that Samuels has been left temporarily unable to speak after recent surgery on his voice box. His frustration is palpable. He gesticulates a lot and scribbles words down in a small pocket notebook. Aged 63, he has devoted his life to the synagogue, fulfilling a promise to his father to keep this heritage alive. And the job of maintaining this legacy will soon be taken up by his son.
Sammy Samuels (his Burmese name is Aung Soe Lwin) recently returned to Yangon after living abroad for more than a decade. Now 33, he spent three years in Israel learning Hebrew (a language his father does not speak), later graduating from the Jewish Yeshiva University in New York, in the United States, and then working for the American Jewish Congress. He is an impressive young man, and if the responsibility of guarding Myanmar's Jewish heritage weighs heavily on him, he bears it lightly.
"My heart is here," he says with a smile.
With a view to connecting with other Jewish communities around the world, in 2005, Sammy and his father set up Myanmar Shalom Travel. Interest in their signature rabbi-led Jewish heritage tours has been extraordinary. California-based Ellen Mayer - who arranges small high-end "Asian Odyssey" tours through Shalom Travel - explains, "Jewish people generally find each other. And all of a sudden we discover this lost group that no one knew about. Burma was so closed."
The synagogue is now listed in guidebooks such as Lonely Planet and Guide du Routard - neither of which were even available in the city a year ago due to their lengthy musings on the ethical issues related to travelling in Myanmar.
On one visit to the synagogue I encounter a young French couple on their honeymoon, a straggle of backpackers and an elderly Australian man, all wandering about with guidebooks in hand. All are warmly welcomed by Moses Samuels, who provides the men with skullcaps.
With Myanmar having been so long closed to the outside world, little is known of the diversity of Yangon. What sometimes surprises visitors to the synagogue, for example, is that it is located in the middle of a Muslim neighbourhood.
"Whatever the differences in other parts of the world, here we co-exist peacefully," says Sammy.
Within a short stroll from the synagogue, are the famous Sule Pagoda; Buddhist and Hindu temples; mosques (both Sunni and Shiite); cathedrals and churches (Roman Catholic, Anglican and Armenian); a Hokkien temple; and a Jain temple. The ethnic mosaic of these streets is striking and lends Downtown Yangon a melting-pot, cosmopolitan charm.
Of late however, serious sectarian violence between Buddhists and Muslims elsewhere in the country has threatened this harmony. In the aftermath of the anti-Muslim riots in Meiktila in March, a sense of unease was evident in the commercial capital, with some Muslim shop owners temporarily boarding up their premises. With the outbreak of anti-Muslim mob violence at the end of last month in Okkan - a mere 110 kilometres north of Yangon - this sense of trepidation has been reinforced. Religious intolerance towards the Muslim minority could prove to be a gravely destabilising factor in the new Myanmar.
A few blocks away from the synagogue is a poignant reminder of how much has passed in Yangon. Nowhere is the demise of a once-flourishing community more evident than in the Jewish cemetery. Behind tall iron gates prominently displaying the Star of David lie line upon line of tombstones, 679 in all, crumbling into ruin. The earliest dates from 1876. Isaac Samuels, father of Moses, was the last person to be buried here, in 1979.
The graveyard is wildly overgrown and a Muslim call to prayer floats across from the mosque located at its western end. Monks hanging their robes out to dry in the adjacent Buddhist monastery peer at us curiously.
Jolly Albert, who is 49 but has the bearing of a much older man, accompanies us around the cemetery. His features appear to be falling in on themselves; his eyes are misty. Both his father and mother are buried here. His brother and sister made (the migration of Jewish people to Israel) in the mid-1980s. He is the only member of his family left in Yangon; he never married and has no children. I ask if he intends to join his siblings in Israel. Running his fingers along the edge of his mother's tomb, he sighs and shakes his head wearily.
Sammy, however, is optimistic about the revival of the Jewish community here. Myanmar's time has come and opportunities abound, he believes.
In response to economic and political reforms undertaken by the government, both the US and the European Union eased restrictions on companies doing business in Myanmar last year. It has been almost impossible to get a hotel room in the city ever since. Even Coca-Cola, once distributed by the prominent Jewish Solomon family, has returned to Myanmar, after a 60-year absence. As a recent cover announced, these are "Boom Days in Burma".
In parallel with this influx of businessmen, the International Monetary Fund, Asian Development Bank and World Bank have all opened offices in Yangon; high-rise condominiums are under construction; and rental prices are rising steeply.
Spotting an opportunity, last year, Sammy established a management consultancy firm, MS Global, to provide advisory services to American and Israeli companies planning business ventures in Myanmar - notably facilitating their access to government officials and putting them in contact with local industry executives. With a new foreign investment law approved in November, he looks set to be busy for the foreseeable future.
Sammy and his father believe that the influx of expats, along with the tourist boom, will ensure a Jewish presence continues in Myanmar. The synagogue is now a protected building under the Yangon Heritage Trust (an organisation set up to preserve the city's colonial-era architecture) and the Samuels family are confident that one day in the not-too-distant future, its wooden benches will once again be filled with people. "We do not expect another golden age, but yes, the community will grow," says Sammy.
Undoubtedly the most exciting development for this small Jewish community, however, is the fact that Sammy will marry his childhood sweetheart, Zahava, a young Jewish Myanmese woman, next weekend. It will be the first Jewish wedding to take place in Myanmar in 27 years and therefore a meaningful event not only for the bride and groom but for the community as a whole.
Ellen Mayer's husband, Jack, former director of Hebrew Union College, Los Angeles, and currently working for the Israeli medical organisation Save a Child's Heart - which is making paediatric cardiac surgery available in Myanmar - also sees a bright future for this "tiny remnant community".
"Through this couple, Burmese-Jewish life is showing incredible and unlikely resilience," he says.
Ellen, meanwhile, sees the event bringing hope and promise not only to the tiny community here but also to struggling Jewish communities around the world. When asked what the future holds for the community in Yangon, she is unequivocal.
"I think there will be babies," she says with a broad smile.