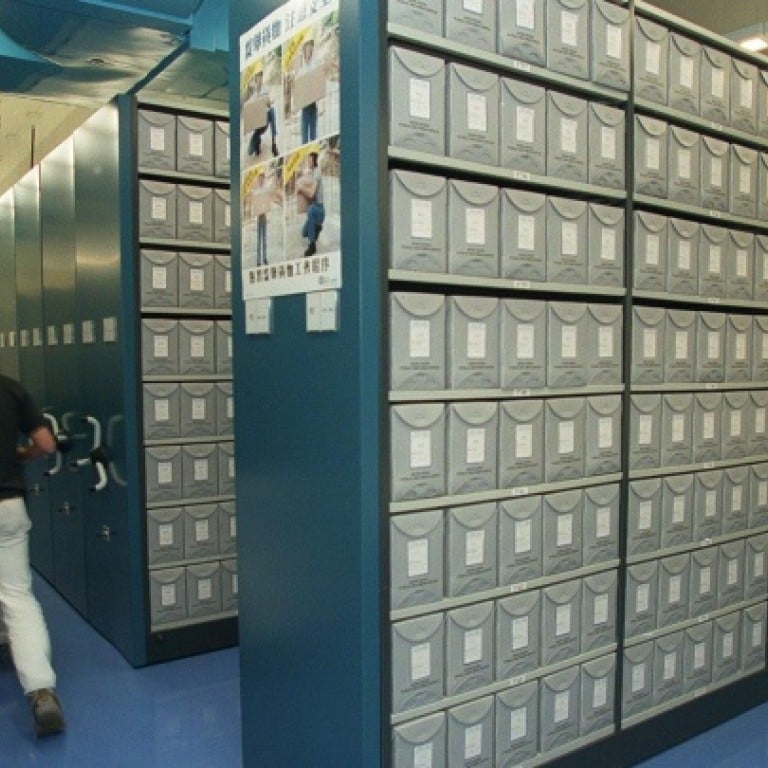 Then & now: a paper trail to where?
The reckless destruction of public records, abetted by a lack of archival legislation, has the whiff of conspiracy about it, writes Jason Wordie
Reliable repositories of "public memory" are important in any civil society. Being able to know how and why certain key decisions were made in the past enables us to better understand our present state of affairs. The true value of history, arguably, is the window its study affords on the contemporary world.
Making such a window as transparent as possible requires efficient, open, wide-ranging systems for the collection, storage and retrieval of, and access to, a whole range of records. Sources should be comprehensive: official minutes and private notes on them; photographs, drawings and sketches; maps and survey charts; newspapers, advertisements, diaries and letters - all these enable us to build up a picture of the past. Without this evidence, any reconstruction is partial at best, and at worst devolves into speculative and creative guesswork.
Hong Kong's Public Records Office was established in 1972. Located for many years in Central, it now has a dedicated building in Kwun Tong with superb resources and helpful, well-trained staff. Prior to 1997, professional archivists dispatched from Britain spent several years deciding which files to retain for post-handover Hong Kong, which should be destroyed and which were so sensitive that they should be repatriated. It was hardly to be expected that Special Branch records on actual or suspected subversives and spies, for example, would be left behind for the benefit of successor governments.
Such weeding was a routine procedure in the lead-up to decolonisation; but sensitive files removed to Britain have sometimes led to later embarrassment. Damaging materials about the Malayan Emergency or the Mau Mau uprising in Kenya, both of which occurred during the 1950s, have recently come to light in Britain's public archives, and files that document the ill treatment of political detainees in both countries have been used in civil actions for damages.
Missing papers are a conspiracy theorist's dream come true. When certain documents that should exist can't be found, then, for sure - such people reason - an indeterminate "they" must have removed them for some nefarious purpose. Exactly who "they" might be tends to shift at any given point in time, which only further confirms the conspiracy theorist's cranky mindset. Now and again, though, it's hard not to have sympathy.
Hong Kong lags well behind the mainland and Macau in terms of legislation on archives. Vast mounds of documents were destroyed by the outgoing Donald Tsang Yam-kuen administration during the move to the new Tamar government offices. Combined with a blunt refusal to bring Hong Kong's archive legislation into line with international best practices, this wanton destruction raises some interesting questions.
One obvious suspicion is that further damaging evidence of over-cosy relationships between senior officials past and present (the people theoretically in charge of Hong Kong) and the tycoon cabal (who many shrewdly suspect actually run the place) may otherwise have come to light. Other than for reasons of sheer inertia and incompetence (always a distinct possibility in Hong Kong), it remains hard to understand why so many post-handover records - a majority of them, it is claimed - had to be so rapidly destroyed.
Perhaps the conspiracy theorists are onto something after all, and the motley crew who administered Hong Kong during the Tung Chee-hwa and Tsang years really do have secrets to cover up.