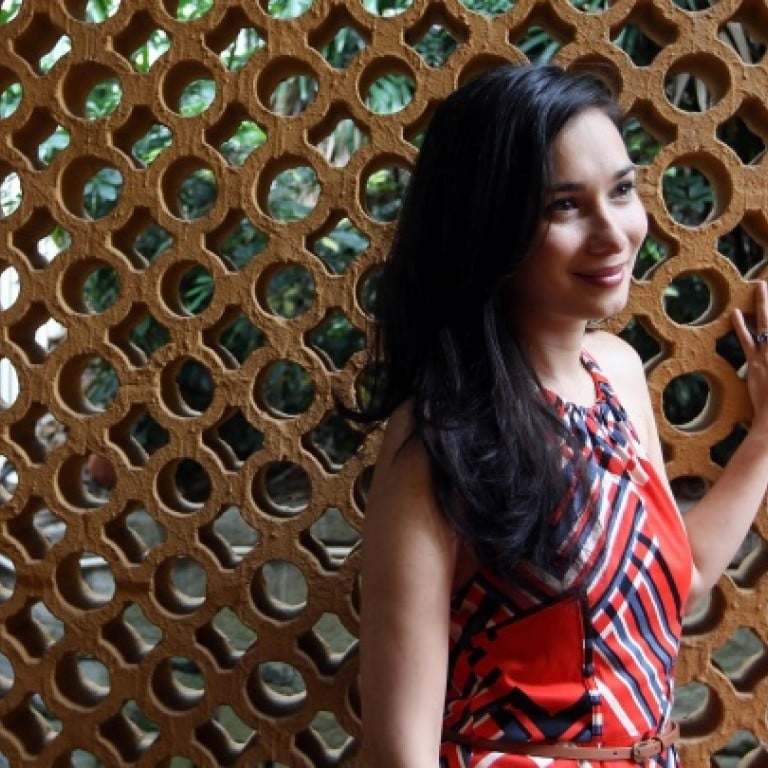 The Good Morning Hong Kong star tells Annemarie Evans about the perils of filming in bear country and what it's like to watch your father hang
I grew up in Hong Kong with a Chinese mother and an American dad, Roy Horan, who used to be the token bad guy in all the Bruce Lee and Jackie Chan movies before I was born. By the time I came along they were both in film distribution. I didn't know much about what they did (as a child) as I never watched (dad's) films. But I accidentally saw him on television and saw him getting hanged. It totally freaked me out and then he walked through the door and I said: "Oh my god, it's a ghost." My mum eventually stopped doing movies. She's Buddhist and she felt they were becoming too violent and not in line with her beliefs. When my father was in films, even though he spoke Mandarin, they used to ask him to count numbers during the fight scenes and then dub over him. My father then became a professor. He's interested in neuroscience. He's doing research on meditation.
is my first musical. Michael Pickering (playing the lead role of Rick Moon) is from the West End (in London), so has done plenty of musicals. But I'm having to learn things fast. There are no retakes: you forget your lines, you're s***wed. It's definitely different (from being on a television or film set). I've been gargling apple cider vinegar every day, to protect my voice. I take garlic oil or garlic juice to keep my immune system boosted.
I play the role of Fanny Moon, Rick's wife, and we have two adopted children from my sister, who died. It's set at the time of the 1997 handover, so it's a time of ambiguity. I was 12 at the time of the handover, 27 now. I remember everyone being really worried about what it would be like when China took control. A lot of families were emigrating to Vancouver. There was a lot of paranoia.
I meditate every day. I was doing a short film with triple world-racing champion Sebastian Vettel for Formula One and he meditates before he races. I taught him martial arts, he taught me to drive. It was hilarious, because I like adrenalin. Just before I went in the car, a journalist rode (with Vettel), got out and threw up. Then it was my turn. He really puts on full power, and I was saying: "Is this all you've got?" And then he does a 360(-degree) spin. He was looking at me - "Where's this creature from?" It was so much fun driving at that kind of speed. Then he started teaching me how to race on the track … so I got in the car and did exactly what he did. And he told me to slow down. There's a clip on YouTube where I say: "Do I make you nervous, Sebastian?"
"Yes."
Last December I started filming (television series) in Canada, in the role of Shado. It's freezing cold, below zero, and I'm shooting in a tank top and yoga pants and they've tied me to the ground. It's in a forest and they told me: "Be careful, there are bears, don't leave your snacks out. If you see a bear, don't run. If a bear runs 10 feet forward, he's just testing you." My trailer was facing the forest.
Now I've become the sensei who teaches (main character) Oliver Queen to become Green Arrow (the superhero created by DC Comics) but also his love interest. It's so cool that my role has developed into a strong female character. I'm so excited because Hollywood is finally taking China seriously. Arrow is huge in China.
In my first movie, (2008), I got the lead role. I had signed with record label Gold Typhoon with my manager, Paco Wong, and we were prepping for my album. One day he asked me whether I could fight. So I auditioned, but I was nervous. I'm competitive and have a sense of pride; this would be on the internet forever. I read every book on acting and went along to the police academy and studied the policewomen, how they walked. Policewomen walk differently - they walk with their feet apart.
I got into a bad accident last July. I was cooking at my parents' place and I put boiling vegetables in the blender and the blender top exploded. I had third-degree burns across my chest. I had to have surgery. The doctor told me I was going to have keloid scars as the burns were so bad. I was in (St Paul's Hospital, Causeway Bay) every day. In the pollution, my skin turned grey. I was really depressed. I was supposed to be in New York at the time, in an ashram, doing voluntary service, so people assumed I was there.
My fiancé, Christian Mongendre, is into organic foods and (co-founded) a vegan organic restaurant, Mana!, on Wellington Street. He said food could heal me and started to put a raw diet together. So we went online and worked out all the foods you need to heal wounds - vitamins A, E, C and K, and iron and zinc. So I had green juices with kale, spinach, broccoli, brussels sprouts, pumpkin seeds, orange juice. In the morning I drank ginger, apple and carrot juice. When I went back to the doctor, he said it was a miracle. And the nurses at St Paul's Hospital now have the recipe for burns victims. It's coverable with a bit of make-up. In time, I think I'll heal completely.
I haven't had time (to plan more albums) - I recently co-wrote some songs for an album for a producer in London. After , I'll have one month for rest and training. My father has been telling me: "Celina, you can fight but you have to improve your reaction time." Two episodes (of ) ago I got hit in the face. My mother was so concerned. I thought it was cool to have a black eye - due to the adrenalin you don't feel it at the time.
Dad has always told me that if I ever got my head stuck up my butt, he would be the first to pull it out.
Good Morning Hong Kong