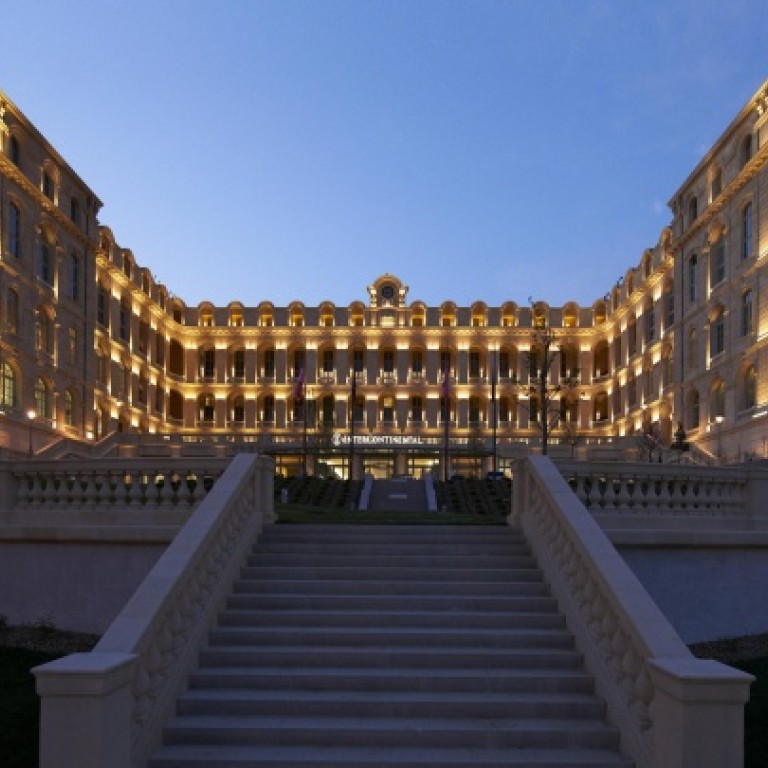 Hot spots: InterContinental Marseille - Hotel Dieu
Luxury lodgings in a grand, 18th-century building in France's sun-drenched second city, Marseille. The hotel boasts spectacular views of the old port and the iconic Notre-Dame de la Garde church.
The sloping site of Hotel Dieu became a refuge for pilgrims in the 12th century and later a hospital and hospice for the poor and elderly. The current building has undergone a major revamp involving hotel designer of the moment Jean-Philippe Nuel. The property's sweeping staircases, arched windows and classical galleries bring to mind a palace rather than a hospital - which is a good thing, of course.
Yes, very much so. The monochrome sea-themed reception and lounge featuring enamelled fish on the walls and combed carpets reminiscent of sand are inspired, as is the geometric black-and-white stonework on the walls, which takes its cues from the architecture of the city's imposing Cathedral of Sainte-Marie-Majeure. The rooms are more spartan, almost too much so, with large white leather headboards against dark walls and in-built wooden wall storage units fitted with low banquette sofas. Stretches of 17th- and 18th-century wall dotted around the hotel add history and character.
No, so be sure to check when you book. Only 72 of the 172 rooms overlook the old port; 33 of these come with uber-elegant private terraces. Ask for a room in which the bathroom has shutters that open out on to the bedroom and you can luxuriate in your free-standing enamelled iron bathtub while staring out dreamily at the glistening blue sea.
There's the Les Fenêtres brasserie, with a creative menu that (on our visit) included a melon-tarragon lobster risotto and grilled beef steak with marrow and chickpea chips. The signature dish is a deconstructed bouillabaisse (a Marseille speciality) that comes in a glass filled with textured layers of the stew's traditional ingredients of potato, fish, saffron and orange zest. In September, the hotel will open a smaller gourmet restaurant with port views. Both eateries are in the capable hands of Michelin-starred Lionel Levy, who left the much-loved Marseille restaurant Une Table au Sud to come on board.
Hit the hotel bar instead. With its low velvet armchairs and 18th-century reproductions of Marseille's old port on the walls, the bar is buzzing with guests and locals most nights. When the weather is pleasant, and in Marseille that means 10 months of the year, diners and drinkers can sit out on the spectacular terrace overlooking the port (breakfast is served here, too).
Fear not, there's an impossibly elegant and high-ceilinged 24-hour fitness centre kitted out with the latest techno-gym equipment and a positively zen amber-toned swimming pool with an alluring waterfall. The whopping 1,000-square-metre spa uses stone, wood and dappled light to great effect and offers an astounding range of sophisticated facial and body treatments.
You really have. Marseille was founded in 600BC and teems with history and the sights, sounds and smells of the Mediterranean cultures that have settled here for centuries. The city is one of two that hold the "European capital of culture" title this year (the other being Kosice, Slovakia). It's edgy and shabby in parts but it's also hospitable, beguiling and cosmopolitan. Located in the heart of Marseille's oldest quarter, Le Panier, the hotel is a short walk from the semi-pedestrianised port and waterfront, which is home to several museums. Rudy Ricciotti's Museum of European and Mediterranean Civilisations is covered in a shimmering concrete shroud and links to a 12th-century fort, which in turn connects to the town via two dramatic suspended footbridges that seem to pierce the sky.