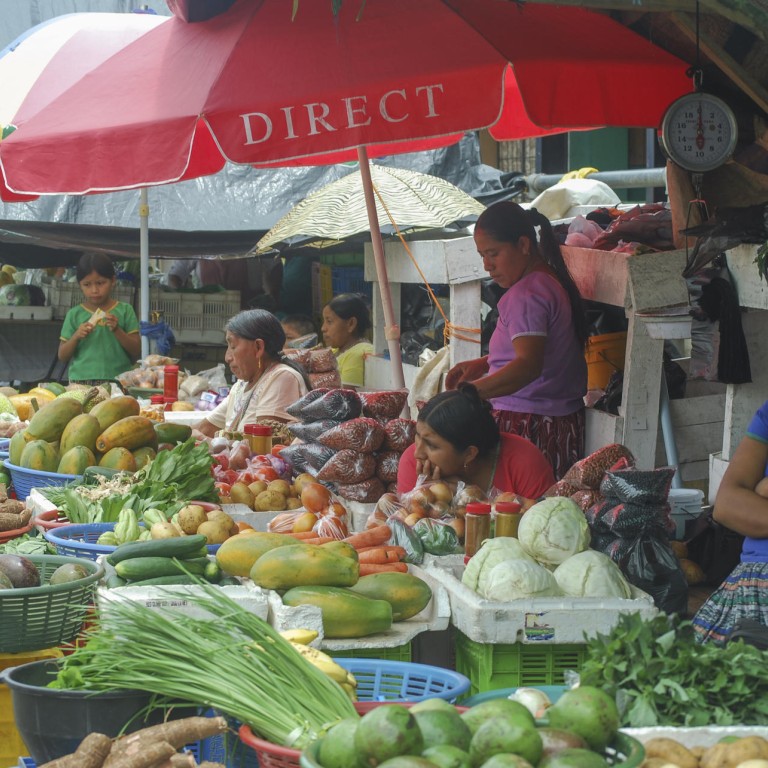 Coast effective: a culinary adventure in Belize
A tiny gem in the Caribbean's crown, Belize is a cultural and culinary melting pot. Words and pictures by Victoria Burrows
Innie's Restaurant in Hopkins, a fishing village of stilted clapboard shacks, potholed dirt roads and coconut palms in Belize, isn't much to look at: a circular, echoing room with simple wooden chairs and tables. But no one comes here for the decor; they come for the .
"Garifuna cuisine is a big part of the culinary culture of my country and, to me, is the best Garifuna dish. It tastes like home … wherever that may be," says Chantel, a passionate young Belizean whose family has lived in this tiny Central American country for generations. "You'll see what I mean," she adds with a smile, as two steaming bowls are set down on the plastic tablecloth before us.
I do see what she means. There is something comforting about this dish, the softness of the coconut broth lightened with a hint of herbs and spice. The fish, caught that morning by village fishermen, falls apart at the lightest touch. It's beautifully balanced, unchallenging, nostalgic. We eat in silence.
Chantel is Creole - of mixed European and Caribbean blood - and she represents just one of the many ethnic groups who call this country home. Alongside Creoles live Mayans (pre-Columbian natives in Belize and other parts of Central America), Mestizos (a mix of Spanish and Mayan), Mennonite farmers, East Indians, Arabs, Chinese, Britons, Americans and Canadians - and, of course, the Garifuna.
They may be diverse but the inhabitants of Belize, formerly a colony known as British Honduras, number just 300,000. Their land is a natural paradise; 60 per cent remains forested while the coastline sports the world's second-longest barrier reef.
fishermen of Caribbean, Arawak (of the West Indies) and West African descent, spread out along the Caribbean coastlines of Belize, Guatemala, Nicaragua and Honduras in the 1700s, fleeing persecution by the British on St Vincent island. The diaspora has, over the centuries, retained a strong sense of culture, with Unesco in 2001 proclaiming the language, dance and music of the Garifuna to be a "masterpiece of the oral and intangible heritage of humanity".
The Garifuna have also retained their culinary heritage, through dishes such as (a bread made from grated cassava tuber mixed with garlic, yucca and salt), which is eaten with (gravy). When the is made from coconut milk and grated plantains, it is known as . is also eaten with the aforementioned , a dish of red snapper (or whatever other fish is available) in a broth of coconut milk and flavourings such as thyme, garlic, green pepper, okra and onion. Boiled and pounded green plantains are served on the side.
She may love her , but "our most iconic dish is probably the ", says Chantel, in her soft Caribbean lilt. "Every good Creole woman has her own version of this."
(or boil-up) is a stew of boiled eggs, fish and ground crops such as cassava, green plantain and sweet potato. Fish is another beloved Creole dish: similar to in that it is fish in a coconut-based soup, it often comes with tomatoes and potatoes and is served with tortillas.
Creole cuisine has had a marked impact on breakfast in Belize, with almost every menu - from those on the chalkboards at brightly painted seaside shacks, where patrons share sun-bleached tables on raked sand, to cards in the elegant five-star restaurants with lofty ceilings and starched napkins - offering fry jacks with bacon, fried beans and scrambled egg, which Belizeans drizzle with hot habanero or jalapeno chilli sauce. Fry jacks are cornflour tortillas that have not been cooked on a dry pan and are instead rolled out, cut into pieces and fried until golden and puffy. Johnny cakes - smaller, thicker cornbreads - are also popular.
Rice and beans are a ubiquitous choice for dinner, served with some type of vegetables, potatoes or coleslaw, and meat - anything from fish, lobster or conch, to game such as iguana, deer, peccary (a kind of pig) and gibnut (a rodent).
While Creoles comprise about 20 per cent of Belize's population, their food has had a much greater impact than the cuisine of the Mestizos, who account for about 50 per cent of the population. Mestizo and Mayan dishes, which mix Spanish and Mayan cooking styles, include , fried corn tortillas with refried beans and shredded cheese; , made from ground corn and chicken, wrapped in banana leaf and steamed; and , made from ground sweetcorn and chicken, wrapped in the leaves of corn on the cob and steamed. (or ), fried corn patties stuffed with beans and shredded fish or chicken, topped with a tangy onion sauce, are a popular snack.
While traditional dishes are widely seen in restaurants across Belize, its top chefs are showing a propensity for more contemporary reworkings of classics.
Belcampo, a farm-to-table agritourism project and luxury lodge near Punta Gorda, in southern Belize, offers an ever-evolving selection of dishes based on tradition but with fresh appeal. The makers of the lodge's fish tea, for example, follow the Garifuna recipe but liven it up with herbs and citrus flavours.
"Belize's most forward-thinking chefs are taking honest, simple Belizean dishes, incorporating local and wild ingredients, and reworking and refining them for restaurants and hotels as an alternative to the imported British colonial and Americanised foods," says Mara Jernigan, former Slow Food Canada president and chef and general manager at Belcampo. "Our cooks know local food, so we concentrate on refinement of techniques, ensuring the flavours are bang on through the use of precise seasoning and fresh herbs."
The chefs at Maya Beach Hotel and Bistro, in Placencia, a beach resort town south of Hopkins, excel at highlighting the traditional flavours of Belize while giving their dishes international flair. The bistro, which won Belize's best restaurant award for the second time last year, has a contemporary interpretation of fish using coconut milk, habanero peppers, sweet peppers, fish, shrimp, conch and a plantain (chopped tomato, onion and chilli).
"One of the best things about Belizean food is that it is open to interpretation," says Ellen Lee, owner of the bistro. "Belizean cooking uses ingredients that are familiar to people from other parts of the world, but are just used a little differently. So you can experience new tastes from this culture while staying within a culinary comfort zone. I think that gives Belizean food a broad appeal."
That, and the freshness of the produce. The 10,000 Prussian Mennonite farmers in Belize are largely responsible for the country's agricultural output, and the nation's size - you can drive from top to bottom in a day - and good infrastructure mean produce from their farms can reach restaurant kitchens quickly.
"Fruit and vegetables are ripe when harvested, so they have developed more flavour than produce that is picked early to avoid spoilage," says Lee. "Seafood, dairy and meat products are handled in small quantities, so, again, they are very fresh and come straight to us from the fishermen or producers."
The procurement of meat at Belcampo, for example, harks back to a simpler time: Jernigan leaves a note in the post box at the farm gates saying she needs certain meat on a particular day. At the designated time, a Mennonite farmer arrives on his horse-drawn buggy with a still-warm carcass for her. Jernigan then loads the carcass onto her four-wheel drive to take back to the lodge to butcher.
There are no horse-drawn buggies involved in delivering produce to Innie's, but the supply chain is just as time-honoured: the wooden fishing boats of the Garifuna. After a dessert of cassava cakes, Chantel and I head out into the tropical night, contentedly digesting this unique culinary culture.
My only thought as we stroll past the quiet homes, a light breeze swaying the coconut palm fronds, is, "Should I have bacon with my eggs and fry jacks tomorrow morning?"
Post Magazine
Cathay Pacific (
www.cathaypacific.com
) flies daily to New York, from where partner carrier American Airlines (
www.aa.com
) continues to Miami, and from there to Belize City. Reliable buses ply the three main arteries from Belize City, including the Hummingbird Highway south to Hopkins. Water taxis from Belize City serve the islands, including Caye Caulker.
This article appeared in the South China Morning Post print edition as: Coast effective