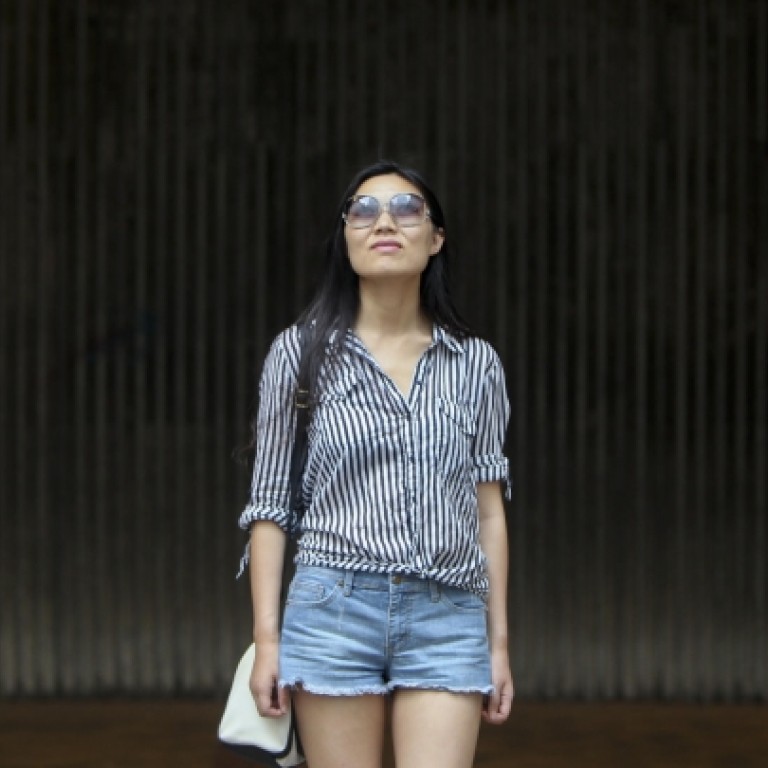 Gang piao: the 'Hong Kong drifters' caught in the middle
For many young, educated mainlanders living in Hong Kong, finding their place in society can be an uphill, hostile struggle. Hedy Bok and Ernest Kao meet some of these 'drifters' to get the lowdown on their lives in the SAR
A mainlander in Hong Kong is one of millions who come to pillage the city's luxury goods, baby-milk powder, gold and scarce property at the expense of the downtrodden local, who must deal with higher prices, more crowded streets and fewer university places. That mainlander is a "locust" come to take from us "running dogs".
Such characterisation plays well with the media, at any rate, and gives cavilling politicians on both sides of the border something to rant about.
Caught in the middle are the , or "Hong Kong drifters", a term coined in mainland internet chat rooms to refer to young, educated individuals from north of the border who now live and work in Hong Kong. Under the "one country, two systems" principle, these expatriates from the same country must grapple with a culture and language that are different yet similar. Their "drifting" might be temporary, but most are keen to fit in. Many think twice about using broken Cantonese when ordering food at restaurants, but also hesitate to use Putonghua, to avoid being seen as yet another uncultured tourist. English is often a safe compromise.
Unusually for a drifter, Vivian Xiang claims to be a product of Hong Kong cosmopolitanism, something she loves the city for. The 30-year-old from Hunan province works as a manager at a British recruitment consultancy and her social circle consists of Western expatriates and locals. She enjoys wine, salsa dancing and travelling in Southeast Asia. She has a passion for motorcycles - that's sport bikes, not scooters - and favours Alexander McQueen over Louis Vuitton. Among her recent achievements is a scuba-diving certificate.
Her way of dealing with Hong Kong-mainland animosity?
"Just don't be too sensitive about it."
Xiang came to the city as a student seven years ago and earned a master's degree in mechanical engineering at the Hong Kong University of Science and Technology. She will become eligible for permanent residency this August. Hong Kong, she says, is one big cultural melting pot, and one has to adapt to survive.
"I speak Cantonese when I'm in the New Territories and English when I'm on Hong Kong Island. I think it's important that you be flexible and try to integrate into the culture you're living in," she says. "There is no 'Chinatown' in Hong Kong so everyone must just learn to live together in one community."
Cultural integration might seem an obvious route to take for Xiang but it is easier said than done for some drifters. Zhang Bingjie, or Ice, as her friends call her, is from Sichuan. As a journalism student at Shue Yan University, she had a tough introduction to the city.
"I remember being asked if Sichuan had computers. [Hong Kong students] made fun of the way I dressed, which I admit was different, but they called it 'tacky'," the 23-year-old says. "They told me to buy new clothes. That annoyed me, so I was reluctant to be friends with them."
University places have been a major bone of contention between the two sides. The Chinese Ministry of Education first allowed Hong Kong universities to recruit mainland students in 2003. By last year, more than 80 per cent of the 10,770 non-local students at the city's eight government-funded universities were from the mainland. At institu-tions such as the Baptist and Lingnan universities, nearly all non-local students were from over the border.
However, in 2007, as the only student from the mainland in her department, Zhang had to wrestle with unfamiliar stereotypes - among them the idea that mainlanders all liked to squat and spit and, most commonly of all, that they were dirt poor.
"Most mainland students who attend Hong Kong universities are from major cities and well-to-do families. These stereotypes might apply to migrant workers that you see in Chengdu, or tourists in Hong Kong, but not to us," says Zhang. "We are not your average mainlander. China is a big country, you can't make sweeping generalisations like that."
Nonetheless, Zhang still takes offence on behalf of the squatters and spitters: "It's like I know my family members have flaws but I still wouldn't want others to point fingers at them, you know what I mean?"
In 2011, a mainland student at City University started the "red scarf campaign", rallying compatriots to sport the neckwear to protest against being labelled Communist Party members. The row started when four mainlanders running for a student union election were called, by rival candidates, "intruders from the Communist Party" because of their Communist Youth League (CYL) or Young Pioneers (YP) membership.
What may not have been understood by their accusers is that most primary- and secondary-school pupils in the mainland join the CYL or YP - students wearing the latter's red scarves are a common sight - but membership of either of these organisations (for the CYL, it runs up to 28 years of age) does not confer automatic membership of the Communist Party.
"I felt upset watching the events unfold. I feel that Hong Kong people and mainlanders just never managed to tune into the same channel," says Zhang. "There is this gap I cannot describe."
Zhang, who like Xiang will soon possess a permanent Hong Kong ID card, says: "It wasn't easy being the only mainland student in my department, but now I see it as a blessing. I had to work with local students, so it forced me to leave my comfort zone and fit in."
Group discussions and after-school social activities led to more honest conversations between Zhang and her classmates. They explained Hong Kong's social etiquette, showed her where to buy "fashionable" clothes and invited her to family dinners.
"I realised I was also drawing false conclusions about Hong Kong people. I didn't like them because they hated the [Community Party]. I grew up learning that the party and the country are one and the same, so I thought they hated my country, too. But now I understand their perspective, and know to make the distinction [between party and nation]."
As the cross-border divide appears to grow ever wider, other feel compelled to try to bridge the gap.
"Amid all these anti-mainland sentiments, our role as mainland expatriates living among Hongkongers has become ever more important," says Zhao Lei, 28, a financial professional from Harbin who has lived and worked in Hong Kong for five years. "We know more about Hong Kong than most mainlanders do, and more about the mainland than Hongkongers. We are in a unique position to provide a communication buffer and facilitate mutual understanding."
After reading stories about Hong Kong drifters like himself, Zhao started a group two years ago called Gang Piao Quan, or "Hong Kong drifter circle", on Weibo, the mainland's Twitter-like microblog service. Zhao had hoped it would become a platform on which drifters would share ideas and find camaraderie. To his surprise, membership grew rapidly, and the drifter circle is now a 28,000-strong online community. It is also a first stop for newly arrived mainlanders looking for rental advice, second-hand furniture and transport information.
Furthermore, the group mobilises its members to engage in community activities, such as participating in charity walks, youth camps and clothes-donation campaigns, which, Zhao says, helps cultivate goodwill.
"We cannot live as a secluded group. We need support and resources from the local community, so I think we should give back as much as possible," says Zhao. "But, at the same time, it's impossible for us to become completely assimilated. We need to remember who we are."
A confused cultural identity is something most drifters are all too familiar with. Eleven years spent living in Hong Kong has not helped Chan Ka-pui find a resolution. She did not speak a word of Cantonese when she arrived, at the age of 12, from Nanjing, and at her new secondary school, no one could speak Putonghua.
"I was scared of being called to answer questions in classes because no one could understand my accent. I wished there were a Putonghua speaker in my school to be my friend."
With little choice but to blend in, Chan became fluent in Cantonese, obtained her permanent Hong Kong ID card and is now a media professional in the city. However, "I am not myself when I speak Cantonese. I still can't express myself properly. My personality is much more lively when I speak my mother tongue.
"Hong Kong is my home now, but I'm also mainland Chinese. So I feel hurt when either side is being attacked," says Chan, who is known as Ariel to her local friends. She chose the name after the princess in the fairy tale , a character who, like her, straddles two worlds.
At university, Chan began to meet other drifters and the increasing popularity of Weibo groups such as Zhao's made her realise she was not alone.
Last August, Chan collaborated with Jason Lo Siu-kwan, a Hong Kong filmmaker, on a series of mini-documentaries called that was shown on a couple of high-profile mainland internet portals. Each episode focuses on a specific dilemma this group faces in Hong Kong, one of which is the search for a partner.
"Dating is certainly an issue with drifters. When you're culturally in-between, it's difficult to find people who understand you. Your best option is fellow drifters," Chan says.
Lo had never heard of the term before he met Chan. But after he heard her pitch, the 43-year-old became intrigued as it reminded him of his own experience being a , or "Beijing drifter", a popular term used to describe young, educated professionals from the provinces living in the capital. A year-long stint in Beijing before the 2008 Olympics enabled Lo to understand what motivates drifters in general, regardless of where one is from.
"Plunging into a new environment means chaos, but also hope. The word ' ' means 'to float', and it connotes ambition, restlessness and the desire for a better life," says Lo.
This understanding became the common denominator for the filmmaker and his subjects, some of whom he became friends with.
"They have a huge influence on me. I started to watch more TV shows from the mainland. I can now understand their internet lingo and, of course, my Putonghua improved in leaps and bounds," Lo says. "I am fortunate to have these friends because, let's face it, this group of people will play a huge role in shaping the future of Hong Kong. And we have to learn to either collaborate or compete. The sooner we come to terms with this reality, the better."
Yuen Hoi-man, 26, is a Hong Kong financial planner who also thinks mutual understanding is of paramount importance to the city's development. During his time as an engineering and finance student at Polytechnic University, Yuen witnessed social segregation at work.
"Locals hung out only with locals and mainlanders only hung out with mainlanders; there was no interaction between any of them at all," he says.
This stirred in him the desire to become a cultural middleman. He spoke to mainland students and worked with a campus-wide mentoring programme to help them better adapt to university life and Hong Kong society in general. He also began dating a girl from the mainland.
"Young people in Hong Kong need to open up and listen to rational voices from the other side. We should examine our biases and develop more balanced views when looking at conflicts between Hong Kong and the mainland," says Yuen, who is also a member of the Democratic Party.
"Conflicts are bound to happen when two cultures clash," says Lo. "But since we know these conflicts will be there for the long haul, maybe we should do something about it."
According to a survey conducted by Chinese University in March, more than 60 per cent of 812 respondents polled agreed that Hong Kong should make efforts to better integrate with the mainland. In the same study, 32 per cent said their impression of the mainland had improved while 13 per cent said theirs had worsened. Only 2 per cent of respondents had never been to the mainland.
"But mainlanders also have a role to play in solving the issue," Yuen says. "They need to know that Hong Kong has been through a lot over the years, and what our parents and their parents sacrificed to build the economy today."
Besides community engagement initiatives, what more can be done to cultivate mutual understanding?
Zhang says she would like to become an ambassador and organise street campaigns to explain to Hong Kong people what the mainland is really like, so she could "counter all the anti-mainland hate that permeates local media".
Says Zhao: "Ideally, we would want to organise volunteers to station themselves at various tourist spots in Hong Kong and hand out flyers to mainland tourists, to educate them about this place's social etiquette. But we aren't able to pull that off just yet."
Zhao is, however, working with a local church to offer free Cantonese classes to his Weibo group members. The response has been enthusiastic.
"Language isn't just a tool of communication, it also represents certain core values in a culture," says Zhao. "Like, if I speak Cantonese to you right now, it will immediately draw us closer.
"If we want to become that bridge, we better put in the hours."