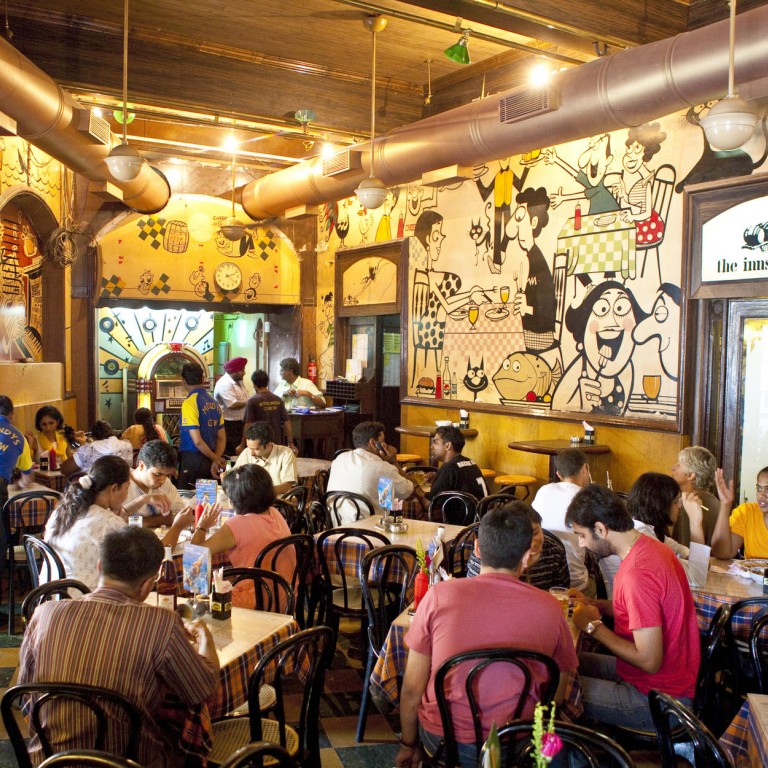 They once numbered in the hundreds, but the few Parsi cafes that survive in Mumbai today have lost none of their charm, writes Rosie Birkett
I'm eating the best creme caramel of my life in 26 degrees Celsius heat, with life-sized cutouts of Britain's Duke and Duchess of Cambridge smiling down at me from the dining room's somewhat slanting balcony. A pigeon snoozes on the lone chandelier, dusty beneath peeling turquoise paintwork, and ceiling fans whirr over crowded, chattering tables. I'm sitting in Britannia & Co Restaurant, one of the last remaining Parsi cafes in south Mumbai (or south Bombay, as the locals so protectively still call it), and I'm stuffed full of food.
Opened in the 19th century by Parsi settlers - Zoroastrians from Iran - these cafes, with their magnificently faded, time-capsule dining rooms and speciality dishes, are a gloriously eccentric part of the fabric of Mumbai. They are also democratic and inclusive places, where people of all backgrounds, classes and sexes meet - you might find a Sikh next to a Hindu or Zoroastrian, or a group of young female students dining alone.
They are also a dying breed. In 1950, there were about 550 of them, many having grown from humble tea stalls; now only 15 to 20 are still open.
"It's so sad there are so few left," says British restaurateur Kavi Thakrar, who - along with his cousin Shamil Thakrar and chef Naved Nasir - created London's Dishoom restaurants (see , page 52) in the mould of these cafes. The three are acting as my guides on a food tour of Mumbai and between them know this city's cuisine inside out: Nasir because he lived and cooked here for four years, the Thakrars because they've spent chunks of time here visiting grandparents. Shamil was married here in 2006, in a syndicated ceremony he shared with six couples from the city's slums.
"Mumbai is a city of immigrants," says Shamil, through mouthfuls of the deep, almost cheesy creamy caramel and sips of fresh lime soda - a quenching mixture of lime juice, salt, sugar and fizzy water that's a must-order here. "It's a huge mix and the cafes are the greatest example of that."
On a wall, cultural tributes preside over us: a painting of Queen Elizabeth II sits next to a portrait of Mahatma Gandhi, and over both of them looms a gilt-framed picture of Zarathustra, the prophet worshipped by the Parsis. They form an unlikely trio that sums up the essence of these cafes: their legacy from the days of the raj, their tolerance of all religions and their Zoroastrian roots.
That Britannia & Co stands on the corner of a grand, Renaissance-style building designed by Scottish architect George Wittet (who also designed the city's Gateway of India monument) in the genteel Ballard Estate business district, is no accident.
"Many of the cafes hold sought-after positions in prime real estate," Shamil says. "Hindus are superstitious about building on street corners, but the Parsis didn't mind. That's why they became such shared spaces and promoted tolerance."
But just as their prime positioning has ensured longevity, so it now threatens their future, since the children of the current proprietors - most of whom took over the cafes from their parents - are more interested in property prices than the 14-hour working days these establishments demand of them. It's unlikely, Kavi and Shamil say, that many of the cafes will exist for long after their current owners pass on.
Britannia & Co is open for lunch only, noon to 4pm, every day except Sunday, and around us people are tucking into their chicken berry pulaos - the cafe's most famous dish. It's a heavenly, sweet-sour confluence of fragrant pilau rice layered with moist chunks of chicken and a rich, spiced tomato sauce, topped with sour barberries, crunchy cashews and sweet, sticky caramelised onion. The recipe for the dish, which has been recreated across the world (Dishoom has its own version, with cranberries), is a secret fiercely guarded by 91-year-old proprietor Boman Kohinoor, whose wife brought it with her from Iran.
Kohinoor has a keen sense of humour.
"Welcome back to the home of your ancestors. They've been here for 300 years and we've all been very happy," he says when we're introduced, before vanishing momentarily, only to reappear with armfuls of laminated photographs, including one of a famous Bollywood actor, which he holds up. "He's a rascal," he says with a waggling finger. "He never brings his wife - always other actresses."
He proudly shows us letters from diners including George Bush Snr, Dick Cheney and even the Pope.
Born in 1923, the year his father set up the cafe, Kohinoor has worked here since he was 16 - a staggering 75 years - and he remembers a very different Mumbai from the now rapidly Americanising city: "There used to be 11 million people, now there are about 18 million, and there is so much pollution. Everything has gone up in price. In 1982, the berry pulao was 40 rupees, now it's 400."
At HK$50, that still makes it quite a steal, I almost point out, before glimpsing a sign above our table that reads, "Please do not argue with the management."
In the days that follow, we get through gallons of creamy, unspiced Parsi chai while sampling the freshly made food of several more cafes. Each - apart from the touristy Leopold Cafe, which still bears bullet holes from the 2008 terrorist attacks, and Cafe Mondegar, both in Colaba - is crumb-ling in its own special way, and each is tangibly Parsi, with Zarathustra overseeing proceedings.
At Yazdani bakery and cafe, in Fort, we taste Mumbai's best brun maska: hot toasted white buns slathered in melted butter with crunchy crusts that we dip into hot chai, the bread melting in our mouths like brioche. Yazdani is known for baked goods, which it has been making since the early 1950s.
Owner Parvez Irani takes us into the bakery (usually off-limits to females). It's a 24-hour operation, where a dozen or so bakers live in the rafters above the wood-fired ovens they tend day and night.
Nasir says: "It's difficult to choose a favourite cafe because each one is known for its own dishes." But he's particularly enamoured with the deeply savoury, pleasingly fatty kheema pau (spiced minced lamb served with white, fluffy buns) at Radio, the most dilapidated of the places we visit. It is known to hold favour among the city's gangsters, and seated at its worn, wooden tables, dwarfed by a cavernous, crumbling ceiling in the near darkness, you can sense that it might harbour a certain menace.
"This is the best kheema pau in Mumbai," declares Nasir, scooping up glistening meat with thin slices of red onion. "They haven't put any tomato in this," he says. "It's rich with ghee, garlic, ginger, coriander powder, chillies, peas and garam masala."
Kyani, in Kalbadevi, is a more convivial set-up, with prettily engraved dark-wood panelling, dappled mirrors, Scandinavian bentwood chairs and chipped mosaic flooring. Besides its confectionary and baked goods - almond sponges, wine-flavoured biscuits and decorative cakes - this place is known for its breakfasts, and has a long, rambling egg repertoire that includes bhurji (stir-fried eggs), mutton scrambled eggs, and the odd-sounding "half fry egg" (sunny side up).
"There's a tradition of bodybuilding in Parsi culture," says Kavi, "hence all the eggs." Sure enough, on the far wall are sepia photos of triumphantly muscular Iranians. Amid students and locals, we hoover up plates of akuri, masala scrambled eggs flecked with tomato, onion, turmeric, chilli and coriander, and dip our butter-soft brun maska into the chai.
Having taken over in 2000, owner Farooq Shokri is the third generation of his family to run Kyani. He shows us a stained, concise menu from 1975 - pointing out how he's extended it to help cover the steeply rising rents - as well as a remarkable ink drawing of his father by painter and film director M.F. Husain. Like the cafe itself, they're relics that would be irreplaceable if lost.
"I'm the only one left," says Shokri. "I don't think about what happens after me. I just carry on."
Guardian News & Media
This article appeared in the South China Morning Post print edition as: Custom made