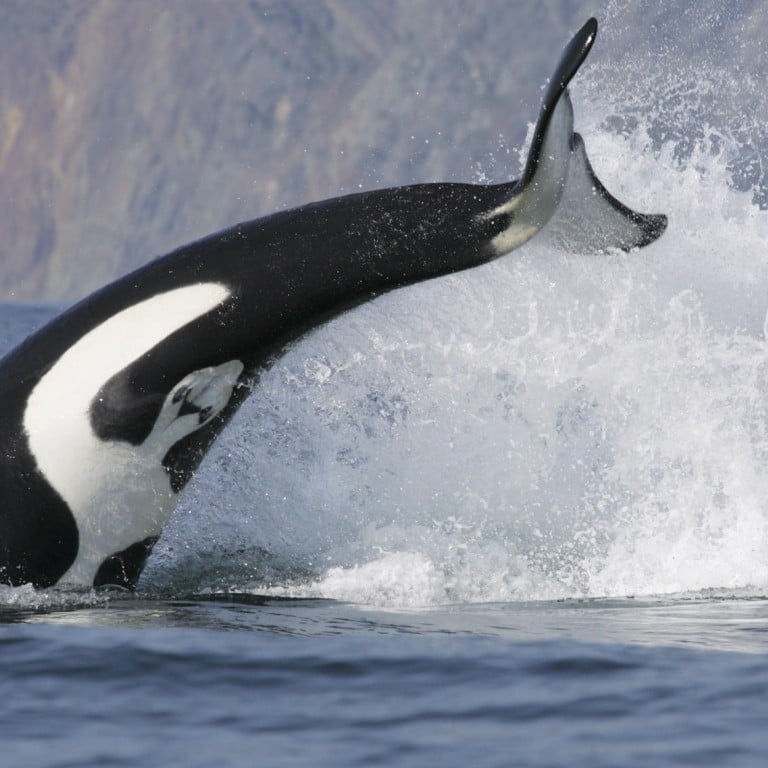 Could Zhuhai's new Ocean Kingdom create a market for imported killer whales?
As one of China's biggest theme parks opens its doors in Zhuhai, conservationists fear killer whales may soon be put on show there, opening the floodgates on demand for orcas around the country, writes Simon Parry
It cost a reported US$5 billion to build. It features the world's biggest aquarium. It showcases what it claims is the world's longest roller coaster. And it boasts a massive collection of whales, sharks and animals rarely, if ever, seen in captivity in China.
There's no question about it: Ocean Kingdom, the giant theme park on Hengqin island, at the southern tip of Zhuhai, which was scheduled to open this weekend, in time for the Lunar New Year holiday, is destined to make something of a splash.
Owned by the Chime-Long Group, which runs China's biggest theme park - Chime-Long Paradise, in Guangzhou - Ocean Kingdom is about twice the size of Hong Kong's Ocean Park and three times the size of the city's Disneyland.
A turreted, fairy-tale palace-like 1,888-room resort hotel has already opened next to the massive main attraction, which - although it still looks unfinished in large areas - promises to provide the region's ultimate theme-park experience. Tourism officials in Hong Kong have every reason to take a keen and slightly anxious look at what happens at Ocean Kingdom, which is linked to Macau by a new bridge and will be just half an hour's drive from here when the Hong Kong-Zhuhai-Macau bridge is open.
Its arrival is the first part of the transformation of the near-barren, sparsely populated fishing island of Hengqin in a multibillion-dollar central government-endorsed scheme to make it the Orlando of Asia - a reference to the Florida city known for its theme parks and other tourist attractions - to neighbouring Macau's Las Vegas. While overcrowded Macau offers the world's biggest gambling destination, with revenues seven times those of Vegas, Hengqin will provide open spaces, sandy beaches and luxury apartments for mainland and overseas investors.
It's all about being the biggest and the best, and in keeping with its quest for superlatives, Ocean Kingdom has sought and obtained some of the biggest beasts in the animal kingdom - including whales, sharks and polar bears. But beneath the hype and hyperbole lurk unanswered questions about the range of the animal attractions at Ocean Kingdom and the way they have been acquired.
Concerns began to surface when Hong Kong Chief Executive Leung Chun-ying visited the theme park in December and posed for pictures next to a pool of beluga whales - a species whose wild capture is so controversial that there was a massive outcry in Hong Kong when Ocean Park considered importing six of them. The furore was so great that, in August 2011, despite having funded a years-long research project to establish that wild populations in Russian waters would not be adversely affected by the capture, Ocean Park decided not to go ahead with the importation.
Now, a conservation group monitoring the capture of killer whales says it has discovered that Convention on International Trade in Endangered Species of Wild Fauna and Flora (Cites) permits were applied for by Russia and granted for two wild-caught killer whales, also known as orcas, to be exported to China.
Erich Hoyt, co-director of the Far East Russia Orca Project and research fellow with Whale and Dolphin Conservation, says his group discovered the orcas came from Nakhodka, near Vladivostok, and were captured as part of two operations targeting killer whales in August and October last year, in the Okhotsk Sea.
On December 21, Hoyt says, his group learnt the two orcas had been transported to China via Vladivostok. Sources told them the whales were bound for Ocean Kingdom, he adds. If that is the case, they are likely to become the first killer whales to go on show in the mainland (the last of Ocean Park's two killer whales, Hoi Wai, died in 1997: see sidebar).
"We do not know if they went all the way to [Ocean Kingdom] or if they are in holding pools somewhere, or what the situation is," he says. Training orcas is a lengthy process, Hoyt points out, saying it is unlikely they would go on display before they were ready to perform.
The importation of killer whales to China comes at a time of heightened concerns over keeping the animals in captivity, highlighted by the documentary , which examines the 2010 death of an orca trainer at the Orlando branch of American theme-parks chain SeaWorld.
Whether the orcas are destined for Ocean Kingdom or not remains a mystery. A spokeswoman at the Guangzhou headquarters of the Chime-Long Group, Zhang Xiaodan, has repeatedly refused to answer e-mailed questions about whether killer whales have been imported for Ocean Kingdom. Asked on the phone whether the park had imported killer whales from Russia, she insisted any information she was able to give out had to come directly from her bosses and said, "I cannot answer that question."
Apart from the information given by what Hoyt says are reliable sources within Russia, conservation groups say they have other reasons to suspect Ocean Kingdom has either obtained or is in the process of obtaining the killer whales. A Chinese-language tourism website lists a "killer whale show" in the Indian Ocean Adventure Zone section of the park, although the spokeswoman insisted the website was unofficial and had nothing to do with the controlling company. Furthermore, according to his Facebook and LinkedIn pages, Frenchman Julien Forestier is Ocean Kingdom's manager of animal training. Forestier worked for years with killer whales at the Loro Parque theme park, in Tenerife, Spain.
Ocean Park chief executive Tom Mehrmann says he is aware of suggestions that killer whales might be on their way to Ocean Kingdom.
"There is a lot of concern in the industry that they don't have the space [for killer whales]," he says. "The arena they have is sufficient for belugas and dolphins but orcas were never in that mix. If they went and acquired orcas I would assume they would have to scramble to develop and expand their facilities."
Mehrmann says he hopes the park will adopt strict procedures for the acquisition of animals.
"We believe that when you acquire animals it should be done with proper acquisition techniques," he says. "You should do population research and have your scientific research independently verified. Population research takes four to five years, as we did with the belugas.
"I don't think any of that happened with these orcas, regardless of where they have gone, and that is what concerns us. When people aren't acquiring properly, all it does is open a market for more people to do the same.
"If, in fact, these [killer whales] have been acquired and have been put in a collection at Ocean Kingdom or elsewhere, the chances are they weren't acquired in a population-research, government-agreed way. The fact it was not done against a population survey and in a scientifically validated way would be our concern. You don't take from the wild unless you can confirm that the wild population can sustain a take.
"Our acquisition policies are very transparent. We have a lot of facilities in China that actually approach us on a regular basis looking for us to teach them, guide them and offer instruction," says Mehrmann. "In a case like Ocean Kingdom, they haven't entered that arena of debating what they acquire, how they acquire, what standards they want to operate [under], and, I think, it is more driven by commercial and entertainment interests.
"In time, as China evolves, Ocean Kingdom will probably embrace these greater international standards but they just aren't there yet."
Mehrmann says he hopes Ocean Park will help show the way: "Our proximity, our high-profile nature, by osmosis alone is going to be influential to them and they probably will take notice of what we do and look at how they acquire and how transparent they are. The public eventually will demand things of them that they aren't practicing or thinking of today."
Samuel Hung Ka-yiu, chairman of the Hong Kong Dolphin Conservation Society, which opposes live animal shows and led the campaign to stop Ocean Park importing beluga whales, says he understands that Ocean Kingdom imported about 18 beluga whales "two or three years ago".
Conservation groups are powerless to protest inside the mainland over animal-welfare issues, he says. "You can potentially be put in jail if you try to do something. All we can do is appeal to people in Hong Kong not to go there. But we can't do the same campaigns as we did with Ocean Park," says Hung.
"The Chime-Long Group has quite a few theme parks. One of them is a zoo and the zoo has been heavily criticised by many people. They have a circus and they put a bear in chains and let people take pictures. They have a very low standard in animal welfare."
In an appeal to the Hong Kong park, Hung says, "Ocean Park wants to be seen as the role model for aquariums. Now here is a theme park that may be importing orcas from an obviously unsustainable source. Ocean Park did their research on belugas and they tried to do the right thing. I hope they can encourage [Ocean Kingdom] to follow international standards.
"[Ocean Kingdom] seem to have imported everything - whale sharks, polar bears, penguins. I would be interested to know where their bottlenose dolphins come from, too. They are doing everything wrong. They are doing everything you don't want them to do."
Hung says he believes that if the orcas are destined for Ocean Kingdom, their presence will not be announced for a while: "My suspicion is that with the [popularity of the] film and everyone concentrating on the orca debate, this is a sensitive time."
Hoyt says his biggest concern is that the arrival of orcas on the mainland will trigger a race between rival theme parks to acquire killer whales.
"There are now more than 50 aquariums in China that have dolphins performing, which is a huge number," he says. "Not all these places are big enough to accommodate killer whales but, once the genie is out of the bottle, they will start shipping them and the competition will increase.
"We are worried there is going to be an awful situation with demand for orcas to be displayed."
Some estimates put the price of a captive-caught killer whale at much more than US$1 million because of their scarcity, and Russian hunters have apparently spent the past decade perfecting ways of capturing them and keeping them alive.
"In 2003, they captured three pods and ended up killing two orcas - one drowned in nets and another one was taken and shipped to the Black Sea, to an aquarium there, and died 13 days later," says Hoyt, whose group was tracking the captures at the time. "That was the first capture in Russian waters and it was a turning point for our Russian scientists and young biologists. They are good scientists but they hadn't seen what it was like to have some of the whales you know and are studying captured, with two of them dying."
The killer whales allegedly imported to China are a young male and female estimated by Hoyt to each be about 12 to 16 feet long. They were among eight captured in Russian waters last autumn in what appears to have been a profitable operation for the captors. The animals, though, may not count themselves so fortunate.
"These young orcas would have been travelling 100 miles typically on their daily range before their capture, so you try to put that into circles in an aquarium and it is a lot of circling. They just get bored to death," Hoyt says. "They are very clever animals. Their business is hunting. They use a lot of their intelligence in finding and catching food. But they also have dialects and pass these on to their young, and they have various cultural traits we have been able to see.
"I have talked to trainers who say they get interested for the first little while that they are in captivity, once the adjustment period passes, but, after a year or two, it becomes really very boring and they are hungry for any kind of stimulation."
Explaining the stresses that lead to orca attacks on humans, Hoyt says, "The families are separated. In the wild, these animals live in groups of anything from six to 10, up to 20 individuals and they stay in those groups for life.
"You are really putting these animals under extreme stress in terms of their social behaviour. They are often thrown together with animals they don't know, even different types of animals and different kinds of killer whales. That is partly why you get aggression in captivity."
Hoyt spent 10 summers observing orcas in the wild off Vancouver Island, Canada, in the 1970s and 80s. "I had seen them in captivity before that and didn't give it much thought but, when you're in the wild and you see what they're like and what their families are like and how much they travel in their daily range, and then you go back and see them in captivity, it is very painful. You see these animals do not belong in captivity.
"There is a line you can draw in terms of animals that work in captivity and have something resembling their wild life if you recreate their environment, but you certainly can't do that with cetaceans. They are too large."
Ocean Kingdom has repeatedly declined to answer questions about whether it is planning to import and show killer whales. Its newly launched website makes no mention of them, although it does include a picture of what appears to be a leaping killer whale as part of a montage.
As Lunar New Year crowds pay their 280 yuan (HK$350) a head to be among the first visitors to Ocean Kingdom this week, it is unclear whether they will be treated to the sight of orcas.
Whether killer whales surface at Ocean Kingdom now, or in the future, however, the emphasis of the park appears to be on entertainment rather than conservation and education. The website's description of its sea lion and walrus show, for example, promises "funny performances to bring everyone laughing" along with "shocking and exciting stunts". The white whale performance, meanwhile, offers the chance to see an animal that can "dance in the water".
For anyone who joins the Ocean Kingdom queues this week, a remarkable spectacle unquestionably awaits. How edifying that spectacle will be remains to be seen.
Orcas in captivity
The two orcas imported into China are thought to be the first ever held in captivity on the mainland - but the species is nothing new to older Hong Kong audiences. Ocean Park was home to a killer whale for nearly 20 years.
Hoi Wai, a female orca captured off Iceland in 1977, was the star attraction at the Hong Kong park from 1979 until 1997, when she died of intestinal problems. In 1989, she was joined at Ocean Park by a male, Prince, who had also been caught in Icelandic waters. Prince died in 1991. Both had been exhibited in other theme parks before coming to Hong Kong.
Weighing 1,800kg and 16 feet long, Hoi Wai's skeleton is now preserved at the Cape D'Aguilar Marine Reserve.
With their distinct black-and-white markings, killer whales are actually the largest species of dolphin and are thought to be the most widespread mammal after humans, having been found in all of the world's oceans.
Excluding the two imported into China, there are currently an estimated 54 killer whales in captivity, mostly in the United States, Japan, Russia and theme parks in France and Tenerife, Spain.
The film Blackfish - which was tipped for an Oscar nomination but failed to make the shortlist for best documentary - features former trainers questioning whether orcas should be kept in captivity after the death of Dawn Brancheau, at SeaWorld in Orlando, Florida, in 2010.
Brancheau, 40, an experienced trainer, was petting 28-year-old killer whale Tilikum after a show when the animal grabbed her and pulled her into the water, mauling and drowning her in front of a horrified audience.
Tilikum had been involved in two of the three other documented cases of humans being killed by orcas, although there have been many cases of apparent aggression towards humans by captive killer whales.
In 1991, student and part-time trainer Keltie Byrne, 20, fell into a pool at Sealand of the Pacific, in Victoria, British Columbia, Canada, containing Tilikum and two other orcas. She was repeatedly dragged back into the pool by the three orcas and drowned. It was several hours before her body could be recovered.
In 1999, 27-year-old Daniel Dukes, who is believed to have stayed in SeaWorld Orlando after the park closed and then sneaked into the orca pool, was found dead, draped over Tilikum's back the next morning. He had multiple wounds.
In the only documented fatality in which Tilikum was not involved, 29-year-old trainer Alexis Martinez was killed by a whale called Keto during a training session at Loro Parque in Tenerife, in 2009. He suffered multiple injuries, including a crushed chest and deep bites, after being dragged around the pool under the water.
Despite their name, however, killer whales are generally remarkably gentle - and intelligent. Significantly, there has never been a recorded case of a killer whale attacking a human in the wild.
Red Door News Hong Kong
This article appeared in the South China Morning Post print edition as: Wild card