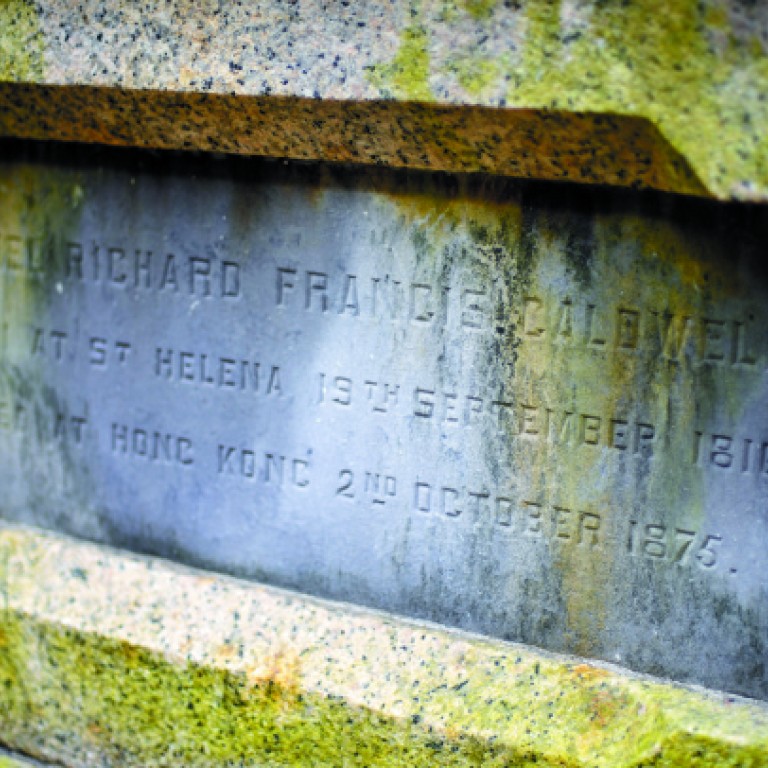 Flagrant harbour: the sordid affair that cemented Hong Kong's reputation for vice and corruption
The sordid yet titillating Caldwell Affair helped to cement Hong Kong's reputation in the 1850s as a hotbed of vice and corruption. Stuart Heaver attempts to separate fact from fiction
"Nowadays, Hong Kong enjoys international acclaim as a society with a probity culture," Independent Commission Against Corruption commissioner Simon Peh Yun-lu told a press briefing in the run-up to this month's 40th anniversary of the graft-fighting body. But that, of course, has not always been the case.
In its days as a newly acquired British colony, Hong Kong had a well-founded and acutely embarrassing reputation for high-profile corruption. These were the colourful days when Hongkongers were far too busy feathering their own nests in the opium and coolie trades to bother about being paragons of virtue, a situation that was similar in some ways to that now being addressed by mainland authorities in their national crackdown on the "three vices", which include prostitution and drugs.
The Caldwell Affair arguably did more to cement Hong Kong's status in London as Asia's world city of corruption and vice than any other outrage. The case had all the ingredients needed for a large-scale government scandal: pirates, gangsters, brothels, racism, secret masonic bonds, a scurrilous free press and a significant number of oversized egos. The accusations and counter-accusations surrounding the secretary for Chinese affairs, Daniel Richard Francis Caldwell, in the late 1850s make recent media reports of ICAC investigations into unauthorised basements, fiddled expense claims, inappropriate luxury-boat trips and suspect land ownership look tame by comparison.
Talented intermediaries such as Caldwell, with unconventional backgrounds and sound linguistic skills, were essential to the administration in dealing with the local Chinese, because old-school colonial officials such as his boss, Charles May, the colony' s first captain superintendent of police, were ignorant of local dialects and largely dismissive of the indigenous culture.
"May … not only knew nothing of the language but could never recognise the face of a Chinaman unless he had seen it at least some four or five times," Caldwell would write, in defence of himself.
Caldwell, who was fluent in several Chinese dialects as well as Malay, Hindustani and Portuguese, took an unusual step for a colonial official of the time: he married a Chinese woman, the young Mary Ayow.
The charismatic and dashing Caldwell had had a colourful past, hav-ing been born into a merchant family on St Helena, a British island in the South Atlantic Ocean, in 1816, and commanded his own trading ships before becoming a clerk in Canton, employed in the lucrative opium trade.
"Earlier, in Canton, in the 1830s, he had a reputation as a womaniser and was said to have learned Chinese through his liaisons with various women," says historian Christopher Munn, who has written extensively about Caldwell.
Caldwell had no formal police experience but he was hard-working and easy to deal with. His rapid promotion to assistant commissioner of police and then registrar general and protector of Chinese caused deep resentment with May.
"When war broke out between Britain and China in 1856, Governor [John] Bowring took him back [Caldwell had left the employ of the government on the grounds of poor pay and purchased a merchant steamer, The Eaglet, running coastal trade and setting up convoys escorting junks along the South China coast] on a much higher salary and heaped special powers on him as the 'protector of Chinese'," says Munn.
Caldwell was highly effective in using his network of informers to clamp down on crime and piracy. The following year saw his duties extended to encompass the registration and licensing of brothels as the climate of fear intensified among Europeans at war with China.
"In early 1857, Chinese agents had attempted to poison the European community through its morning bread supply. They came close to killing several hundred people - nearly the entire colonial community," says Munn. "They only failed because they overestimated the quantities of arsenic, so people vomited up the bread."
It was against this toxic social background of fear and suspicion between Hong Kong's Chinese and European residents that the Caldwell Affair exploded, triggered by testimony from American pirate Eli Boggs to the Supreme Court. Boggs claimed he had been framed by Wong Ma-chow and accused Caldwell of having criminal connections with the notorious gangster.
The accusation created shock waves because it was common knowledge that Wong was a key informer and associate of Caldwell.
"As blackmailer, extortionist, burglar, expropriator, racketeer, arms dealer, trafficker in slaves, dealer in malicious prosecutions, receiver of stolen property, organiser of murderous piratical expeditions and minor warlord, Wong appears to have tried his hand at nearly all the offences then current in Hong Kong," says Munn.
As the scandal unfolded, editors of local newspapers rubbed their hands in glee at the prospect of more rich copy and, when Wong was arrested, on July 16, 1857, after a piracy incident, Caldwell leapt to his defence, demanding an acquittal. The controversy bubbled like a Sichuan hot pot until, in an extraordinary outburst in the Legislative Council on May 10, 1858, the colonial treasurer made an outrageous allegation. Much like the member of the National People's Congress who was accused this month of owning a five-star hotel that has been offering sex services in Dongguan, Guangdong province, Caldwell, the licensor of brothels in the colony, was charged with being an owner of such an establishment himself.
This prompted the attorney general, Thomas Chisholm Anstey, a prickly character who had established a reputation as a zealous reformer and critic of all things corrupt, to enter the fray. When Bowring sought to play the allegations down, Anstey saw red and publicly accused Caldwell of being a "brothel keeper and pirate" and went on to describe Caldwell's wife as "that harlot".
Slanderous and defamatory outbursts were part of the colonial territory in 19th-century Hong Kong but this was a scene that, according to Bowring, had "seldom been paralleled by any assemblage of Englishmen met in official conclave". The governor agreed to an inquiry, which, according to Munn, was a "farcical investigation undertaken by friends of Caldwell, the lawyer who had defended Wong and fellow freemasons [of the accused]".
Regardless of the facts of the case, Caldwell was a vital official in the new colony, who did an excellent job monitoring and representing the Chinese at a time of war. Anstey, on the other hand, had already upset many of his colleagues with wild accusations and malicious smears.
"Caldwell described Anstey as a 'monomaniac'. There was certainly something fanatical about him," says Munn.
"To say the truth, Caldwell is one of the most valuable of our public servants while Anstey is a chronic pest," admitted Bowring, a quote that can be found in the .
Caldwell was more or less exonerated and few rued the departure of Anstey, who was suspended and sent back to Britain, where his bitterness fermented during a national campaign themed as the "British crown disgraced in China" and conducted through public meetings around the country. In April 1859, Anstey wrote a 30,000-word letter to newspaper detailing the inherent corruption of the "reign of terror" in the Hong Kong government.
"The scandals in Hong Kong were discussed in the [British] press and in parliament," says Munn.
Meanwhile, feeling exonerated, Caldwell carried on much as before and personally directed British Royal Navy warships in highly successful anti-piracy operations, although he was accused by one newspaper of deliberately leading the Royal Navy to pirate rivals of Wong.
When the liberal Bowring was replaced as governor by Hercules Robinson, in 1859, the young Sandhurst man's first priority was to deal with the Caldwell Affair, which was still causing grave embarrassment in London. He personally chaired a second, more exhaustive inquiry.
Caldwell submitted a huge handwritten "vindication of character", which included commendations from senior naval officers whom he had personally assisted in the capture and destruction of pirate junks as well as several tributes from senior government figures. In the document, Caldwell made an articulate case that the allegations against him were nothing more than a conspiracy based on the grudges of May, assisted by Anstey and some newspaper editors jealous of his success and resentful of his protective attitude towards the Chinese. He also provided compelling evidence (later hushed up) that May, a respected family man, was running an illegal brothel managed by a mistress of his. He also alleged that the sententious anti-corruption campaigner Anstey had been a frequent visitor to that brothel.
"Of all places in the world perhaps there is not one where scandal and detraction are more rife, so readily invented, so industriously circulated and, I regret to add, so eagerly sought after, as at Hong Kong," wrote Caldwell.
The inquiry found decisively against Caldwell on the main charge of having been used by Wong to pervert the course of justice and found grounds for suspicion on other charges, including that of having used the Royal Navy to carry out the "nefarious designs" and strengthen the influence of a "notorious pirate".
The report from the inquiry has a seam of racism running through it, though. Caldwell, who had only a few years earlier been described as having "blue eyes and truly English countenance", was now described as a "man of mixed blood" and a "Singapore half-caste".
The lengthy defence document written by Caldwell is evidence, say two of the man's descendants, that he has been unfairly labelled as the personification of Hong Kong's darkest days of corruption.
"My father's mother, Rose Mary, was a Caldwell, a granddaughter of Daniel Richard Caldwell," says Peter Bruce, a retired probation officer and policymaker in British Columbia, Canada.
Rose Mary was born in Hong Kong in 1872 and schooled in England, where she met Bruce's grandfather. Bruce makes no claim to be a professional historian but has formed some interesting views about his controversial ancestor.
"Daniel's marriage to a Chinese woman didn't help his popularity among the stodgier colonial types. 'Quite all right to have a concubine, hell have six, but marry one? Good God man, have you gone mad?' And so Daniel was a polarising figure," says Bruce.
Last October, Bruce met fellow Canadian Eugene Ko in Vancouver after they had made a connection through Hong Kong history website gwulo.com. Ko's great-grandfather was C.S. Ko, an orphan adopted by Daniel and Mary Caldwell, and he has undertaken private research into Daniel Caldwell, who his family hold in high esteem.
"We believe Mr and Mrs Caldwell adopted over 20 orphans throughout their lifetime. All their adopted orphans were raised and educated by the Caldwells as their own children," says Ko, who uses a part of Caldwell's name as his own. "They gave him the Chinese nickname of Ko San Kwei. Ko is phonetic to 'Cald', of Caldwell; means 'lively'; and means 'ghost', because of his fair complexion, blond hair and light blue eyes.
"He was a great hero to the Chinese community," says Ko, adding that he is convinced Caldwell was not corrupt.
Ko points to later documents as evidence that Caldwell was fully exonerated in the 1860s and, like Bruce, implies that the key to the Caldwell Affair might be as much about racism as anything else.
"He was a man of principle. He loved Mary so much that he acted against the advice of his English friends and peers and decided to marry a Chinese lady who was considered a colonial slave girl in the 1800s," says Ko. "I have searched through the entire St John's Cathedral's marriage registry and found that this is the first marriage between an Englishman and a Chinese lady."
"The problem with the marriage was that Caldwell was too open about it," says Munn. "Plenty of European men had clandestine Chinese mistresses. Very few [of them] openly married Chinese wives according to Christian form. Caldwell's marriage was a problem for a society that was becoming increasingly racist."
It is tempting to speculate how the officers of the modern ICAC would have dealt with a complex scandal that started with pirates and quickly moved onto prostitutes, and meant that a valuable administrator was forever branded as the archetypal corrupt official. Would they entertain the suggestion that the Caldwell Affair was less to do with corruption and more a smear campaign generated by racism? Would they be able to explain why corruption seemed endemic in colonial Hong Kong?
"I am … not an academic or researcher, so I cannot help you much on things like what are the causes of corruption, why British colonies are always corrupt - which is a fact!" says Tony Kwok Man-wai, a leading consultant on government corruption who spent 27 years at the ICAC before retiring as deputy commissioner and head of operations in 2002. He does, however, explain why corruption is regarded as one of the most difficult crimes to investigate in modern times, never mind when there was an inadequate and corrupt police force, most of whom could not speak Chinese.
"There is often no scene of crime, no fingerprint, no eyewitness to follow up. It is by nature a very secret crime and can involve just two satisfied parties, so there is no incentive to divulge the truth," he says.
And how would the ICAC deal with a case in which someone was being smeared by jealous colleagues or political enemies? "The ICAC has strong legislation to prevent such things happening, Firstly, it is an offence for anyone to provide false, misleading or malicious information to the ICAC. Secondly, there is a provision that every ICAC investigation should be kept confidential at its covert stage," explains Kwok, outlining a very different approach to that taken by the fanatical Anstey, who fired off public accusations in every direction.
And what about the one allegation that Caldwell could not shrug off, regarding his relationship with the gangster Wong? How unusual or irregular does Kwok think it is for government officials to have friendships with shady characters from the criminal underworld?
"From my international experience, it is not surprising at all that some public officials, even in developed countries, have a friendship with organised crime figures," says Kwok. "For example, in the United States, it is rumoured that the Kennedy family was associated with the mafia. In Japan, the yakuza operates openly and are known to be supporting politicians in their elections and, in Taiwan, politicians have sent wreaths to the funerals of known triad figures.
"In Hong Kong, we have strict measures dealing with such relationships," he says, pointing to civil-service guidelines, integrity checks and the offence of misconduct in public office.
"The ICAC had many past cases, mainly involving members of law enforcement agencies protecting organised crime syndicates," says Kwok.
It's possible, though, that the special circumstances in Caldwell's day might have tested the rigour and professionalism even of the ICAC.
"The convulsions of the late 1850s, the coming together of war, terrorism, uncontrolled piracy, corruption, misgovernment and rampant scandal were exceptional, even in Hong Kong's troubled history," says Munn.
As it turned out, Caldwell was a great survivor. After being sacked by the government, he made a good living as a "Chinese agent" - an intermediary and advocate for Chinese businesses - and later, governor Richard MacDonnell employed him as an unofficial head of the secret police. A huge and ornate tombstone was erected by his fellow freemasons on his death, in 1875, and it remains one of the most striking in the colonial cemetery in Happy Valley.
"Caldwell is an intriguing figure because it is difficult to untangle the truth from the malice," says Munn. "There was certainly something dangerous in his relationship with Wong, but to what extent Caldwell was a dupe or an active partner is something of a riddle."
This article appeared in the South China Morning Post print edition as: Flagrant harbour