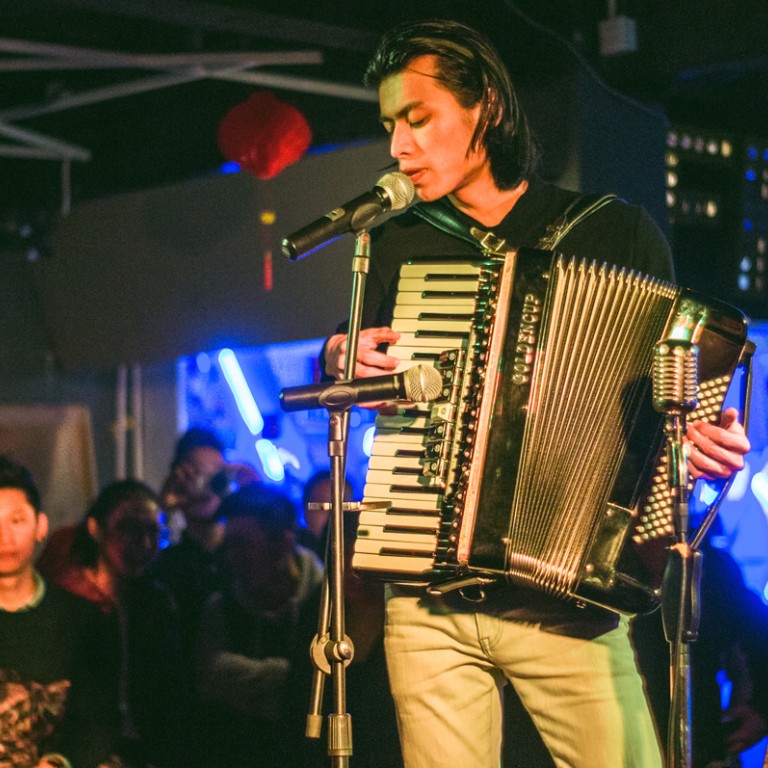 Going back to their roots: Chaoshan folk music
Two Guangzhou-based folk bands are breathing new life into the dying traditions of Guangdong's Minnan-speaking people. Words and pictures by Thomas Bird
It is said the Minnan-speaking people – sometimes referred to as Teochew or Chiuchow – who live along Guangdong's eastern seaboard are deeply traditional, have many babies, are good at business and are exceedingly superstitious. I have read that their architecture and operatic and religious traditions are well preserved and, like the curious eight-tone dialect they speak, ancient. In December, a new high-speed rail line opened up the region to travellers.
Beyond the industrial Pearl River Delta, the Shenzhen-to-Xiamen train whistles over fish ponds, trails the coastline, cuts through mountains and, as it nears Shantou, passes row upon row of Qing-dynasty housing. As I step off this state-of-the-art bullet train at Chaoshan station and head for the bus station, I'm wondering what kind of Chaoshan (a contraction of the names of the prefecture-level cities Chaozhou and Shantou describes the whole region) will confront me. After all, I've travelled enough to know that China has a habit of dishing up the gorgeous and grotesque in equal measure.
Shantou greets the visitor with smoggy skies, anarchic traffic and charmless, austere architecture. The disgruntled northern driver of a "black" taxi paints a grave picture of a city that was one of the original special economic zones, along with Shenzhen and Zhuhai.
"To be honest, this is a rubbish city," he says. "I've been here 10 years and it hasn't progressed. Corruption is endemic. Anyone with money leaves."
The decrepit harbour does little to invoke hope. Its rusty ferries look barely seaworthy. When the gates of one open, pedestrians, motorbikes and cars wrestle their way onto the vessel with little sense of order.
In striking contrast to the messy industrial metropolis of Shantou, Nanao Island, just 30 minutes across the water, is blissfully serene. A temple embedded in the verdant hillside is the first thing visitors see as they step off the ferry.
"Welcome to Nanao," says Li Yihan, lead singer of folk band Toy Captain, greeting me at the harbour.
Toy Captain are based in Guangzhou and their album, South Island, Marine Flavour Was A Nice Feeling, was a minor hit recently on the mainland's indie-folk scene. Their cheerful nature is reflected in their music – uplifting folk, infused with reggae and rock, characterised by Li's accordion, which gives the music a sea-shanty quality. Xiao Dao's tight, rhythmic drumming and the habit of guitarist Gao Fei and bassist Zhou Yi to fall into syncopated dance routines has filled many a dance floor.
The cartoonish inlay to the South Island CD contains photographs of the band on Nanao, bathing in the sea and jamming beside traditional fishermen's houses. Many of the songs, such as Maiden from Tongshan and Watch a Teochew Opera, chronicle the lives and legends of this traditional corner of Guangdong.
Tracks like Beach Party (with the lyrics, "Karaoke machine belts out Minnan melodies … Sea birds riding on the waves sing along") capture the tenor of the province – its warm climate and coastal location – in a way that commercial and sappy Canto-pop singularly fails to do for Hong Kong. Li's ancestral home, a fishing cottage complete with courtyard, is located on the south side of the island, in Yunao township. I join his extended family for a traditional dinner of fresh vegetables, seafood and sweet red wine – all locally produced.
After dinner we watch a Lunar New Year's procession accompanied by the din of fireworks, crashing gongs and thumping drums.
"The fishermen are touring effigies from the temples around the island," says Li.
The sight recalls the observations of early European traders, mystified by an exotic culture they were encountering for the first time. Between each deity, dance and music troupes perform. Many of the performers are children.
It's only late in the evening, after the din of firecrackers and smoke finally dissipates, that Li and I finally sit down to chat.
"When you grow up somewhere, you take it for granted," he explains of his reasons for leaving Nanao in 2001. "I left because there was no opportunity to develop here. You can only become a fisherman."
Li left to study music and dance in Guangzhou.
"When I was 13, I had a small black cat," says Li. "It was very unruly so my dad gave it away. When he saw how sad I was he gave me 10 yuan. I went out and bought an album.
There were very few foreign albums available, only the most famous. So I bought a Beatles record. To this day they're still my favourite band. Chinese music-wise, my biggest influence has been Cui Jian [China's "godfather of rock"]. His music has so much depth and represents the spirit and aspirations of the people."
These may seem like unlikely influences for a Minnan folk singer but, as we discuss his album, the logic becomes apparent. South Island, like many of the Beatles latter-day albums, is infused with an eclectic array of instruments and influences, ranging from bluesy saxophone to the Chinese zither and Teochew opera. This blend of sounds might not have been possible without the aid of the band's Hong Kongbased producer, jazz musician Peter Scherr.
"He helped a lot. He was kind and patient. We couldn't afford such a big talent, but he liked our music and let us pay what we could."
Cui resonates in Li's writing approach, which concerns itself with life in Guangdong, particularly on Nanao.
"One year, when I came home, I found there were few young people left – everyone was working in big cities and getting married there. I make music so I thought I could give new life to the fading traditions of this place.
You know this language is slowly dying.
"Gao and I started the band in 2008. We were talking with friends about our youthful aspirations. One friend said he wanted to be a football player, another said he wanted to be a policeman. Growing up by the sea I wanted to be the captain of a boat. That's how we came up with the name Toy Captain."
In the song Brother, How Are You?, Li appears to be critiquing the culture of marriage in China. The lyrics read: "Oh brother, do you have money? (No.)/Do you have enough to get married? (Still saving.)/Oh brother do you have a house? (No, lah, no, lah!)/ Is your house big enough to keep her heart?" Li plays a song he's working on, Xiang Lu Mi Di, and then translates the lyrics.
"It's a story I read in the newspaper about a migrant worker who moved to Guangzhou but didn't make much money. He felt embarrassed and instead of returning home for the Spring Festival each year he made up excuses.
One day he was fitting an air-conditioner when he slipped and died.
"I want to tell parents not to put their children under so much pressure to make money."
For two days, Li chauffeurs me around Nanao on the back of his scooter, showing me the temples that dot the island's hilly interior, the untouched sandy coves where he learned to swim as a child and the ancient villages where many of his relatives still live. Despite the litter that blights all but China's most developed regions, the island is in good environmental shape, its electricity principally generated by the tall white windmills clustered across the hilly centre.
Villagers in Nanao do not have the forlorn appearance of those from the landlocked interior of the country. Here, nature's bounty is easily reaped and people live long, healthy lives.
"This grandma is over 90 years old," Li explains, as we sit in an old house in Laoyuan village drinking kung fu tea with the elders. "I often sit with the old folk and listen to their stories."
Li is very much the local historian. He collects old letters sent by Nanao natives who ventured overseas. He shows me old black-and-white photographs of the island and spends time salvaging furniture thrown away by unsentimental villagers.
"I'm looking for inspiration for my songs," he explains.
We visit the ancient Song Well, a popular tourist attraction dating back to 1276, according to a plaque on a wall. "There's a reason why the girls here are so beautiful," says Li. "When the Mongols [led by Genghis Khan] overthrew the Song dynasty, the last Song emperor fled to Nanao. Many of the people in the village are the descendants of his concubines."
There appears to be a particular urgency to Li's cataloguing of local culture. Under construction is a road bridge that will anchor the island county to the mainland. At Qingao beach, there are already some unsightly modern high-rise buildings and billboard posters espouse the intentions of property developers to build holiday resorts. Nanao's fishermen may share the fate of Shenzhen's farmers – having to sell their land to developers and move out. If and when that time comes, the traditions of Nanao might only live on in the songs of artists such as Toy Captain.
I depart feeling glad to have caught a glimpse of a China that has not yet been washed away by the tide of progress.
HAIFENG COUNTY IS A drab industrial backwater administered by the small seaside city of Shanwei. Just under 200 kilometres southwest of Shantou and about 150 kilometres northeast of Hong Kong, the area marks the beginning of Minnan-speaking territory in Guangdong.
It too was recently connected to the Pearl River Delta by the Xiamen-Shenzhen high-speed rail line.
The chaotic traffic and litter on Haifeng City District's grubby streets make the place seem an unlikely home for one of China's most original and dynamic folk acts. But as I ride on the back of a perilously dangerous motorrickshaw – essentially a motorbike welded to a metal box – I can't help thinking this nondescript third-tier town makes the very existence of Wu Tiao Ren all the more intriguing.
"I moved here from a small town when I was about 12," one of the band's founders, singer-guitarist-accordionist Xu Renke, says, as we bounce along in the motor-rickshaw. "I came here from a backward little town when I was 14," says the other founder, singer-guitarist Hu Maotao (Ah Mao).
We alight outside the Red Palace – one of Haifeng's few historic sites, dating back to the Ming dynasty. It was once a Confucian temple but is now home to a rather paltry exhibition that tells the story of the Communist Party's revolutionary struggle.
"We first met here in 2004 at a music concert," says Renke, pointing to a step leading up to an unremarkable pink-tiled building opposite the Red Palace. Above the step is a metal shutter adorned with a red banner celebrating the Spring Festival. "In those days this building was a cultural centre," adds Ah Mao. "Now it's a library."
In a park next to the temple there is a commemorative statue to a local revolutionary.
"That's Peng Pai," says Ah Mao. The band sing about the socialist hero, who, in 1927, led the third farmers' armed uprising in Haifeng, on their second album, 2012's Some Other Scenery.
Not far from the park is Haifeng Middle School.
"I first heard rock 'n' roll after the 1995 Tang Dynasty concert in Hong Kong," Ah Mao recalls. News of the groundbreaking concert by the hard-rock band from Beijing spread far and fast in Guangdong. "I grew my hair long and the teacher used to berate me right here for being disruptive," he says, pointing to a ground-floor office.
We come to a cafe specialising in porridge, on Old Street, the historic centre of Haifeng. Over dinner I learn how the band formed.
"Ah Mao had moved to Guangzhou [in 2001]," says Renke. "I was in Haifeng up until 2004 and wanted to move to the big city, so he let me stay with him while I got myself established."
The pair jammed on and off in various projects but it was in 2008 that Wu Tiao Ren was finally consummated, with their first official performance taking place in Guangzhou University City.
"Originally, we both wrote songs in Mandarin," says Renke, "because we were familiar with bands singing in that language. We'd only heard Taiwanese bands singing in the Minnan dialect. But later we found singing in Minnan, which has eight tones as opposed to Mandarin's four, could be more effective in communicating the story we were telling about Haifeng on the first album [2009's A Tale of Haifeng]."
The urban origins of Wu Tiao Ren go some way to explain why the band's music is grittier than that of Toy Captain. But, like Li's group, the music of Wu Tiao Ren is deeply rooted in the heritage of the Chaoshan region.
The two singers have cultivated a unique vocal style that recalls the high-pitched crescendos and the call and response narrative-based performances of Teochew opera, and the lyrics are predominantly concerned with the lives they left behind when they moved to Guangzhou.
In the song Walking a Pig on My Bike, the lyrics deal with Haifeng's dire traffic: "My friend, don't ask me if I have heard the noise and cars and motorbikes in Haifeng, Even the deaf cannot bear it."
Also on the first album, the Putonghua song I'll Tell You When Problems Come lists the difficulties facing young Chinese people: "Another of my friends is going to Australia, nine o'clock last night, he left his beloved girlfriend, he said see you in a year."
The second (double) album, which introduced rock drummer Wei Min (Lao Wei) – who had found success in an outfit called Desert Band – to the line-up, saw Wu Tiao Ren's horizons expand significantly. Percussion and a more experimental approach make Some Other Scenery an altogether more sonorous affair than its predecessor.
The advances might have been due to their experiences on the road, touring the festival circuit and even playing gigs in Hong Kong. This is hinted at in Sea Breeze, which invites someone to leave his or her small town and see the world. "Sea breeze" in Chinese is a homophone of "Haifeng".
Nevertheless, the band maintain their Chaoshan roots, as song titles Ancestor Worship and Winter Opera suggest.
The two bandmates – Lao Wei is at his home for the Spring Festival – are busy rehearsing for their annual hometown Lunar New Year concert, so I take some time to soak up what the region has to offer.
I visit Peng's ancestral home, on the other side of Haifeng town. The socialist hero's father was a rich landlord and the home is a large, white Nationalist-era manor house – but it is closed for the holiday. Many of the nearby streets are still lined by arcades dating back to the republican period of the early 20th century.
Like Nanao, religious practices and folk crafts largely extinct elsewhere in China are still being honoured in this region, particularly in Shanwei, which, although smaller than Haifeng, is the administrative centre and has more of a city feel to it. Entering the Old Town is to be swept back into history.
A lion dance troupe led by a laughing Buddha is shimmying its way through the labyrinth of alleyways, paying homage to Taoist saints and Buddhist idols. The neighbourhood is dotted with temples, the biggest of which, the Tian Hou Ge, has attracted so many worshippers that the air has turned tepid with the fumes of burnt offerings. It's easy to see why Wu Tiao Ren seek to reconcile ancient Minnan culture with contemporary music. Here the past and present exist cheek by jowl.
When the band take the stage at the UN Club, a rock dive on the fifth floor of a high-rise in central Haifeng, there is not an empty seat in the house. More than 200 people have crammed themselves into the bar to watch the local heroes' annual gala.
The performance is industrial-strength, despite the absence of Lao Wei. The two singers yell in unison as they enter into Don't Worry Man! Renke is handsome, wearing the polo-neck shirt of a beat poet and whipping ambient guitar licks and rich accordion refrains over Ah Mao's mechanically rhythmic acoustic guitar. Tall and intense, Ah Mao provides the nononsense backbone to the performance. Like Paul and John, Mick and Keith, it is the distinction of the two men, as much as their combined musical personality, that makes their frenetic show so alluring.
Mid-performance I climb up onto the roof terrace to get some air and look out across Haifeng – the electrical wiring hanging loosely from utility poles, the bad plumbing fixtures protruding from walls, the occasional crackle of New Year fireworks, a distant karaoke pop song, the turmoil of the roads: a modern mess.
Downstairs, Wu Tiao Ren are giving Haifeng a New Year show to call their own, and be proud of.