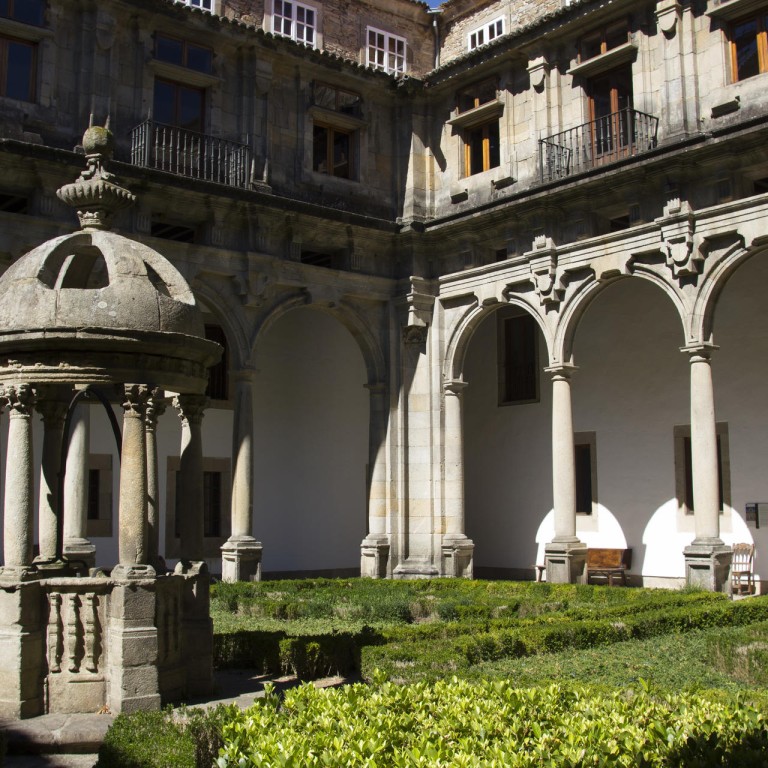 Hot spots: Hostal Dos Reis Catolicos, Santiago de Compostela, Spain
It is a hotel, now, a massive one, but it was a hostel and then a hospital for several centuries, having been built by the king and queen of Spain in 1499 right next to the colossal Cathedral of Santiago de Compostela (right). The reputed site of the tomb of St James ("Santiago" in Spanish), who supposedly brought Christianity to Spain, the cathedral is the greatest Christian pilgrimage church in Europe after St Peter's, in Rome. From the Middle Ages through to today, pilgrims have followed the St James' Way, from central France and across northern Spain to this historic city in the far northwestern province of Galicia.
Yes, especially the lame, and eventually it became solely a hospital, existing as such right up until 1953. It has to be the grandest hostel ever erected, a palace in all but name, three storeys of golden granite arranged around four courtyards with tinkling fountains and box hedges, 28,000 square metres of floor space, its great portal elaborately carved with a host of saints and huge royal coats of arms.
While the sculpted doorway, the arcaded courtyards and the general bulk of the place would be very recognisable to 16th-century pilgrims, the rooms, furnished with traditional elegance, would flabbergast them, and the bathrooms would be a taste of paradise. Even though you're unlikely to be as malodorous as your antecedents, you, too, will relish the brass-tapped, porcelain glory hiding behind the solid oak door. The "most beautiful hotel in Europe" for veteran travel writer Jan Morris, this soi-disant five-star has no gym or pool, which should knock it down a star, but for historical grandeur, the sense of staying in the kind of place that is usually only for visiting, this pile leaves the guest starry-eyed. To walk wide corridors furnished with antiques and El Greco replicas is to enter a richly Hispanic dream world.
The most common name is in the local language, Galician. In Spanish, it's Hostal de los Reyes Catolicos. Both of those names refer to the Catholic monarchs, Ferdinand and Isabella, the royal couple who founded the institution and who are renowned for uniting Spain, having expelled the Moors. The third name is Parador de Santiago de Compostela, stressing the hotel brand and location. A parador is a hotel belonging to the government-owned Paradores group, which was founded in 1928 and runs hotels in historic buildings and in unique locations throughout Spain. This parador is regarded as the jewel in the crown of a group with dozens of splendid historical properties and is the most sought-after address for Santiago visitors.
An integral part of one of Europe's most magnificent squares, this hotel - like few in the world - gives you the sense of being in precisely the right place. The property forms the northern side of the immense Praza do Obradoiro, and to enter this square is, to quote Morris again, "one of the great travel experiences". Towering over the 110-metre-by-70-metre spread of granite paving is the twin-spired baroque facade of the cathedral, with the 80-metre-long neoclassical town hall facing it on the other side. Pilgrims in hiking and cycling gear lounge on the square, revelling in having reached their goal, some singing and dancing. The setting is staggering, the ambience celebratory.
Locally based with lots of seafood. In a setting out of a historical drama, groups are served at great round tables, Renaissance-banquet style, in the hotel's former chapel (right), with its 20-metre-high vaulted ceiling. For a cosier and more gourmet experience, the barrel-vaulted basement has two restaurants, one informal and one formal, which specialises in Galician dishes. For example, sea bass fillets baked in Iberian bacon and served with mint broad beans; scallops stuffed with sea urchin; sirloin steak in a Cebreiro cheese sauce; and, for dessert, apple and caramel cream pancakes.
Hostal Dos Reis Catolicos has six suites, 105 twin rooms, 14 double rooms, two single rooms and one easy-access room (for disabled guests). Online rates start at €155 (HK$1,645) this month, rising to €170 in April and €190 from May to October.
This article appeared in the South China Morning Post print edition as: Hostal Dos Reis Catolicos, Santiago de Compostela