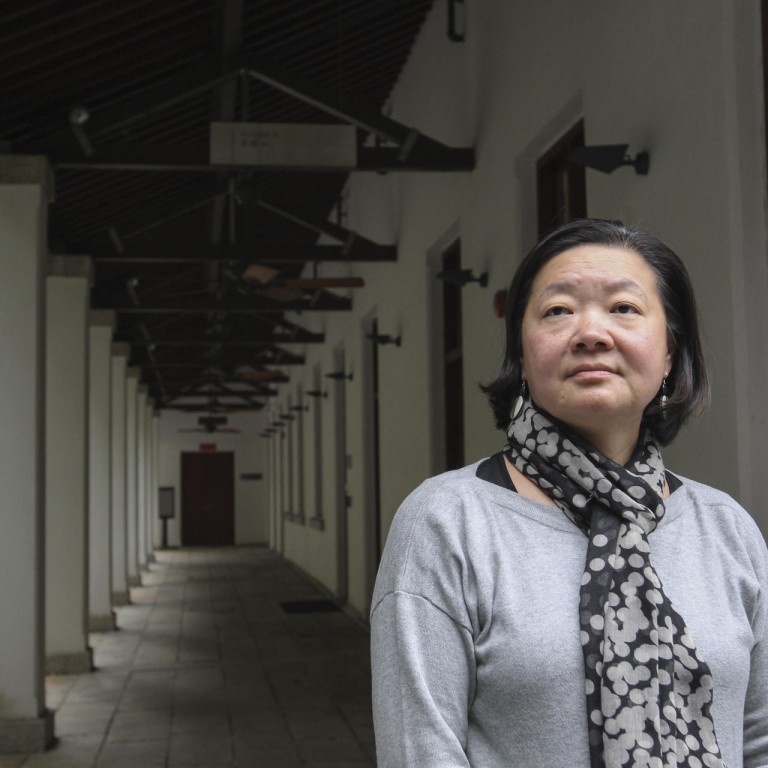 Let there be light: Will Caravaggio bring the Asia Society out of the shadows?
As Caravaggio's Supper at Emmaus goes on show at the Asia Society, Fionnuala McHugh wonders whether the 1606 masterpiece will help bring the organisation to the fore
On January 8, 1963, a painting went on show in Washington's National Gallery of Art. It had crossed the Atlantic Ocean from Paris in its own cabin on board the SS France, accompanied by nine French guards and two officials from the Louvre museum. 
At its unveiling, American president John F. Kennedy (who had just survived the Cuban missile crisis but was still fighting the cold war and anxious to have France as an ally) said, "Politics and art, the life of action and the life of thought, the world of events and the world of imagination, are one." In the following weeks, two million Americans would queue up in Washington, and later New York, to have a look at an Italian merchant's wife who'd been dead for more than 400 years. It was after the stupendous success of the exhibition that museums realised "art" plus "diplomacy" could equal "blockbuster".
"I remember seeing a documentary about the arrival of the in New York," says Alice Mong, executive director of the Asia Society Hong Kong Centre, one recent afternoon. "How Mrs Kennedy had appealed to [French president] General de Gaulle, the context of its arrival in the 1960s, all that hoopla … and I remember thinking, 'Wouldn't it be interesting to do that here?'"
Now she's having her moment - not with a Leonardo da Vinci but with the work of another Italian genius. From Wednesday, the Asia Society will be exhibiting one of the world's most famous paintings: , painted by Michelangelo Merisi da Caravaggio in 1606.
Watch: Caravaggio's HK$640 million masterpiece makes debut in Asia
Normally, this masterpiece resides in the Pinacoteca di Brera, in Milan, from where it rarely ventures. When Croatia joined the European Union last July, however, it was lent with suitable diplomatic fanfare - plus insurance cover of €60 million (HK$640 million) - to Zagreb's Museum of Arts and Crafts, in order, as Italy's ambassador put it, "to emphasise the excellent relations between the two countries". (Italy and Croatia have a painful shared history.)
According to the Croatian media, it was the most valuable painting ever to enter the country. But as the Zagreb museum's director, Miroslav Gasparovic, pointed out at the time, its presence in the Croatian capital wasn't only about promoting Caravaggio. Or, indeed, Italy.
"We are also talking about ourselves," he said, "because all the visitors to the exhibition will be able to know our cultural heritage, too."
This, two years after the opening of its new complex, is exactly what the Asia Society is hoping to gain by exhibiting a 141cm by 175cm canvas of a simple meal painted four centuries ago. The Hong Kong Jockey Club Charities Trust has given HK$4.82 million to bring it here. The exhibition will be open seven days a week, from 11am to 9pm, until April 13. There will be no admission charge. It could hardly be more available. The question is, as it has been for the past 25 months - now they've built it, will the Hong Kong public come?
Until 10 days ago, you could spend a long time looking for any public signs to the Asia Society. No clue was provided either at Admiralty, the nearest MTR station, or Pacific Place, which has the most convenient bus and pedestrian access. As a result of the Caravaggio exhibition, the MTR has finally added exit pointers and Swire Properties, which owns Pacific Place (a "supporting organisation" of the exhibition), is in talks about putting up permanent signs in the mall.
Once you find it - up a slight incline, next to the British Consulate - the location is remarkable. It's the former explosives magazine of the old Victoria Barracks and consists of four colonial-era military buildings (three of which have grade-one historic status), a brand-new entrance block and a footbridge that links both past and present via an unusual aerial zigzag, in order to protect a colony of fruit bats living in the trees below. The views of the city are, really, wonderful.
The problem is that, from the beginning, it's been perceived as elitist. There were complaints in 2005, when the Asia Society was given the site for 21 years for a nominal sum of HK$1,000, and, again, in 2012, when it was revealed that, unless they'd bought tickets for the gallery (HK$30) or other events, members of the public could only visit the complex if they booked - free but only occasional - guided tours. On the day after the centre's official opening, on February 9, 2012, the wrote an editorial advocating greater public access and voicing concern about a private-club mentality. ("A better mechanism is needed to monitor heritage sites handed over to private bodies for long-term use.")
Ronnie Chan Chi-chung, chairman of the Hong Kong centre, was also quoted as saying the size of the space meant security was a problem.
"What if people trip and fall over?" he wondered. "We wouldn't know what to do."
"In the beginning, that concern was genuine," says Mong. "Part of the initial fear was that there would be too many people. This is an oasis."
But it also looked as if the Asia Society, which had spent HK$390 million on its new premises, cared more about the fruit bats than the cultural welfare of the Hong Kong public.
"Right," says Mong, agreeably. "I remember that editorial, we were all upset by it. It was an unfair perception. We weren't even open yet! I'd joined the Asia Society as a consultant in November 2011 and that was my first assignment - troubleshooting the ."
Mong, who is Taiwanese but was brought up in the United States, had some experience in this sort of situation. Between 2009 and 2011, she was director of New York's Museum of Chinese in America (Moca), which had begun in 1980 as a community-based organisation called the New York Chinatown History Project. On her watch, the organisation greatly expanded and moved into premises opened by then-mayor Michael Bloomberg.
"A lot of people in Chinatown were concerned that people on the Upper East Side - the have-Chinese [those who were well off] - were taking over [the museum]. It's the same argument. Moca as an institution is so well loved by local people that the fear was their voice would be drowned out."
This is not quite the same argument, however: here it's top-down management.
"Correct," says Mong. "But it's the same debate - either/or. Oh my God, Chinatown was so vocal. I think that's healthy."
Mong had lived in Hong Kong between 1995 and 2002, when she worked for the Hang Lung property group, of which Chan is chairman. When she returned here in 2011, intending to work in the for-profit sector, it was Chan who asked her to be a consultant.
"Coming back, I realised Hong Kong has a grass roots," she says. "It always had but now they want to be heard. This institution can be a bridge for that."
Maybe. Unfortunately, despite some world-class exhibitions, the atmosphere hasn't always been welcoming. The cafe, Ammo - all pipes and sprockets dangling trendily from the ceiling - is expensive (coffee: HK$50), as is the understaffed shop, and a casual visitor can begin to experience uncomfortable waves of self-consciousness, like an abashed intruder.
"You shouldn't feel that," says Mong, and then - being a frank, unpretentious woman who knows there are issues - she pauses and laughs. "Yesterday I was coming in and the guard stopped me! I work here and two years later … Part of the problem is security, we're an open site. But we do need to train the staff, we do get nasty letters."
It doesn't help that if you mention the Asia Society to locals, some of them are under the impression it's a CIA front or, at the very least, a covert form of American imperialism. (Kennedy's 1963 speech - "Politics and art … are one" - comes to mind.)
The society was founded in New York, in 1956, by John Davison Rockefeller III as a non-profit, non-government educational organisation dedicated to "mutual understanding" between the US and Asia. Until 2011, however, it had always been run by Western men; in that year, Chan was appointed co-chairman along with the first female chair, Henrietta Holsman Fore (who used to work at the US Agency for International Development, set up by Kennedy in 1961), thereby simultaneously ticking off the Asian/woman political correctness boxes without giving either of them full control.
"Who are we going to spy on?" asks Mong, mildly. "I think people are mixing us up with the Asia Foundation [which did, indeed, start off with CIA funding]." She sighs a little. "How do I get the ordinary people of Hong Kong to embrace this in the way I did?
"When I was growing up in 1960s Taiwan, my parents took us to the Palace Museum at weekends. My parents come from the restaurant business, we're not the Ronnie-class. I spent five years at Ohio State University and I went to see everything. I always had this curiosity and I wasn't intimidated. My parents had taught me that."
Her childhood is why she's so keen on connecting with local schools. As part of the Caravaggio exhibition, there will be a six-month Italian art and cultural educational programme, which includes the launch of a Little Caravaggio - Light and Shadows Multimedia Learning App and a Discover the Secrets of Caravaggio's Masterpiece competition. (There were also rumours of a Caravaggio Twitter account, with artistic musings tweeted from around town, but this idea - like the man himself - seems to have encountered a mysterious death.)
Once the Caravaggio was definitely coming - the initial proposal had come from the Italian consul general, Alessandra Schiavo, who also facilitated the arrival of Sandro Botticelli's in Hong Kong, at the end of last year - Mong went to the Jockey Club to seek funding. As part of its grant process, she was asked to specify how many people would come to the exhibition.
"We'd done a few shows by then," she says. "We said 40,000."
How many have come to previous exhibitions?
"The most we've had is 16,000."
Last spring, the Guggenheim in New York held a show called "No Country - Contemporary Art for South and Southeast Asia". In three months, 250,000 people went to see it. The same show was on at the Asia Society Hong Kong between October 30 and February 16. It attracted 8,000 visitors. The Asia Society is trying to address its cultural shortcomings; perhaps the Hong Kong public needs to do the same.
Isn't she worried about setting the bar so high?
"It goes back to that thing. We're going to all this trouble to bring in a masterpiece … Am I confident I'll get 40,000?" There's a long pause. "I don't know. I do the math - that's 1,500 people a day. I don't know. But I can try."
As part of the run-up to the arrival of , Pacific Place has been screening a two-storey-high projection of it (and will continue to do so until next Sunday). The painting depicts the moment in the Gospel of St Luke when two disciples of the prophet Jesus, who has recently been crucified, dine with a stranger they met on the road to Emmaus, seven miles outside Jerusalem; only as he breaks bread do they recognise him as the resurrected Christ.
Caravaggio did an earlier version of , in 1601, which is in London's National Gallery. The Milan painting, produced five years later, is more sombre. Caravaggio was famous for his skill with chiaroscuro, the contrast between light and dark, and he lived his life in much the same way, both in sun and shade. By 1606, he had killed a man and was in hiding.
"There's a real sense of contrition," says Professor Frank Vigneron, of the Chinese University of Hong Kong. "I honestly think this is a more exciting version than the London one."
Vigneron is the curator of an exhibition by four Hong Kong artists that accompanies . He has grouped them under four themes relevant to Caravaggio's work: shadows, theatricality, mystery and realism. At the projection's launch, you could have been forgiven for missing this detail, so little attention was paid to it; but two of the artists, So Hing-keung and Chow Chun-fai, were present. (The other two in the show are Wucius Wong and Tsang Kin-wah.)
Eight of So's photographs, from the series , appear under the realism theme. They capture the seamed and textured peasants of China's soil; and Caravaggio, who loved to paint real life with all its vulgar flaws, would have recognised every one of them.
The theme of theatricality is assigned to Chow, who, long before this exhibition was dreamt of, had recreated works based on Caravaggio's paintings. Now he's done his own, strangely affecting version of ; it's composed of hundreds of 3R-size photographs, with each of the figures re-enacted by himself.
"It looks ridiculous but I did it very seriously," he says. "It's a kind of black humour."
Chow is currently chairman of the Fotanian Artists' Village. Once, in Italy, he spent all his coins feeding the timed light in a church so he could study a Caravaggio painting but he thinks it unlikely that other Fo Tan artists will come to the Asia Society's show. Why not?
"For locals" - he hesitates - "there is some kind of alienation feeling. This exists since the colonial period."
Last week, the painting left Milan under armed guard to fly here with its personal courier. Tomorrow, having had time to acclimatise in its crate, it will be unwrapped.
"We are a centre for everyone, not just for those who appreciate art," said Mong, at the launch of the Pacific Place projection. "Please, please bring every kid in Hong Kong to see this wonderful masterpiece."
Who knows what will happen before Easter? As the painting itself demonstrates, in the most everyday encounters lies the possibility of a miraculous surprise.
This article appeared in the South China Morning Post print edition as: Let there be light