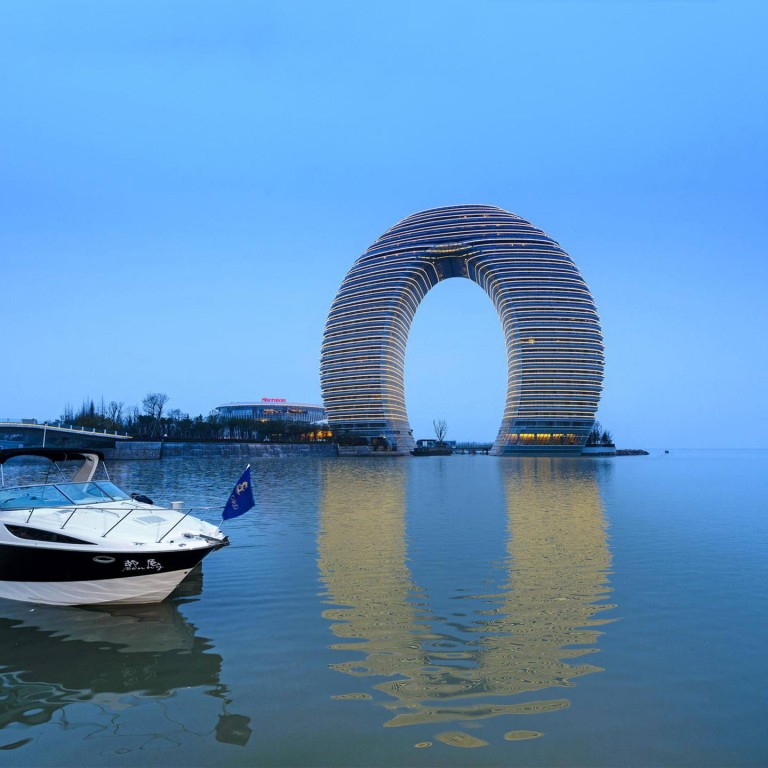 Hot spots: Sheraton Huzhou Hot Spring Resort, Zhejiang
Round. The hotel has achieved international wow-coverage for its extraordinary ring-shaped design, which has been compared to both a horseshoe and a doughnut, and which loops over Taihu Lake, about two hours' drive from Shanghai. A pair of curving towers, containing 282 guest rooms, meet in an arch above the water and are connected by an underwater link. Every night, a spectacular LED light show shimmers across the whole structure. The amazing set-up would give any James Bond villain feelings of lair-inadequacy.
Not exactly. A clue to the interior decoration is provided by the towers' names, Crystal and Jade. The lobby contains a gigantic, 28-tonne piece of Iranian jade (pictured above); 20,000 strands of Swarovski crystals surf in a translucent wave across the ceiling; and jade from Afghanistan and Pakistan - plus golden tiger's eye from Brazil - are liberally employed throughout the hotel. One of the spas is actually called Shine.
Shine is in the main hotel but next to it is the newly opened Mystic Spa, the biggest in China. It has 101 hot-spring pools, both indoor and outdoor, set in a 20,000-square-metre site with eight spa chalets, 39 private guest villas and 21 treatment rooms. You can bathe in milk, Chinese herbs or red wine (lovers of kitsch will savour the huge wine bottle that dispenses this antioxidant into one of the pools).
Surprisingly good. Behind all the bling, of course, is the reliably sensible Sheraton brand. There are four restaurants, including Feast (top) for all-day dining, and two bar/lounges, with a good selection of wine, for drinking rather than bathing. The breakfast buffet is excellent and the Cantonese restaurant, Yue (top), serves delicious fish from the lake.
Suzhou and Hangzhou are both within about an hour's drive. Huzhou, the starting point on the Silk Road and one of China's silk capitals, is half an hour away, and local tourism officials have been galvanised by the attention the hotel is getting. Or you can gaze out at the lake's fishing junks from your spacious room and revel in the bizarreness of it all.
Rates start at 2,188 yuan (HK$2,756) plus 15 per cent, which includes breakfast. A full-day pass to the Mystic Spa costs 298 yuan for guests and 368 yuan for non-guests. See
www.sheraton.com/huzhou
for more details.
This article appeared in the South China Morning Post print edition as: Sheraton Huzhou Hot Spring Resort, Zhejiang