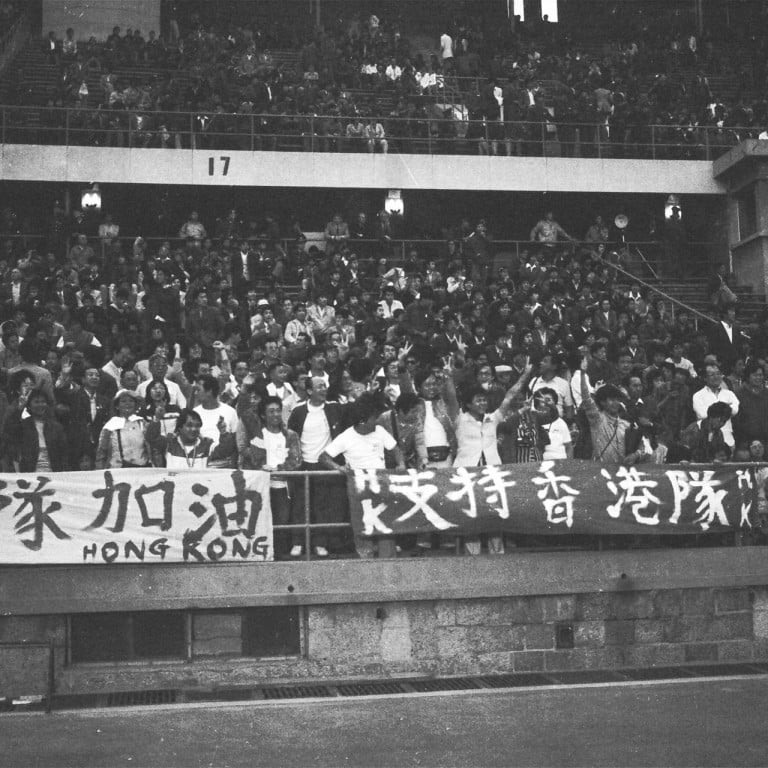 Will Hong Kong ever reach a World Cup, or are we losing sight of the goal?
The local game has taken a tumble since the heady days of the 1970s/80s. As the planet's soccer fans turn their gaze towards Brazil, David Bartram asks what it will take for Hong Kong to ever make it to a World Cup
In the far corner of Beijing's Workers' Stadium, full to its 80,000 capacity, a handful of supporters are celebrating a goal like they've celebrated no other. The year is 1985, and Cheung Chi-tak, better known by fans and teammates as Little Ghost, has just scored the opening goal for Hong Kong in a must-win World Cup qualifying match against China.
"We had practised the free-kick routine in training," recalls Cheung. "Wu Kwok-hung passed the ball to the right, and I smashed it in.
"The crowd went very quiet. There were not many travelling Hong Kong fans and they were far away on the other side of the stadium, but I could see them celebrating like crazy."
The 2-1 win against a much-fancied China team in Beijing on May 19, 1985, put Hong Kong within touching distance of a place at the following year's World Cup. The thought of Hong Kong qualifying for a World Cup is unimaginable today. In last month's Fifa world rankings, the men's team placed 158th, below Tahiti, the Maldives and Aruba. Corruption and match-fixing continue to plague the domestic game; earlier this year arrests were made and two teams disqualified from the First Division as part of an ongoing investigation. Meanwhile, the city's youth are more likely to be found on a basketball court, or at home studying, than playing soccer.
Watch: Highlights from the Hong Kong vs China 1985 match
Yet there remains a determination to do better. A report in 2009 into the sport's failings resulted in Project Phoenix, a multimillion-dollar government investment designed to overhaul the way soccer is run. That same year, Hong Kong's surprise soccer gold medal at the East Asian Games had raised both enthusiasm and expectations. The Hong Kong Football Association is expected to return to the government in the coming weeks to ask for additional funding to both prolong and expand the scope of Project Phoenix.
While there is undoubted enthusiasm for soccer in Hong Kong, with many following the top European leagues and major international competitions, several questions remain over the state of the sport domestically. Is there anything that can be done to resurrect the flagging representative team? Is Hong Kong wasting its time trying to compete internationally? And, finally, is investing in a sport the city appears to have stopped associating itself with a worthwhile enterprise?
Hong Kong in 1970, the year soccer's greatest ever team, Brazil, led by its greatest ever player, Pele, lifted the World Cup in Mexico. Currie, a young and talented goalscorer from Scotland looking for a big break, was struggling to juggle an apprenticeship to be a typesetter with his training. His father had insisted he learn a trade, soccer hardly being the most stable of careers.
"I saw an advert in the local newspaper saying a new professional football league was starting in Hong Kong," says Currie. "There was going to be a trial match at Douglas Park, then the home of Hamilton Academical. So I thought I'd go along."
Within 10 minutes of kick-off, Currie was taken off by the organisers. He was initially concerned he had missed his opportunity to impress, but he'd already done enough to convince them to offer him a contract to play professionally in Hong Kong.
Currie was hesitant, however. He thought he had the ability to build a career in Scotland, which had a strong domestic league from which Glasgow Celtic had won the European Cup three years earlier. To leave those prospects for Hong Kong would be a major step down.
"I explained this to the organisers. I said that I didn't think my future was in Hong Kong," says Currie. "They replied that if I came to Hong Kong, I'd be playing against Pele within two months. Well, I'd just watched the World Cup. I thought about it for about 30 seconds and then said, 'Where do I sign?'"
Currie's arrival, in September 1970, when he signed for Hong Kong Rangers, helped usher in the city's golden age of soccer. Heavy investment in the domestic game brought big stars, including Pele and Eusebio, to the city for exhibition games. It was also a period of huge local enthusiasm for the sport.
"The first game we played was against Happy Valley," recalls Currie. "There were 14,000 fans in the stadium and another 10,000 outside wanting to get in. We won the game 4-1 and by the time of our next game, against South China, people were literally climbing over the walls to get in."
Rangers won the league that season, and would play a series of glamorous exhibition matches against European and South American teams during the following off-seasons. Pele was a frequent visitor. In one memorable match, in 1972, he scored a hat-trick for his Brazilian club, Santos, against Britain's Newcastle United.
But the local teams had also become a big draw. Currie had by this time been given the nickname "Jesus" by the local press, after scoring a late, miracle goal that saved Rangers from certain defeat in an important match.
"I felt fully adopted by the Hong Kong people," says Currie. "The fans came in their droves as they respected our team and for our part we always made sure we gave 110 per cent for them. When I played in front of those crowds, it made me feel like I needed to give something back to the Hong Kong public."
won by Hong Kong during the handover negotiations of the early 1980s was that the territory would retain a representative soccer team independent from the mainland. Soccer's world governing body, Fifa, has more members than the United Nations, because it recognises 23 non-sovereign territories as being independent for the purposes of international competition.
This detail would not have escaped Deng Xiaoping, China's paramount leader at the time. Deng was a big soccer fan; he'd fallen in love with the game during the 1924 Olympics, while he was living in Paris, France, where he once traded his jacket for a ticket to a match. After entering politics he became acutely aware of the political capital that could be had from a successful national soccer team. He pushed the sport hard, insisting China come out of a self-imposed sporting exile to enter - without success - the qualifying competition for the 1958 World Cup. But he was also aware of the struggles China had when competing internationally.
"Football is my favourite game," he said during the 1950s. "But when I watch China play, I feel like I'm suffocating."
Come 1985, however, things were looking up. China had only narrowly missed out on a place at the 1982 World Cup after losing a playoff match against New Zealand by two goals to one. The team was considered the strongest in Asia by this stage and was expected to take one of the continent's two spots at the 1986 World Cup in Mexico.
In Hong Kong, meanwhile, enthusiasm for the game was beginning to wane after the excitement of the 70s. Big names were still coming to the city, most notably England's World Cup-winning captain Bobby Moore, who arrived in 1981 to manage Eastern AA. But the city was gaining a reputation as a place where older players could earn an easy buck before retiring. Another of England's 1966 World Cup winning team, Alan Ball, had an uninspiring playing spell, also at Eastern AA, during the 1982-83 season.
On February 17, 1985, less than two months after Beijing and Britain had signed the Joint Declaration confirming the handover, Hong Kong held China to a nil-nil draw in front of 20,000 fans at the Government Stadium, which stood where the Hong Kong Stadium does now. Although it was an impressive result for Hong Kong, within the context of a qualification group also featuring Macau and Brunei, it didn't appear to be enough.
With both China and Hong Kong winning their other matches, the group hinged upon the return match between the teams in Beijing. China's superior goal difference meant a draw would be enough to take them through to the next stage of qualification.
"We didn't think we could win. The pressure was all on China as they were expected to beat us," recalls Cheung. "China knew they just needed to draw to enter the next stage. They thought they would qualify for the World Cup."
After Cheung unexpectedly put Hong Kong a goal up early on, it appeared that China would gain the draw required when Li Hui equalised on the half-hour. But in the second half, Ku Kam-fai blazed a shot high into the net, giving Hong Kong the most unlikely of victories.
Mainland fans vented their anger at the full-time whistle. Riots broke out outside the stadium as bottles and other objects thrown from the stands rained down upon the Hong Kong players.
"At the full-time whistle I headed to the changing room and a window was smashed right next to me," says Cheung, who is now a pundit on Cable TV. "The crowd were starting to throw stuff as they were so unhappy. It was out of control."
Meanwhile, outside, fans overturned cars in one of the worst incidents of public disorder the mainland had seen since 1949. It took a People's Liberation Army battalion to restore order. Not that the Hong Kong team cared. When they arrived home the following day they were given a heroes' welcome. "HK win sparks riot" and "Siege of the Workers' Stadium" splashed the that morning.
The result put Hong Kong just two ties away from a place at the 1986 World Cup. First they would have to overcome Japan, but that proved a step too far for Cheung and his teammates.
"The Japan game was an anti-climax," he says. "We weren't really thinking about qualifying for the World Cup, but Japan were a weaker team than China at the time, so we had a chance.
"We just didn't play well. Our physical condition wasn't as good against Japan. We were tired, and we weren't as focused. We were two-nil down after 11 minutes in Tokyo. The game was already over at that point."
of the 2013-14 season, and Hong Kong Rangers, now known as Biu Chun Rangers for sponsorship reasons, have slumped to a disappointing 1-0 defeat to Sun Pegasus in front of 1,083 fans at Mong Kok Stadium. Even a point for Rangers would have been enough to secure a place in the end-of-season playoff, but the team had no response to a 10th-minute goal from Chan Pak-hang.
Next season, the Hong Kong First Division will be replaced by the Premier League as part of the wide-ranging reforms introduced by Project Phoenix. Even if a place at the World Cup may now be a distant dream, Phoenix is designed to turn Hong Kong's representative team into a side that can compete regionally. But first it must tackle the problems soccer faces domestically.
"There was a lot of pressure from the public to reform football," says Jonathan McKinley, deputy secretary for Home Affairs, who oversees sports in the city. "We were also being pushed quite hard by Legco to take some action."
The government spends about HK$2.5 billion annually on sport, mainly on community-based and grassroots programmes. But McKinley believes there is value to be had in investing a significant portion of that budget in elite sport.
"When [windsurfer] Lee Lai-shan won [Hong Kong's first and only Olympic] gold medal in 1996, it was like the sun had come out in Hong Kong for a week," he says. "It gave everyone a point of reference. It really helped people get a sense of what it meant to be from Hong Kong. Even when Sarah Lee Wai-sze [won a cycling bronze medal at the 2012 London Olympics] there was a similar impact.
"These achievements do have importance in society. The athletes are good role models. They show ordinary people from humble backgrounds that, with hard work, you can stand toe-to-toe with anyone in the world. That's an important message for young people in uncertain times."
There is also a sense that, with growing mainland influence in many aspects of public life, soccer is an area where Hong Kong can assert a degree of independence. Pro-democracy lawmaker "Long Hair" Leung Kwok-hung, himself a keen soccer player and who broke his ankle in a friendly match last year, believes the only way to improve the team is to make wider societal changes in the city.
"Football brings confidence and solidarity to Hongkongers," says Leung. "To improve, first of all you need to give Hongkongers more leisure time. Working hours need to be decreased so people have more time for themselves.
"Secondly, the government should plan better to facilitate sports. At the moment there is not enough space [to play]. It's different from Europe. If you don't have the pitches, you cannot improve the players."
Some argue that investment in elite sport is better directed to areas where the city already has some pedigree, such as table tennis and cycling. Hong Kong has also enjoyed disproportionate success in rugby and cricket. The Hong Kong cricket team gained one-day international status earlier this year, and only narrowly missed out on qualifying for the 2015 World Cup, while the rugby team is two wins away from qualifying for next year's Rugby World Cup.
"A number of initiatives have contributed to our recent success," says Pauline Cheung Shuk-fong, general manager of the Hong Kong Cricket Association. "We have allocated more resources for our players to go on overseas placements, we have set up our own team to help players improve their fitness level [and also] have specialised coaching to provide specific skill training."
These successes show that the city's sport administrators are capable of focused investment that can yield fast results. But cricket and rugby remain sports with limited high-level participation outside the British Commonwealth.
Soccer, on the other hand, is the most developed and competitive sport in the world, and no amount of investment can place Hong Kong, with a population of a little more than seven million, alongside football superpowers such as Brazil (201 million) and Germany (80 million).
But Simon Kuper, co-author of , a book that explores the reasons why certain countries have enjoyed more success than others on the pitch, says all is not lost. Small countries, such as two-time World Cup winners Uruguay, have managed to defy demographic disadvantages. Four countries with smaller populations than that of Hong Kong - Uruguay, Croatia, Bosnia and Herzegovina and Costa Rica - will compete in the World Cup in Brazil this month.
"Population does matter, but the most significant reason why Hong Kong isn't very good is geography," says Kuper. "There are two centres of football knowhow - one is western Europe and the other is the southern tip of Latin America, which includes Brazil, Argentina and Uruguay.
"What you get in those regions is teams playing against each other all the time and constantly exchanging knowledge. So when England lose, for example, they can look at what the Italians are doing and try to copy them.
"In Asia you just don't have this. People haven't been playing good football for as long, the distances are further and there's less knowledge to exchange. So it's not just Hong Kong, most Asian countries are bad at football."
Watch: An exhibition match from 1979 between HK team Seiko SA and the New York Cosmos
Japan and South Korea faced a similar problem during the 80s and 90s, but improved rapidly by importing European and South American expertise. South Korea's run to the semi-finals of the 2002 World Cup, for example, was overseen by Dutch manager Guus Hiddink. Hong Kong has the potential for rapid improvement if it can better tap into this developing centre of East Asian expertise. It took a first step in this direction with the appointment of South Korean Kim Pan-gon as head coach last year.
"It is possible Hong Kong can make a similar improvement as South Korea," says Kim. "But only if there is sufficient support.
"We need our own training centre so we can arrange more training sessions at different age groups. This was one of the main reasons South Korean football [improved] during the 1990s and 2000s, as both the national team and the clubs were providing high-quality training sessions.
"[We also need to show businesses] the advantage of investing in football. South Korea is again a good example, as large-scale enterprise has been enthusiastic in investing in local clubs. It has made the domestic league very competitive."
In the shorter term, Hong Kong's best hope of reaching a World Cup may lie with the women's team, which has tended to perform better than the men's. In the most recent Fifa rankings, the women's team places a respectable 63rd in the world. But the women's team manager, Betty Wong Yeuk-ling, warns that the world ranking, almost 100 places higher than their male equivalents, may be more the result of external factors.
"The ranking does not necessarily reflect that the women's team is [relatively] better than the men's," says Wong. "Men's football is very well-developed all over the world. It's more competitive and not easy to gain a high ranking."
For a host of social and patriarchal reasons, the women's game remains underdeveloped in many countries; take Uruguay, for example: the men's team are the current South American champions while the women's team lies 73rd in the world.
"There are still a lot of countries struggling to develop women's football. [Many football associations] are not proactive and they lack the resources to develop the women's game," says Wong.
Taking advantage of this situation is probably Hong Kong's best chance of seeing a full representative team at a soccer World Cup finals in the foreseeable future. China, Japan and both North and South Korea have already established themselves as major powers in women's football.
"[To progress] we need to be more competitive," says Wong. "We need more training fields, more coaches and more support from schools and companies. We need many more people with passion for football."
Recapturing that passion will ultimately determine whether Hong Kong ever gets close to replicating the successes of the 70s and 80s.
"We need to get kids passionate about [local] football again," agrees Currie. "It is only the guys in their 50s who still talk about football. The only people who recognise me are the taxi drivers.
"I remember playing in a game against Hamburg in Hong Kong. We beat them one-nil in front of 28,000 fans. We went out to eat after the game and saw some old men sitting in the restaurant. They came up to us and said they had watched the game on the television, and when the goal went in everyone was cheering and dancing. That's what it felt like back then. Sadly, we aren't getting that these days."
This article appeared in the South China Morning Post print edition as: Losing sight of the goal