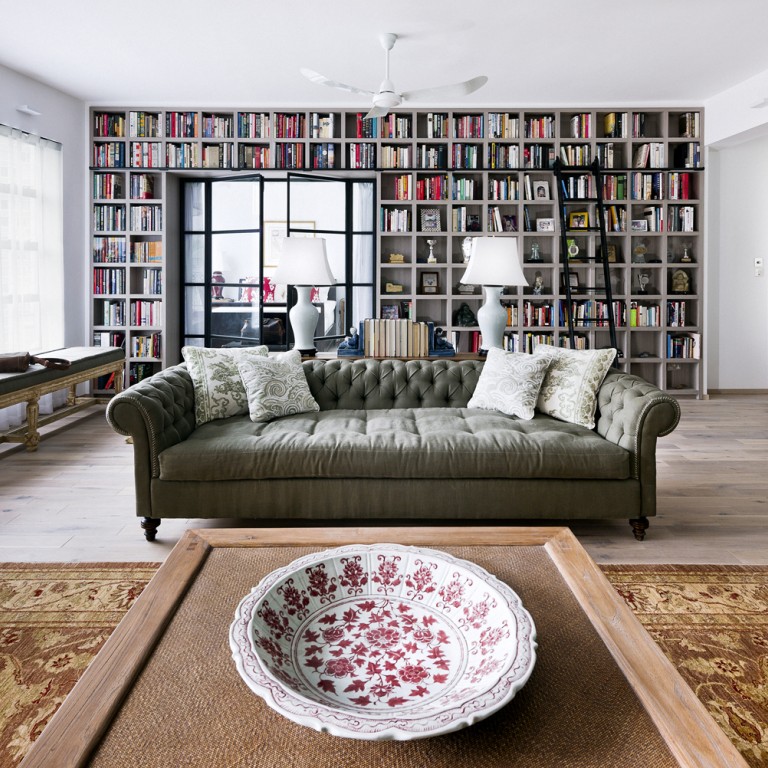 A Happy Valley home is given a luxurious transformation back to its 1950s roots
Text Charmaine Chan / Styling David Roden / Photography John Butlin
So eye-catching are the bold, black-framed windows Andrew Bell puts into the homes he revamps that sometimes he finds himself inadvertently struck by his own designs.
That is what happened recently when the Bangkok-based Australian designer, on one of his work trips to Hong Kong, spotted an apartment in Happy Valley from his hotel nearby.
"I looked up and thought, 'Hey, somebody else has done my windows,'" he says. "And then I realised it was [client Chris James'] flat."
It was the retro look of Bell's signature openings (inspired by the window walls at Central Market) and his charming old-world aesthetic that persuaded James to have him overhaul his 1,700 sq ft apartment.
"The flat was built in the 1950s and I thought it should reflect the original character as far as possible," says James, a British lawyer who moved to Hong Kong in 1984 and bought the apartment in 2009. Also important was that space be maximised – the flat had previously housed a family with children – and that there be room for his hobbies, among them photography, cycling and reading.
"There was a lot of storage space I wasn't using," James says, explaining that the living area, now open plan, had once been carved into several small rooms.
The apartment's new layout includes two bedrooms, one of which is almost completely independent. The "granny flat", designed for his grown children, who visit from abroad, has its own bathroom and kitchen, which doubles as a darkroom for James.
In creating a combined lounge, kitchen and dining area for the main part of the flat, Bell was able to line two large walls with shelving for his client's 80 metres of books (lined up side-by-side), several hundred compact discs, clutch of trophies and other collections, including a Preston Tucker three-headlight automobile model and several toy cars James used to play with as a child.
Books, some of them first-edition keepsakes, also line a console behind furniture custom made by Bell in Thailand, to enhance what he calls a Chinoiserie gentlemen's- club look. But there's no fustiness in this setting, which comes with sliding library ladders similar to those in Audrey Hepburn's 1957 movie Funny Face. Buttonback Chesterfield sofas, given a contemporary touch with soft-green linen covers, mix with seating featuring large blanket stitches and tactile sack-cloth panels.
That's as far as the roughness goes.
Because of an open-ended budget (Bell was the one making cost-cutting suggestions instead of the other way around), high-end finishes are evident throughout and Chinese antiques make up the scheme.
"I was perfectly happy to follow whatever Andrew was suggesting," admits James, which partly explains why his designer calls him "the perfect client".
Apart from the furniture, Bell was also responsible for sourcing everything from carpets to lamps to an extractor fan (see
Tried + tested
) that rises from the kitchen counter when needed.
Bell insists, however, that the flat's success owes much to his trusty contractor, Lau Fu-yuen, of Winspeed Engineering, who has been behind most of his 70-odd projects in Hong Kong since 2005. That was the year Bell started refurbishing old Chinese-style apartments, many of them tong lau walk-ups, updating the interiors while imbuing them with period glamour.
His old bedroom, in an apartment near Cat Street, is similar to James', which opens directly onto the living room through glass doors in the same style as the windows.
While James may have given Bell creative freedom, his own aesthetic sensibilities come through in the black-andwhite photographs that decorate the walls, and other acquisitions. Above his sleigh bed, which is one of the few pieces kept for the renovated flat, is a simple, old-style ceiling fan he wanted installed. Then there is the 50s Bakelite phone whose form and sonorous ring took his fancy when he saw it in an antiques shop in Yorkshire, Britain.
That piece of technology, hooked up recently by PCCW, sits beside an armchair facing a beautifully framed verdant view.
From that vantage point, surrounded by a library's worth of books, audiovisual equipment, family mementos and space, it's clear why James says, "You don't just exist in this flat. You really can live in it."
Living area
Bookshelves line facing walls in the open-plan living area. The Chesterfield sofa cost HK$36,115 at Bangkok's DMHome (
www.decormart.com
), which was also the source for the smaller sofa (HK$39,970) to its side and the long bench (HK$13,500) by the windows. The cushion covers (large, HK$480; small, HK$380) came from Jim Thompson (
www.jimthompson.com
) in Bangkok. On the hand-spun cotton Chobi Pakistan rug (HK$21,500), which came from Bangkok's Al-Mubeen Carpets (
www.almubeencarpets.com
), stands an 19th-century elm coffee table (HK$7,500), from Art Treasures Gallery (83B Hollywood Road, Central, tel: 2543 0430). From the same shop was the 19th-century mirror (HK$4,250), around which is Chris James' collection of hats. The bowl came from Yue Po Chai Antique (132 Hollywood Road, Sheung Wan, tel: 2540 4374). Behind the sofa are lamps (HK$7,200 for the pair, including the shades) from Altfield Interiors (11/F, 9 Queen's Road Central, tel: 2524 4867).
Dining area
The iron-framed windows, designed by Andrew Bell (
[email protected]
), cost HK$530 per square foot with 12mm glass and were made by Winspeed Engineering (6/F, Tsun Win Factory Building, 60 Tsun Yip Street, Kwun Tong, tel: 9034 9504). The 18th-century elm table (HK$15,000) came from Art Treasures Gallery, as did the chairs (HK$15,000 for a set of six) of a similar age. The candlesticks (HK$900 for the pair) came from Billion Nine (tel: 66 2903 0558) at Bangkok's Chatuchak market. The three rolling library ladders, on a combined length of 14.5 metres of railing (HK$40,000 in total) came from New York's Putnam Rolling Ladder (
www.putnamrollingladder.com
). The replica 12thcentury Lewis chessmen were bought years ago.
Phone corner
A linen-upholstered armchair (HK$10,650), from DMHome, sits beside a 19th-century side table (HK$2,000) from Art Treasures Gallery. On it is a 1958 Bakelite GPO series 200 telephone (£800/HK$10,500), from Elsecar Antiques Centre (
www.elsecarantiques.com
) in Yorkshire. The two artworks were gifts.
Main bedroom
Separated from the living area by ironframed doors is the main bedroom, which has a bed bought years ago from Artura Ficus (15/F, Horizon Plaza, 2 Lee Wing Street, Ap Lei Chau, tel: 3105 3903). Flanking it are 19th-century side tables (HK$6,000 a pair) from Art Treasures Gallery. The lamps (HK$7,400 for the pair, including the shades) came from Altfield Interiors. Sitting on the Chobi Pakistan rug (HK$8,790), from Al-Mubeen Carpets, are a trunk from 1910 that James bought in the 70s and an antique doctor's bag (C$240/ HK$1,700) sourced from Blue Owl Home Boutique (
www.blueowlhomeboutique.com
), in Vancouver, Canada. The cushion covers (HK$480 each) came from Jim Thompson. The map of Asia was bought years ago from Wattis Fine Art (2/F, 20 Hollywood Road, tel: 2524 5302).
Guest bathroom
All three bathrooms in the apartment evince period charm, including this one servicing the "granny flat". The subway tiles, 6.5cm by 13cm, were HK$6 each from BMC Asia (14/F, Hollywood Centre, 77 Queen's Road West, tel: 2591 0686). The 19th-century elm console (HK$6,000) came from Art Treasures Gallery; the basin (£66) from Bella Bathrooms (
www.bellabathrooms.co.uk
), in Durham, Britain; and the high-level toilet (HK$19,490) from Fired Earth (24/F, Dominion Centre, 43 Queen's Road East, Wan Chai, tel: 2861 3864).  olourliving (333 Lockhart Road, Wan Chai, tel: 2510 2666) was the source for the Czech & Speake wall taps (HK$6,380), towel ring (HK$1,900) and extendable wall mirror (HK$7,100). Wai Kee Home (1A, 30 Cochrane Street, Central, tel: 2544 3730) made the circular shutters for HK$7,500.
Kitchen
(above)
The open kitchen was built by Winspeed Engineering for HK$62,300, not including the Silestone countertop (HK$2,798 per square foot) from Silechannel (22/F, CC Wu Building, 302 Hennessy Road, Wan Chai, tel: 2111 5858). In front of black-and-white photos of Hong Kong in the 50s, by Yau Leung, sourced from Picture This (13/F, 9 Queen's Road Central, tel: 2525 2803), is a 19thcentury elm table (HK$8,000) from Art Treasures Gallery. The lamp on it (HK$7,200 for a pair) came from Altfield Interiors. The wall lights (HK$500 each) were from L&E Lighting (
www.l-and-e.com
) in Bangkok. The appliances include a Siemens wall-mounted steam oven and Miele oven and hobs, both of which were kept from the prerenovated apartment.
Guest kitchen (right) By the second bedroom is a stainlesssteel kitchen that doubles as a darkroom. The cabinetry, with a flamed black granite countertop (HK$41,500), was built by Winspeed Engineering. The photo, taken by James in 1977, is of Eric Shark, of British band Deaf School.
This Foster Ghost 120 FT - 2451 120 brushed stainless-steel extractor, fitted behind cooking hobs, rises from the counter when needed, acting also as a splashback. Rising to a height of 30cm, it keeps the vertical space clear, thus allowing an unobstructed view and access to the dining area. It cost HK$47,200 at Kitchen Culture (Hong Kong) (15/F, The Sun's Group Centre, 200 Gloucester Road, Wan Chai, tel: 3977 1111).