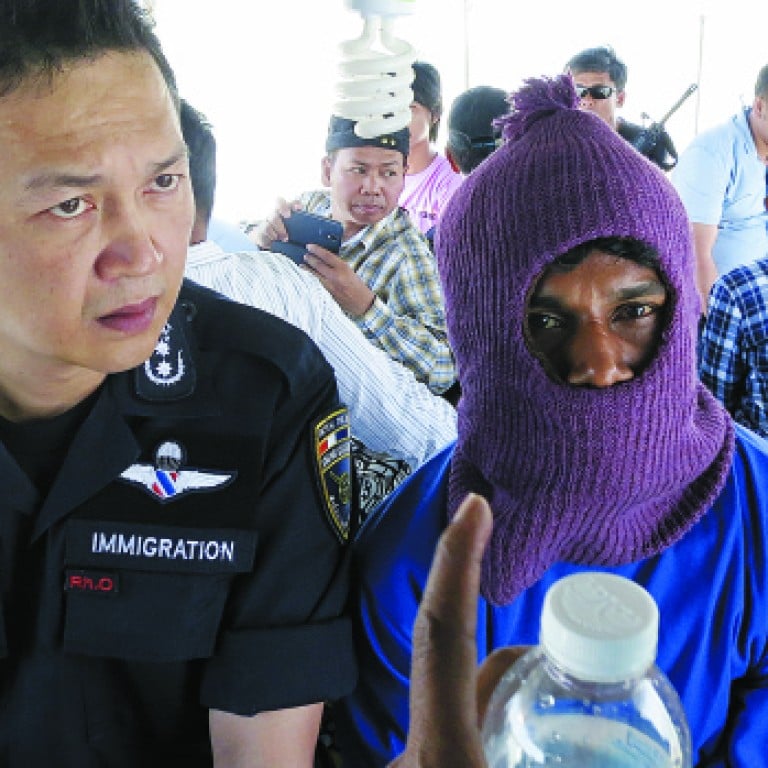 Fleeing Uygurs caught using Rohingya trafficking networks are stuck in limbo
Hundreds of suspected Uygurs are being held in Thai immigration camps while officials try to validate their desperate claims of Turkish nationality. Deportation to China, they know, could be a deadly fate, writes Gabrielle Paluch
Police Major General Thatchai Pitaneelaboot says he was stunned when he discovered about 220 Uygurs hiding in a palm-oil plantation in Thailand's southern Songkhla province in March.
The immigration official had been tipped off that there were some Muslim illegal migrants hiding in a camp nearby. With a caseload centring on the heads of two human-trafficking networks specialising in moving Rohingya through southern Thailand, Thatchai had expected the tip-off to lead him to members of the persecuted group fleeing neighbouring Myanmar.
"We have had the odd Uygur detainee here and there. I have seen them in Bangkok. But never down south. And never in such large numbers - that was really a lot of people to find."
They had been in the camp for weeks. Local Muslim women had been taking them food as they waited to make the final leg of their journey to Malaysia, the border of which lies just shy of 95km away. More than half of the group were women; two were heavily pregnant and eventually gave birth in Thatchai's immigration detention centre. Many of the children were sick and had rashes; all looked tired and undernourished. They told Thatchai they were Turkish and wanted to go back to Turkey. They refused to say anything more.
So, what makes Thatchai so sure they were Uygurs?
"The Uygurs we have met before are always like that. They are very quiet, not like the Rohingya. They just pray and want to stay together with their children. They neve
r fight," says Thatchai, who seems frustrated by their silence: "They won't speak. It makes things very difficult."
One of the men in the group, when asked to meet with a reporter visiting the detainees, complained of a headache so severe it rendered him unable to talk.
Turkish embassy officials visited the group but were also unable to communicate with them. Ahmet Idem, the first political council at the Turkish embassy in Thailand, says they have not yet verified the identities of the individuals, nor have they been able to determine their origin or original citizenship.
"If they are Turkish, of course, we will help them, but we have to wait for the Thai government to decide what to do with them."
The detainees were found with no travel documents but they did have Chinese bus tickets.
Chinese embassy charge d'affaires Zhang Yiming, who also visited the group, told American broadcaster Voice of America that his government would like for its citizens to be returned home safely. The embassy claims to have identified at least half the detainees as Chinese citizens.
Just 10 days after the first group was found came the discovery of another two groups of probable Uygurs. The first group of 112 were discovered near Thailand's border with Cambodia. They have since been taken to an immigration detention centre in Bangkok, where they remain, quietly waiting to hear whether they will be deported to China or granted asylum in Turkey. The second group of 77 were detained in province.
For those who face repatriation to China, the prospects are bleak. Some returned Uygurs have been executed or handed long prison terms. Others have simply disappeared, according to rights groups.
ethnic Uygur businessman who left China illegally years ago to start a clothes business in Malaysia. The soft-spoken entrepreneur says he left because he wanted to live in a place where he wouldn't feel persecuted because of his religion. He's a Muslim from Urumqi, capital of the Xinjiang Uygur autonomous region, where more than 100 people have been killed over the past year, in what the Chinese government describes as either terrorist attacks or clashes with security forces.
Late last year, the Chinese authorities accused him of being a terrorist - the central government claims Uygurs fleeing restive Xinjiang are trying to get to Syria to fight in the civil war alongside al-Qaeda and other extremist groups.
Tumturk claims he has never been involved in terrorist activities and that all he did was help fellow Uygurs fleeing China find their feet once they arrived in Malaysia.
Because he feared being arrested and sent back to China, he sought asylum and has since emigrated to Canada. During the years he lived in Kuala Lumpur, Tumturk says,
 he came across many Uygurs who had left China to escape the ever-tightening controls imposed on them by Beijing.
Tumturk, who was known to have good relationships with the United Nations Refugee Agency and the Malaysian police, was able to help many Uygurs gain refugee status. This, apparently, alarmed Beijing, leading it to brand him a terrorist.
People smugglers typically charge upwards of US$40,000 to transport an adult Uygur into Malaysia; children get a reduced rate. A broker in Urumqi accepts the money, some of which is used to ensure the truck gets to Yunnan province.
In the mainland, Uygurs are often denied passports and, more recently, have had their domestic travel restricted. But the smugglers circumvent the restrictions, often by bribing immigration officials along the way. Tumturk says he's never heard of a Uygur successfully escaping to Malaysia on a false passport, rather they sneak across borders, undocumented.
In Yunnan, Christian missionaries have been helping religious migrants cross the border and escape into countries such as Vietnam, Cambodia and Thailand, according to Tumturk and an official from the World Uygur Congress (WUC), a Germany-based organisation of exiled Uygurs.
Tumturk says most of the escapees he helped in Kuala Lumpur had no idea which route they had taken.
"They said they were loaded onto a boat, but didn't know which river it was on. Some said they had to walk across a jungle and didn't know if they were in Cambodia or Vietnam. Eventually [one group was] picked up by [Cambodian] police and taken to the Thai border."
Once in Thailand, they had to find other people smugglers, who would get them to the Malaysian border. Some stayed in safe houses in Bangkok for weeks before setting out on the final leg of the journey, according to Tumturk and the WUC official.
This is when Uygurs tap into the same trafficking networks as those used by the Rohingya.
For Muslim religious migrants in Southeast Asia, Malaysia is a safe haven. Because of a passage in the Koran instructing Muslims to help fellow Muslims in need, many believe - erroneously - that they can gain entry to the country without a visa or any documentation, as long as they can prove they are Muslim.
In the past, Uygurs typically fled west through Kazakhstan and Uzbekistan but recently they have been making their way to Malaysia via Thailand, Cambodia or Vietnam as they believe the risk of deportation, if captured, is relatively less.
However, Thailand, Cambodia and Vietnam have all deported Uygurs back to China, despite international laws stating that a country is obliged to ensure nobody in its custody is sent back to a place where they could be subject to persecution.
In 2009, Cambodia signed 14 deals worth US$1 billion with China, two days after deporting 20 ethnic Uygur asylum seekers. Thailand has deported Uygurs despite being party to the UN Convention Against Torture.
That might explain why the group now awaiting their fate in southern Thailand are being so cagey. The Chinese government wants Uygurs to stay in Xinjiang, where it can both keep an eye on them, and prevent an exiled dissident movement from gaining traction. But this has not always been the case, according to Gardner Bovingdon, an associate professor at Indiana University, in the United States, and an expert on Uygur culture.
"Initially, the Chinese government was happy to have Uygurs leaving because they were hoping to edge the ethnic group out of the province, but once they realised they couldn't control what [the Uygurs] said abroad, their attitude changed," says Bovingdon.
The Songkhla group's silence speaks volumes about the violent threats they would face in China.
The great irony is that the Uygurs are being detained alongside Rohingya, who desperately want to be recognised. The Rohingya are based in Myanmar, where the government denies them citizenship, saying their Myanmese ethnicity is an invention and that they are actually Bengali.
In the people smugglers' holding camps, Uygurs receive better treatment than the Rohingya. The Uygurs are better fed and tend to be moved more quickly out of the camps and on to Malaysia. It may take some Rohingya years to come up with the money to pay their brokers, and those who cannot find the funds could end up being sold into slavery. The Uygurs are relatively wealthy - they are often middle-class and some have large sums of cash and valuables on them. Money buys them better food, a swifter service and safeguards them from being sold into slavery.
Although Malaysia is a relatively safe place to apply for refugee status, it is not a country in which Uygurs wish to reside permanently. Tumturk says most Uygurs prefer Turkey to even the United States or Canada because it is a Muslim country with a similar language and culture.
"Uygurs are community-oriented people," Tumturk says. "We love our people and our language. We don't actually want to leave our home, it's just that some people can't stand it anymore. We can't worship as we want, our children can't go to the mosque, can't go to school - the oppression is too much."
who claim to be Turks have now been in Thatchai's detention centre for four months. Before he can process them, Thatchai is waiting to hear from the governments of Turkey, China and Thailand.
In the meantime, representatives from the Turkish branch of the WUC have been to see the group, to advocate for their release to Turkish officials.
The representatives estimate the Uygur community in Turkey numbers as many as 30,000. WUC vice-president Seyit Tumturk refuses to comment on specific cases, but says that Turkey is an attractive resettlement option for his compatriots because of its established Uygur community.
However, he says, "We want them to stop leaving. It's pitiful to see them in these camps; pregnant women, children sleeping on the floor. It's undignified to be trafficked, and a shame to leave our homeland."
As recently as this year, the Turkish government has accepted Uygur asylum seekers from Malaysia. On March 25, 35 Uygurs were allowed to pass through immigration after arriving from Kuala Lumpur and spending 18 days stranded at the airport in Ankara. The Turkish government, which risks angering China with such brazen solidarity with the ethnic group, has even admonished Beijing for its treatment of Uygurs, and made formal requests that it change its aggressive policies in Xinjiang, but to no avail.
When riots broke out in Urumqi in July 2009, Prime Minister Recep Tayyip Erdogan, in a statement, called the unforgiving response "almost genocide". He also urged Beijing to "address the question of human rights and do what is necessary to prosecute the guilty".
While Turkey may currently be an ally of the Uygurs, a Sino-Turkish relations expert at Israel's University of Haifa, Yitzhak Shichor, says Beijing can still put pressure on Ankara, and not just by exploiting the trade imbalance between the two countries.
"As you know, Turkey has shown interest in buying missiles from China," he says, indicating that their military relationship could be at stake.
Whatever is in store for those mutely awaiting their fate in Thailand, one thing is clear: the Uygurs need all the friends they can get.
This article appeared in the South China Morning Post print edition as: State of limbo