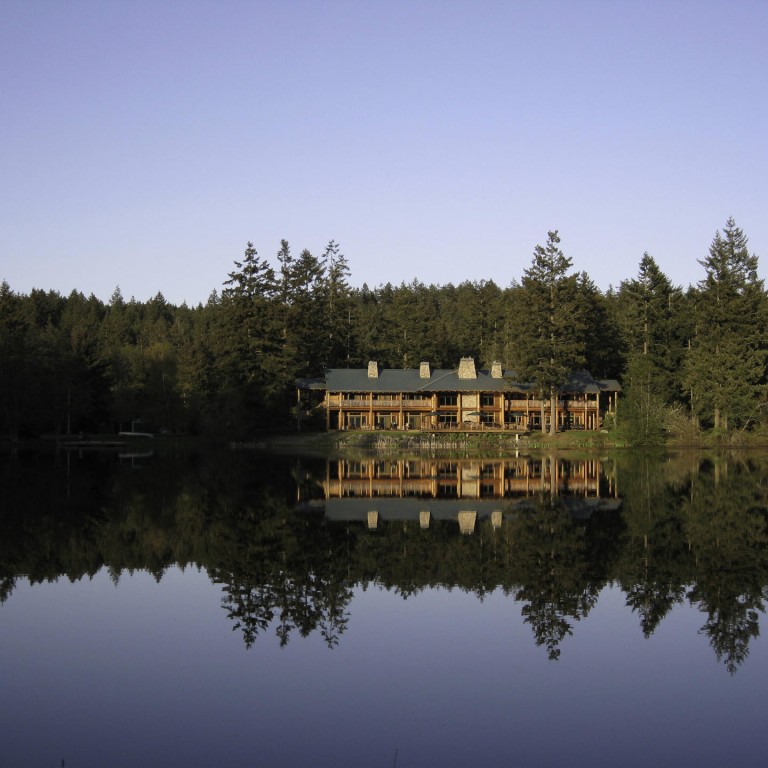 Hot spots: Lakedale Resort, Washington
Situated near the town of Friday Harbor, on San Juan Island, in America's Washington state, Lakedale is a place for "glampers", people who seek the peace and quiet of a camping trip without the need to fumble for a torch when nature calls in the middle of the night. The resort is set within 33 hectares of lush, green campgrounds - this is the Pacific Northwest after all, and the temperate climate is enviable. Tents can be pitched on one of 65 campsites and for those who don't "do" hammer and pegs, there are luxury canvas cottages, rustic log cabins, lodge rooms, a fully equipped Airstream trailer and the Lake House, a rambling structure that sleeps 10 and boasts a kitchen that was built for cooking in (if you know what I mean).
Define cheating. The canvas cottages (above) - rigged up using wooden beams, so they feel spacious - strike the best balance between camping and glamping. Inside each is a queen-sized bed, a bathroom and shower (below), an electric heater and a cast-iron chandelier. Every night, a staff member trundles along in a golf cart, offering guests felt-covered hot water bottles to cuddle beneath their impossibly soft sheets. OK, yes, it's cheating.
Most definitely. On-site there are fire pits and a stash of logs, and guests are given a welcome pack containing all you need to make smores - a camping tradition. Take a kayak or paddleboat out onto one of the three pristine lakes on the property or spend a languid morning fishing for trout. Explore the gorgeous grounds on foot or one of the provided bicycles. In the autumn, the quiet is the main draw, and Christmas visitors expect a little snow but never a harsh winter.
The main building is known as the Lodge (top and below). Inside the large, elegant space are a check-in desk, a gift store and big comfortable armchairs by the fire. There is a restaurant in the Lodge that serves breakfast, but that is exclusively for those staying in the guestrooms upstairs (the freshly made oatmeal gets the day off to a great start). Campers and glampers must look elsewhere; perhaps in the on-site store, which sells sandwiches and snacks. Every so often, Lakedale organises "gourmet glamping" events: top chefs are brought in for evenings that are part cooking class, part gourmet meal, and guests learn how to prepare refined dishes over a campfire, and then pair them with wines. There are some top-rated eateries on the island, including The Bluff at Friday Harbor House ("The pan-seared Northwest snapper … was as fresh as if it had just jumped out of the harbour and onto our plate," claims an online reviewer). Across the street and down a lane from Lakedale is Duck Soup Inn, a cabin in the woods that is open only a few nights a week, a few months of the year, with a menu featuring locally foraged delicacies.
Lose yourself in the natural world. In the heart of Friday Harbor is the Whale Museum, but if you want to see the living, breathing real McCoy, book a private boat trip. Majestic Orca whales swim freely in the Salish Sea, off the tip of British Columbia. As well as lavender and alpaca farms, there are vineyards to visit, all within a 20-minute drive of Lakedale.
Arrive in style, I say, in a seaplane operated by Kenmore Air from Seattle's Lake Union, about a 45-minute flight away. The campsites are shut during the winter but most glamping options remain available, and cost between US$169 and US$459 a night. Visit
www.lakedale.com
for more information.
This article appeared in the South China Morning Post print edition as: Lakedale Resort, Washington