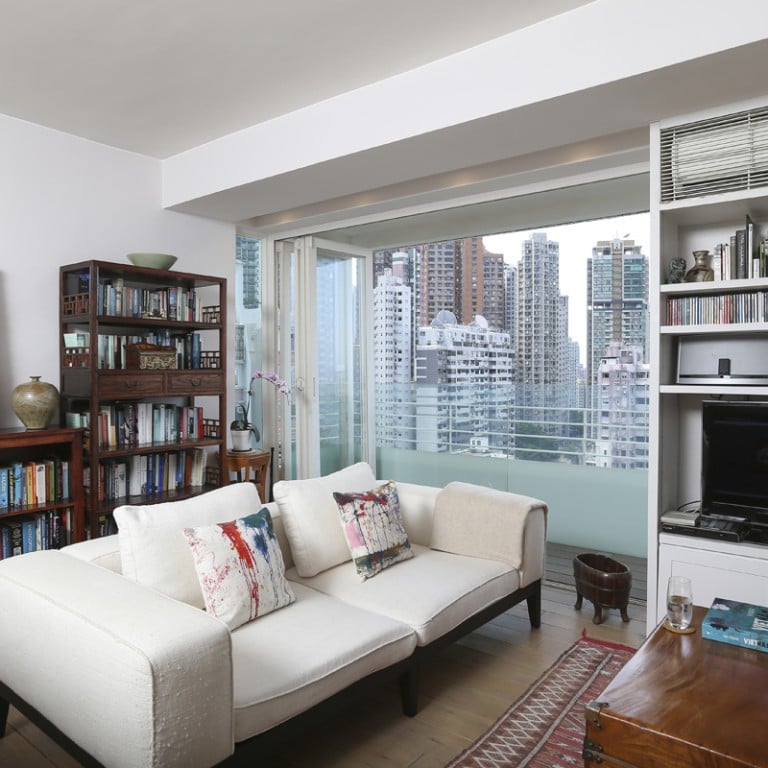 The removal of non-structural walls has unlocked the potential in a high-rise Sheung Wan apartment
Text Peta Tomlinson / Styling Anji Connell / Photography K.Y. Cheng
A Hong Kong flat with three bedrooms and two bathrooms might sound impressive – until you realise they were all squashed into a grand total of 830 square feet. Australian lawyers Marco and Winnie Condotti, who moved to Hong Kong seven years ago, didn't want to be cooped up in a maze of tiny rooms, so they removed walls to create a one-bedroom, one-bathroom home with a reading-cum-guest room and an open living area encompassing a kitchen and dining nook.
The couple had bought the high-floor Sheung Wan apartment – two flats that had been knocked into one by a previous owner – in 2012 because it was airy, and had city views and harbour glimpses. They also liked the balcony, even though, pre-renovation, it felt disconnected from the interior.
To visually extend the living space, designer Alan Y.L. Chan, of Red Studio, suggested replacing the balcony's sliding door with glass bi-folds, allowing for a wider opening, and raising the height of its floor to match that of the living room. (To meet regulations, this meant the balcony's railings had to be raised – so in front of the existing structure was added a glass balustrade, which also acts as a windbreak.)
The pokey, enclosed kitchen was also opened up. Now, an island counter with storage forms the focal point of the combined living area. Its location affords easy access to the wine fridge, oven and dining nook, with its built-in walnut bench.
The spacious bedroom was created by removing a small en-suite and replacing it with a fitted dressing area lined with walnut-finished, full-length wardrobes. Two large window sills in the bedroom were made into seats with a simple plank of solid walnut.
"It is a space-saving strategy to fully utilise all the window sills throughout the apartment," says Chan.
The rawness of the timber gives warmth to the space, he adds. "The initial cost may be high but timber lasts a lifetime and it's basically maintenance free."
Other items of furniture were custom made to optimise the space; big pieces such as the dining table and sofa feel as though they belong. Chinese-style cabinets – several made to order – are arranged like works of art against the white walls and provide useful storage.
In a small home, "everything has to do two jobs", says Marco. Winnie, channelling her inner librarian, has the couple's books filed alphabetically and by category in made-to-measure bookcases.
Her most treasured tome is a leather-bound collector's edition of Jane Austen's Pride and Prejudice signed by the late Diana, Princess of Wales, in 1983.
"My father was in hospital in Sydney during the royal tour of Australia, and he was selected for a visit," Winnie explains. The then-schoolgirl sent her father her book, with a hand-written note asking the princess to sign it. This is a home for two but the Condottis do host the occasional guest. To do so Chan devised a make-shift annex (see
Tried + tested
).
The renovation took four months and cost a total of HK$850,000. The project "had its moments", the couple concede. "But when it turns out this well, it's worth it."
Living area
The sofa (HK$13,800) was from Tree (various locations;
www.tree.com.hk
) and abstract-design cushions (HK$350 each) were from Organic Modernism (5 Square Street, Sheung Wan, tel: 2559 0001). The chest, which doubles as a coffee table, was purchased from Yong Jing Hou Chinese Antique Furniture (1 Davis Street, Kennedy Town, tel: 2817 8825) years ago as was the four-legged wooden Chinese container (HK$250). The rug was from Fes, in Morocco. The built-in shelving unit (HK$24,800) was designed by Alan Y.L. Chan, of Red Studio (
red-studio.co
), and built by Wing Lam Decoration Engineering (Kenny Yang, tel: 9348 6835). The tall bookcase (HK$2,000) was made to measure by Yong Jing Hou, and the low unit was from the couple's previous home. The gilt-framed mirror was Winnie Condotti's dressing-table mirror when she lived in Sydney. On the wall are masks bought in Cape Town, South Africa, during the 2010 World Cup. The round display table was purchased years ago. The teak floor on the balcony, raised to match the indoor floor height, has built-in mood lights that change colour.
Bedroom
The teak bed (HK$10,500) came from Old Shanghai (15/F, Horizon Plaza, 2 Lee Wing Street, Ap Lei Chau, tel: 3527 3135) and the limited-edition photograph of a junk taken in Hong Kong in the 1970s came from Picture This (Prince's Building, Central, tel: 2525 2803). Chan designed the timber window seats (HK$8,900 for two), which were made by Wing Lam Decoration Engineering. The small Tibetan chest (HK$600), used as jewellery box, came from Yong Jing Hou. Framed photographs on the wall and floor are by Thai artist Lim Li, Winnie's late great-uncle. The Italian vase was picked up on holiday.
Walk-in wardrobe A former en-suite bathroom was turned into a dressing and wardrobe space. Flanking the entrance are old Chinese window frames remounted as mirrors. The frames were bought from an antiques store in Kennedy Town years ago.
Kitchen and dining area Beside the recycled teak dining table – custom made by Tree for HK$10,500 – a window sill has been turned into banquette seating. The larger hand-painted bowls on the table came from Morocco while the smaller ones were picked up in Ravello, on the Amalfi coast, in Italy. The green ceramic tea pot and jug on the kitchen island were bought in London years ago. Chan designed the kitchen, which was built by Wing Lam Decoration Engineering for HK$60,000 (including cabinetry, counter tops and splashbacks). Illuminating the island is a pair of Lace pendant crystal lights (HK$8,500 for two) from Lumen Arts (4 Watson Road, North Point, tel: 2803 4501).
Bathroom
Wanting their bathroom to resemble a beach, the couple chose natural stone tiles and an overhead rain shower (HK$3,800) from The Professional Depot (371 Lockhart Road, Wan Chai, tel: 3106 6008). Coral purchased in Barbados and pebbles from Taiwan complete the beachy theme. The Duravit basin came from The Professional Depot and the tap (HK$5,500) was from Colour Living (333 Lockhart Road, tel: 2295 6263).
Hallway The giraffe is a souvenir from South Africa. The antique red-lacquer cabinet (HK$12,000) came from Wonder Dragon (30 Hollywood Road, tel: 2526 8863). The antique map of Paris and the cat statues from Japan are also souvenirs. The mask came from Gorgeous Arts & Crafts (49 Square Street, Sheung Wan, tel: 2973 0034). The floor is covered in solid white oak with a brushed finish (HK$56 per sq ft excluding installation) from Wonderfloor International (271 Lockhart Road, Wan Chai, tel: 2728 9373).
To create temporary guest quarters, designer Alan Y.L. Chan, of Red Studio (
red-studio.co
), devised a sliding room-divider that disappears snugly into two cupboards when not in use. The dividers hang on a metal track fixed onto a dropped ceiling, and each panel slides along it independently. A built-in door is integrated into one of the panels to provide easy access and a gasket is used to seal the seams between the dividers to give the room privacy. The divider system cost HK$70,000 (excluding cabinetry).
The convertible sofa bed - part of the living room furniture when not needed for guests - was custom made for HK$8,000 by Yong Jing Hou Chinese Antique Furniture, 1 Davis Street, Kennedy Town, tel: 2817 8825.