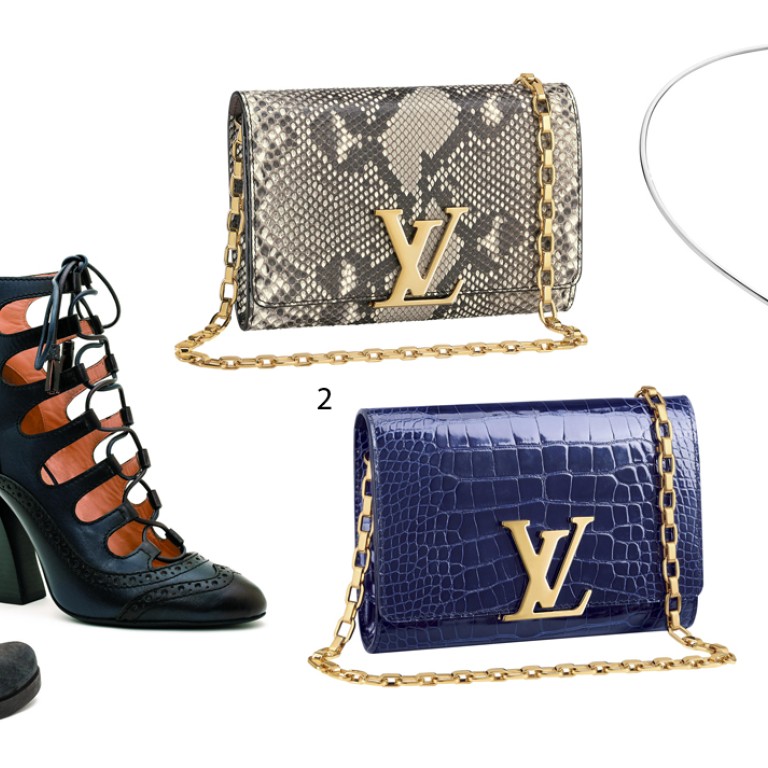 She's just opened a gigantic flagship store in Shanghai but it seems Tory Burch has found inspiration in Camelot this season (or at least that film with Heath Ledger and the jousting). Ladies of the Round Table would have a tricky time looking sub-par in her autumn-winter selection of brogue-ish heeled lace-ups, which blend the quirkiness of Alice in Wonderland with medieval England. Over-the-knee boots are on a high, and we love the red zipper and popper details on the back of the Tarulli boot (left; HK$4,620). The vampy, block heels of the ankle-high lace-up Astrid bootie (right; HK$3,490) would make for an amazing silhouette. Tory Burch is in Times Square, Causeway Bay, tel: 3421 1229.
2. LV at first sight What do you get when you cross-breed the Louis Vuitton Sobe evening bag's signature shiny LV emblem with the brand's classic pochette? The answer: the Chain Louise, aka the clutch of the moment. While the French fashion house is not known for subtlety, we have embraced the glaring LV on the clutch, helped along by the eclectic choice of leathers. Standouts include the Chain Louise in python (top; HK$48,500) and the patent-blue crocodile version (above; HK$131,000). Louis Vuitton is in The Landmark, Central, tel: 8100 1182.
3. Drop dead gorgeous The Scandinavians do design like no one else, and Georg Jensen's new Vivianna collection is a case in point. Inspired by Swedish jewellery designer Vivianna Torun Bulow-Hube, the first female silversmith to find global fame, the collection features a range of drop pendants, each encrusted with more than 700 minute diamonds and set in 18-carat yellow, rose or white gold. We're head over heels in love with the dew-drop earrings in rose gold with cinnamon diamonds (right; HK$38,000) and the neck ring dew-drop in white gold (pictured; HK$143,000). Georg Jensen is in Prince's Building, Central, tel: 2868 0707.