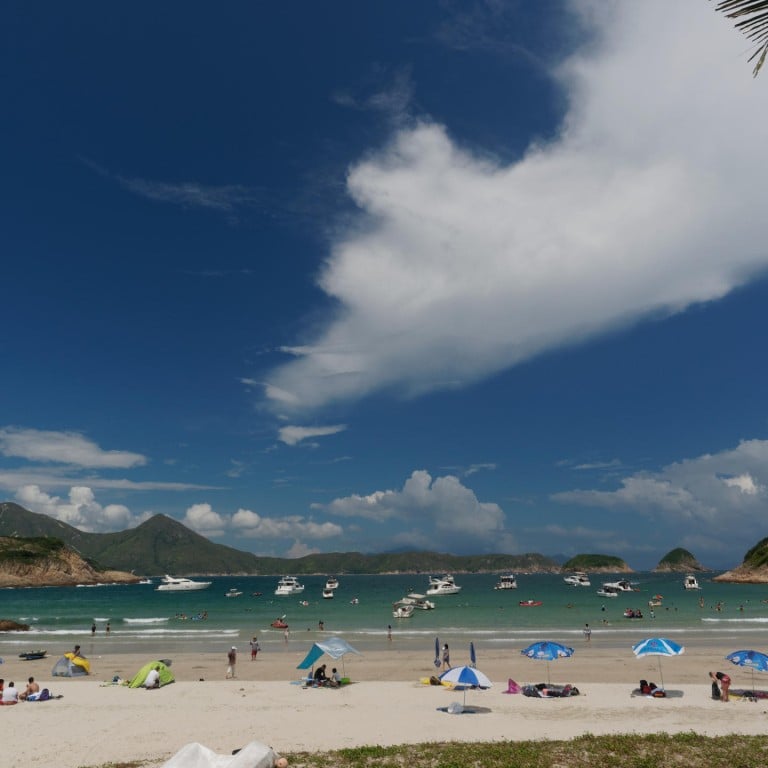 Officials 'out of touch' in dispute over future of Hong Kong's country park enclaves
The future of Hong Kong's country park enclaves is being fought over by crusty rural leaders, rapacious developers, green groups and out-of-touch government officials, much to the bafflement of villagers, writes Martin Williams
Sai Wan on a hot, sunny Sunday can seem like the type of tropical paradise many seek yet few find. In the bay, on the eastern Sai Kung Peninsula, a few dozen people unwind on beaches and frolic in clear azure waters. Some hiked to get here, others arrived on the yachts moored beyond the shallows.
There are islets on the eastern horizon and lush green headlands to the north and south. The four restaurants in the village are busy; two have tables from which diners can admire one of the greatest views in Hong Kong.
Yet there is trouble in this paradise.
Wary of the press, beachfront-restaurant owner Lai Kwan at first refuses to speak with me. However, the government's attempts to enforce new rules in Sai Wan, also known as Tai Long Sai Wan, have severely affected - and still threaten - his business, so, after friends patiently explain that I want to tell his side of the story, Lai opens up.
His experiences (more on which later) have implications far beyond Sai Wan, the first "enclave" to be subsumed into a country park. Across the New Territories and Lantau there were once 77 such enclaves - areas surrounded by and yet technically excluded from country parks. Thanks to planned and actual developments at some of them, including Sai Wan, there is considerable concern and controversy over their status, and competing arguments over how best to protect them.
The enclave story involves quirky policies, rapacious developers, green groups, crusty rural leaders and villagers baffled by byzantine regulations. Looming large is a government seemingly bereft of vision and sorely lacking the human touch.
being in the 1970s, when the country park network was established under governor Murray MacLehose.
"There was a great deal of opposition amongst villagers," recalls David Akers-Jones, who, as secretary for the New Territories, was a key architect of the country park system. "If we hadn't had enclaves, we wouldn't have country parks. We overcame the problem of villages by drawing a line around them. All the land surrounding them became part of the country parks."
The land inside those lines belongs to the government, as all land in Hong Kong does, but plots are leased to indigenous villagers (individually or communally) on which they can farm or - under the small house policy (SHP), which was established in 1972, four years before the country parks - build homes for themselves once permission from the authorities has been granted.
In the 70s, the enclaves were home to more indigenous villagers than they are now and, Akers-Jones says, city people weren't interested in living in the countryside. The seeds of conflict, however, had been sown.
As the enclaves have emptied of indigenous villages, an increasing percentage of the properties built under the SHP have been constructed for profit; to rent out or sell to outsiders.
"I knew straight away the policy would be a problem," says Akers-Jones, who would go on to be chief secretary and acting governor of Hong Kong. "It has turned into something quite different from what was intended, and grown into a monster."
The "monster" was given space to grow as farming in Hong Kong rapidly declined. Throughout the 70s, the exodus from the rural New Territories continued, prompted partly by fields drying as water was diverted to reservoirs. Many of Hong Kong's country folk headed overseas.
Rather as nature abhors a vacuum, idle land in Hong Kong eventually attracts opportunists. Readily accessible village areas have been transformed over the years by a rash of "Spanish" villas, housing that is as incongruous in Hong Kong's country parks as it sounds.
"For hundreds of years, village houses were restrained according to customs," says Akers-Jones. "If someone needed a house, and village people agreed, it was done in an orderly way. But that became forgotten about."
The enclaves in which demand for housing by outsiders has not been so strong have not gone unnoticed by developers large and small, which have bought land rights from villagers, some of whom have lived overseas for decades, and devised schemes to make money from them.
During the early 90s, several green groups cooperated to argue against plans for a golf course with luxury housing in Sha Lo Tung, an enclave near Tai Po surrounded by the Pat Sin Leng Country Park. The plans were rejected and some villagers, angered that they would not receive the windfall that had been promised by the developer in the event of the project's success, tore up vegetation with bulldozers.
In 1995, the appearance of a bulldozer in Ham Tin, an enclave in Tai Long Wan, just north of Sai Wan, also led to a joint green-group objection, which resulted in controls that further restricted the amount of land that could be developed in the area.
While Sha Lo Tung and Ham Tin featured prominently in local news reports, other attempts to develop enclaves have flown under the radar. Sun Hung Kai Properties was evidently behind the destruction of former paddyfields that had become a wonderful wetland at Sham Chung, near Ma On Shan. Plans for a golf course and resort stalled, and the destruction has so far been for nothing.
In July 2010, a hiker reported having seen excavators clearing land in Sai Wan of vegetation, and there was a public outcry. Simon Lo Lin-shing, chairman of Mongolia Energy Corporation, was perhaps planning to lay down a golf course beside the lodge he was constructing. Within days, more than 40,000 people had joined a Facebook group calling for the protection of Sai Wan. Most work was halted and a draft development permission plan was introduced, to establish which parts of the enclave couldn't be developed and which, with consent, could.
During his policy address that October, Chief Executive Donald Tsang Yam-kuen said, "The recent Tai Long Sai Wan incident has highlighted the need to take prompt action to regulate land use in the vicinity of country parks to forestall human damage."
The action promised by Tsang included the drawing up of statutory plans for four enclaves - Sai Wan, Hoi Ha, Pak Lap and So Lo Pun - but another 50 enclaves remain unprotected. The government will either include them in country parks or determine their uses by reference to the Town Planning Ordinance (TPO). (Twenty three of the original 77 enclaves had already had outline zoning plans [OZP] - published under the TPO - put in place before the 2010 Sai Wan incident).
Environmentalists such as Paul Zimmerman, founder and chief executive of Designing Hong Kong, hoped the Sai Wan incident would prove a turning point in the ongoing battle to safeguard enclaves.
"The enclaves are deep inside country parks," says Zimmerman, also the founder of Save Our Country Parks, a loose alliance of concern groups. "If we allow development, the spillover of human activity will be enormous - with construction, more fire risk, sewage entering nearby waters, risk of poaching and light pollution."
Zimmerman would prefer to see enclaves folded into the country parks because "the Town Planning Board can't stop eco vandalism: there's no management and no patrols".
Although assessments are supposedly ongoing, Zimmerman believes that in 2010 the government decided that only a few, smaller enclaves, such as Sai Wan, would be folded into the country park system and the others would be placed under the control of the Town Planning Board, the remit of which does not include managing land zoned for nature conservation.
But enclaves "are not just typical holes in country parks", says Michael Lau Wai-neng, senior head of local biodiversity and regional wetlands at WWF Hong Kong. "They have special habitats, with streams and rivers, and abandoned fields that turn into freshwater marshes. They are under-represented in the country park system, which tends to protect hilly areas, so have plants and other species that are rare or absent in country parks."
Lau mentions that with their Hakka villages, the enclaves also host a wealth of culture and history.
"I think if the enclaves are planned very well, working closely with villagers, we can keep their cultural, recreational and ecological value," he says. "All bodies involved should sit down and decide what we would like to see in 30 to 50 years time."
Nevertheless, says Zimmerman, protecting the majority of enclaves by making them country parkland would require a considerable amount of hard work and the Agriculture, Fisheries and Conservation Department (AFCD), whose responsibility they would become, lacks the resources and will to manage them adequately.
"I think, individually, every person in the AFCD wants to do a good job," he says. "But I'm very disappointed with some of their senior management … and even more so with people like Elvis Au, assistant director of the Environmental Protection Department. They continue to fail to stand up to the Heung Yee Kuk and the Development Bureau. Their job is to protect the environment, not to promote development interests."
The Kuk represents New Territories villagers and wants to maximise the value of land for its members, but its methods are often questioned, not least when it is involved in such ruses as applying for the right to build housing for 1,000 in a hamlet that has no inhabi-tants, as it has done for the remote and largely ruined So Lo Pun, in the northeast New Territories.
So Lo Pun has been in the headlines recently because the Town Planning Board, urged on by green groups, is planning to rezone some of the village as a conservation area, to protect the wildlife there. This has angered "villagers", who live elsewhere, because that further reduces the likelihood they will be able to profit from the land in future.
As in So Lo Pun, applications have been made for substantial increases in village housing in Hoi Ha, surrounded by Sai Kung West Country Park, which is at least inhabited, but is located beside a marine park supporting a wealth of hard coral species. Both were among six enclaves the AFCD refused to include in country parks earlier this year.
The AFCD gave no reason for its decision and Debby Chan Ka-lam, project manager of Designing Hong Kong and de facto secretary of Save Our Country Parks, was so outraged she sought a judicial review, for which she has just been granted legal aid.
"The AFCD is responsible for protecting the country parks," she says. "Why is it that we can't trust them? Why are they not fighting to protect the parks they are responsible for? I do not accept that they are willing to risk the destruction of our natural heritage."
A recent WWF Hong Kong report cites a little known yet shocking case of woodland and marsh destruction at Lo Shue Tin, which is surrounded by Ma On Shan Country Park and is already covered by an OZP. Land lots here had been bought by a developer who "has to apply to the TPB for a change in zoning before he can build", says Lau.
His case would have been made much easier if he had succeeded in clearing the forest and marshes before being discovered, as the ecological value of the land would have been slashed to almost nothing.
"We are not sure what he had in mind, whether it was to build luxury houses, a columbarium, or to re-sell the 'brown-field' site to another investor," says Lau.
As with the Sai Wan incident and several other cases, the situation at Lo Shue Tin was exposed by a hiker rather than by the AFCD.
for the enclaves to be incorporated into country parks stand those who demand the opposite. A judicial review against incorporating Sai Wan was sought by villager Thomas Lai Tor-mut and supported by the Heung Yee Kuk. Although rejected in February, the application added to impressions that the Kuk opposes conservation. This in turn makes it tempting to portray enclaves as battlefields on which green groups grapple with the Kuk. Yet, talk to people in the Kuk, and you find the true picture is a little more complicated.
"Obviously, urban people treasure tranquil areas and would very much like to preserve the status quo," says Junius Ho Kwan-yiu, chairman of the Tuen Mun Rural Committee (all rural committee leaders are members of the Kuk). "But to villagers, there are better uses of land than keeping it idle and, if they have private property that's never been included in country parks, they should be allowed to build."
Ho notes that many applications to build houses have been rejected in the past 10 years, and there's an unhappy relationship between the government and villagers.
"The government has two faces," he says. "To village representatives, they say there's nothing to stop you building houses. But applications are stopped, particularly if there's a rare species of insect, or a green area.
"Somebody has to depressurise the situation."
However, "profiteering has to be stopped", says Ho. "There has been no revision to the small house policy since it was introduced in 1972, so loopholes cannot be plugged. I think the scheme should be overhauled, which will take courage and commitment."
Joseph Mo Ka-hung is a member of the Heung Yee Kuk's committee on country parks and convenor of a working group on Sai Wan. He says that when the country park system was launched, "the government promised a lot to villagers, who would gain some economic benefit. For example, they would be allowed to set up restaurants and sell food and drinks to hikers. Private land would be a buffer they could grow into.
"Donald Tsang changed the policy by saying there would be planning control over the enclaves, without looking at their history."
Mo agrees there should be no major developments in country parks. "There should be a balance," he says. "I want to grow villages into living history; some have been there for 700 or 800 years. I want the government to help them, so people can live happily in villages."
Lam Chiu-ying, former director of the Hong Kong Observatory and co-founder of the Hong Kong Countryside Foundation (HKCF), is overseeing a project with exactly those aims, at Lai Chi Wo, an enclave surrounded by Plover Cove Country Park, in the northeast New Territories.
"HKCF is cooperating with the University of Hong Kong, the Produce Green Foundation, the Conservancy Association and Lai Chi Wo villagers in an agriculture-led village revitalisation project," he explains.
The fields will be worked again and former residents will be encouraged to return to the village. There will also be guided educational tours.
"My vision is that Lai Chi Wo will again become a living village [of which indigenous people can] once again feel proud and could make money from nature-friendly local economic activities," adds Lam.
Chief Executive Leung Chun-ying was another founder of the HKCF. Lam thought Leung genuinely appreciated the joy the countryside brought to people, but believes that since he became Hong Kong's chief executive, he has been surrounded by pro-development people, and has been trapped by his own promise to solve the housing problem.
Leung's office did not reply to questions submitted (before the streets of Hong Kong were occupied) for this article. An AFCD spokesman replied, on behalf of director Alan Wong Chi-kong, as did environment secretary Wong Kam-sing, albeit in "bureaucratese" and evasively.
The AFCD spokesman avoided explaining earlier remarks Wong had made, which were quoted in the media, such as "We can't fold any piece of land into country parks based on high ecological value. If this was the case, we'd have to fold Shek O or The Peak into parks, too" and those claiming that the department's decisions regarding enclaves should be entrusted to the professional expertise of its officials (prior to joining the AFCD, Wong was commissioner for transport). The spokesman did, however, note that, "The AFCD attaches great importance to the conservation of natural environment and biodiversity."
Rather than say whether he was surprised at the anger in Sai Wan after the village was incorporated into its country park, Wong Kam-sing mentions a management plan for Sai Wan that has the support of the Country and Marine Parks Board.
Walking into Sai Wan, I pass the metal fence villagers erected when Sai Wan became country parkland, last December, to block entry to outsiders. There is nothing to suggest the village is now in a country park, and I wonder why work on Wong's management plan, which is ongoing, began only early this year.
Dave Wilson, director of Surf Hong Kong, which operates a surf school in Sai Wan, has seen restaurants suffer as officials arrive to implement new rules. In one instance, 20 men hacked down a rain and sun shelter along with toilets outside Lai Kwan's Oriental Restaurant, because they had been built on what is officially government land.
"The government walked in and rode roughshod over them," says Wilson. "It's just bizarre. Kwan's place was clean, comfortable, welcoming; it was built with his own sweat and tears."
Although there have been suggestions that the authorities were responding to a complaint made by a rival restaurant operator, Wilson believes that, instead of destroying what's already been created, the government should help villagers establish legitimate businesses.
"Kwan has made a series of improvements over the years, to bring his restaurant up to the necessary standard to get a restaurant licence," says Wilson. "He has been through the process with the planning department, but they did not respond in his last attempt to get advice as to what else he needed to do. This was just before the land was designated as country park."
David Lai Mau runs a small restaurant opposite the surf school. He was among villagers who left for Britain, working in restaurants there from 1961 to 1978. He returned home because he believed Hong Kong had changed for the better. He had operated his restaurant for more than 30 years, receiving neither trouble nor help from the government, until Sai Wan was folded into the country park. Now officials keep insisting he needs a restaurant licence while, says Lai, implying it would be very difficult to get one.
"I'm not clear what to do," says Lai. "I feel very sad; it's a very difficult situation."
Lai Kwan says the village was established about 400 years ago and he is the third generation of his family to operate a restaurant on the site. Sixty years ago, it had been a storage area for fishermen, when the area was more populous.
After his father fell ill, Lai came home from Britain, where he had been a restaurant cook, and took his turn in operating the restaurant. Licensing only became an issue for him about seven years ago, when officials came to check hygiene, giving him a clean bill of health.
As for the seating area that has been torn down: "I put a lot of effort in, and made it beautiful. Everybody liked it. So why can't I use it," he asks.
Some people may question why a proprietor in an enclave should benefit without cost from land that belongs to the government, but it's worth pointing out that many hikers who pass his way appreciate having somewhere to stop and refresh themselves and, says Lai Kwan, he's offered to pay the government rent but has yet to receive a reply from the AFCD.
Licences are now required by Sai Wan villagers for their bicycles. People are now prevented from camping on the beach (although, to be fair, facilities are lacking). Barbecues aren't allowed. A partially disabled villager has been fined, according to Mo, for having a small electric vehicle.
"The government claimed there would be a lot of good changes after Sai Wan became country park," says Lai Kwan. "But we villagers can't see them. Nothing is better after becoming country park."
Yet opportunities for improvements abound. If the government can act with wisdom, Sai Wan could yet become a role model for how to protect enclaves - benefiting both residents and urbanites looking for an escape from the city for generations to come.
This article appeared in the South China Morning Post print edition as: Get off my land