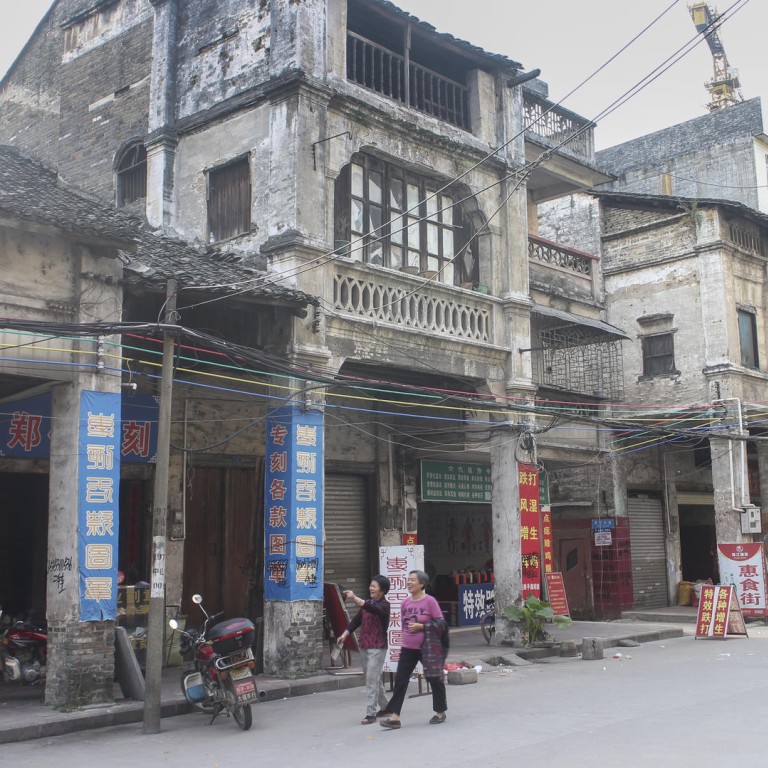 Calling the shots: photography festival lights up Lianzhou
Lianzhou is not on many tourist itineraries but, thanks to the efforts of one woman, once a year it becomes a hive of activity, as photographers from all over the world descend on the Guangdong town, writes Thomas Bird
In Yuexiu, Guangzhou's historic centre, is a jumbled neighbourhood of villas, some predating the Communist revolution of 1949. Down a back lane, one of these fine old houses bears a bright polished sign that reads "Lianzhou Foto" in bold capital letters.
Inside, all is fierce activity: an enormous Epson printer is running off glossy poster-sized images; editors are resizing photographs on desktop computers; interns are racing about nervously while full-time employees complain of sleep deprivation.
When Duan Yuting, founder and director of the Lianzhou International Photo Festival, arrives, she looks sleep-starved but spirited. The few weeks leading up to an event showcasing more than 140 photographers from across the globe are understandably hectic, but Duan appears to be comfortably in control.
Her office is crammed with enough photography books to make a librarian blush. The walls are adorned with iconic images. The pillows on her couch are shaped to resemble cameras.
The obvious first question is: how does a photography festival held in a remote mountain town, Lianzhou, in Guangdong province become so prestigious an event that it is marked in the calendars of almost all of the world's prominent photographers?
"It was destiny," Duan says, before casually lighting a Camel cigarette.
Duan studied economics at university in the provincial capital, Taiyuan. After graduating, she did what countless other mainlanders of her generation did in the opportunistic post-reform era: she found a job that had nothing to do with her degree.
"I became a photo editor at . It was the most prominent photography publication of the time. Even though it was based in Taiyuan, it was published nationally."
The editor of the magazine was also the director of Shanxi's Pingyao International Photography Festival, which remains a prominent event.
"I worked on the festival with him, kind of like his assistant, and that's where I met French curator Alain Jullien."
Jullien was something of a pioneering figure then, helping to organise exhibitions and festivals throughout China.
In 1998, Duan, like many of those who were frustrated with the stifling north, headed for the liberal south, finding work in Guangzhou's flourishing news media.
"I began work during a photographic revolution in the Chinese press. Previously, there were few photos in newspapers and they were generally bad quality. Learning from the West, newspapers were becoming more colourful, more image-oriented. Publishers began to realise they needed photo editors."
Duan's years of experience as a news photo editor would prove invaluable. She worked at perfecting her trade and made useful connections.
"In 2004, I was invited to Qingyuan [a city north of Guangzhou that administers Lianzhou] to teach the local media about photo editing. It was there I met the mayor of Lianzhou, Lin Wenzhao, and he suggested I organise a photography festival."
Lianzhou is a small, county-level city isolated in the Nanling mountains, which cut across the border between Hunan and Guangdong provinces. It is a jumping-off point for travellers wishing to see the surrounding karst mountain landscape, ancient villages and colourful ethnic minorities. The city itself boasts little more than a 1,000-year-old pagoda and a few Nationalist-era arcades.
But it was Lianzhou's inherent backwardness that encouraged the local government to accommodate all of Duan's needs; something she admits would have been difficult in an established tourist town or big city. Duan was able to use abandoned factory spaces as galleries, which designer and architect friends came to renovate. She could summon the many photographers she'd met while working for various publications. She called on Jullien to help organise the international side of things. She enlisted colleagues in the Guangzhou media to promote the event. And, in 2005, the Lianzhou International Photography Festival (also known as Lianzhou Foto) flashed into life.
Since then, Lianzhou's prominence on the international stage has grown rapidly and the town has flourished as a result of the festival. Residents have become accustomed to the annual invasion of camera-wielding bohemians, who stay for an entire month. The sight of photography aficionados and artists trooping between the principal venues - the Candy Factory, the Shoe Factory and the Granary - is a familiar one, and locals participate, attending talks and exhibitions.
Duan herself has become a significant figure on the international photography scene. She has been invited to be a jury member, reviewer and guest curator by the organisers of numerous international photography festivals, including FotoBild in Berlin, Germany, and she has been nominated for the Prix Pictet photography prize and the Hasselblad Award.
"Duan is unusually cosmopolitan in her way of operating. She's very knowledgeable and she travels a lot. That's why Lianzhou is different," says New Yorker Robert Pledge, a regular at the festival and guest curator at this year's event.
"The remoteness hasn't helped," he says. "Pingyao and Dali [which also host international photography festivals] are very exotic, they are historic places. It used to take over six hours to get to Lianzhou [from Hong Kong] before they fixed the road. But Duan is very agile, she's shown a lot of discipline, inviting curators rather than self-curating. Festivals are about the creative ability shown by the person who runs the ship. I think that shows and people come for the quality and programme; it's very high level, it's not for amateurs. It is a place where you're going to meet photographers and see good work.
"If you're a collector, it's a place you need to be."
For the festival's 10th anniversary - which has been given the theme "staging encounters" and will include a retrospective of mainland photography over the past decade - 12 curators, including four foreigners, have been charged with grouping the artists into suitable exhibitions and venues.
Duan is reluctant to single out any one photographer as being a star of the show, but, when pushed, says, "Yann Mingard has really made waves this year." She talks me through a collection of the Swiss photographer's images. The "Deposit" series, which Duan describes as "sterile" and "unnerving", documents data centres, sperm banks and vaults - hoards of digital and genetic information that typify the uncertainties of an age in which climate change, global pandemics and cyber warfare are among humanity's biggest threats.
"I met Duan at the Fotomuseum Winterthur, in Switzerland, and she invited me to be part of the Lianzhou Foto festival," says Mingard, later.
"I started [the 'Deposit' series] in 2009. Reading the national and international press, I was surprised to see that Europe was in a hurry to conserve genetic materials in DNA banks," he explains.
Mingard aims to raise ethical, ecological and political awareness about the banking of genetic material.
"With the economic crisis and our colonial history, we are in a state of fear. Government funds are decreasing and the interests of private companies are on the increase; so, in the close future, it will be important to know who will be the owner of these genetic materials. Laws need to adapt to the important change our society is living through with regards to biotechnology."
As has become tradition in Lianzhou, aspiring Chinese photographers will be showcased alongside global luminaries. All, it seems, are using photography to grapple with the fallout of a transitional society in the globalised 21st century - in many ways echoing Mingard's concerns.
Li Zhengde, a Shenzhen-based photographer from Anhua, in Hunan, is being tipped for great things by Duan. Over coffee near his home, in Wutong Mountain, Li explains his series "The New Chinese", which has garnered him almost as many detractors as it has admirers and provoked much debate among mainland and Hong Kong internet users.
"I came to Shenzhen in 2004 and began this project in 2005. Though I worked in Beijing and Guangzhou before, I feel only Shenzhen can represent China accurately. It's a migrant city, the biggest and fastest growing, so you can see the transition from being a communist, rural society to an urban, capitalist society most distinctly.
"When China first opened up in the 1980s a lot of interesting things poured in, notably art. You can see that represented in early rock musicians like Cui Jian. But in the late 90s, the market took over. People have been subjected to such chronic Western consumerism since, it's manifested itself in ridiculous, sometimes disgusting ways.
"I don't think this era is all bad; generally, people's standard of living has improved. But I've felt obliged to document my time, as I see it. You can't choose which age you live in."
Li, who works as a commercial photographer, is drawn to the dark side of the boom: corruption, objectification of women, moral decadence and crass consumption are themes that feature prominently in his work. Yet his photographs are often laced with humour. In one picture, for instance, Li has captured Shenzhen airport staff performing as Red Guards. "But if you look closely, they're not holding copies of Mao's 'little red book', they're holding red envelopes," he explains, puffing on a trademark Baisha cigarette.
Another image from the series depicts a Buddhist monk leading a prayer session, but, again, all is not what it at first seems. "If you look to the middle of the congregation there's a designer handbag," Li says. "They're all rich people, that monastery is in a five-star resort!
"The way I see it, we're living through an age that's Orwellian, Kafkaesque and Dickensian, all at once. Nobody thought a photographer would come along and document it with the mindset of Lu Xun [a pioneering author and social critic of the early 20th century]."
China, says Li, "has a mental illness".
Many who attended a talk Li gave in Shenzhen's Xiaojin bookstore in January last year decried his depiction of women, whom he often presents as loose and wanton. Earlier this year, during an exhibition in Minsheng Art Museum, a gallery in Shanghai, one of Li's photographs was removed from the wall after an influential business leader saw himself in it.
"This is a Chinese problem. People don't want to see themselves in this way. They still have a traditional view of art as something that should be beautiful. But my pictures aren't pretty."
Similar themes are explored by Guangzhou-based photographer Yan Ming. Yan came to Guangdong in the early 90s and was quickly sucked into the fledgling rock scene.
"I was Wang Lei's bass player," he says. "They used to say the north has Cui Jian, the south has Wang Lei. We toured for a long time but we never made much money."
After years of poorly paid gigs, Yan grew disillusioned with performing and, in 2000, left the increasingly troubled Wang to became a music journalist, learning photography as a sideline. Holding down jobs, first at and then at , Yan found a degree of financial security but it left him unfulfilled artistically. After a decade, he decided to go it alone as an independent photographer.
"When I left the media, nobody - my friends, family or colleagues - could understand my motivation. But I needed to do something that related to me, my perceptions and views, not somebody else's."
Yan works with a 70s reflex camera. "I like the limitations, you can't just snap and snap. You have to consider what you are trying to capture."
Shooting in black and white enhances the mournful, melancholy quality of Yan's pictures, which meditate on the negative changes China has undergone recently.
"I think this depicts the neglect of our culture," he says, holding up a picture titled .
Another potent image is of a grubby bed in a cheap hotel: "The characters say 'have sweet dreams', but the bed is poor. Nothing is looked after."
Yan, a literature major who recently published a book about art and photography, places a lot of value in the narratives that underpin his photos. In common with Li's work, many of Yan's images concern Westernisation and consumerism, but Yan's viewpoint is despairing rather than satirical.
"This picture is called ," he says. "After I shot the picture I followed the person in the Minnie Mouse costume. When she took off the head, I saw it was an old lady and she was sweating. It made me feel so sad to think she had to make a living in this way."
Is there any hope?
"If your goal is to make money, then yes. In regards to [Chinese] culture, I would say that it is dying."
Yan Changjiang has been a photo editor at the for 20 years. The 46-year-old Hakka man, whose family hails from Meizhou, in eastern Guangdong, is a veteran of Lianzhou. He's also a multifaceted artist, harnessing colour and black and white while employing realistic and conceptual techniques.
"If it works, I use it," Yan says.
His portfolio includes the "Diary of the Three Gorges" series, which he began in 2004, documenting the communities and towns of Chongqing before they were flooded by the dam project. The images were exhibited in Beijing, Shanghai and Tokyo and were eventually collected into a book, published in 2009.
"My work is affected by China's problems," he says. "I don't dare look at old foreign photos of China. We've lost so much. We've been through our very own 100 years of solitude," he says, referencing the late Colombian writer Gabriel Garcia Marquez.
This year, in Lianzhou, Yan plans to exhibit a series of photos he has taken in collaboration with Xiao Xuanan, from Hubei province. "Return to the Mountain" is a collection of evocative black-and-white photographs reminiscent of traditional ink paintings. Every picture in it features a wild animal, be it a bird of prey or a big cat.
Do the images depict China's environmental challenges, loss of species and widespread pollution?
"That is one way to interpret them, but I think it's too simple," says Yan. "We wanted to express longing. Our society has become so complex, people wish to return to an animal time and a sense of peace. I think this series expresses this quality of modern life."
photographers will have their work exhibited in Lianzhou, in categories such as "Exploring the Body" and "Identity and Photography in the Post-Media Era". It would be impossible to lump them all into one genre or movement but, among the artists I speak to, there's a commonality: an anxiety at the state in which they find the world.
"There's not just nostalgia for the past, there's a feeling of loss in a disappearing world," says Pledge, of a theme he has seen at photography festivals across the globe. "The world is in search of a sense of direction, of answers that are not there. People are not optimistic about the future.
"I think photography has a role to play in all this. A few years ago, people said photography was dying. That's not so clear any more. There is a return to a more traditional form, maybe as a counterpoint to what's going on. Whatever generation of photographers I meet, whether their work is conceptual or documentary, they all have the same attitude.
"They see what disappears."
This article appeared in the South China Morning Post print edition as: Calling the shots