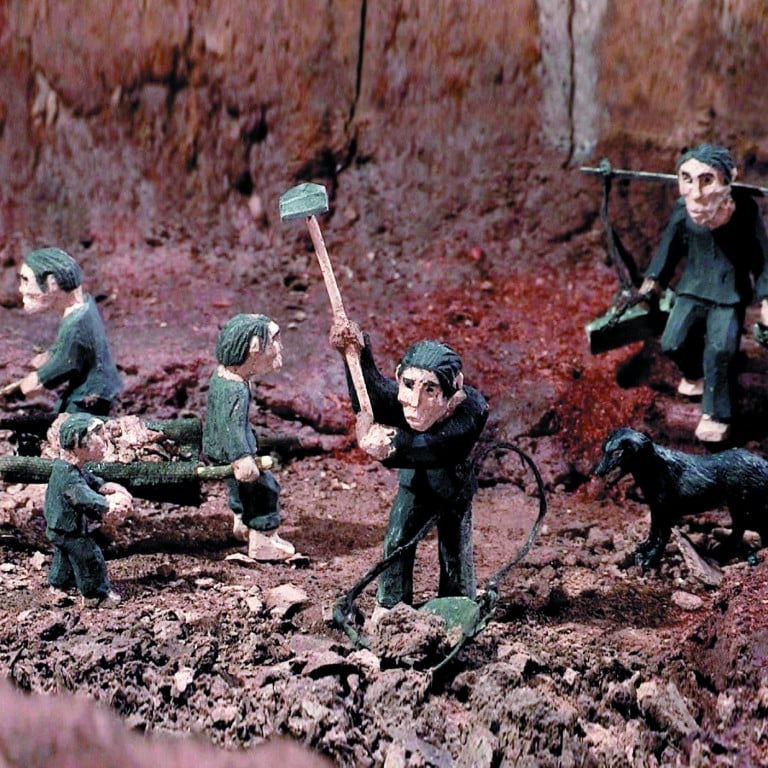 Cambodian movie industry's glory days are returning
Nation's cinema is attracting a global audience as young filmmakers give a nuanced voice to its post-Khmer Rouge recovery, writes David Eimer
Think of Cambodia and the movies and, for most people, grim images from
spring to mind, or Angelina Jolie fighting her way around the temples of Angkor Wat in the first
film. But long before the Khmer Rouge instituted their murderous rule, and Jolie started adopting local children, Cambodia was home to a thriving movie industry, one which even former monarch King Norodom Sihanouk was eager to be part of.
Those glory days are back. In the past few years the country has gone from a moviemaking backwater to being home to perhaps the most creative and vibrant film industry in all of Southeast Asia. About 60 productions are now being made in Cambodia annually and, this year, Rithy Panh's remarkable
became the first Cambodian film to be nominated for an Oscar. Last month, Sotho Kulikar's
won the Spirit of Asia award at the Tokyo International Film Festival.
A host of Cambodian-themed documentaries - about everything from the Phnom Penh music scene of the 1960s to Cambodian-American gangsters turned poets - are set for release in the coming months. Cambodia has also become an increasingly popular location for shooting foreign films, with overseas moviemakers drawn by low costs and a growing pool of local technicians.
"It's a good time for us now," says Rithy Panh. "Before, we lacked the human resources to make films. Now, we've got the technicians as well as the directors."
Sitting behind a desk piled high with books and clutching a fat Caribbean cigar, the softly spoken 50-year-old is one of the principal reasons why a new Cambodia is emerging on celluloid.
"I guess I give an example to younger filmmakers. They see me at the Cannes Film Festival or at the Oscars and they're proud. They realise they can do the job and make films," he says, in French-accented English.
He is too modest, though, to take much credit for the boom in filmmaking Cambodia is experiencing.
"I don't feel comfortable being described as the father of Cambodian film. "Maybe a good big brother," he says, with a grin.
Rithy Panh, though, laid the foundations for the resurgence in Cambodian film. In 2006, he co-founded the Bophana Audiovisual Resource Centre, an archive for Cambodian films that provides vocational training and support for locals who want to work in the movie industry.
"We've trained over 100 people in conjunction with the Cambodia Film Commission [CFC]. They were waiters or tuk-tuk drivers before. Now, they are cameramen and lighting technicians," says Rithy Panh.
Some of them worked on , Sotho Kulikar's debut feature. The 40-year-old began her career as a production coordinator on before going on to produce documentaries. Then she was given the script of . The film follows a rebellious teenage girl who discovers her mother was a movie star before the Khmer Rouge seized power in 1975 and sets out to find the missing last reel of her mother's final film.
"I knew I wanted to tell a Khmer Rouge story from my perspective, as someone who lived through it," says Sotho Kulikar. "But I was hesitant about directing. Then I met [British writer and producer] Ian Masters and he showed me his script for . He said, 'You should direct this.' I said, 'I think I should go to film school first,' but Ian said, 'No, do it.'"
By taking up the challenge, Sotho Kulikar became the first Cambodian woman to direct a feature film.
The movie presents a complex, often troubling picture of modern Cambodia, where casual violence and corruption co-exist while the spectre of the Khmer Rouge hovers in the background. The Khmer Rouge's four years in power resulted in the deaths of at least 1.7 million people and, consequently, more than two-thirds of Cambodia's population are aged under 30. More than anything, focuses on the impact of a rarely mentioned genocide on a new generation.
"People are scared to remember," says Sotho Kulikar. "In Cambodia, people say, 'The bad times should be forgotten.' I'm not sure that's right emotionally because there's a lot of anger hidden away. The country is moving forward because it has to, but the anger often comes out in violence. We don't have therapists here, certainly not enough to cope with the broken society we are living in."
Sotho Kulikar's father, an airline pilot, died under the Khmer Rouge.
"The day my mother discovered he was dead, she came back and shaved her head and mine in mourning. But she felt she had no will to live and walked me into a river intending to drown us," recalls Sotho Kulikar. "She turned back and told me she felt my father asking her not to drown me, but to raise me and take responsibility for me."
Apart from the middle classes, a particular target of Pol Pot and the other Khmer Rouge leaders were people involved in the entertainment industry. Prior to 1975, Cambodia had been undergoing what is now known as the country's "second golden age" (the first was between the ninth and 14th century, when the Angkor empire prospered). Film, music, dance and architecture flourished, with more than 400 movies being produced in the 60s and early 70s. Some were directed by the late King Sihanouk, a keen advocate of the arts who also acted in his movies.
Dy Saveth, who plays the mother in , was one of Cambodia's biggest stars in that period. A small, elegant woman who looks younger than her 70 years, Dy Saveth is the grand dame of Cambodian cinema. She played opposite King Sihanouk in the 1969 film
.
"I was worried before shooting started because I wasn't sure how to speak to a king," remembers Dy Saveth. "But he didn't act like a king when we were filming. Of course, we still treated him with respect, but he liked a joke and for people to be comfortable around him."
As the first Miss Cambodia, in 1959, Dy Saveth came to prominence just as the nation's version of the swinging 60s was getting going, even if the fun was largely confined to the capital, Phnom Penh.
"The 1960s were an exciting time in Cambodia," she says. "Everything was improving and people were happy and comfortable. But I wasn't a party girl. I'm a traditional Khmer girl. When filming finished, I'd go home. I didn't live like the young people now, going out all the time."
By the time was released, Dy Saveth was living in Sheung Wan with her then husband, actor and filmmaker Huoy Keng.
"He was worried about the political situation, so when I was pregnant with my second daughter, we moved to Hong Kong. My daughter was born there. My husband knew China because he'd studied in Beijing. He lives in China most of the time now. I still like visiting Hong Kong because I love shopping. But I wouldn't live there again; I'm too attached to Cambodia."
Dy Saveth would later spend 18 years in exile, escaping Phnom Penh just a month before it fell to the Khmer Rouge. Her husband and children were living in Thailand by then, but she had remained in Cambodia to work.
"I went to the airport on March 3, 1975. I was lucky that day because it was under attack from the Khmer Rouge but I was able to get out to Thailand," she says. "My sister and her husband and all my staff were killed by the Khmer Rouge."
She returned to Cambodia in 1993, after years of obscurity in France.
"I worked in a flower shop in Paris and then as a nanny for a man from the US embassy," Dy Saveth says. "In Cambodia, I was a movie star but in France I never talked about it. I didn't think anyone would believe me, so I thought it was best just to forget it."
Her return home was equally low-key.
"I didn't tell anyone I was back. I lived very quietly and just searched for my relatives. It was only a couple of years later that I began to encounter some people I knew from the 1960s."
Many of the musicians who survived the Khmer Rouge era were reunited in the film , which is set for release next year. The documentary describes how local bands and singers took Western rock and pop and blended it with Khmer influences to create a unique music scene. The sounds of 60s Cambodia are now popular again both at home and abroad.
"It's our identity. The music and films of the 1960s are something we can be proud of," says Sotho Kulikar. "But it's also such a different aesthetic from now. The music from then is very reflective and emotional, whereas songs now are just songs. When you listen to the Cambodian music of the 60s, it evokes a different era."
That pride is a reflection of how Cambodia has moved on since the Khmer Rouge era, according to Youk Chhang, executive producer of . Youk Chhang has executive-produced a number of recent documentaries about Cambodia, including a moving account of the country's ongoing transition from a predominantly rural society, that won the top prize for documentaries at the Sundance Film Festival last year.
"It takes a generation to emerge from a genocide. It is 35 years since the Khmer Rouge fell. It's a turning point," says Youk Chhang, who is also director of the Documentation Centre of Cambodia, which is dedicated to gathering testimony of the Khmer Rouge's time in power. "Actually, I think this is the perfect time for a film like . Even a few years ago there was less awareness of this music. Now, young Khmers are discovering it."
Equally important has been the change in the way the Khmer Rouge era is addressed on film.
"You wouldn't make a film like now," says Youk Chhang. "At the time [the film was released in 1984], it was a loud and clear message to the world. But now we deal with the genocide in a more subtle way and that's what films like and
do."
Films have been made in Cambodia since 1899 and it's a sign of how deeply embedded movies are in the local culture that even the profoundly atavistic Pol Pot used film as a propaganda tool. In , Rithy Panh mixes archive footage shot by the Khmer Rouge with clay animation to tell the story of how he watched his family die in the labour camps that were home to millions of Cambodians in the late 70s.
"We have more than 60 reels of film from the Khmer Rouge time," says Rithy Panh. "The Khmer Rouge used film. They made their own propaganda films. They filmed what they called 'The Super Great Leap Forward'. But no one is leaping in the films. They're just walking behind each other."
Watching the footage, painstakingly restored from decaying reels of 8mm film, the contrast between the smiling face of Pol Pot and the other Khmer Rouge leaders and the defeated expressions of those toiling in the camps is almost unbearable.
For Rithy Panh, the Khmer Rouge are an obsession.
"I need to do this," he says of his films about that era. "But we're not just specialists in genocide. Some filmmakers will make their debut with a Khmer Rouge film because they have a story to tell and then move on."
Sotho Kulikar is one of them. She is now working on a script for a movie set during the height of the Angkorian empire, which dominated Southeast Asia from about AD800 to 1400.
Meanwhile, a number of twenty-somethings can be found on the streets of Phnom Penh shooting short films about contemporary subjects.
"In 2009, it was hard to find a Cambodian short film," says Cedric Eloy, head of the CFC, a non-governmental organisation backed by French aid money. "Now, there are filmmakers shooting every weekend."
With the Vietnamese film industry shackled by Communist Party censors, a problem now starting to afflict Thai movies being made under the present military regime, Eloy believes Cambodia has the potential to be a filmmaking power again.
"Cambodia has a strong, unique culture and it can be a cultural centre for Southeast Asia and the Asean region. The cultural sectors need support, but the base is there," he says.
The ruling Cambodian People's Party appears to have realised the benefit of promoting the movie industry, donating a building to house the Bophana Audiovisual Resource Centre and cooperating closely with the CFC. The result has been a fourfold jump in the number of films being made in Cambodia since 2009 - 55 were produced in 2012 - while the first European-Cambodian co-production, a film about the relationship between a French ethnologist and a Khmer Rouge official, will be out next year.
Yet Cambodia still has a long way to go, according to Rithy Panh.
"Training people to use a camera is easy, but writing a good, original story is hard," he says. "We need to make all sorts of films: comedies and action movies as well as documentaries. That's what happens in normal countries. Look at Hollywood. It's a sign of a democratic country when you have that."
Above all, Cambodia needs to revive the cinema-going culture that existed before the advent of the Khmer Rouge. Now, there are far fewer cinemas around the country.
"We had no TV then and everyone went to the cinema, even the women from the market selling fish. We've lost that," says Rithy Panh. "I don't want people to experience movies on YouTube or their phone.
"When you watch a movie, you should be looking up at the screen, not looking down."
This article appeared in the South China Morning Post print edition as: Screening for attention